Trust Your Concrete Repair Or Restoration To Concrete Craft For Precision and Excellence
There's nothing sadder than good concrete gone bad.
Driveways and walkways showing their age with cracks, discoloration, and worn patches bring down the curb appeal and the value of your home.
Backyard concrete surfaces such as patios and pool decks that crossed over to the dark side make them unappealing places to spend time for fun and relaxation.
If the thought of replacing your damaged concrete to restore the beauty of your home is stealing your joy and frightening your bank account, talk to the experts at Concrete Craft® about what they can do to repair and restore your existing concrete surfaces. Without demolition and replacement, they can transform your ugly concrete into beautiful, durable decorative concrete so you'll have years of worry-free enjoyment.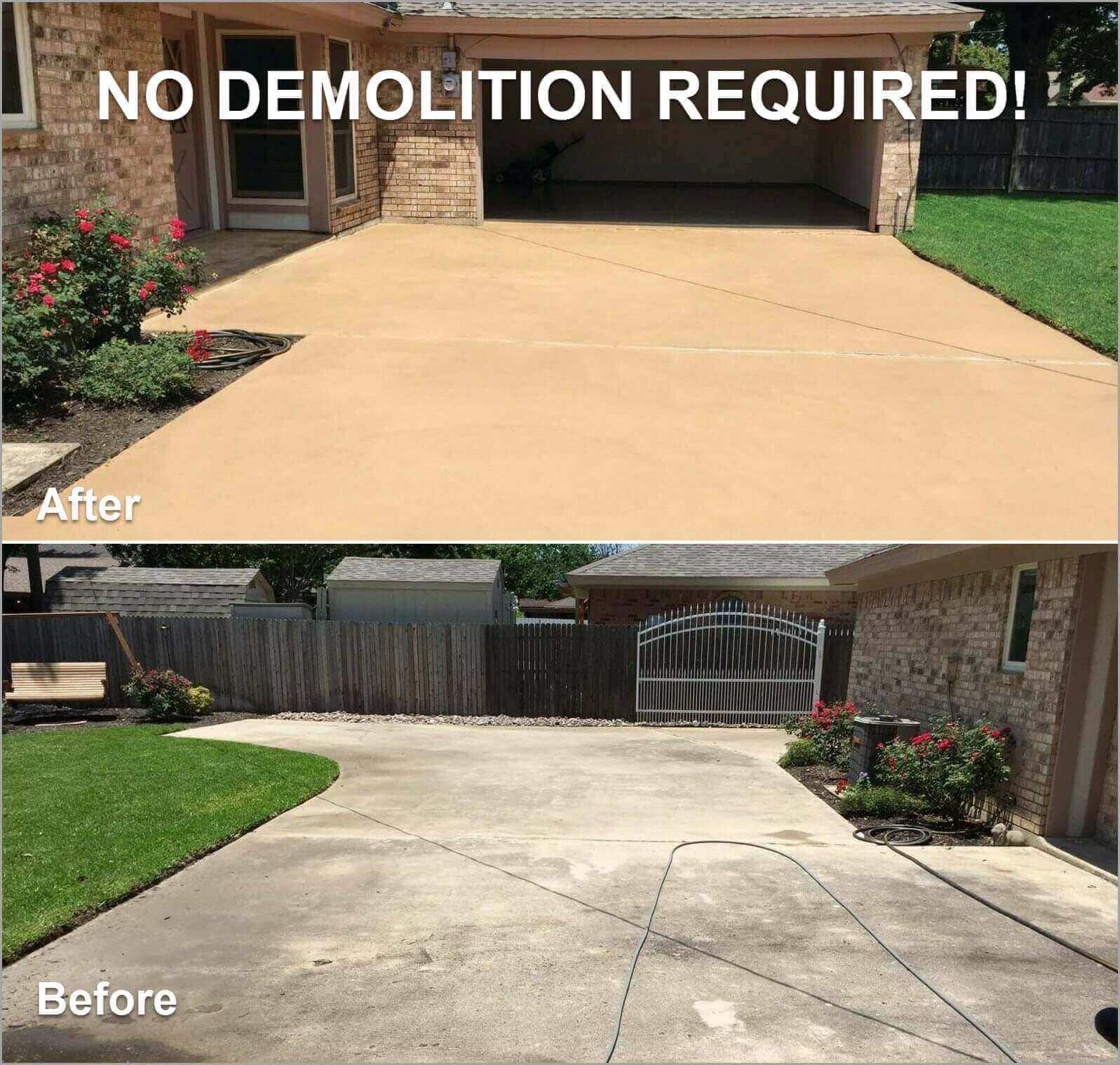 Concrete overlays resurface and restore
For a concrete surface that is structurally sound with surface cracks, wear, and discoloration, a resurfaced concrete overlay can cover and conceal all imperfections, even filling in low spots where underlying aggregate shows through, as in the image below. The new surface can be finished in any number of ways from a simple concrete stain to a stamped or hand-cut and custom-colored faux stone design such as flagstone, cobblestone, brick, tile, or slate for your driveway, patio, or pool deck. The new finish is stronger than bare concrete and won't deteriorate with harsh weather and heavy use.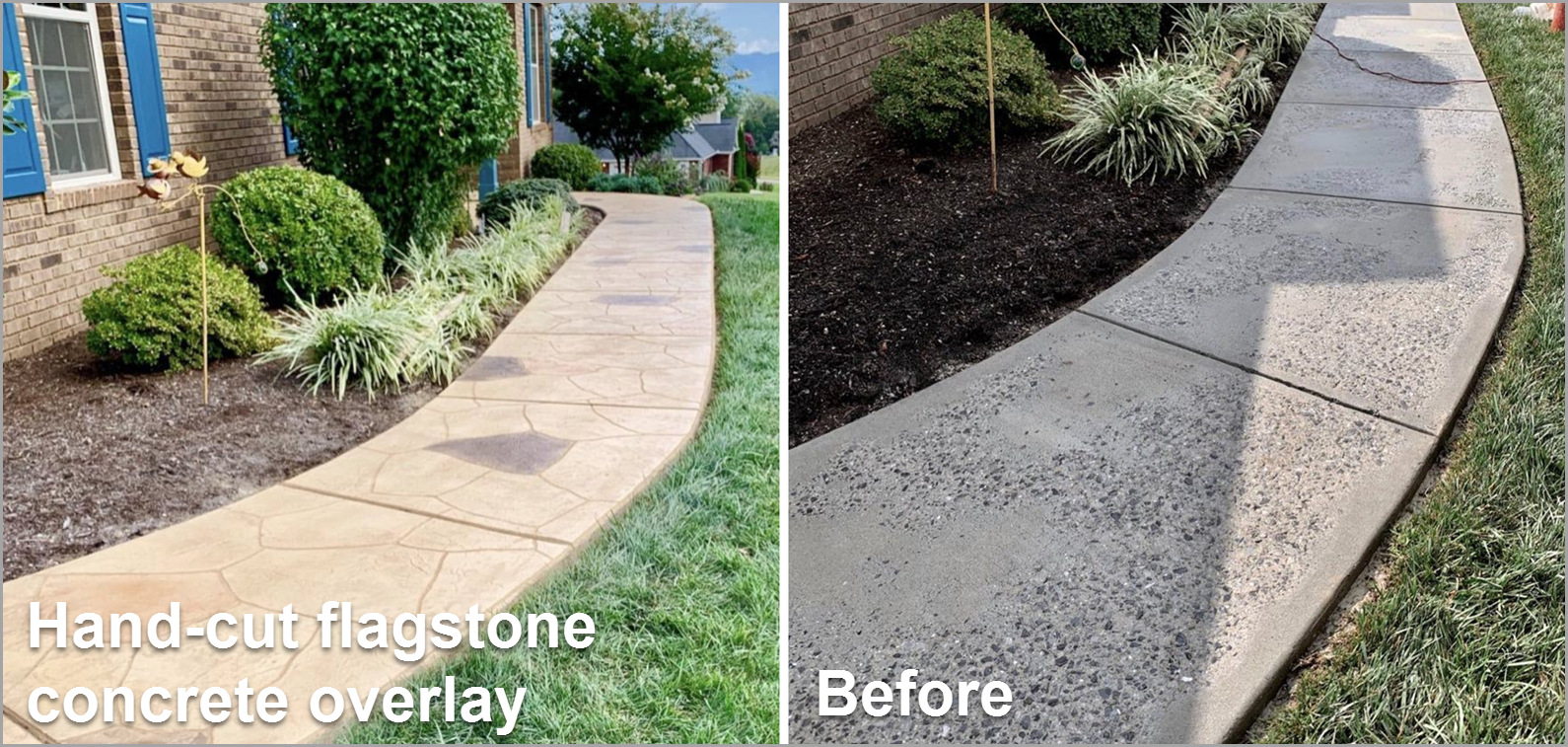 Our resurfaced concrete overlays don't just sit on top of your existing concrete, they "become one" with your concrete so there is never any chipping or peeling.
Real flagstone or cobblestone can become uneven, creating a tripping hazard and looking unsightly, but the continuous surface of a concrete overlay ensures a consistently smooth and level surface.
You achieve the look of high-end stonework for your home at about half the cost of real materials.
The sealed surface is moisture resistant and repels dust, dirt, chemicals, oil, grease, and other substances, ensuring your concrete surfaces stay clean.
UV protection built into our concrete stain colors ensures your resurfaced concrete will remain beautiful for years with no color fading.
RestoreKoat repairs major concrete damage
If your concrete is beyond the state where a concrete overlay can restore its surface, you can still avoid demolition and replacement with RestoreKoat by Concrete CraftTM, a repair mortar that can restore severely-damaged concrete slabs with the look of freshly-poured concrete. RestoreKoat can repair deep cracks and completely resurface concrete that appears beyond hope. As with our concrete overlays, RestoreKoat's permanent adhesion to the existing slab means no chipping, peeling, or cracking to the new finish.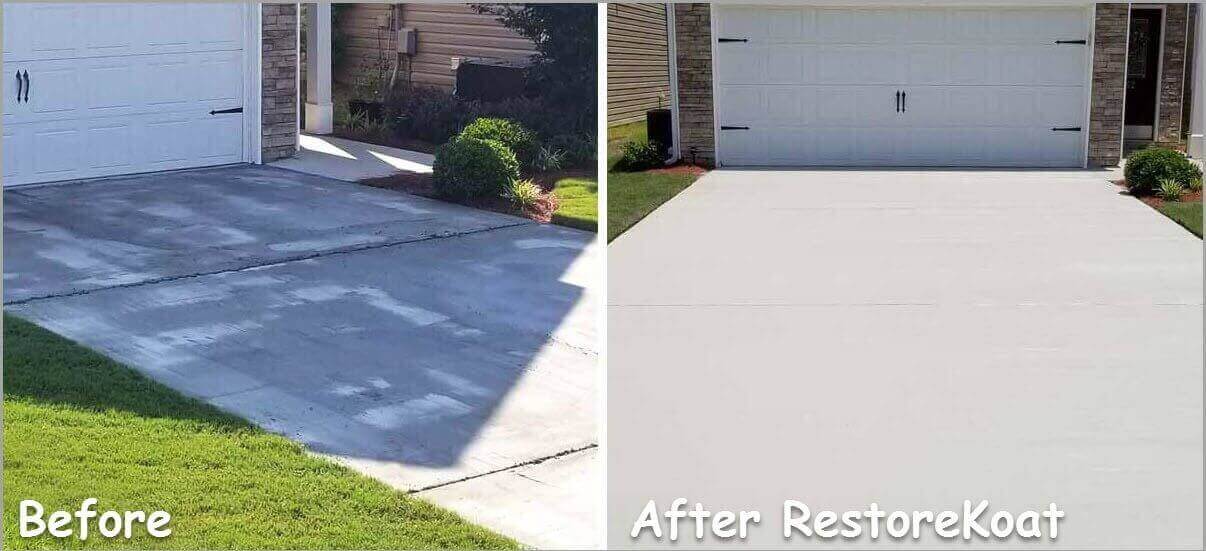 Especially economical for large areas like driveways, courtyards, pool decks, and walkways, saving thousands of dollars over replacement.
The quick cure time (some jobs approximately eight hours from start to finish) means you won't be inconvenienced or banned from your outdoor areas.
Creates a finish for all seasons, resistant to extreme weather, including freeze/thaw, rain, and blistering sun.
The tough surface resists abrasion, impact, de-icing salts, auto fluids, and other chemicals like pool chlorine.
Easy to clean and maintain, hosing off will keep your outdoor surfaces clean all year long.
Restore a fading finish to like new
Concrete that has lost its luster, but not its enduring design, can be revitalized with RenewKoat by Concrete CraftTM. This revolutionary real cement overlay is rolled on like paint, creating a new surface to the existing design. It restores shine, color, and texture in one application. Coverage is complete so you can opt for a new color to update your home from our 10 color choices or restore the surface to its original color and brilliance. With little to no dust or mess and your concrete is back in service before you know it, with a durable, UV-resistant finish for long-lasting beauty.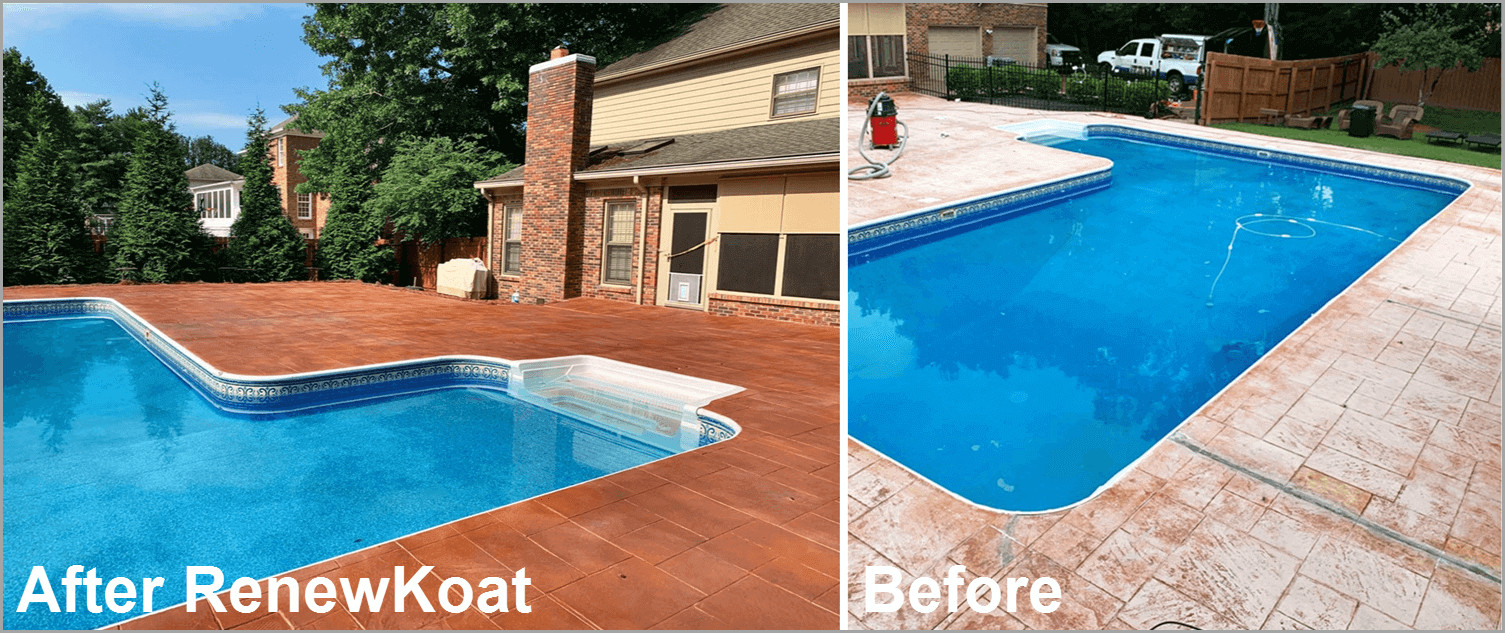 New life for interior floors
Interior concrete floors can benefit from Concrete Craft's repair and restoration processes as well as outdoor concrete surfaces. Switching from carpet, tile, or wood flooring to decorative concrete can involve patching and repairing a concrete floor so that it can be stained or revived with a concrete overlay. Contrary to the need to replace other flooring materials after a few years, a decorative concrete floor will last for many years, providing low maintenance and durability you'll love. Your interior floors can have vibrant colors and the look of real stone and wood plank designs with our stamped and hand-carved designs and custom stain colors.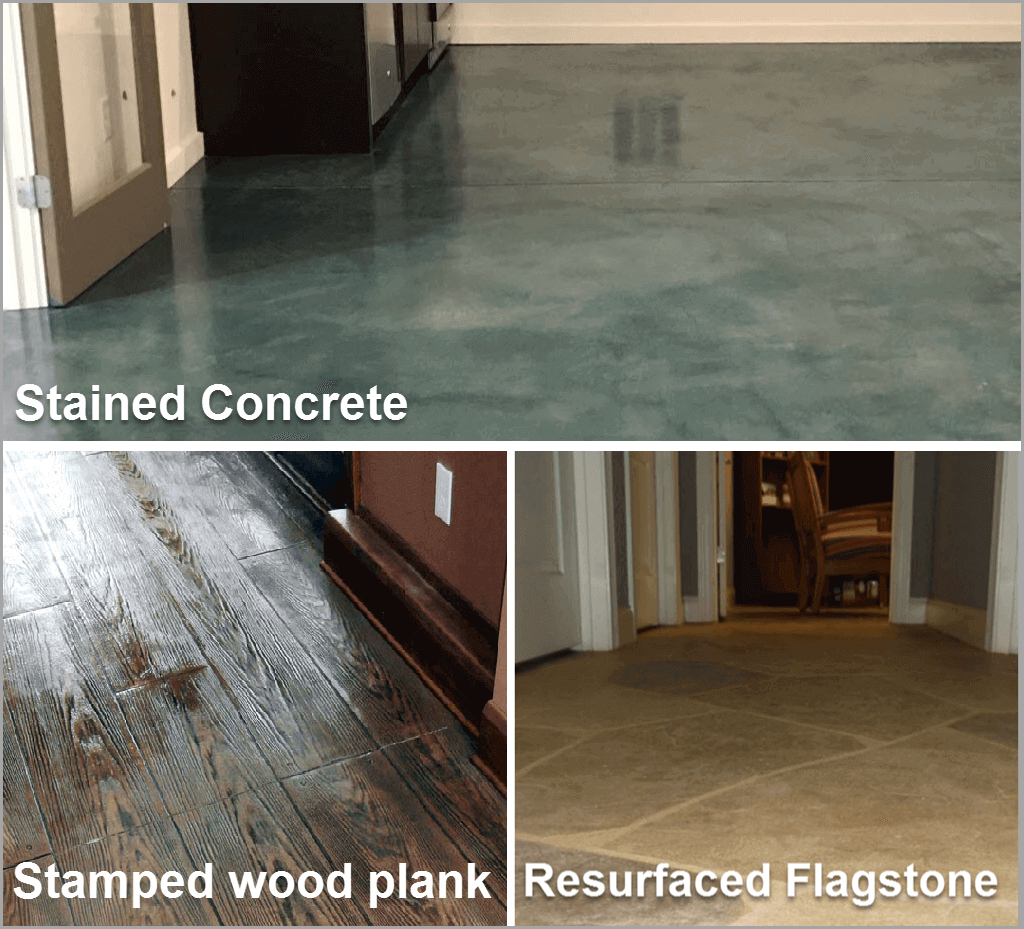 Trust the professionals at Concrete Craft
For any concrete restoration or repair needs that you have, you can trust the professionals at Concrete Craft. Our proprietary MasterProTM products and proven techniques place us out in front of the competition, with precision and excellence you won't find elsewhere. We can replicate the look of flagstone, cobblestone, Roman slate, Ashlar slate, brick, tile, natural stone, and wood plank for authentic-looking results for both indoor and outdoor concrete surfaces, including vertical concrete resurfacing for walls, fireplace surrounds, retaining walls, and more.
Call Contact us today to find the Concrete Craft location nearest you and request a free, in-home consultation. You can have your outdoor surfaces restored with durable, decorative concrete before another winter can wreak havoc on your driveway or patio, or have your interior floors updated before the flurry of the holiday season. Check out our online product catalog to see the amazing results that you can expect from Concrete Craft to beautify your home.