Turn Your Basement into a Holiday Retreat with a New Concrete Floor
Basements get a bad rap sometimes. Not only are they a staple in horror movies so the very word conjures up cold terror, but they are often unfinished spaces that are overlooked as functional living space. Admittedly, basements are not common in some parts of the country, but in Illinois, Indiana and Tennessee where tornadoes threaten and winters are harsh, a basement can quickly become your best friend as these online comments suggest:
"I live in Illinois. The basement is where I hide from tornadoes."
"Here's the real reason people have basements: it gets cold and rainy in the winter. The kids can't go outside. Everyone gets to hate the sight of each other about two days into a giant storm. The finished basement is where you send the kids to play so they are out of your hair."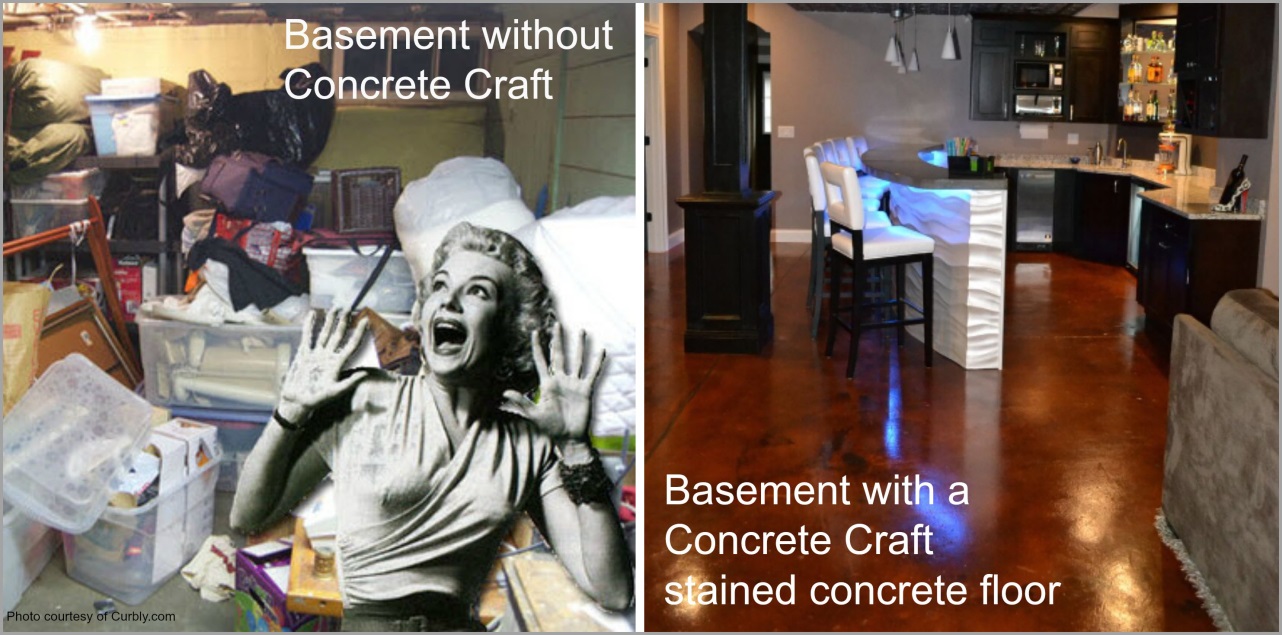 Some basements are finished, but most just hold "stuff"--laundry facilities, furnace, hot water heater and lots of very random storage. If a basement is going to be used at all, doesn't it make sense for it to be a nice place to hang out? Why relegate such a large space to spiders and creepy crawlies when it could easily become a game room, Man Cave, wine cellar, play room, home gym or extra bedroom…the sky's the limit!
Upgrade your space in time for holiday entertaining
Especially with the holidays right around the corner, wouldn't some additional space for get togethers or hosting family and friends be a great idea? Keep all the giggling and rowdy kids downstairs, but in comfort and style. Begin the transformation of your basement or other space with a new stained, stamped or resurfaced concrete floor from Concrete Craft® and set your decorating senses tingling!
A new floor is literally the basis for a room makeover--start at the bottom and work up. With Concrete Craft, you have practically unlimited design options as to color, pattern and style with our resurfaced overlays and custom color staining. Most floors can be completed in a matter of days and your basement or room will quickly be back in service.
Resurfaced concrete covers up imperfections in the existing floor and presents a fresh concrete overlay just waiting for creative design, including hand-cut or stamped patterns. Imagine your basement or family room with a beautiful Flagstone patterned floor, hand-cut and custom-colored to your specific design needs.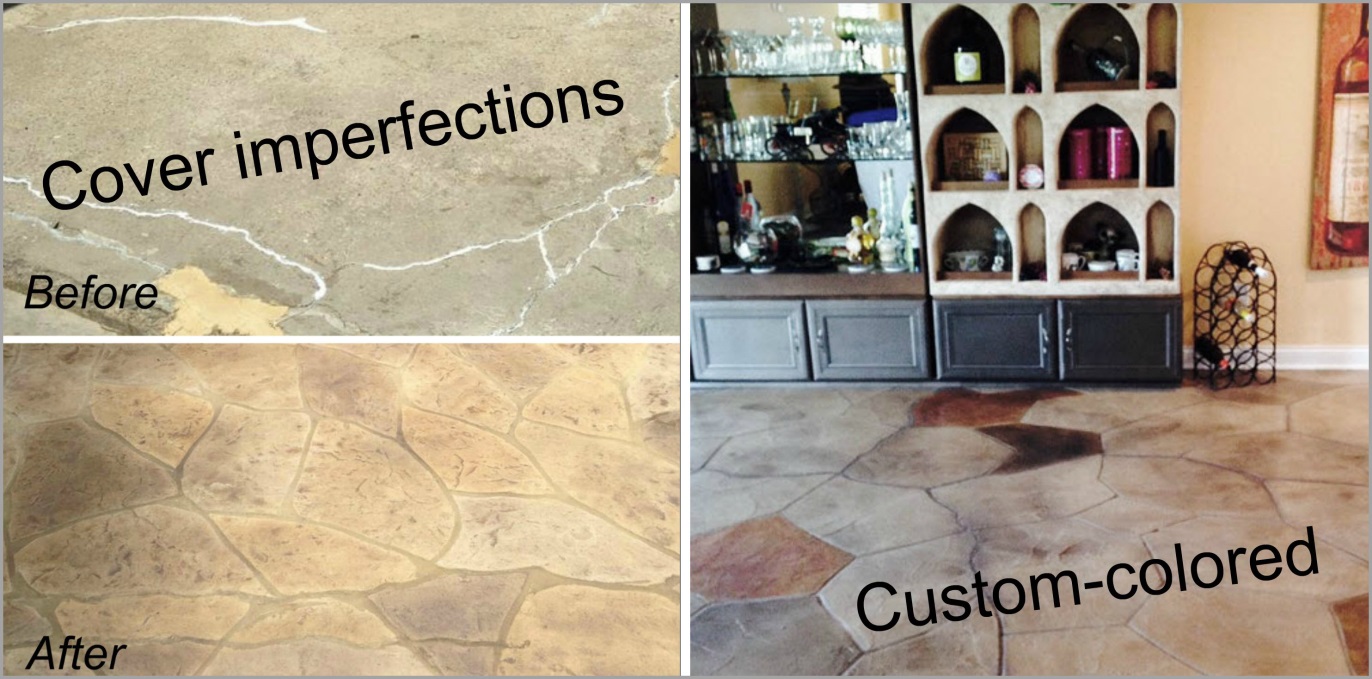 Stamped concrete uses rubber stamps designed from real stone molds to imprint the concrete overlay to resemble natural brick, slate, stone, tile and wood planks. You can create any ambiance you want, from rustic wood or brick to elegant Ashlar patterns depending on your planned décor.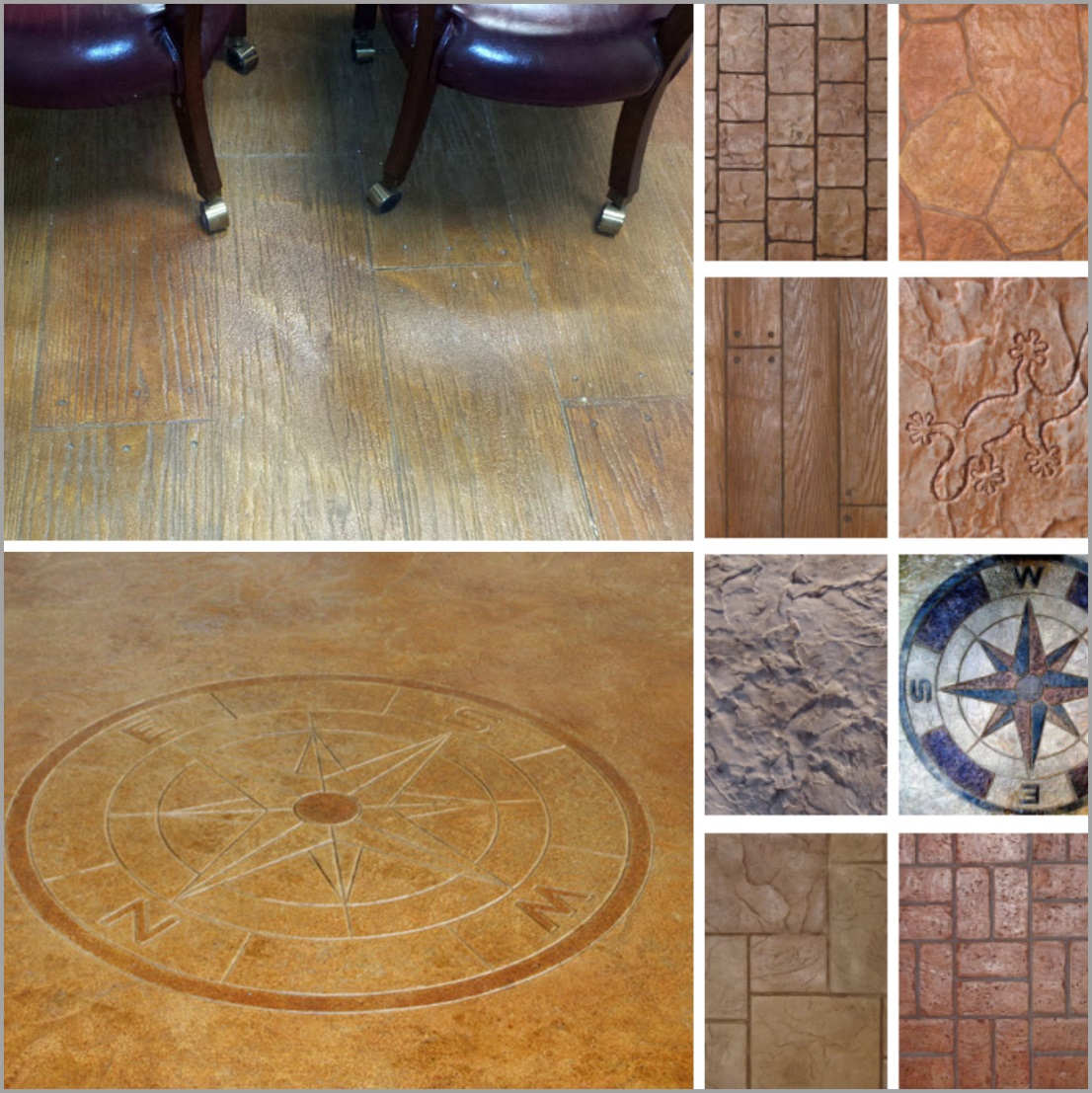 Stained concrete application techniques and finishes can create a rich, vibrant colored floor. Unlike paint that produces an opaque finish, stain allows the nature and texture of the concrete to show through. In the case of badly discolored or worn concrete, an overlay will provide a fresh, new surface for staining. This stained concrete floor in this basement lounge can host an intimate gathering or a crowd and never be the worse for wear!
Long-lasting and easy care concrete floors
Every Concrete Craft floor will give years of enjoyment and easy maintenance. All work comes with a two-year warranty*, but you can expect your floor to remain beautiful for decades. Here are tips for keeping your floors in top shape, including indoor and outdoor surfaces.
Wipe up spills as soon as they happen.
Don't let dirt and debris pile up in corners and under furniture; sweep and mop floors occasionally to keep them clean.
Exterior surfaces can be pressure washed or scrubbed with a mild detergent.
If a surface begins to dull or lose its sheen over time, recoating will restore the luster. We recommend resealing every 18-24 months, or as needed if your surfaces receive extreme use.
Interior stained concrete floors benefit from a good floor wax to preserve the shine.
Concrete floors make good business sense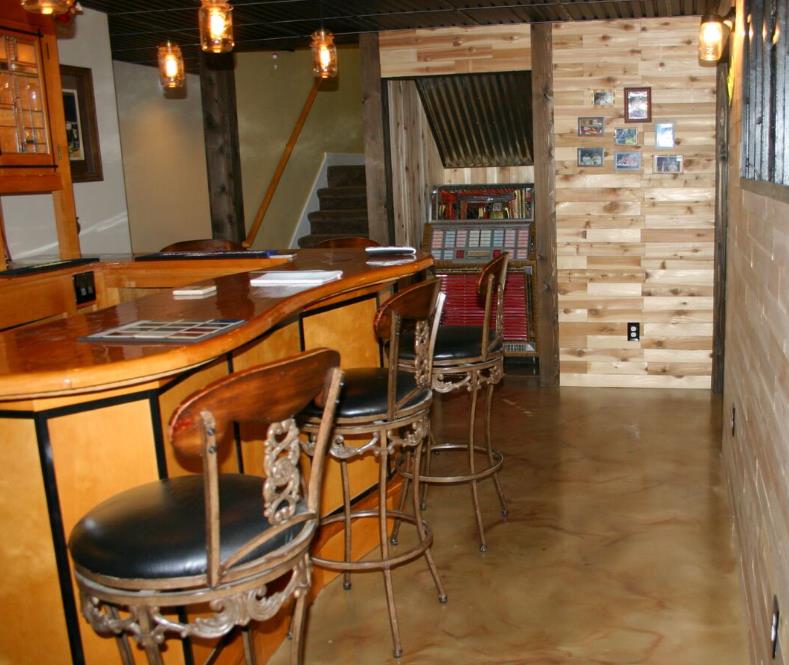 Homeowners are not the only ones who can benefit from the expertise and quality that are hallmarks of Concrete Craft. With years of commercial flooring experience, you'll find our floors in businesses large and small in Atlanta, Naples, Lexington, the Upstate in South Carolina and more. The same benefits that excite homeowners apply to business as well:
Durability: ideal for high traffic areas, including interior floors and exterior walkways and patios for restaurants, retail stores and office buildings
Affordability: cost is much less than other options like carpeting, marble or wood; won't require replacement every few years
Low Maintenance: reduces allergens and resists mold and mildew, creating a safer environment for customers and employees; easy care cuts down on janitorial expense
So wherever your floors need an upgrade or you want to revitalize under-used space, it's Concrete Craft to the rescue! Our professional craftsmen can help with style and color selections for any flooring needs, interior and exterior, such as driveways, walkways, pool decks, patios, basement floors and commercial properties. Call 866-813-3699 today or go online to ConcreteCraft.com to find the Concrete Craft location nearest you and request a FREE estimate.