Turn Your Tax Refund into a Backyard Oasis for Your Family
It's that time of year when 60% of American taxpayers get a tax refund and begin mentally spending it many times over on things they've wished for all year long. Every April there's a little "lottery win" to spend on something special and moms, dads, and kids all have wish lists ready:
Family vacation
Kitchen makeover
New car
Designer dog
Backyard bounce house and trampoline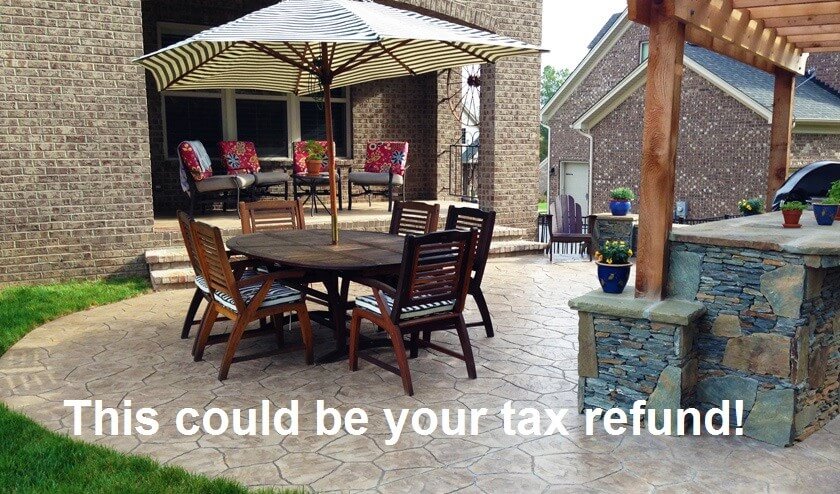 After family conferences and much discussion, settling for one expenditure and maybe putting a share in savings is what many people decide to do. If you're conflicted about how to spend your tax refund to make the whole family happy, Concrete Craft® is ready to help you transform your backyard into an oasis for year-round family fun. You can make a lasting investment in your home with beautiful stained, stamped, and resurfaced concrete overlays on walkways, patios, pool decks, and vertical surfaces to create a destination-style backyard that everyone will love.
The ultimate patio for the way you live
Patios serve different purposes and come in many shapes and sizes. Some patios take up the entire backyard, while others are only part of the landscape.
Large, multi-purpose patios for dining, basketball, play areas, and hot tub
Patio and pool deck combinations
Secluded side-yard patios that are small and intimate, inviting rest and relaxation
Full outside kitchen patios with fireplaces and more
Enclosed patios with a big screen TV and elaborate sound systems
Sunroom patios with a tropical ambiance and comfortable furniture
Small patio design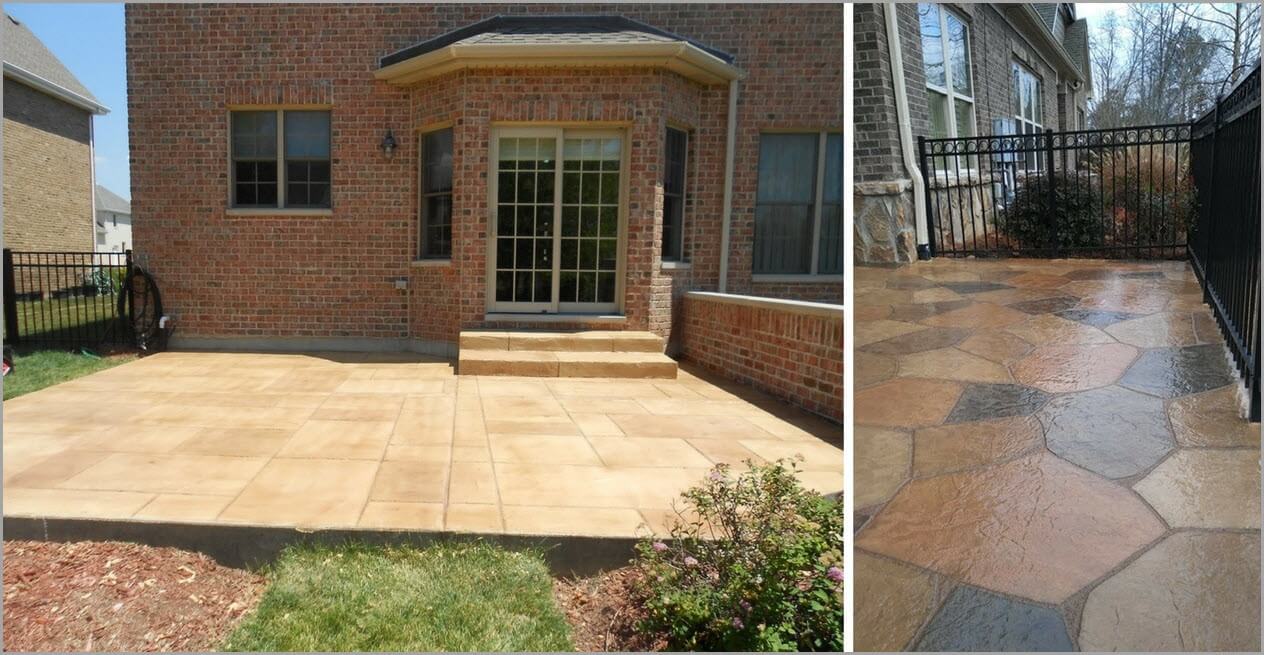 Turn a small, dull patio into a showplace with resurfaced decorative concrete in a realistic hand-carved stone pattern like this Flagstone or Ashlar Slate, making your patio beautiful and inviting. The continuous, sealed finish is impervious to any weather, including hot and cold, wet or dry, making it the perfect seasonal surface for all kinds of activities. Create garden spots with potted plants, entertainment groupings with patio tables, chairs, and benches, or relaxing shaded areas with chaise lounges and a big umbrella. Add a portable barbeque and a small patio becomes a VIP (Very Important Place) for outdoor fun.
Big patio living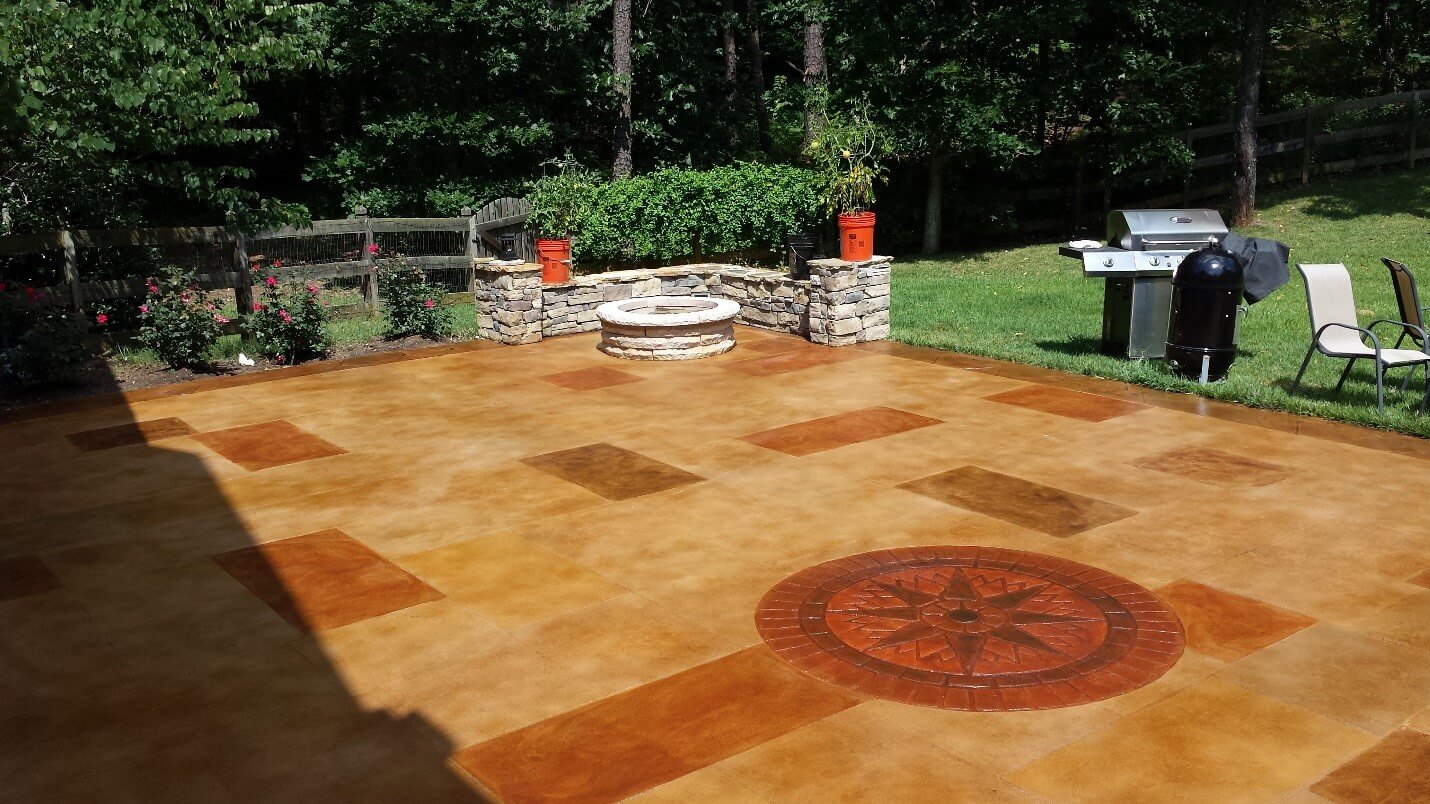 A big patio provides more latitude for built-in amenities like fireplaces or seat walls that define areas and add permanent seating. There's plenty of room for conversation groups of patio furniture, area rugs for comfort, and games like giant Jenga or checkers, bean bag toss, a portable ping pong table, or Nerf basketball hoop. Let your personality shine through with decorative concrete patterns like this custom stained concrete with a stamped medallion to create a one-of-a-kind design. This patio can comfortably host large get-togethers with multiple activity areas for kids, teens, and adults.
Patio and pool deck combination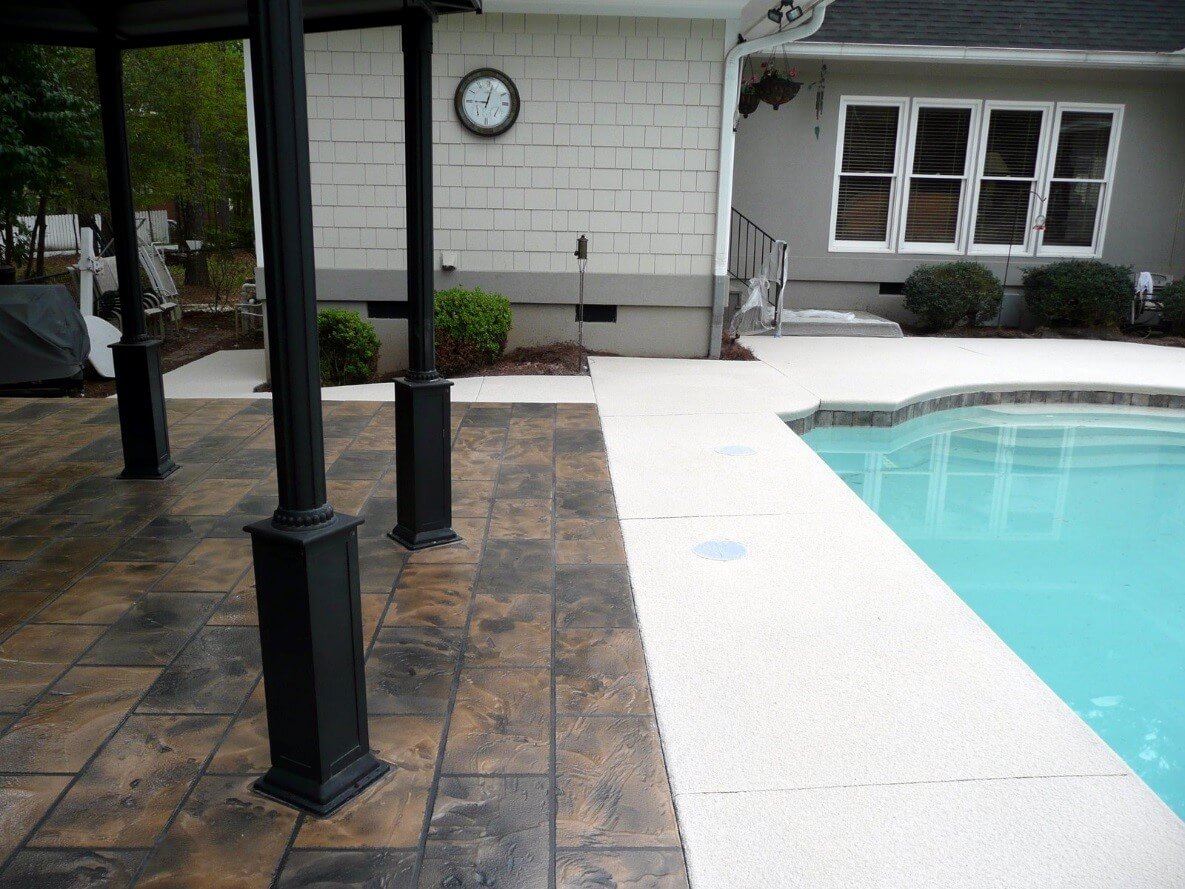 Some homes extend the comfort of Indoor living to the outdoors with a connected patio and pool deck. This creates an uninterrupted activity flow from the house to the yard. Make your whole backyard an entertainment arena with decorative concrete designs to enhance the pool area and the patio. This dual-style design has a hand-crafted and custom-colored stone patio concrete overlay while the pool deck and walkways have a broom-swept, slip-resistant finish in a neutral color for bold contrast. Every inch of the yard is now functional space, with a durable, beautiful finish that will give years of enjoyment. Patio furniture, games, and toys can move from the patio to pool with no concern about chips or scratches to the surface. In fact, no amount of running feet, spilled food, drinks, suntan lotions, or pool chemicals will mar the sealed surface.
Add some five-star enhancements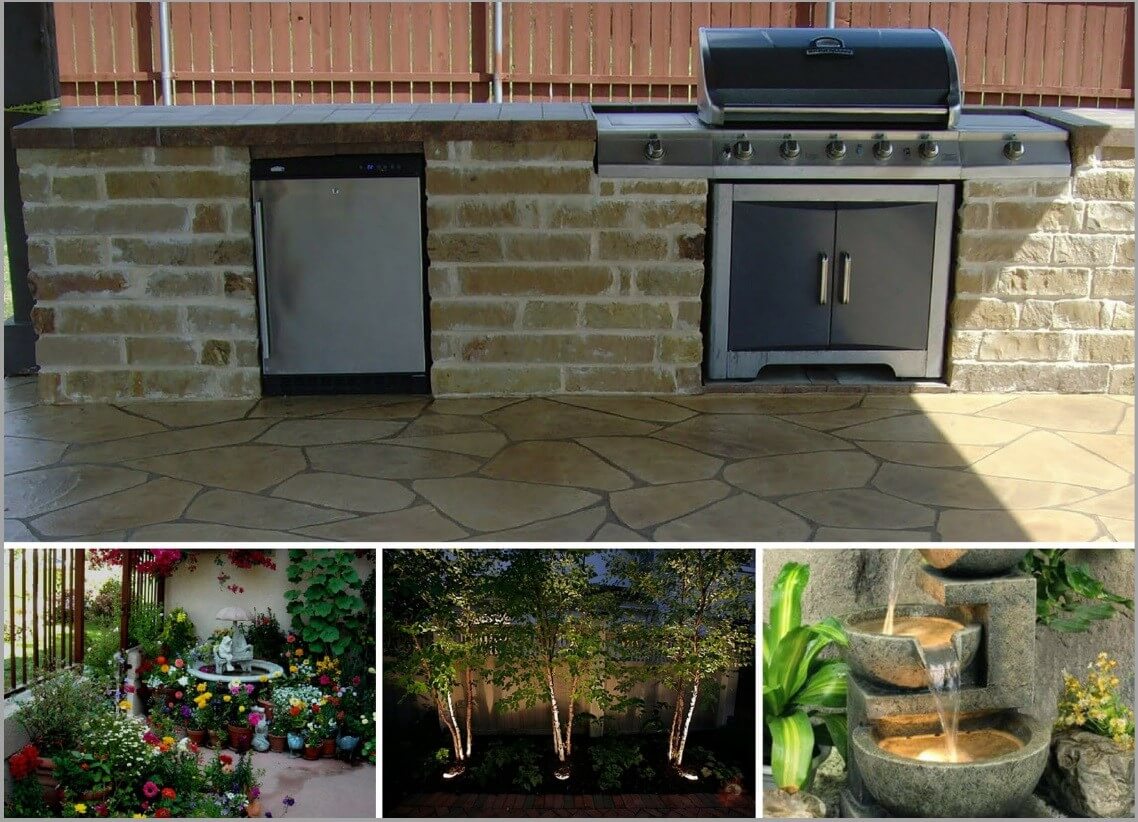 You can further enhance your backyard with design features that are the same amenities that resorts and hotels incorporate for luxury living. Your backyard can become the ideal destination spot for family fun all year long.
Backyard kitchens with outdoor grill, burners, sink, smoker, wine cooler, refrigerator, or kegerator
Lush gardens in pots and raised beds can keep flowers and greenery thriving all year long.
Use specialty lighting to add ambiance and safety. Malibu lights run on solar power and are easy to install for lighting stairs and walkways and up-lighting gardens and trees at night for a stunning effect.
Water features add a natural, soothing element. From simple fountains to streams, waterfalls, and swimming pools, water adds dimension and character.
Handcrafted furniture can give individuality to your backyard design. Choose Adirondack chairs, reclaimed wood tables and benches, wine barrel tables and chairs, and willow twig, rattan, and wicker designs in natural wood tones or trendy, brightly painted pieces.
Create excitement with vibrant color in cushions, umbrellas, and serving dishes.
Movable umbrellas that can "follow the sun" will provide shade where and when it's needed, keeping everyone comfortable.
Put this year's tax refund to good use by creating a custom backyard for your family that rivals the local fun zone. You'll keep the kids home more and save money on entertainment all summer long. Concrete Craft offers an unlimited range of styles, patterns, and colors of decorative concrete overlays, including hand-cut and custom-colored natural stone replicas like Flagstone, Cobblestone, Slate, and more, as well as stamped patterns in brick, tile, and wood plank, customized with rich, vibrant stain colors. Contact us today or go online to www.concretecraft.com to find the Concrete Craft location nearest you and request a FREE estimate. Click here for FAQ on stained, stamped, and resurfaced decorative concrete overlays.