Update Your Home's Interior Floors with Decorative Concrete Designs
In the world of fashion, nothing stays the same. Hairstyles change, fashions evolve season to season, and makeup colors and techniques can completely makeover a person with a whole new look. The same is true for your home, and new flooring is one of the easiest ways to completely change the look and feel of a home. With the right flooring, years fall away and your home will be instantly transformed!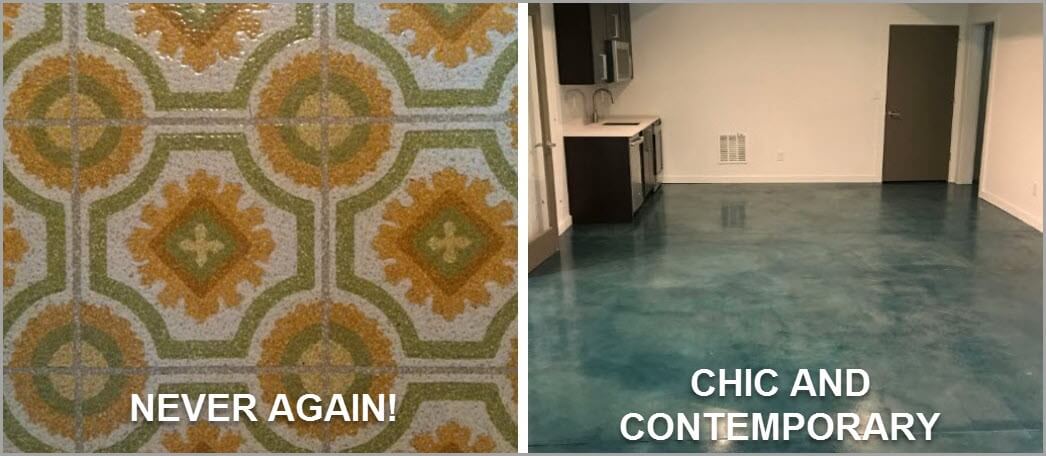 At Concrete Craft®, we take pride in helping people love their homes by transforming their ordinary spaces into beautiful, extraordinary living areas with decorative concrete, the ideal way to bring the "wow" factor into your home with show-stopping floor finishes.
Decorative concrete offers unlimited design potential with stained, stamped, and resurfaced concrete designs to update all your floors. And with our concrete overlay process, even damaged floors can be restored to a new surface without the need for demolition and replacement. Once the old flooring is removed—carpet, tile, linoleum, or wood—resurfacing will get your floor ready for its new design. Versatility is the name of the game, from the look of polished marble to rustic stone finishes.
Vibrant stain colors with rich, long-lasting, fade-resistant color
Authentic stamps from real rock, stone, and wood molds
Hand-cut and custom-colored designs
Layering colors for dramatic effects
Stencils for intricate patterns and artistic details
Stencils and border designs
Stencils can be used to add elaborate patterns and highlights to stained decorative concrete floors. Create a focal point in an entryway, stencil a rug pattern down a hallway, or create decorative borders to add dimension to a room. Stencils allow for elaborate designs that would be prohibitive with hand-cutting.

Stencils for concrete come in a variety of popular patterns, including starbursts, entwined vines, brick, tile designs, stone, elaborate borders, flowers, rosettes, diamond shapes, and more.
Stencils can be used on existing concrete using an overlay.
Achieves an architectural finish, patterned but flat without aggressive texture.
Stenciled patterns infuse into the concrete and are sealed so they won't chip, fade or peel.
Acid-based chemical stains
Acid-based stains penetrate deep down and react chemically with the concrete floor and create mottled effects as in the image below, where gray and walnut stain colors combine for a completely unique look. Concrete stains can mimic different materials, including natural stone and polished marble, with variations in color only limited by your imagination.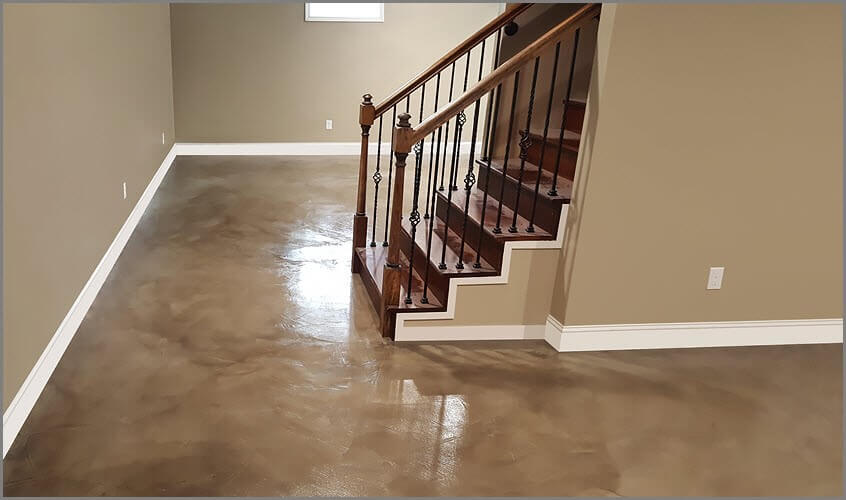 The low cost of staining makes it a practical choice for large areas like living rooms and great rooms.
The durability and beauty of decorative stained concrete adds value to your home.
Stained concrete can be treated with a slip-resistant sealer if desired.
Stained concrete is resistant to moisture, mold and bacteria, dust mites, and other allergens, ensuring that you can breathe easier if you have asthma or allergies.
Water-based acrylic stains
Water-based concrete stains have the same durability, fade-resistance, and economy as acid-based stains while offering a smoother, more consistent look. You can have a luscious, rich color from your doorway, down the hall, and into your rooms for one continuous palette of color, unifying your space.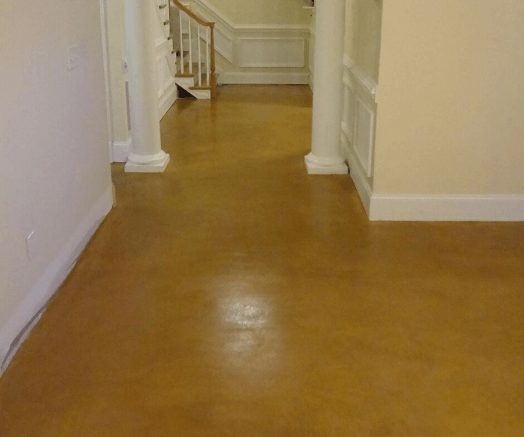 Subtle earth tones are popular to warm up rooms with a touch of nature.
Lighter colors will make an area appear larger; replace dark carpeting with lighter decorative concrete finishes to brighten up your home.
Stained concrete can last decades with minimal maintenance.
Area rugs will add softness where needed and make it easy to change up your décor as often as you wish.
Stamped wood plank designs
The look of hardwood floors is very popular but, for many, its cost makes it prohibitive. With stamped decorative concrete, you can have the look of real hardwood floors throughout your home at a fraction of the cost of the real thing. A concrete overlay on your existing floor will enable you to convert to "hardwood" floors wherever you want.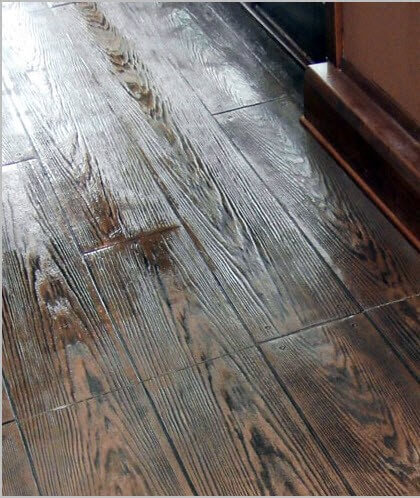 Stamps are made from real wood molds, so the look is authentic.
You can choose smooth wood finishes, distressed wood, wider planks, stronger graining, reclaimed wood, and textured finishes.
Decorative concrete hardwood floor designs give years of worry-free beauty and functionality. Even children and pets cannot damage the sealed finish.
No need to avoid rooms where moisture and humidity are high. Decorative concrete hardwood floors can safely bring the high-end beauty of hardwood to any room in your home.
Authentic stone molds for hand-crafted results
"Real stone molds" let us create natural-looking, faux stone finishes for your floors. Our proprietary system of hand-cut and custom-colored fabricating makes us unique in our industry. Our craftsmen create finishes that simulate real stone, with each cut individually shaped to have the look and feel of natural stone.

Applied directly over your existing concrete slab, our jobs go quicker and with less upheaval than setting actual stone.
Rubber stamps were designed from "real stone" molds to imprint the concrete to resemble natural flagstone, cobblestone, brick, Ashlar slate, Roman slate, and a myriad of other designs.
Grout lines are part of the sealed surface, so it never discolors or crumbles like real grout, and the stones never shift or lift.
Extremely low maintenance, continuous surface, sealed concrete floors stay clean with a dust mop and occasional wet mopping to keep the surfaces like new.
If new floors would update your home and unleash your inner decorating diva, don't wait to contact us today or go online to www.concretecraft.com to find the Concrete Craft location nearest you and request a FREE estimate. With Concrete Craft you can always count on innovative design, exceptional quality, professional installation, and a two-year warranty* on all our work. We are the experts with decorative concrete for not only interior floors, but also for all your outside surfaces like patios, driveways, walkways, pool decks, and more. Check out our spaces image galleries to see what we can do for you.