Upgrade Your Pool Deck To Five-Star Status For A Stellar Summer Staycation
With COVID-19 travel restrictions, you may think about giving summer vacation a pass this year, but limited travel doesn't have to mean limited summer fun. If you have a pool in your backyard, Concrete Craft® can help get your pool deck beautified and gentrified to rival your favorite destination hotel! You and your family can still have lazy days of kicking back and focusing on the fun right at home with beautiful, versatile decorative concrete to transform every element in your yard from ordinary to extraordinary.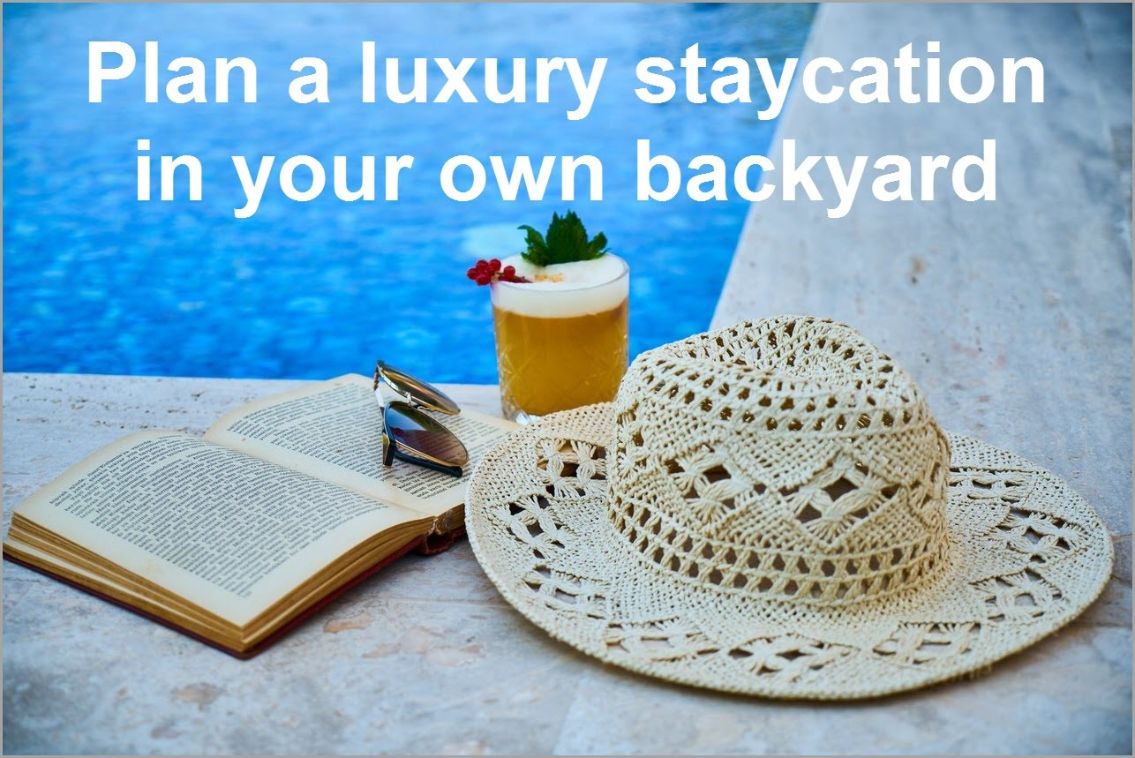 Think about it … what makes those resort pools so appealing? It's the beauty and attention to detail in creating a coordinated, relaxing setting. Concrete Craft can help turn your backyard into the ideal vacation spot incorporating all the things your family loves to do—swimming, outdoor games, never-ending snacks, and drinks, sunbathing, reading, napping—whatever equals quality time for your family. This year put those vacation dollars toward an enduring home investment that will provide a stellar staycation now and years of enjoyment in the future.
An awe-inspiring pool deck
Pool decks are exposed to the elements all year long and inevitably show wear from just normal use and unrelenting weather. Getting your pool deck into shape is the first step to transforming your backyard into a favorite staycation spot. Concrete Craft has multiple systems to refresh your worn pool deck, ranging from damaged concrete repair to stained concrete and hand-cut faux stone designs to a real stone concrete overlay. At any budget, you'll be amazed at how great your worn, tired pool deck can become with the right decorative concrete finish!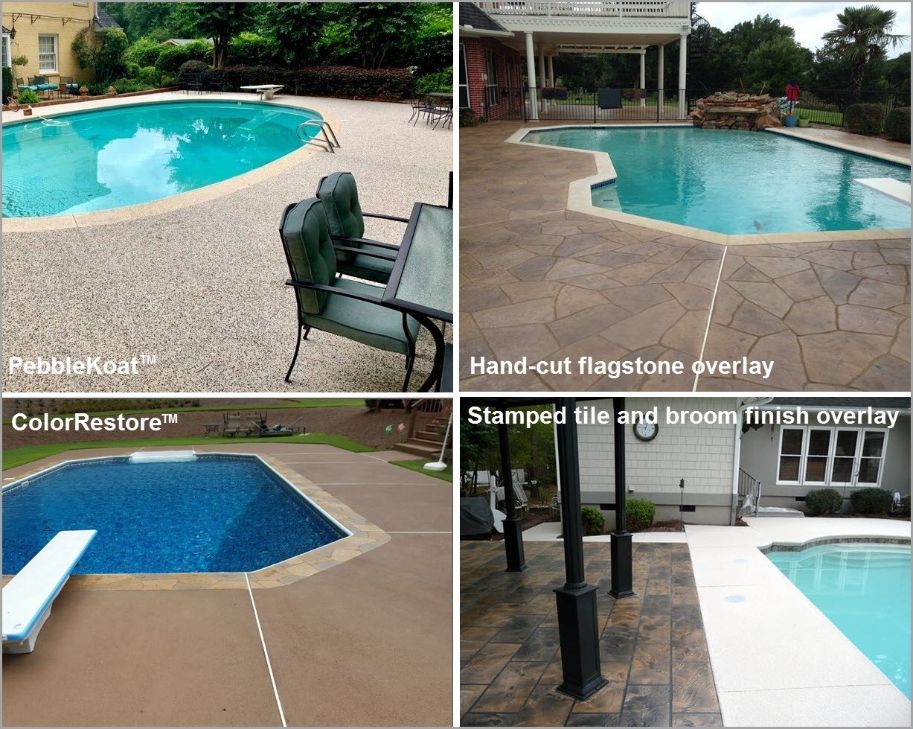 For concrete in good condition, a concrete stain adds vibrant color and a durable new finish.
A discolored, chipped, and cracked surface can be renewed with a resurfaced concrete overlay that hides the imperfections and presents a fresh surface for decorative concrete design with stained, stamped, and hand-carved custom designs like flagstone, cobblestone, Ashlar slate, and wood plank designs.
RenewKoat by Concrete CraftTM is a rolled-on cementitious overlay that restores a faded decorative concrete surface to its original beauty, or you can select a fresh new color.
ColorRestoreTM is a water-based stain that penetrates the surface, forming a breathable, natural finish with the look of colored concrete.
PebbleKoat by Concrete CraftTM is real stone decorative river rock in a non-epoxy-based concrete overlay available in a range of color blends from light Frost to a dark Espresso.
Check out all our MasterProTMFinishes in our online product catalog.
Incorporate the patio and other areas
With decorative concrete overlays, you can easily connect the pool deck, patio, and other areas of the backyard for nonstop fun. Especially if slabs are different colors, a decorative concrete overlay will create one seamless, durable finish that ties it all together for that expansive resort look. Additionally, vertical concrete resurfacing can bring the beauty of faux stone to surrounding steps, seat walls, retaining walls, or an accent wall for the elegant enhancement of stone. Every inch of the yard is now functional space, and patio furniture, games, and toys can move from the patio to the pool and back with no concern about chips or scratches to the surface. The sealed surface is impervious to running feet, spilled food, drinks, suntan lotions, and pool chemicals.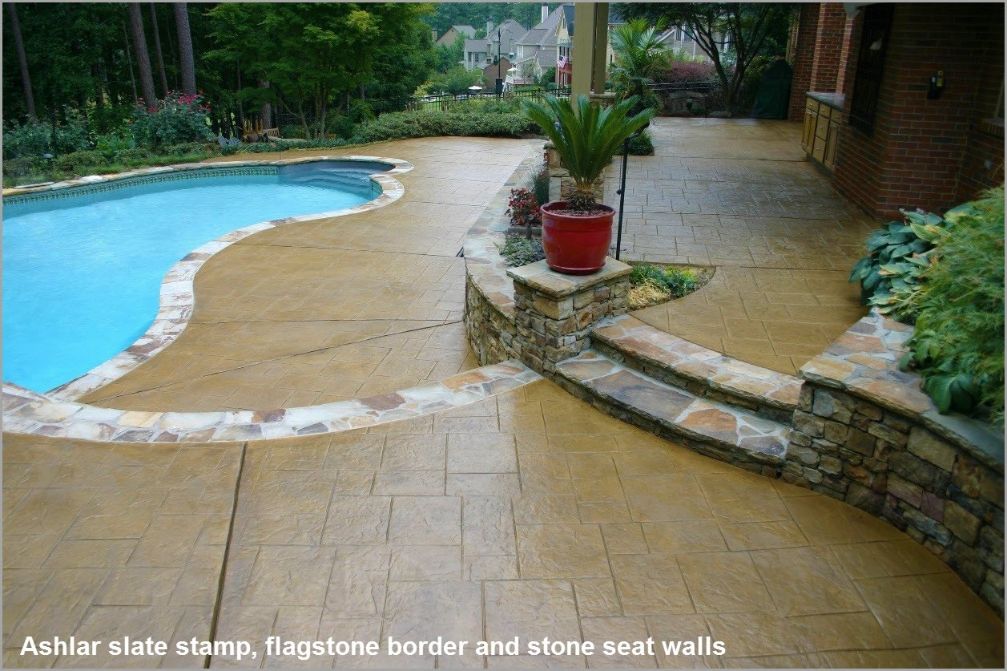 Create intentional activity areas
The swimming pool will most likely be in constant use with water toys and floating rafts but having lots of other things to do will bring that never-a-dull-moment vacation feeling to your backyard. Don't leave the fun to chance, create different activity areas for conversation, reading, lounging in the sun, eating, crafting, and playing games. Game tables and lawn games create permanent activity areas that won't interfere with patio tables where cool drinks, snacking, and lazy conversation are the draw. Utilizing all your space will keep the whole family entertained and engaged, individually and collectively.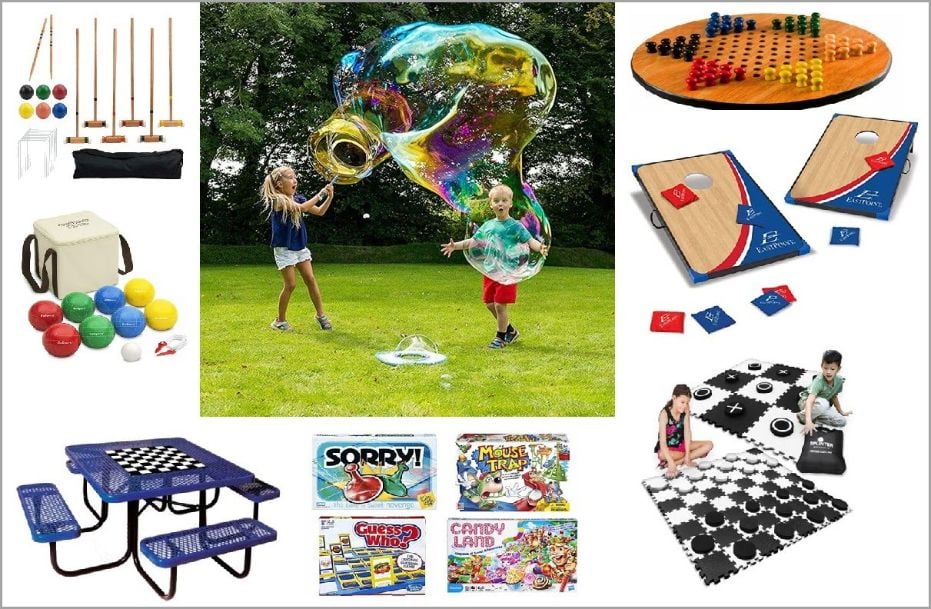 Adopt all the luxury you want
Create your own personal resort by furnishing your new backyard with all those amenities you go to the fancy hotels for, minus the pool stewards, of course!
Comfortable pool, patio, and lounge furniture with plump cushions and adjustable shade umbrellas.
A minibar to keep cold drinks within easy reach.
Serve-yourself food station with snacks, finger foods, and fresh fruit.
Outdoor rugs to pamper your feet and plush towels for after a swim.
A handy supply of sun hats and suntan lotions (broad-spectrum SPF 30 or higher) to avoid sunburn. ( 6 Sunscreens You Can Wear All Day & Still Get A Decent Tan)
Plants and flowers in planters and pots for color and a garden atmosphere.
Strings of lights, decorative solar lights, and citronella Tiki torches light up the night and banish pesky bugs.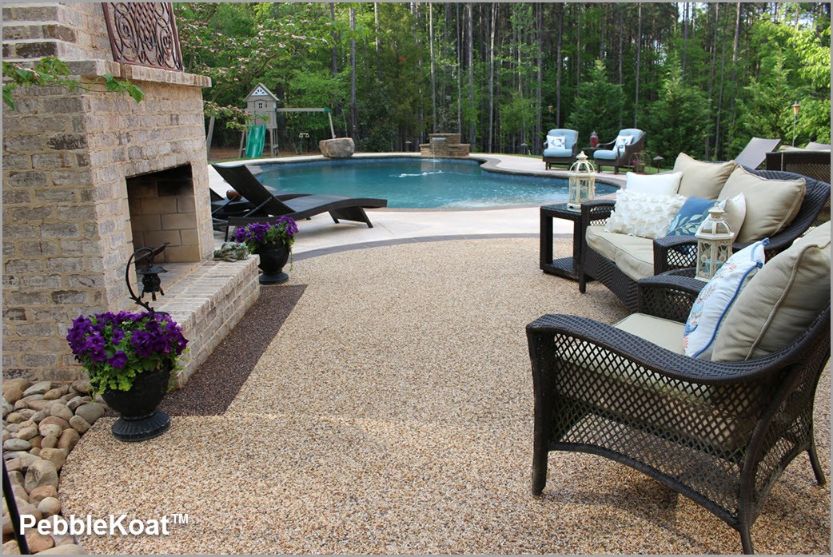 Slip into vacation mode
Vacationing is also a state of mind, so even though you're at home, slip into vacation mentality and leave the rat race behind. Alter your normal routines so life slows down. For example:
Keep cooking to a minimum. If local restaurants are off-limits, order online for to-go meals to pick up and use restaurant delivery services, pizza delivery, or services like DoorDash and GrubHub. Stock the freezer with favorites and make eating less of a chore during your staycation.
Switch to paper plates, plastic utensils, and disposable cups to eliminate dishwashing.
Let unnecessary chores slide during vacation. Kids will love no bed-making for a few days.
If local tourist attractions in your area are unavailable, take a scenic drive and have a picnic out in the open, try hiking trails, and fly a kite.
Take virtual tours of museums, theme parks, and zoos from the safety of home. ( Goodhousekeeping.com list of virtual tours)
Pick one night for the whole family to binge-watch favorite movies, just like in a hotel with pay-per-view. And don't forget all the trimmings: popcorn, drinks, candy, pillows, blankets, and 3D glasses for the scary movies.
Laugh a lot and sleep late.
Concrete Craft can help you have the best summer ever, right at home. No fighting traffic, getting stuck in airports or kenneling the dog—just lazy days on your beautiful new pool deck and patio. Contact us today or go online to www.concretecraft.com to find the Concrete Craft location nearest you and request a free in-home or virtual* consultation. With in-home and virtual consultations, we can honor appropriate social distancing and safety mandates while still helping you achieve the perfect staycation backyard oasis. We can evaluate your space, discuss your specific needs, design, and then schedule an installation for when the time is right. With Concrete Craft, you can be confident that the well-being and safety of our customers are always a top priority.
*Virtual consultations are not available at all locations.