Use Your Tax Refund To Transform Your Outdoor Spaces With Decorative Concrete
Warm spring weather can take some of the sting out of tax time, but the very best consolation is a tax refund that puts your money back in your own pocket. If you're one of the almost 60 percent of U.S. taxpayers who will be getting a tax refund this year, what will you do with it?
Concrete Craft® recommends a rock-solid investment in beautiful, versatile decorative concrete. Enhance your outdoor spaces like the patio, pool deck, or driveway with stained, stamped, or resurfaced concrete designs.

There's no better way to spend that money than to invest it in your home, increasing its value and making it more comfortable for you and your family. With outdoor activities on the rise throughout the spring and summer months, enhancing your outdoor spaces now is perfect timing. You'll be ready for anything from the first spring barbeque to the last pool party of summer.
Hand-carved concrete overlays in faux stone finishes
Existing concrete slabs, even in a damaged condition as in the image above, can be transformed with a decorative concrete overlay. In this instance, the overlay covered up chips, cracks, discoloration, and imperfections, presenting a fresh surface that was hand-carved and custom-colored to replicate the look of genuine flagstone. Using "real stone" molds creates remarkable authenticity for flagstone, cobblestone, Ashlar slate, Roman slate, brick, tile, and more, with custom stains applied by hand.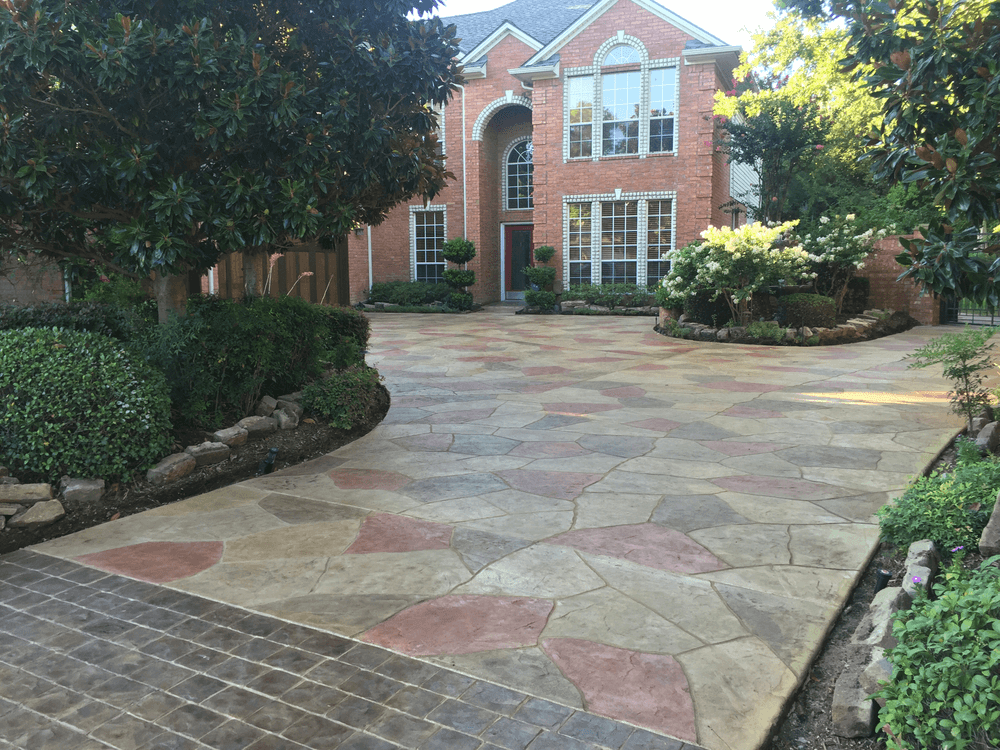 This unique combination of flagstone and cobblestone make this driveway an impressive entrance to the home. Mixing two or more designs is never a problem to create borders or highlighted areas. Since the grout lines are merely indentations and part of the continuous, sealed surface, maintenance is minimal. No grass or weeds can intrude, and stains and spills are repelled. Nothing will mar the surface, and a quick hosing off will keep the driveway immaculate.
Stamp patterns present unlimited design possibilities
Concrete stamp patterns are made from real stone and wood molds to create realistic designs when pressed into a concrete overlay or freshly-poured concrete before it hardens. You can have the look of pavers, brick, slate, wood plank, and high-end tile for a fraction of the cost of real materials and in much less time than it takes to install real stone, tile, or wood plank. There's never any lifting of the "stones" and the water-resistant surface is ideal for all outside concrete surfaces, including pool decks and patios.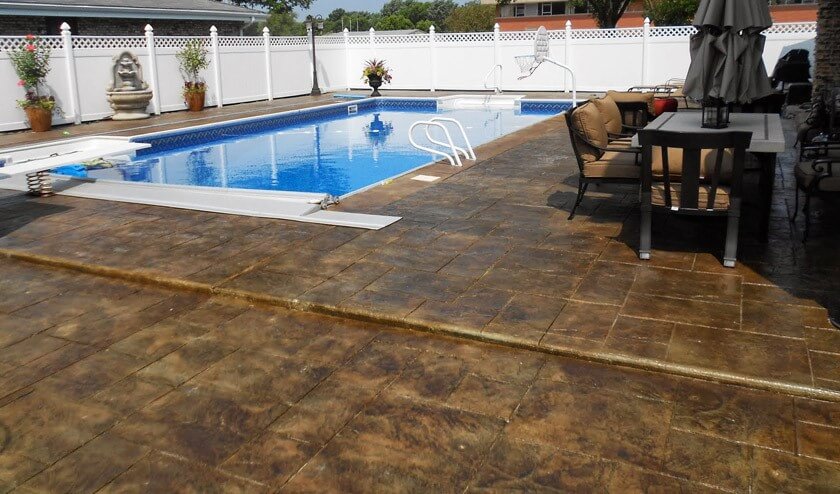 The stamped and stained tile design of this full-yard pool deck creates a luxurious atmosphere. Maintenance is easy and will ensure that the pool is always ready for an afternoon of fun. Food, drinks, suntan lotions, oils, plant spills, or pet accidents wipe right up with no staining the sealed surface. Year after year, this pool deck will retain its original beauty and functionality for family fun and entertaining.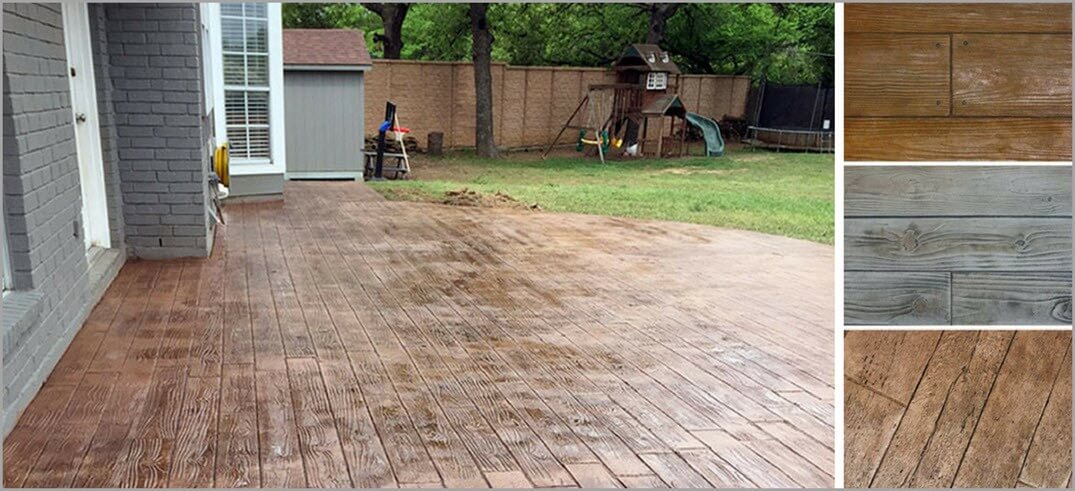 For the lasting look of real hardwood, our wood plank stamps include smooth finishes, distressed wood, wider planks, stronger graining, reclaimed wood, and textured finishes. For outside patios and porches, real wood flooring is not practical, but a decorative concrete stamped wood pattern will give years of care-free service without succumbing to the usual problems of wood like rot, mildew, or scarring. From lighter shades to dark wood tones, the color choices are unlimited. Embrace the warmth of wood for your outdoor spaces with the indestructibility of decorative concrete.
Vibrant stains revitalize large areas without breaking the bank
Stained concrete is one of the most economical ways to enhance your concrete surfaces. The built-in UV protection of our concrete stains ensures that this stained driveway will hold its vibrant color for years. Stained decorative concrete can mimic anything from polished marble to natural stone, including smooth, continuous color from water-based stains, or a mottled effect from acid-based stains. The industry-tough sealed surface can withstand heavy vehicle traffic or endless family activity like bikes, scooters, skateboards and basketball.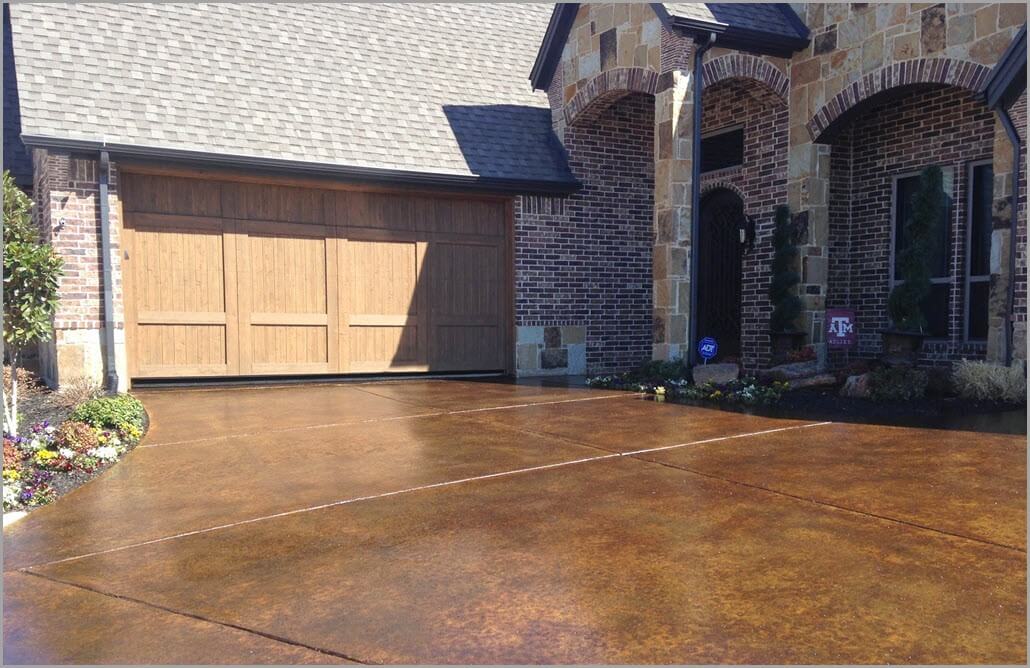 Benefits of decorative concrete overlays
If you're tired of plain or ugly concrete bringing down your home's appearance, you can boost curb appeal or dress up the backyard with quick and easy decorative concrete overlays from Concrete Craft. You've seen how beautiful concrete can be, so you add in the benefits of decorative concrete and it's a win/win:
Replicate the look of natural stone or wood for a fraction of the cost of real materials
Hide imperfections in the original concrete so there's no need for demo and replacement
Installation takes just a few days and your patio or driveway is back in service
Sealed surfaces are weather-resistant and will not crack, chip or peel
Match any décor or landscape architecture with beautifully custom designs
Don't let valuable tax refund dollars slip through your fingers on frivolous or short-lived thrills when you can enjoy the enduring beauty of decorative concrete to transform your home. Contact us today or go online to www.concretecraft.com to find the Concrete Craft location nearest you and request a FREE design consultation and estimate. Your local concrete artisan will help you find the ideal finishes for all your concrete surfaces with glossy stains, stamped textures, and hand-crafted faux stone designs. Check out our digital brochure and Interior Design Guide for inspiration to enhance and upgrade your indoor and outdoor spaces.