Walk the Right Way Concrete Ideas For Sidewalks And Walkways
Sidewalks and walkways are an integral part of a home's landscaping, from the steps leading to the front door to the walkways that connect the front and backyards and trail out into the gardens. Concrete walkways that are subject to heavy foot traffic, as well as unrelenting weather, can quickly develop a time-worn appearance that detracts from, rather than adding to, a home's appeal. Updating your walkways can elevate all your outdoor spaces with the beauty of decorative stamped concrete.
This side yard walkway becomes an adornment with a resurfaced faux flagstone stamped concrete design
Concrete Craft® can offer any number of walkway ideas to restore cracked and discolored concrete sidewalks without demolition and replacement. Our high-quality MasterProTM finishes and overlay systems will erase years of use and abuse, making your concrete surfaces better than new with faux stone and wood designs for extraordinary spaces. The finishing touch to a beautifully landscaped yard, you can take pride in walkways that enhance gardens and lawns and invite visitors to come on in!
Cobblestone for Old World appeal
Classic cobblestone paths are a favorite with English gardens as well as modern layouts with different stones, designs, and colors. With a resurfaced concrete overlay and custom stamped concrete cobblestone pattern, you can transform a plain walkway with the elegance of cobblestone without the problems that make real cobblestone an unpopular choice for many homeowners:
The uneven surface of cobblestone is a trip factor and difficult to traverse for little people, older people, wheelchairs, carts, or strollers.
Cobblestone is expensive with labor-intensive installation.
On-going maintenance is required to remove grass and weeds that grow in between the stones.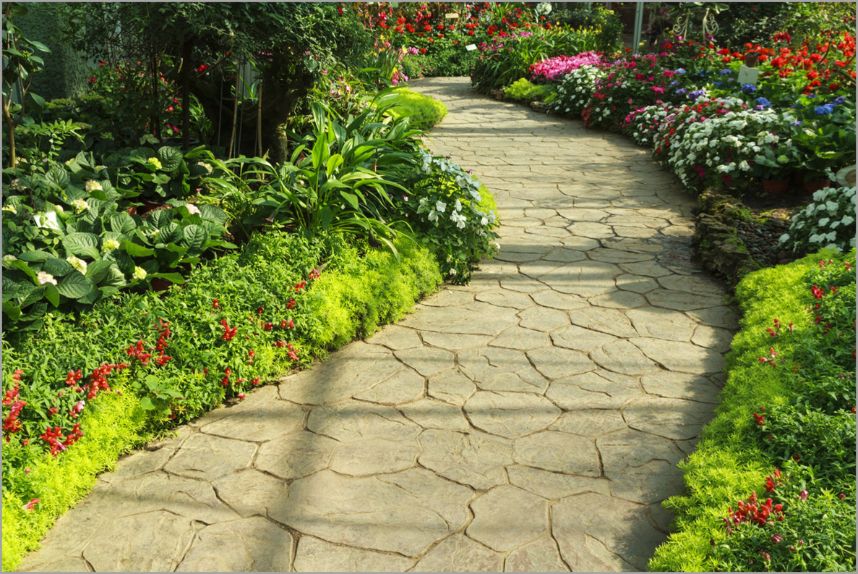 Decorative concrete cobblestone looks like real stone but with a smooth, even surface that is low maintenance and has high durability
Elegant slate-textured sidewalks
Another favorite walkway finish is textured slate either in a continuous pattern or stamped with an Ashlar slate design. This well-worn entrance walkway and porch were rejuvenated with a decorative concrete overlay stamped with a Roman slate texture and custom stained with a vibrant brown that intensifies the blue front door and dark brown shutters and wakes up the whole front yard.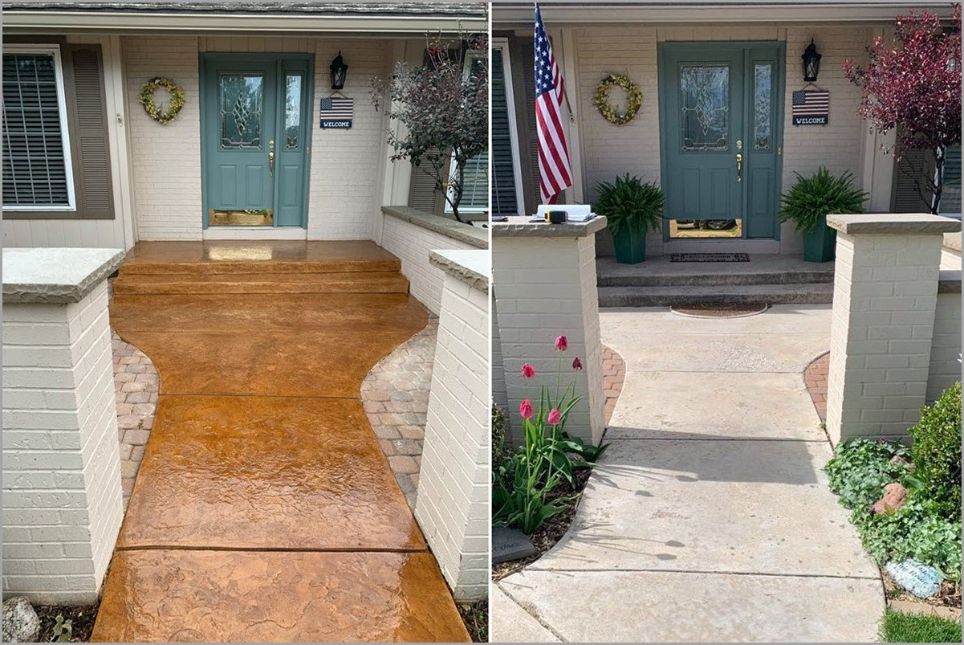 Achieve a new faux stone finish applied to the existing walkway so there is no demolition required for a totally different look
Pebbled walkways without loose gravel issues
PebbleKoat by Concrete CraftTM can imitate the look of a pebble or gravel walkway without the issues of shifting and migrating stones, uneven surfaces from walking on it, and an annoying stone in your shoe. The stand-alone, real river rock overlay can repair damage, level uneven spots, and incorporate multiple colors to create a self-border. No need for large stones or edging lining the sidewalk to keep loose pebbles in place. The slightly textured surface is industry-tough, sealed to resist moisture, spills, dirt, and grime so your grand entrance stays grand with very minimal effort.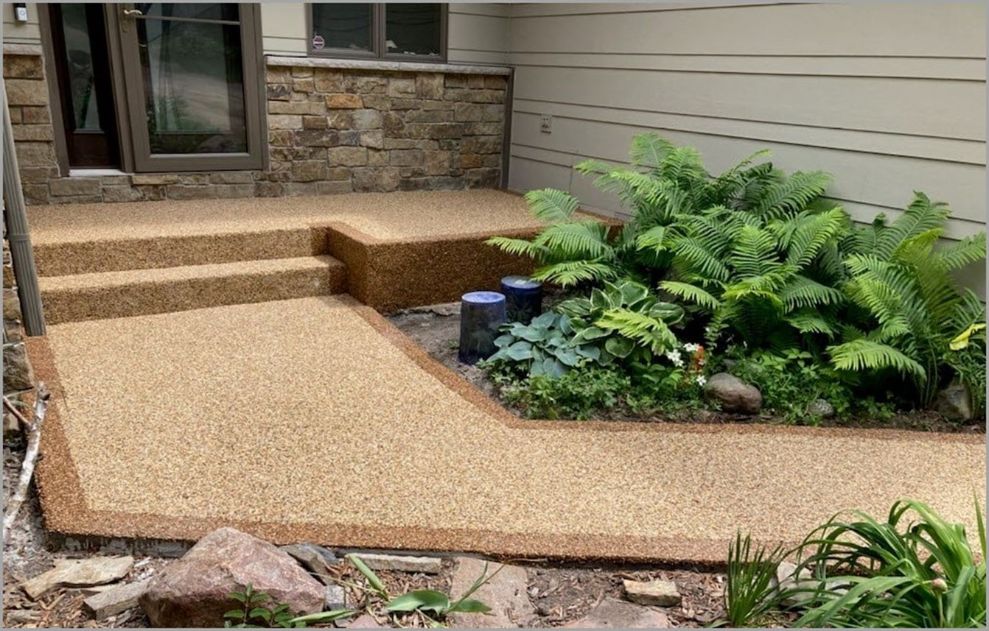 Love the look of real river rock in a decorative concrete overlay that stays beautiful for decades
Unify the backyard with a connected side yard walkway
Sidewalks along the side of the house add definition and dimension to your spaces, tying areas together with a "walk this way" invitation. Adding a walkway to this freestanding patio off the back door makes that space more unified with the rest of the yard. A decorative concrete overlay stamped with a flagstone pattern eliminates the problem of old and new concrete color differences. The patio and walkway look like they've always been together.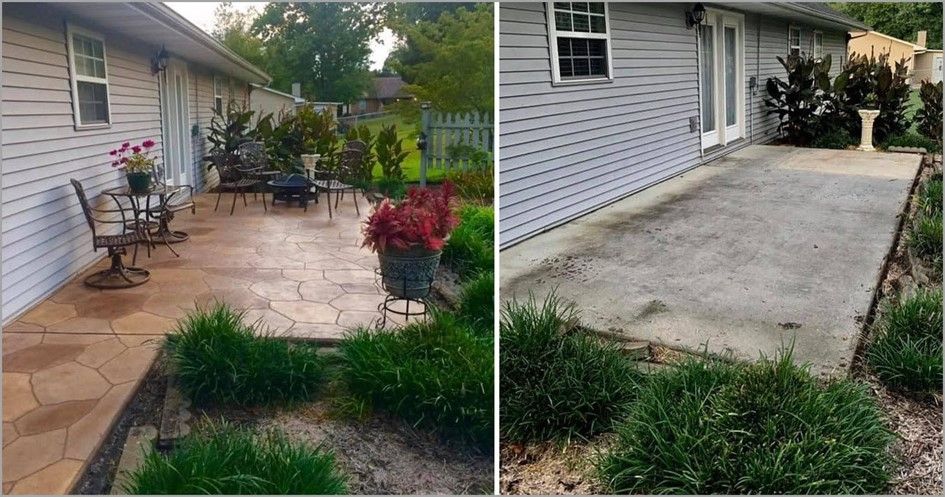 Adding a walkway connects this renovated patio to the rest of the yard
Add a blush of color to your sidewalks
If your walkways and sidewalks are basically in good condition but you're tired of the drab gray, Concrete Craft has several finishing products that can add a touch of color to your concrete.
TrafficKoat by Concrete CraftTMcovers minor imperfections with a stain/seal opaque, breathable finish with added durability.
Color RestoreTM is a resurfacing system that penetrates the surface of the concrete with the superior look of colored concrete for a natural, durable finish.
TruStainTM concrete stains apply directly to existing concrete adding color and shine for the most economical way to refresh concrete surfaces.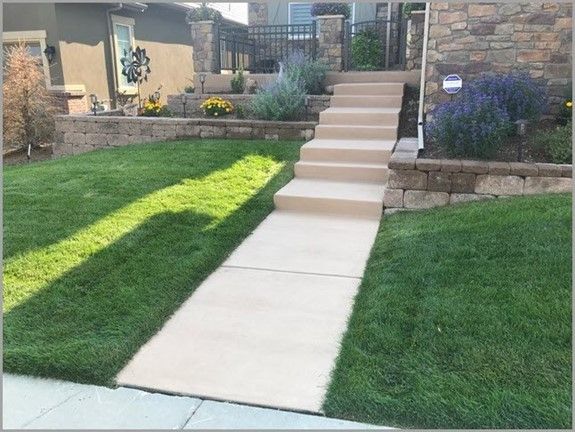 Updating your walkways with color is easy with resurfacing and finishing products that apply directly to existing concrete
Repair damaged walkways—no replacement required
Even heavily distressed and damaged walkways can live again without the hassle and expense of demolition and replacement. With our MasterPro Repair and RestoreTM products, damaged sidewalks can be restored to like-new condition, maintaining the integrity of your landscape efforts with attractive and clean concrete surfaces. You may be surprised at how easy it can be to get your walkways and sidewalks back in shape!
RestoreKoatTM repairs extreme damage with a finish that is fast curing and resistant to abrasion, moisture, and extreme weather.
RenewKoatTM restores decorative concrete finishes gone bad with a cementitious overlay system that rolls on like paint, restoring its former glory with a natural concrete appearance in the color of your choice.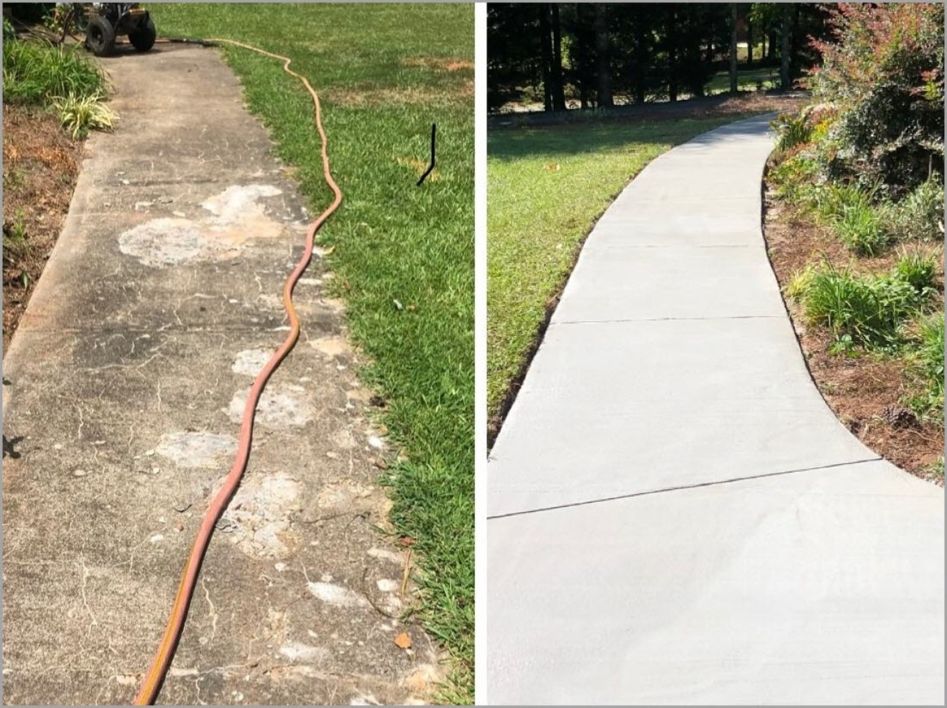 A deteriorating walkway is a thing of the past with weather- and stain-resistant RestoreKoat enhancing your sidewalks
Step out in style with new walkways
Repairing or restoring damaged concrete sidewalks and walkways is one of those things that gets put off, sometimes past the point of safety. If your walkways have become an ugly problem or a safety issue, Concrete Craft can repair and restore any walkway or sidewalk that appears doomed. All our refinishing and resurfacing products provide benefits that keep your concrete surfaces beautiful for years of enjoyment.
The surface is stronger than bare concrete and blocks penetration of dirt, stains, and water.
Resistant to all kinds of weather, including hot and cold and wet and dry conditions.
UV protection in our concrete stains ensures no color fading.
Tough finishes give added protection against chips, cracks, or peeling.
Resurfacing versus replacement saves time and money and be completed in a matter of days.
Unlimited design potential with custom faux stone or wood plank designs, vibrant stain colors, and realistic stamp patterns.
Gene Simmons of KISS fame said, "It's hard to see your destination when you're focused on the cracks in the sidewalk." If it's time to remove that distraction from your life, Contact us today or go online to www.concretecraft.com to find the Concrete Craft location nearest you and request a free in-home or virtual* consultation to see just how easy it is to restore and enhance your sidewalks and walkways, making life more beautiful.
*Virtual consultation may not be available at all locations.
For more concrete design ideas, follow us on Instagram and like us on Facebook.