Warm Up the Winter Cold with Plans for a New Summer Patio
If winter is starting to wear on your nerves, why not think about something that transports you to a happier place … like summer.
The warm sun on your back
A cooler full of drinks
Grilling chicken and ribs for a dozen family and friends
Everyone lounging around and having a great time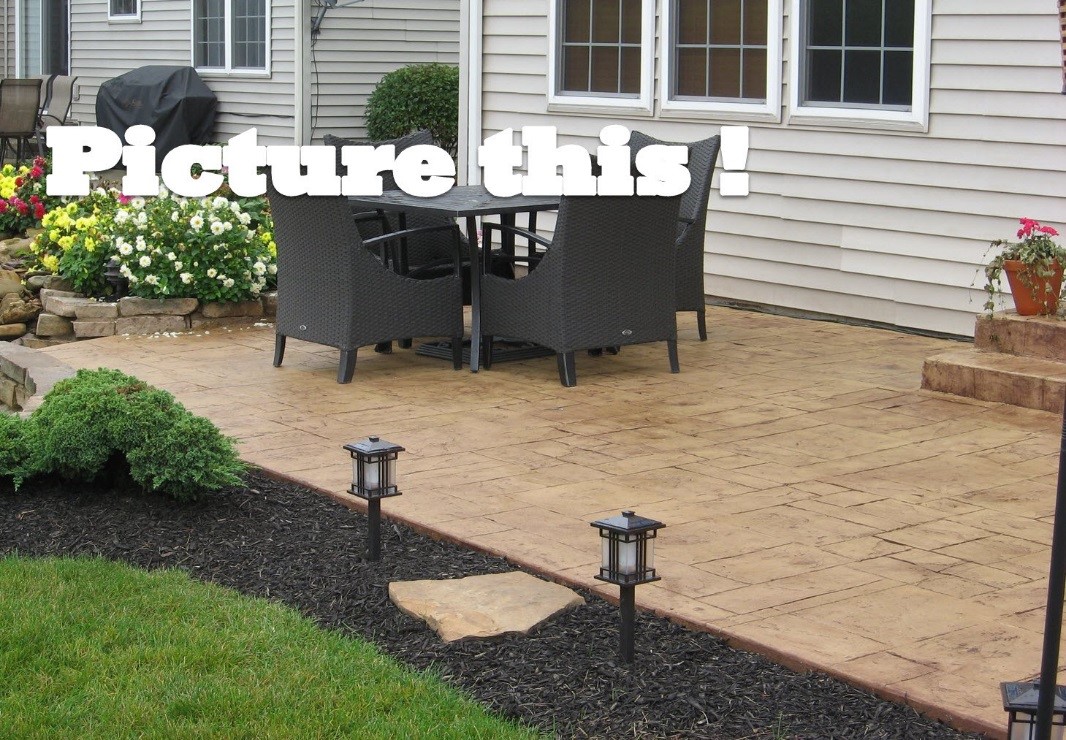 But then you glance outside and see your very sad patio. It's just not ready for summertime entertaining. Rather than retreat into winter gloom, take proactive steps so you'll be ready for that first barbeque opportunity by planning now for a new decorative concrete patio. You'll be glad you did! Not only will you enjoy the finished result come summer, but research tells us that anticipation is important to life satisfaction and that we feel really good just thinking about positive things to come. (Journal of Experimental Psychology)
So get a roaring fire going in the fireplace, grab a cup of coffee and check out the patio options with Concrete Craft® and start anticipating good things to come! With stained, stamped, and resurfaced concrete, the sky's the limit in designing your perfect patio.
Stained concrete patios
Stained concrete is the most economical way to transform your patio for summer fun and year-round enjoyment. If your slab is in good condition, a stain may be all you require for an overall new look with durability and functionality you'll love. Concrete Craft's high-quality stains penetrate the surface, forming a permanent bond of rich, vibrant color that will not fade, chip, or peel. It's not an opaque coating like paint; stain allows the character of the concrete to show through, so if your patio is stained or cracked, you may need a micro-topping concrete overlay to hide the flaws before the stain goes on. With the choice of acid-based chemical or water-based acrylic stains, our application techniques can mimic anything from polished marble to natural stone, in practically unlimited color choices. The industry-tough sealer protects the surface and is moisture-resistant, repelling mold, bacteria, fungus, and other allergens to protect your family.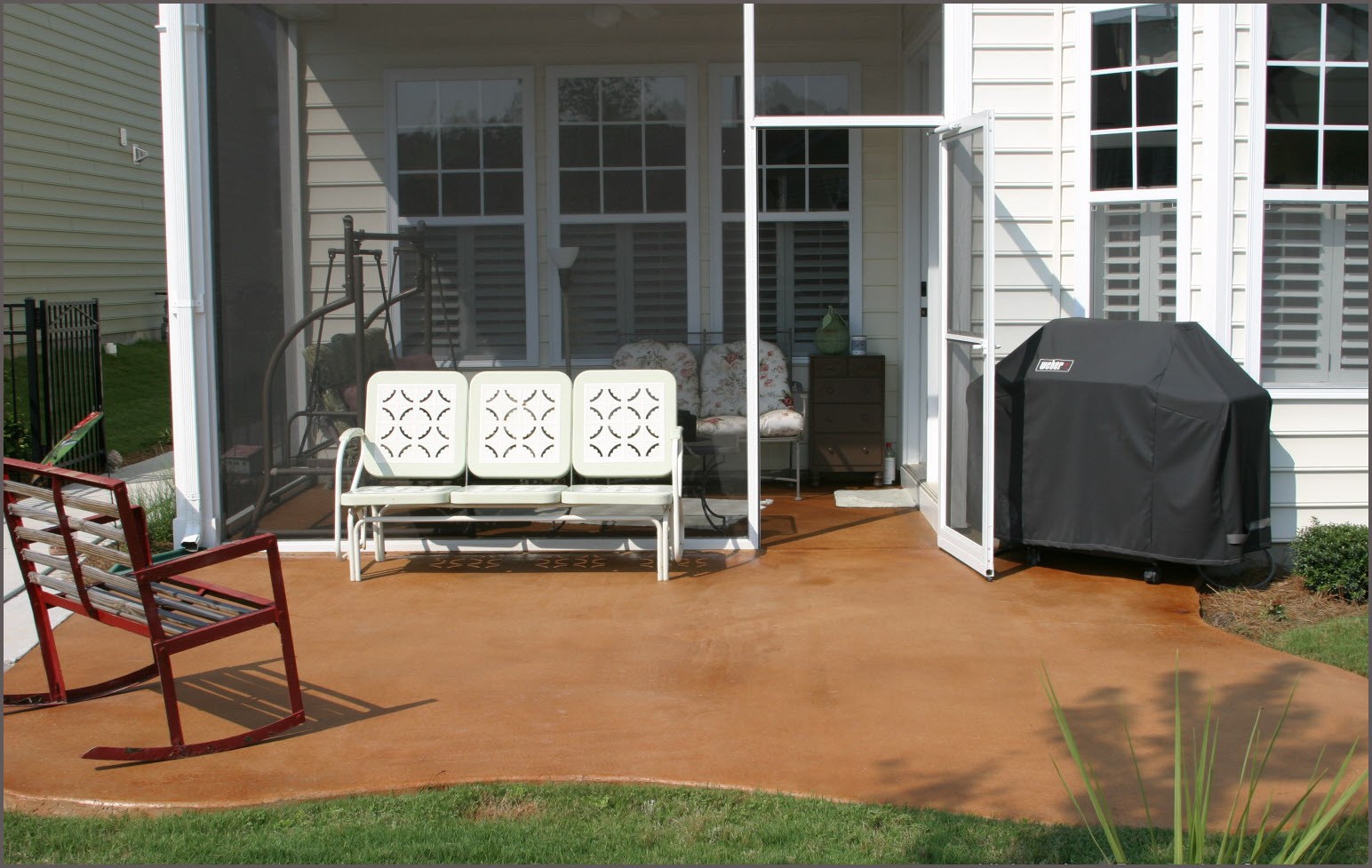 Stamped and resurfaced patios
If your heart is set on a stone patio, stamped concrete can give you the look of natural stone at a much lower cost and with less hassle. Especially if you have a large patio or patio/pool deck area. Real stone molds are used to create rubber stamps that leave an imprint of realistic brick, slate, cobblestone, sandstone, or wood planks when pressed into fresh concrete or a micro-topping concrete overlay. Then, custom stain techniques will result in the most lifelike surfaces.
This patio/pool deck is resplendent in a gray Ashlar slate stamp pattern, unifying and beautifying the entire yard. The textured surface is slip-resistant for safety around the pool, and the sealed surface will withstand any type of weather without deterioration. You'll get decades of enjoyment from this decorative concrete installation.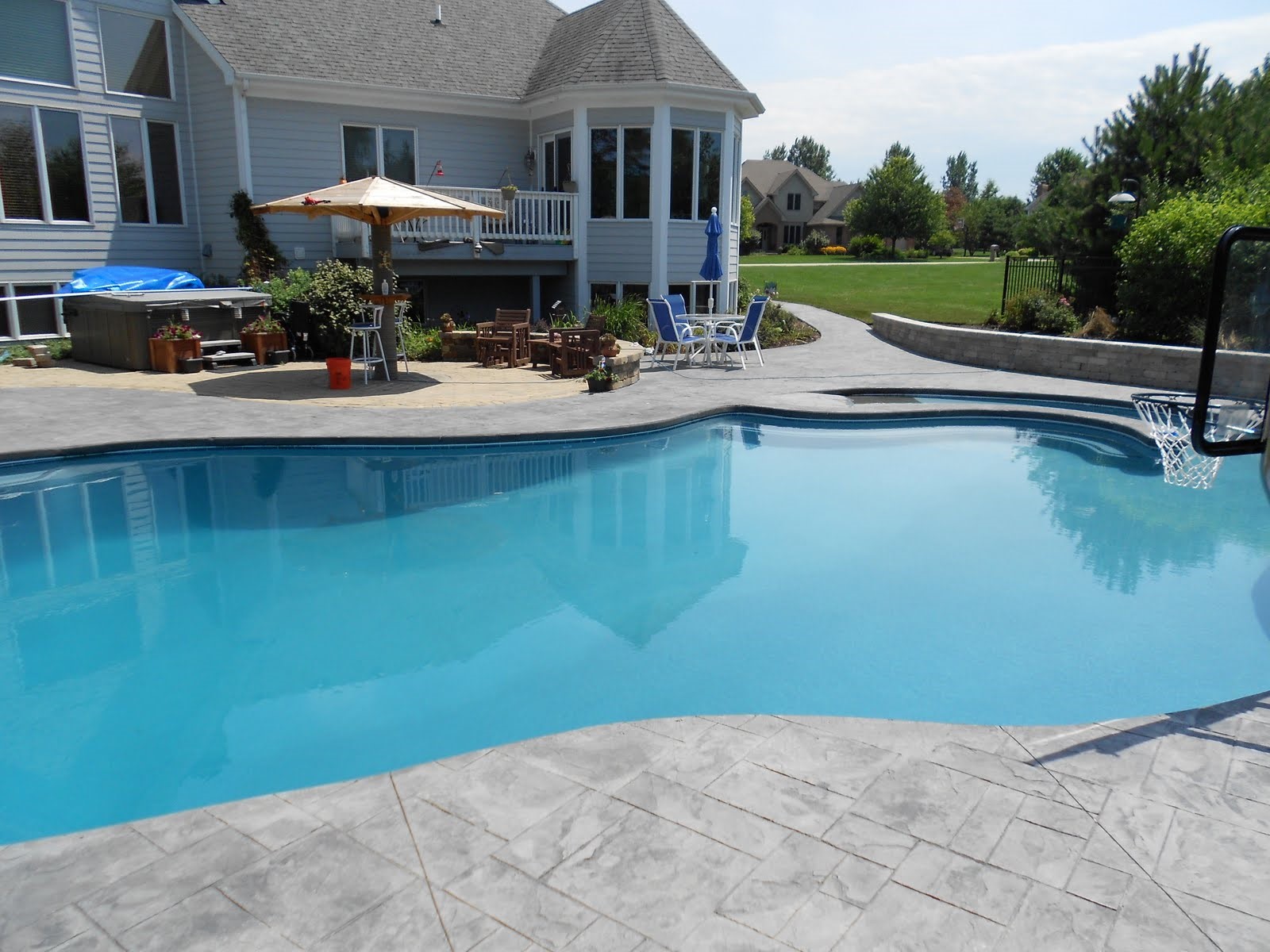 Another element of stamped concrete is decorative inserts, like this medallion stamped into a Roman Texture Slate surface. Other popular stamps include geckos, sea turtles, Kokopelli designs, as well as custom logos or family crests. An integral part of the overall design, these stamps will not chip, fade or peel; they'll last as long as the patio, which is years and years.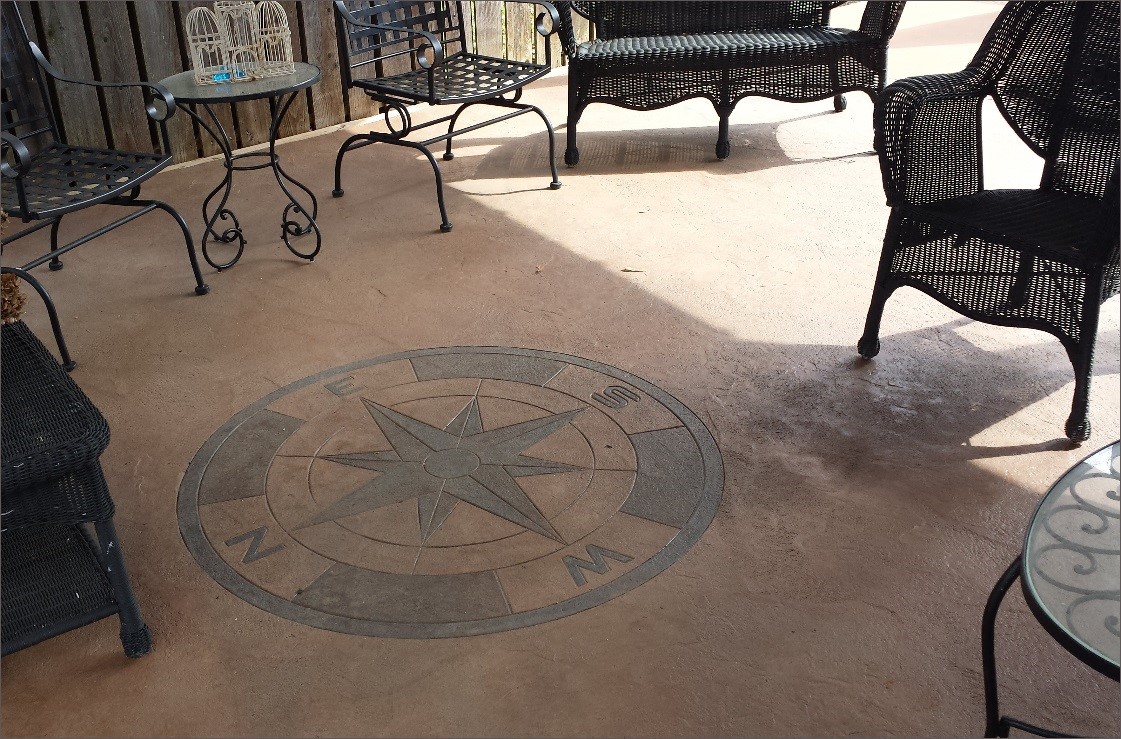 Resurfaced, hand-carved, and custom-colored patios
For a truly artisan look of more expensive materials like flagstone, European cobblestone, and Ashlar Slate, Concrete Craft can transform your patio into a work of art with resurfaced concrete overlays. Hand-cut precision makes each stone in the design look authentic. Our proprietary products and processes ensure that your patio will look true to nature in texture, finish, and color. Only it's better! The cost savings alone are amazing, and the durability and low maintenance of decorative concrete puts our resurfacing far above natural stone for day-to-day function and enjoyment.
Installation goes quickly, no cement trucks involved
No grout deterioration
No stones shifting or lifting cause tripping hazards
Never need to replace damaged sections
Sealed surface resists moisture, mold, and bacteria
Sweeps clean, or just hose off to keep looking like new
This flagstone patio with a brick border to match the house is one seamless surface, hand-carved and custom-colored with UV protection stains that will never fade. The brick border won't chip or crack, no need to worry about having to replace "bricks" over time. The entire surface is moisture resistant and won't sprout spots of mold even in the shaded areas or underneath patio furniture or rugs.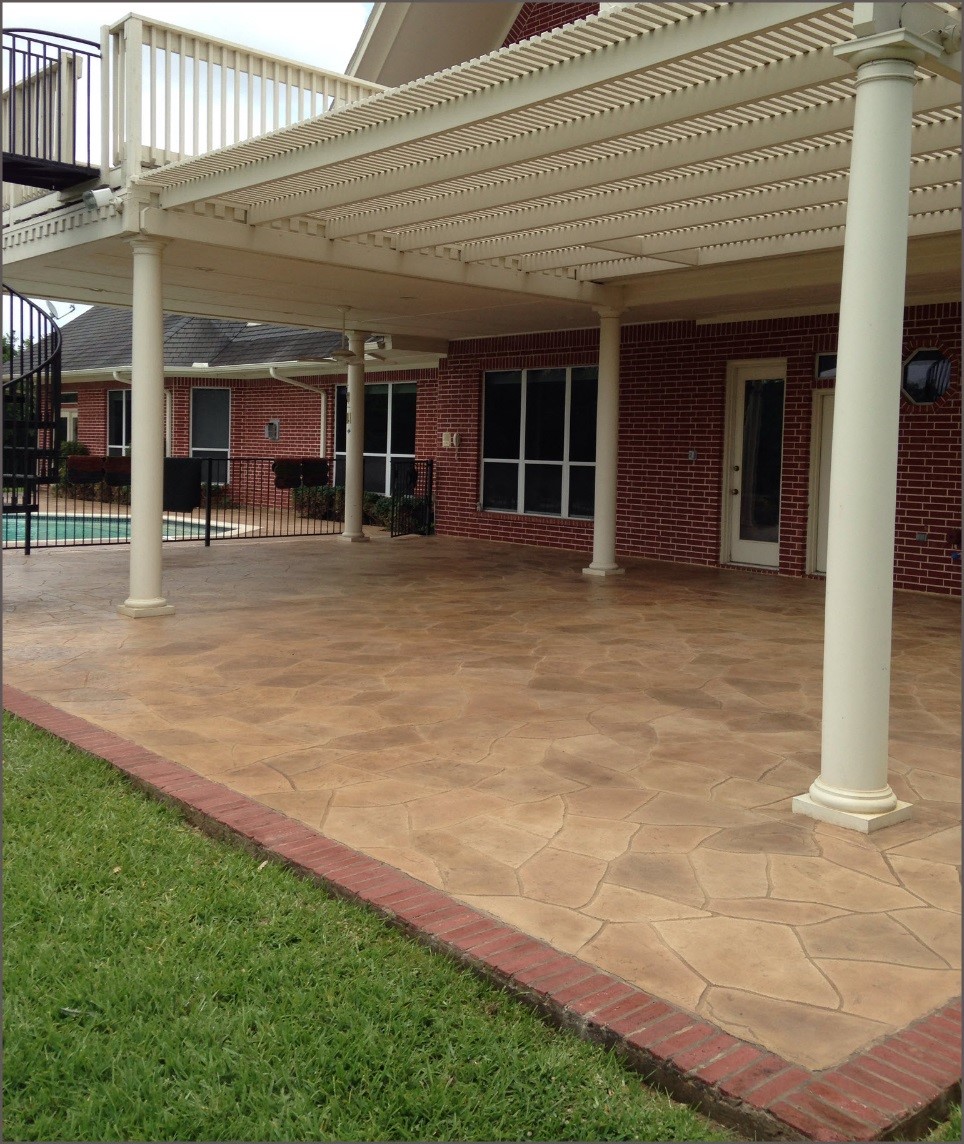 Vertical concrete resurfacing and seat walls for patios
There are all kinds of patios: attached, detached, small, big, enclosed, and open. No matter what type of patio you have, a common problem is sufficient seating when you're entertaining. You can only place so much patio furniture on a patio before it becomes crowded. One way to have additional seating is with seat walls that can define the area and supply unobtrusive seating. Concrete Craft has a unique system of flexible "architectural concrete" for creating seat walls that can curve and conform to the shape of any patio.
Using hand-crafted designs, you'll have beautiful seating areas that resemble natural stone-like Mountain Drystack, Orchard stone, English cobblestone, Castle Rock and Limestone. This detached patio has a seat wall and fire pit conversation area that can accommodate quite a few people. The patio floor is a light brown decorative concrete stamped Ashlar slate pattern that blends into the surroundings. Coordinating colors in the hand-carved stones of the seat wall make for a gorgeous patio. The seat wall also serves as a retaining wall to prevent debris from blowing or washing onto the patio.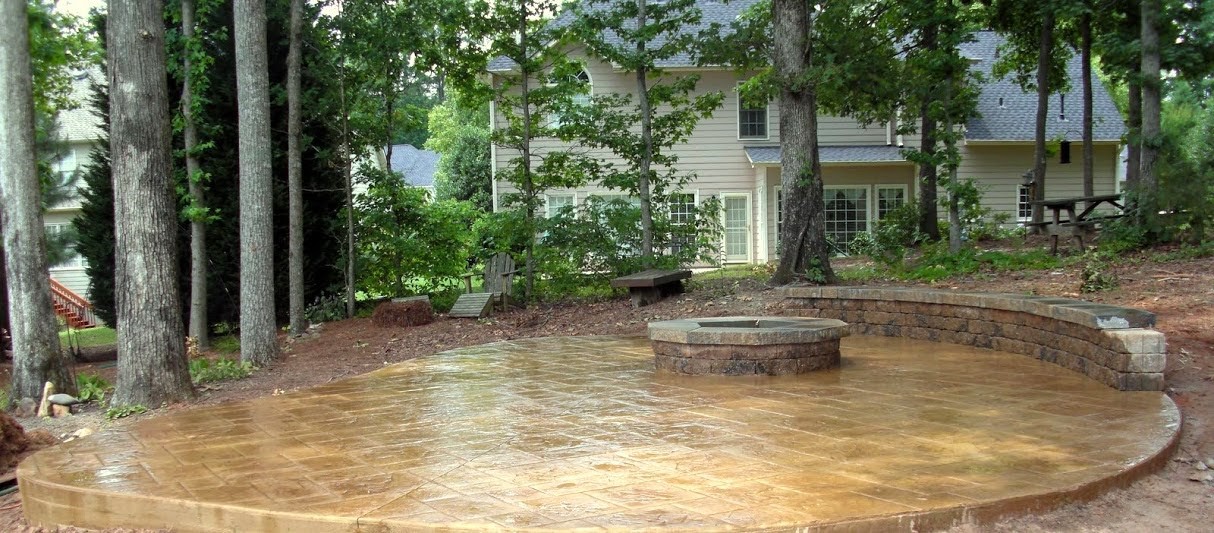 This closeup shows individually-carved rocks and the smooth wall cap for sitting. As with decorative concrete floors, our vertical concrete designs are sealed to protect the surface and create a moisture-resistant barrier that resists stains, no matter how many times a drink gets spilled or spicy chicken wings are dropped.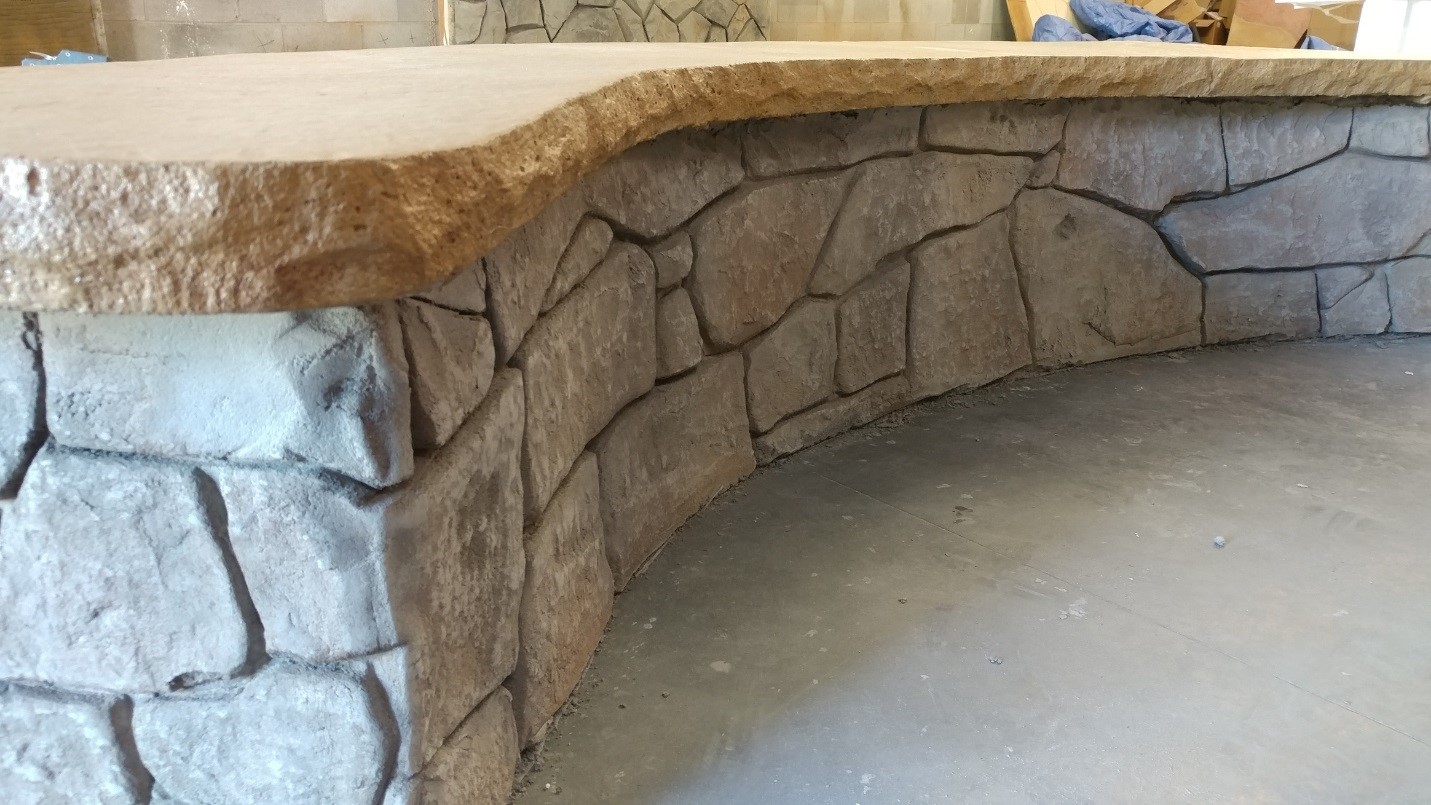 Vertical concrete resurfacing can also dress up retaining walls and provide a "stone" barrier that will not succumb to moisture or rain, causing stones to loosen and fall out. Our concrete overlays can be applied over wood, drywall, brick, and concrete to enhance any of your outside vertical surfaces, including fireplaces, chimneys, accent walls, pillars, and more.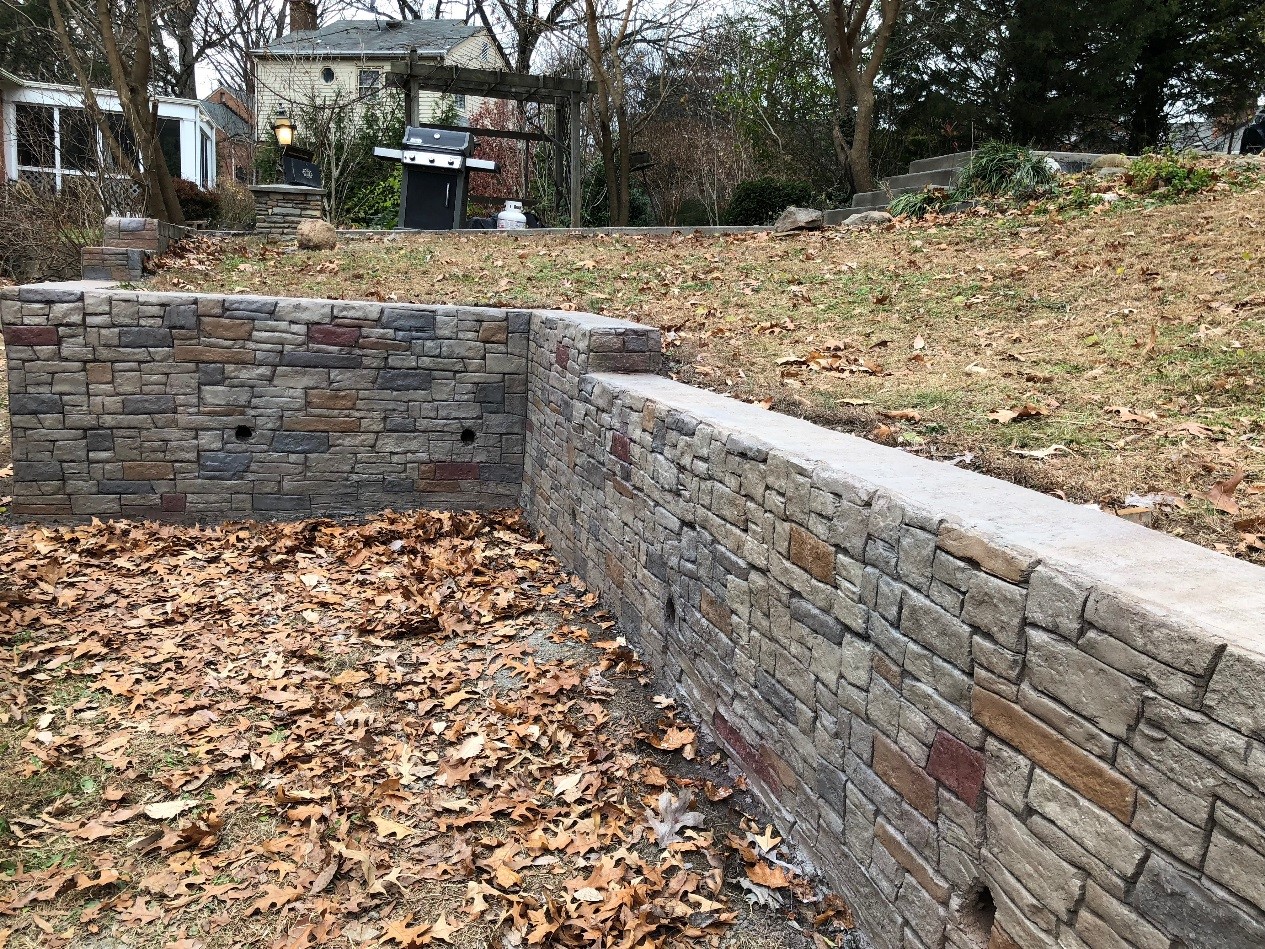 Once you've decided you're going to warm up winter by thinking of summer, contact us today or go online to www.concretecraft.com to find the Concrete Craft location nearest you and request a FREE estimate. A local craftsman will come to your home and work with you to design the perfect patio for your summer entertaining. You'll see samples and talk colors, finishes, and textures until you decide on the right decorative concrete patio for you. They'll determine the best time for installation in your area, so you'll have your new patio installed in plenty of time to take advantage of all the days of summer.
We can also enhance driveways, walkways, entryways, pool decks, interior floors, and more, with beautiful faux stone designs, using stained, stamped, and resurfaced concrete overlays. Check out our image galleries and see what we can do for you in your home or in your business.