What Dads Really Want For Father's Day
All dads like style, comfort, and fun so with Father's Day is right around the corner, June 21, if you're still searching for the perfect Father's Day gift to tell your dad how much you care, Concrete Craft® can help. Make this Father's Day memorable with the gift of decorative concrete that lasts and lasts and fills the criteria for style, comfort, and fun. Transform his world by enhancing his favorite space, whatever that may be:
Updated patio for the grill master
Easy-care, durable decorative driveway
Indestructible basement game room
Ultimate media/TV man cave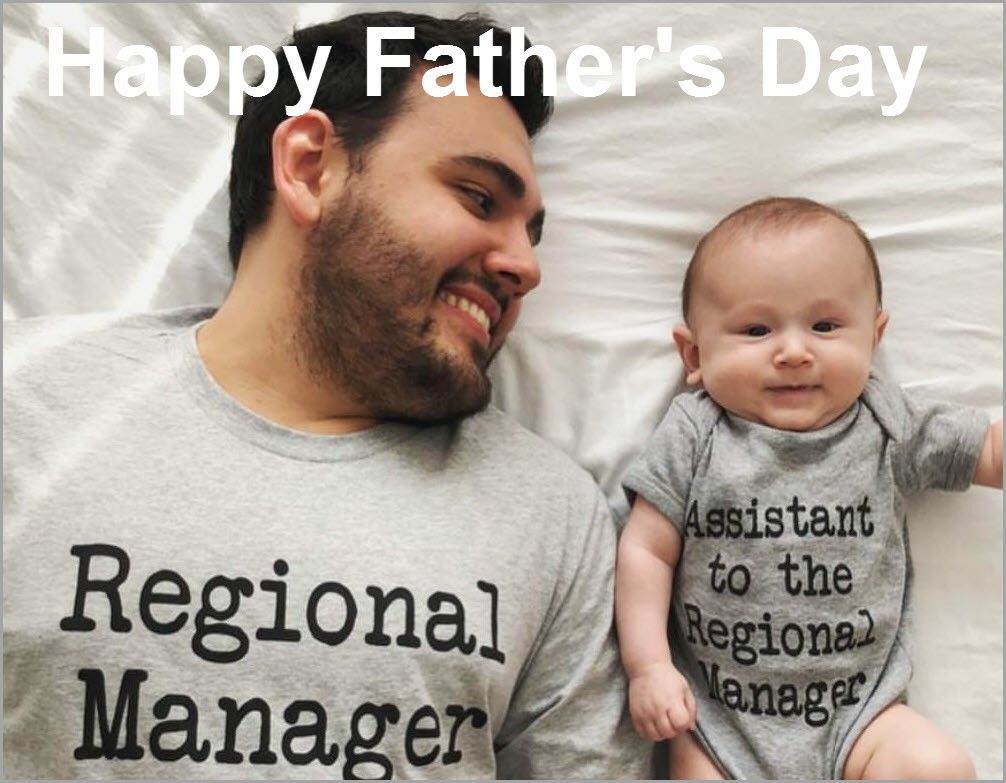 Lord of the backyard patio
Now is the time of year when many dads take over some of the cooking chores with outdoor grilling. Often enveloped in clouds of smoke, ribs, chicken, hot dogs, burgers, kabobs, and roasted vegetables are central to summertime eating and outdoor living. But a distressed or damaged patio can spoil the fun of alfresco meals and send everyone back indoors to eat instead of enjoying the backyard. An updated concrete patio with a stain-resistant decorative concrete overlay will let dad show off his culinary skills in a setting worthy of the grill master without worrying about the occasional mishap. Celebrate dad all year long on a user-friendly, comfortable patio by adding patio tables, chairs, umbrellas, and rugs that will keep the party outside and going even after the sun goes down.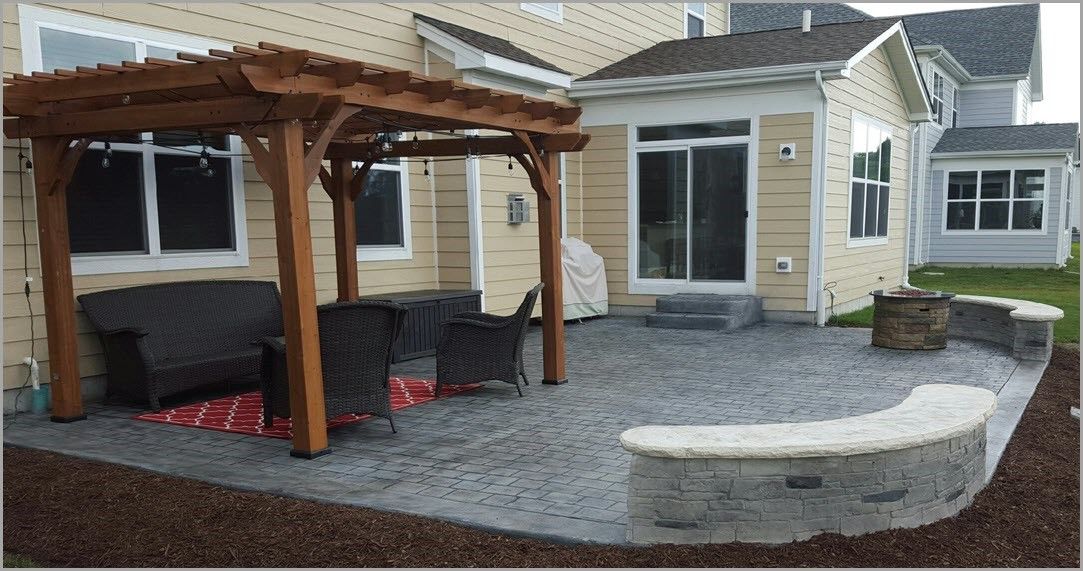 This cobblestone stamped concrete patio is very easy to keep clean; spilled drinks, barbecue sauces, and dips wipe up quickly without leaving a trace.
The durable, sealed surface resists dust and dirt buildup and its moisture-resistant qualities inhibit mold and bacteria growth for a safe, healthy environment.
Custom seat walls with faux stone vertical concrete resurfacing can provide extra seating, custom-designed and created to conform exactly to the space you have.
A new driveway that comes with bragging rights
Any dad could get excited about a new concrete driveway for Father's Day. Hardworking driveways eventually show their age by a dulled finish, cracks, discoloration, and uneven spots. A worn driveway detracts from a home's appearance, does nothing to showcase prize vehicles, and requires more of dad's time and energy to try to keep it clean. Concrete Craft has multiple solutions to repair, restore, and revive an unsightly driveway, from a simple concrete stain to hand-carved faux stones designs and a river rock overlay. A new decorative concrete driveway gives the gifts of beauty, pride, and time since our industry-tough finishes resist the damage of all kinds, from weather to heavy use.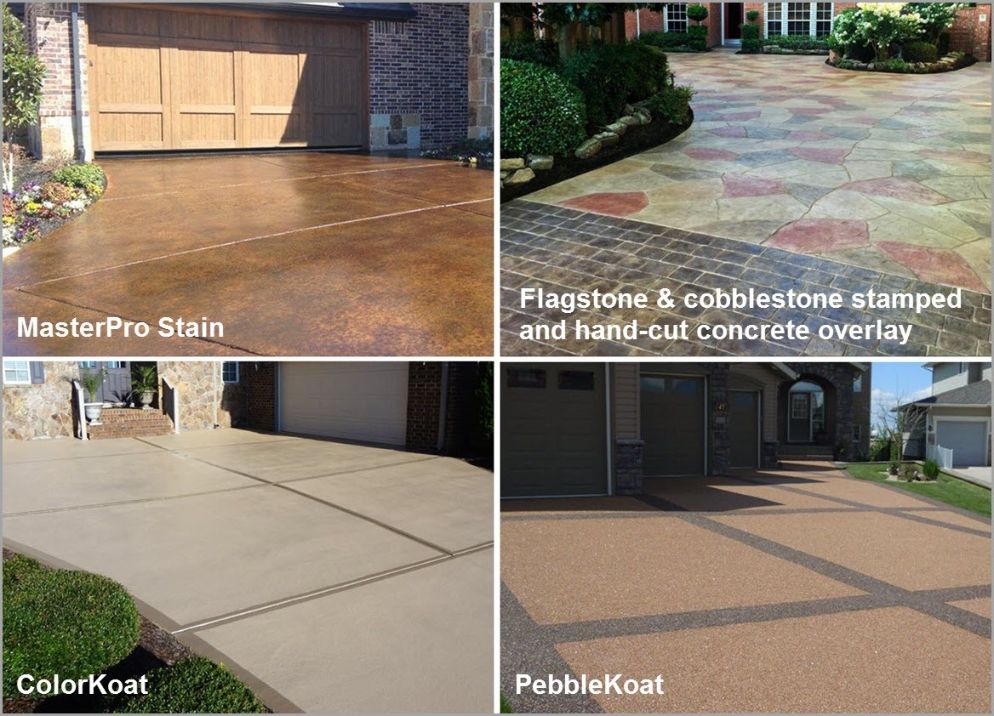 A resurfaced concrete overlay can be applied to the existing driveway and hand-cut and custom-colored in the popular faux stone designs like flagstone, pictured above.
Stamped concrete patterns provide natural-looking rock and stone finishes like cobblestone, Ashlar slate, and brick as well as stenciled designs like medallions, sunbursts, or team logos.
Multiple repair and restoration products can restore even a badly damaged driveway and save the hassle and expense of demolition and replacement.
PebbleKoat by Concrete CraftTM is an exclusive non-epoxy-based river rock concrete overlay that fills cracks, hides damage, and evens out irregular patches with the natural beauty of real stone.
From the boring basement to the ultimate game room
Basements can get a bad rap—ignored, unfinished, and filled with stuff. For a dad who craves some personal space, transforming a basement into a game room can be a great Father's Day gift. If at first glance the basement isn't appealing, start with a decorative concrete overlay and turn the uninspiring space into a functional living space with a stained, stamped, or hand-cut faux stone floor. Then, do some painting, paneling, or drywall, add additional lighting and HVAC as needed, and the basement is ready for all-day fun with poker tables, air hockey and foosball tables, arcade games, darts, pool, ping pong, and more.
Decorative concrete resurfaced floors can mimic real stone, brick, and wood plank for a fraction of the cost of the real materials.
An underlying moisture barrier will eliminate any problem of dampness so common in basements.
The continuous sealed surface can stand up to people, pets, furniture, and food spills without cracking, fading, staining, or peeling.
Give him a man cave built for comfort
If your dad proudly accepts the designation of a couch potato, he may enjoy a more laid-back space, designed for leisurely comfort. A well-appointed man cave with an overstuffed sofa, recliner, and big screen TV may be his dream Father's Day gift. A decorative concrete floor will not only enhance the ambiance of the room, but it also makes cleanup quick and easy so he can get back to his own pursuits. Part of comfort on a grand scale is letting dad embrace his own decorating style. He can unpack those boxes of personal keepsakes at the back of the garage and display them proudly: sports trophies, signed jerseys, game balls, neon signs, antlers, mounted fish, cigar band art, action movie posters, and myriad electronic toys.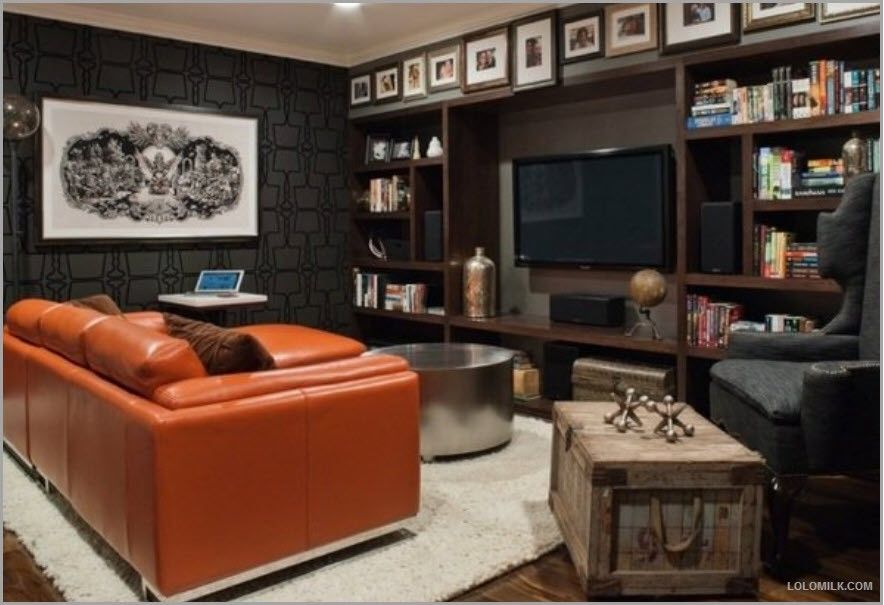 Stained concrete can transform the room with a glossy finish floor that resists spills and stains and won't harbor stale smells like cigar smoke that can linger in carpeting.
Dad can indulge in sports viewing and action movies either solo or with like-minded buddies, freeing up the family room for Hallmark movies or the 50th showing of Frozen.
The modern man cave has evolved, so build in comfortable and adequate seating, maybe even an electronic massage chair for extra-stressful days.
This Father's Day, give a gift your dad will enjoy every day. Contact us today or go online to www.concretecraft.com to find the Concrete Craft location nearest you and request a free in-home or virtual* consultation to determine the ideal gift for your dad or to purchase a gift certificate for later use. For safety and peace of mind, we can provide virtual consultations on your mobile phone or through a web conference to design, order, and set an appointment to install when the time is right. If your dad is distant, go to Concrete Craft's website and do a ZIP code search where he lives and his local Concrete Craft will be in touch and take care of everything for a Father's Day he'll always remember.
Still looking? Check out The 30 Best Father's Day Gifts You Can Find on Amazon
*Virtual consultation may not be available at all locations.