When is it Too Cold for Decorative Concrete Installation?
Aren't you glad you don't have to know the answer to that question? Your local Concrete Craft® franchisee knows everything about concrete and cold weather and the best time for installation in your area. So, if you're looking to enhance your home with stained, stamped and resurfaced decorative concrete, don't concern yourself with the temperature outside, just call the experts!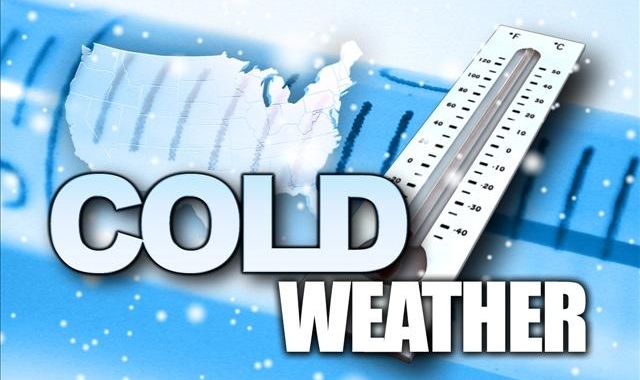 If you're presently shoveling snow in Lexington or Chicago, you may not believe this is the optimum time to call Concrete Craft about upgrading your interior concrete floors or outside walkways and patios. Now, in the cold of winter, is the perfect time to set in motion the plan to transform your indoor and outdoor concrete living spaces with custom decorative concrete so you are ready for all those summer parties and entertaining.
Interior floors
Interior floor concrete overlays and stained concrete like this basement-turned-man cave can actually be done year round. The gorgeous concrete stain transforms the basement into a stylish entertainment area that will give years of enjoyment. The non-porous, continuous surface resists stains and spills and is guaranteed against chipping or peeling so you can let the games begin!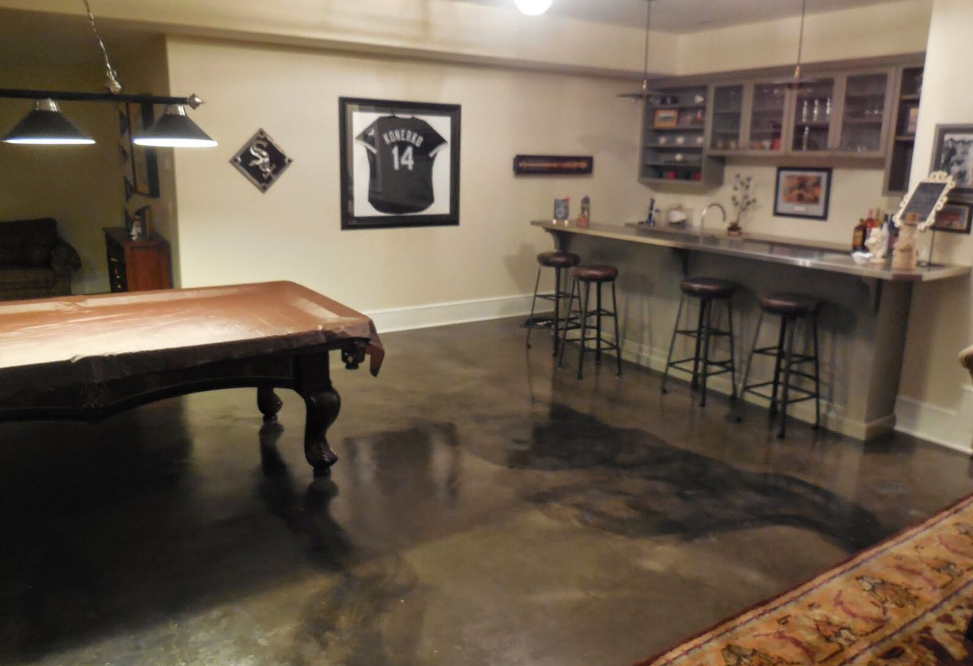 Wood planks are popular stamped concrete patterns for indoor floors like family rooms and kitchens where lots of activity happens. You get the beauty of hardwood floors but with exceptional durability and easy care you don't get with real hardwood. A quick sweep and occasional wet mop is all it takes to keep the floor looking like new since the tough sealer resists scuffs and scratches so common to wood floors.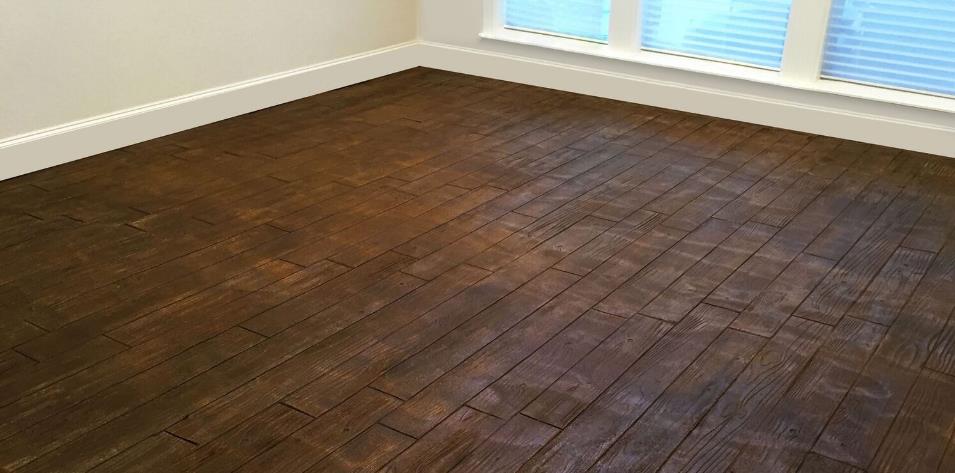 Exterior floors
Talking with a Concrete Craft artisan now while it's cold outside will ensure you're first in line when it's warm enough weather for outside concrete work. If you wait for the warmer weather, everyone else will be calling too, and summer may be long gone before you finally get your patio, driveway, walkways or pool deck done. Calling now gives plenty of time to carefully consider all your options and get really creative with colors and designs, such as this amazing stamped concrete, custom-colored compass medallion to customize a patio or driveway.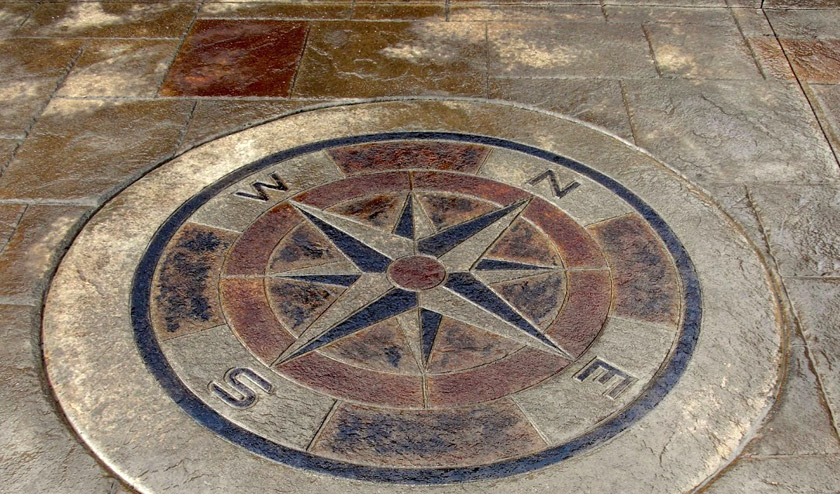 By planning ahead, your outside areas will be beautifully transformed and ready for spring and summer months of entertaining with family and friends. No waiting and no explanations like, "We're going to get the pool deck done in a gorgeous flagstone pattern…eventually." Being proactive now will allow you to be luxuriously lazy, enjoying your new resurfaced concrete overlay pool deck and working on your tan while others are still slaving away on their yards.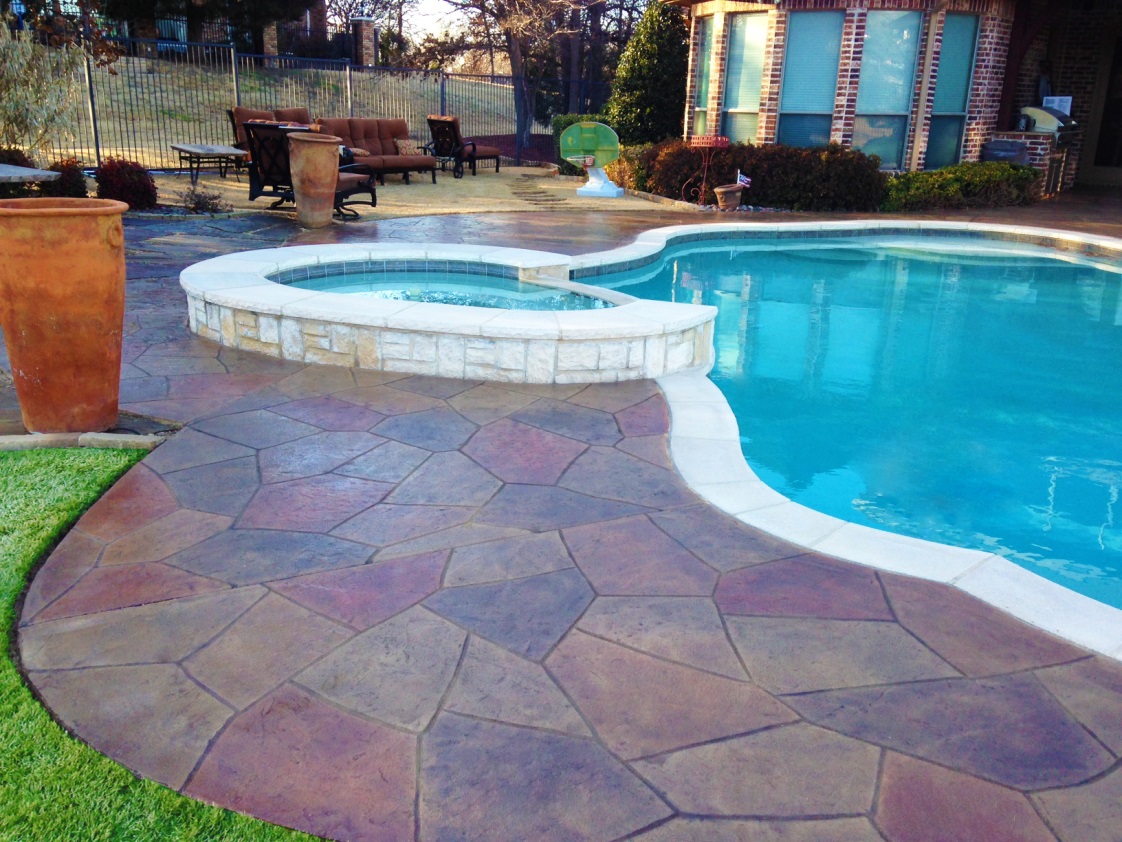 Put that tax refund to good use by enhancing your home's value with an elegant stained and stamped Ashlar pattern decorative concrete driveway. The extraordinary craftsmanship will make your front yard the envy of the neighborhood, and you'll have a beautiful, worry-free driveway for years to come.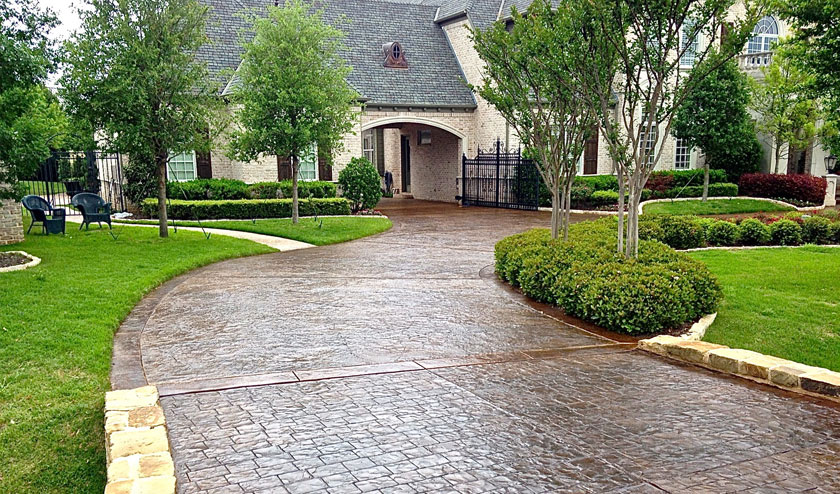 So don't go into home improvement hibernation when the weather gets cold. Think warm thoughts and plan for that new patio design in flagstone, cobblestone, tile or brick so you'll be first up for transforming your space with stained, stamped and resurfaced decorative concrete. Or, you may be pleasantly surprised to discover that you don't have to wait for warmer temperatures to transform your basement or other interior floors into functional living space with beautifully stained floors.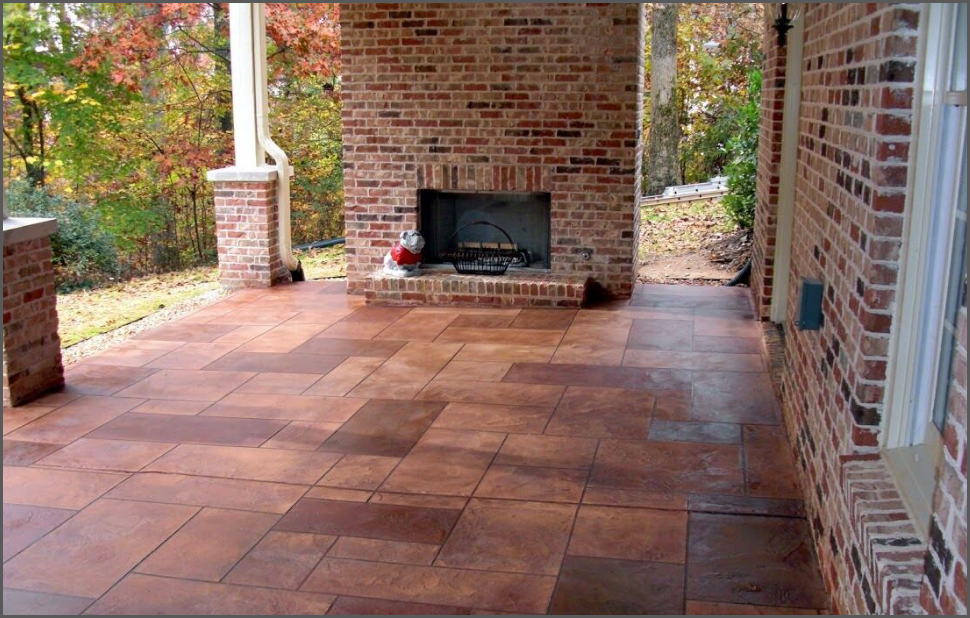 Whatever style and design you choose, you'll enjoy the many benefits that make decorative concrete a superior choice for both interior and exterior surfaces for both residential and commercial properties.
Costs much less than real stone, pavers, brick or wood
Extremely durable, with a two-year warranty* at install
Tough polymer sealers provide UV protection and fade-resistant qualities
Can simulate "real stone" designs, such as brick, slate, stone and tile
Effortlessly coordinates with surrounding landscape and architectural style
Low maintenance; beauty lasts for decades
Non-porous, seamless surface is stain and weather-resistant
Talk to the craftsmen at Concrete Craft who can answer all your questions about installing stained, stamped and resurfaced concrete for your patio or pool deck so you'll be ready for summertime fun. Contact us today or go online to www.concretecraft.com to find the Concrete Craft location nearest you and schedule a FREE estimate.
Take time to view the online photo galleries for patios, driveways, walkways, pool decks, basements and faux stone vertical concrete resurfacing. Our vertical concrete designs are stylish and cost far less than natural stone and masonry work for fireplace fronts, retaining walls, entryways and more. You'll be impressed with all the creative possibilities for transforming your home or business through the beauty of decorative concrete.