Winterize Your Outdoor Spaces Before It Gets Cold
Right now is the perfect time to call Concrete Craft® to protect and winterize your outdoor concrete surfaces like patios, walkways, driveways and vertical surfaces with stained, stamped and resurfaced concrete. You may still be enjoying mild evenings in Colorado Springs with just a hint of chill in the air or taking advantage of the waning sunny days in North Shore, Massachusetts, but soon it will be cold. And in some areas … very cold.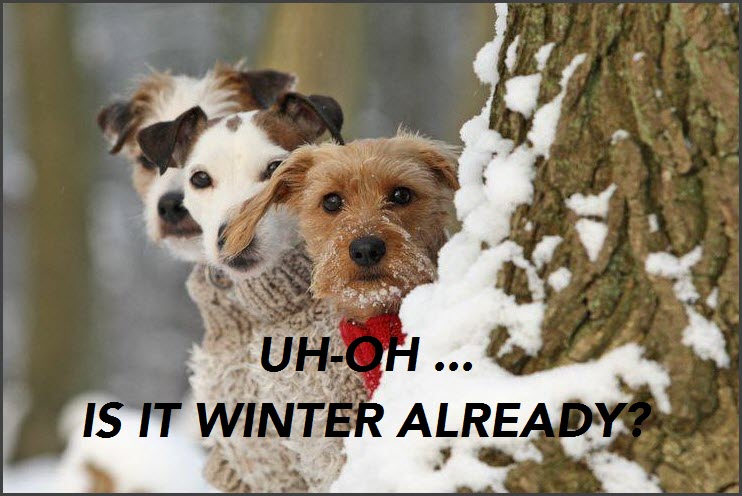 From coast to coast, people are preparing for the coming winter months and the rain, snow, mud and slush that they bring. One thing you may not have considered is that, year after year, these elements can have a devastating effect on your concrete surfaces.
Heavy rains can erode unprotected concrete slabs and ruin the surface
Repeated freeze-and-thaw cycles can cause concrete to crack
Cracked walkways become a dangerous tripping hazard when sections lift or sink, creating an uneven surface
Mud, red clay and piles of soggy, decomposing leaves can stain concrete
Chemical de-icing products can destroy the surface of a concrete driveway or sidewalk
Harsh, wet weather can deteriorate the grout in vertical stone walls causing stones to fall out
This concrete driveway probably won't make it through another winter. The cracks and ravaged surface will have this homeowner agonizing over how to replace the driveway come Spring. After factoring in cost, time, the mess of demolition and a cement truck to pour a new slab, chances are that they'll ignore the issue for one more year and the problem will just get worse.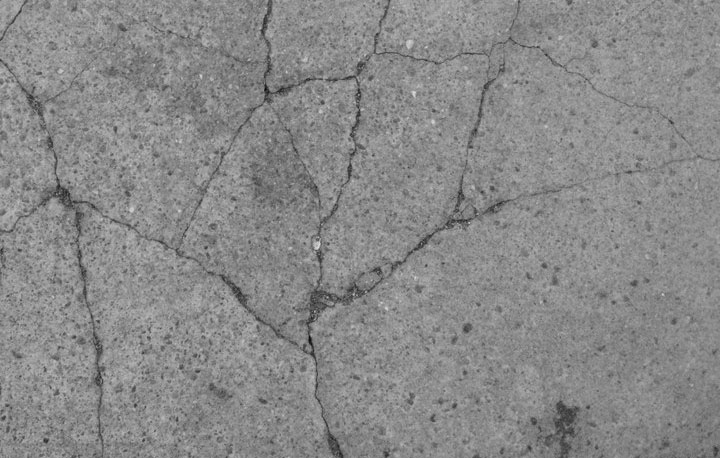 Concrete Craft can restore damaged concrete surfaces
If you have a similar problem, Concrete Craft specializes in resurfaced concrete overlays that can restore damaged concrete and make it look like new. Our Polymer Modified Decorative Concrete Overlays are designed to resurface structurally-sound concrete, covering up imperfections, cracks and discoloration. The new surface can be stained, stamped or hand-cut and custom-colored to replicate just about any pattern, including flagstone, cobblestone, tile, wood plank, brick, Roman Texture Slate, sandstone or a simple broom-finish, as pictured below. Stamped and stenciled designs can be incorporated, like a medallion, family crest, team logo or a custom design to make your patio or driveway especially unique.

The benefits of decorative concrete may surprise you. Concrete is extremely durable, but this resurfaced and custom-colored driveway is not only beautiful, it's tougher than before.
The rubberized polymer allows the overlay to be flexible, minimizing future cracks
The overlay cures to compression strength just under 5000 psi for the ultimate in durability; it can handle even heavy vehicle traffic
The sealed surface resists all kinds of weather: rain, snow, sleet, hail and extreme temperatures
The surface is stain-resistant and water-resistant
UV-protected colors will not fade and the finish will not crack, chip or peel
Decorative concrete costs less and takes much less time and mess than replacing existing concrete
Invest in a beautiful future with decorative concrete
Upgrading your outside concrete surfaces before winter hits will give you peace of mind that there won't be more damage inflicted. You can listen to the rain or watch the snow fall knowing that your patio, walkways and driveway can weather the storms. You won't be faced with major repairs when the weather warms up, you can just enjoy your yard and focus on gardening and barbequing.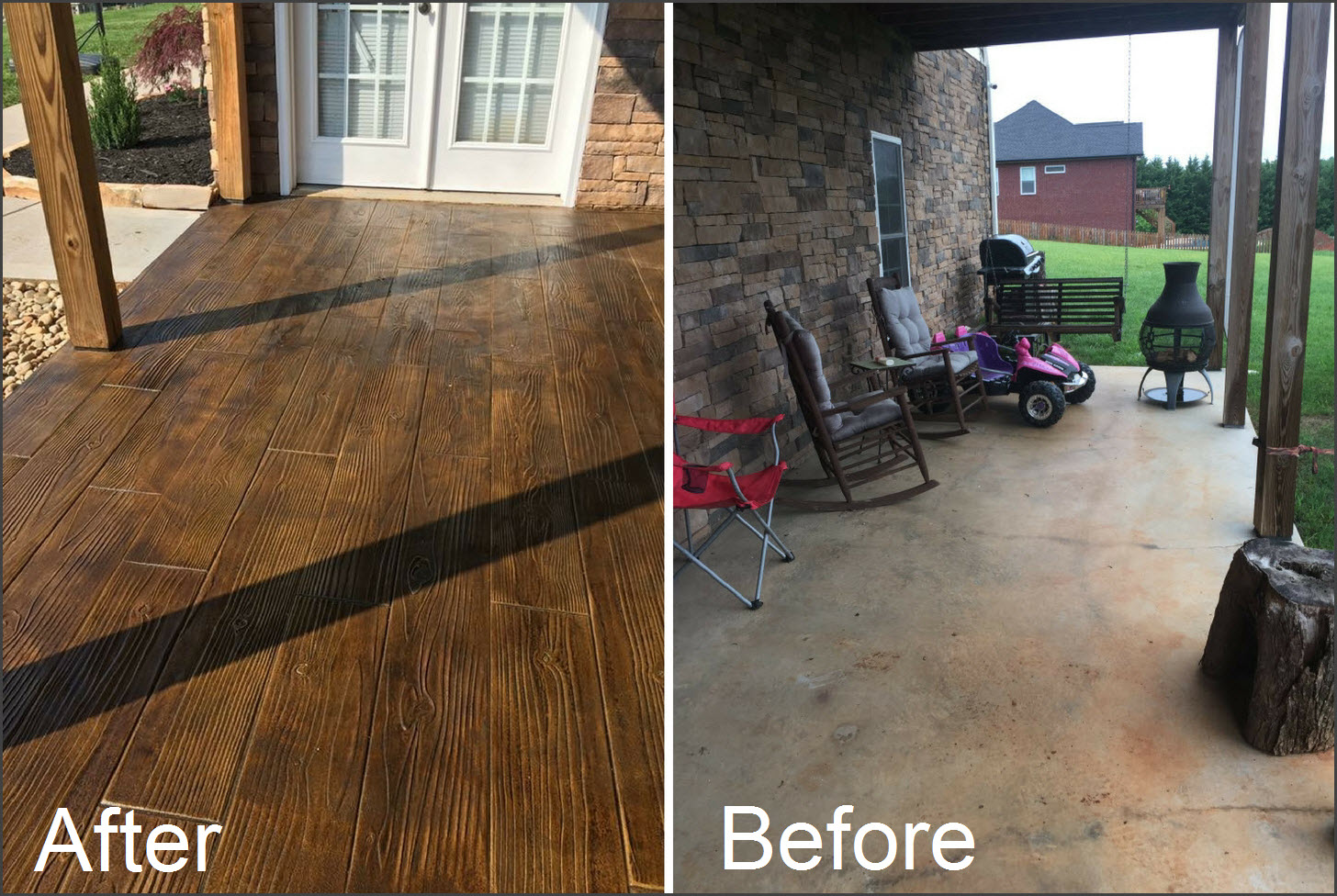 Obviously a favorite hangout, this patio was showing extreme signs of wear and age. The new resurfaced concrete overlay stamped with a wood plank pattern and custom stain creates a warm and welcoming patio. And this "wood" patio won't suffer any of the usual challenges of wood flooring, like chipping, peeling, color fading, splinters and a cloudy, dingy finish over time. For years, this patio will just keep on giving good times with exceptional durability and easy cleanup since nothing sticks to the surface so debris can be quickly swept up or hosed away.
This updated patio with custom seat walls and a raised flower bed in the yard will come through the winter unscathed. They were created with Concrete Craft's unique system of seamless, authentic-looking faux stone custom designs for vertical surfaces like walls, siding, fireplace fronts, seat walls and fire pits. Hand-crafted and custom-colored, your vertical surfaces can have the same realistic results as our decorative concrete flooring, eliminating any long-term mortar issues like crumbling grout and shifting stones. If you have falling-down retaining walls from years of rain and damaging weather, you can renew your vertical surfaces and protect them from future harsh winters with resurfaced vertical concrete overlays from Concrete Craft.
Taking steps now to protect your concrete surfaces will preserve your outdoor spaces and, when the weather warms up, you'll be ready to embrace outdoor living once again. Contact us today or go online to www.concretecraft.com to find the Concrete Craft location nearest you and request a FREE estimate. Check out our " spaces gallery" to see more stained, stamped and resurfaced concrete solutions for patios, driveways, walkways, pool decks, basements and interior floors, vertical surfaces and commercial applications.