You'll Love What Decorative Concrete Can Do For Your Business
The new year is here and it's time to act on all those decisions that got relegated to "once the holidays are over …." Time to look at budgets, facility needs, and upgrades you've been postponing. It's the perfect time to call Concrete Craft® about all your flooring needs, as well as modernizing office space and outdoor spaces with vertical enhancements like faux stone and wood plank decorative concrete overlays. If you've never considered decorative concrete as an option to stretch your business dollars, you're in for a real treat!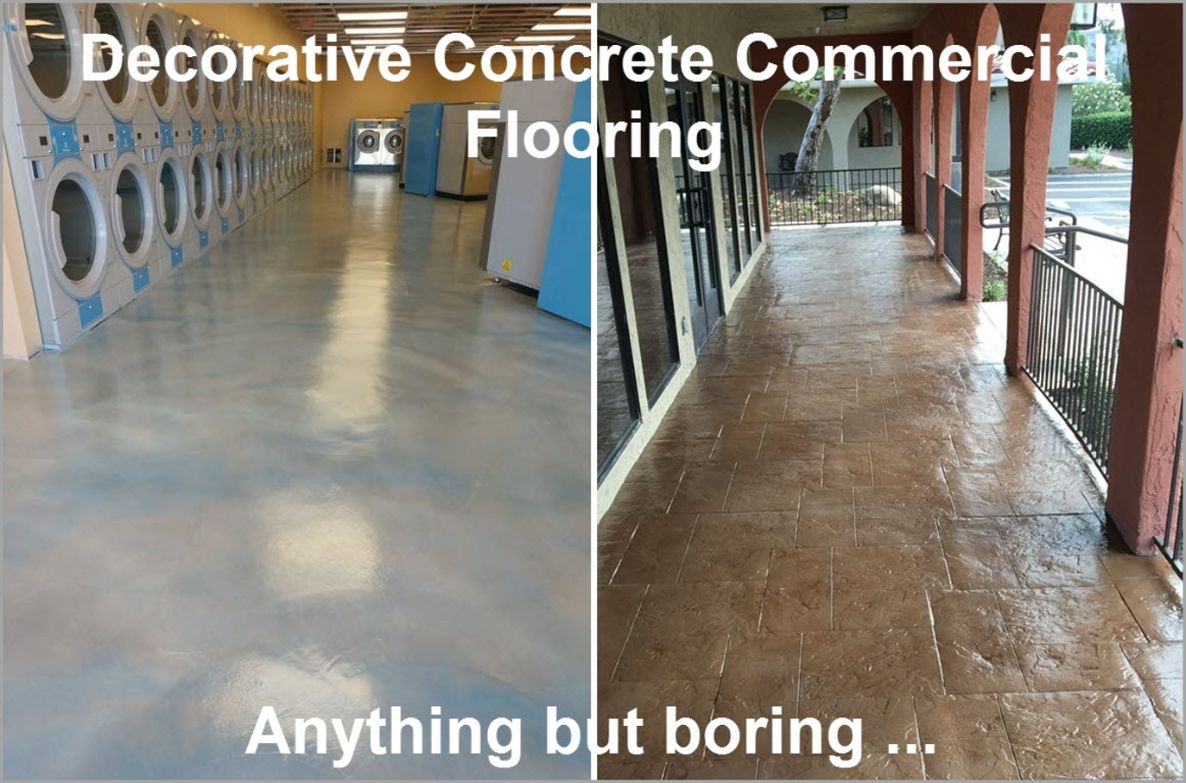 Decorative concrete can emulate other flooring styles
While one style of flooring may not be what you want throughout your business, such as conference room vs. warehouse space, decorative concrete flooring can give you the ultimate durability in a wide range of style choices. For about half the cost of other floorings, including stone, tile, hardwood, and carpeting, you can have stamped, stained or hand-cut and custom colored resurfaced concrete that can replicate most other products. Decorative concrete can offer the same look and texture as natural substances such as flagstone, cobblestone, polished marble, tile, slate, brick, and wood plank. Whether you need to refresh posh offices, warehouse space, retail shops, restaurants, or apartments, we've got you covered.
Posh offices and entryways
Every commercial business wants to make a favorable impression on its customers, and clean, stylish floors will do that. Your storefront or offices should keep pace with design trends to attract customers and even prospective employees. First impressions do count, and an entryway finished in decorative concrete will resist dust and dirt buildup, repel moisture, and inhibit mold and mildew that can creep into outside crevices. A quick sweep will keep your facility customer-ready around the clock.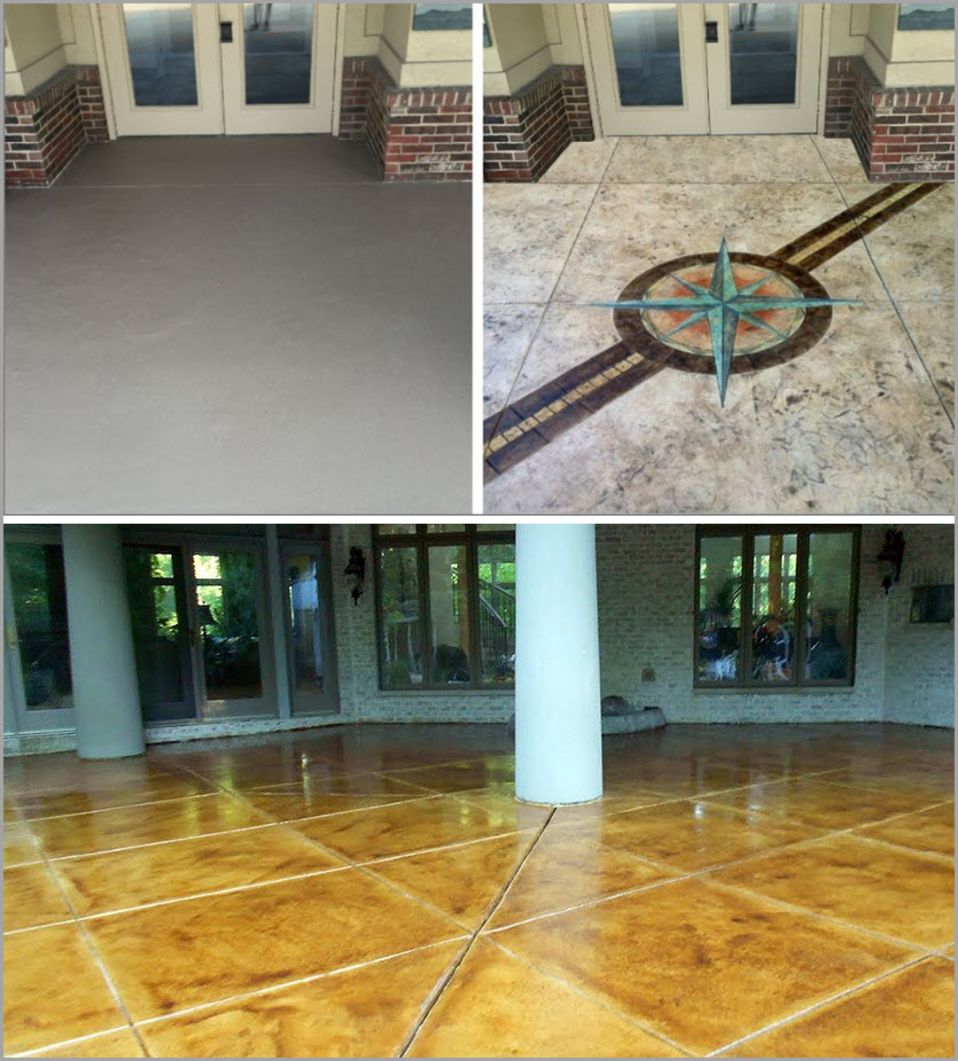 A resurfaced concrete overlay with a simple broom-swept finish presents a sharp, minimalist appearance for exterior spaces.
Stamped or stenciled decorative concrete can create a dramatic entrance such as this colorful medallion or your own company logo.
Resurfaced concrete can be stamped or hand-cut and custom-stained for realistic stone designs like flagstone, cobblestone, or this large tile format.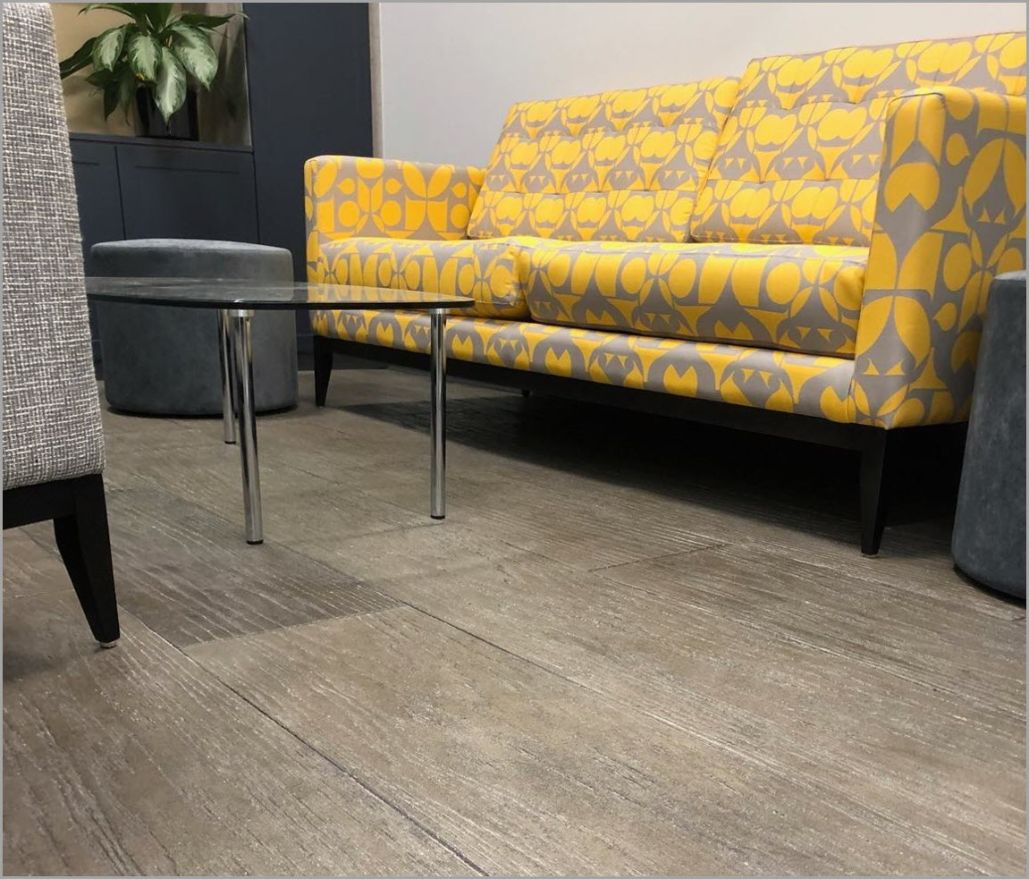 A posh office, conference room, or reception area can be refurbished with a concrete overlay that is then stained, stamped, or hand-cut for an exquisite finish.
Maintenance is minimal, making busy offices and large interior areas care-free so you can focus on the work at hand
Resurfaced decorative concrete can replicate wood plank, ceramic and porcelain tiles, and polished marble for the look of high-end flooring at a fraction of the cost.
Warehouses and heavy-duty work areas
Large work areas that need durability and presence, but not necessarily design, can be renovated and enhanced to create attractive and functional spaces. A simple concrete stain and sealer can improve a warehouse or storage area without breaking the bank. A broom swept decorative concrete overlay will give a durable, lasting look of freshly poured concrete wherever you want the aesthetic of concrete for walkways or storage facilities. Additionally, severely worn or damaged concrete can be repaired and resurfaced with RestoreKoat by Concrete Craft™, a versatile repair mortar that creates a permanent bond to the surface and will not fade, chip, or peel over time.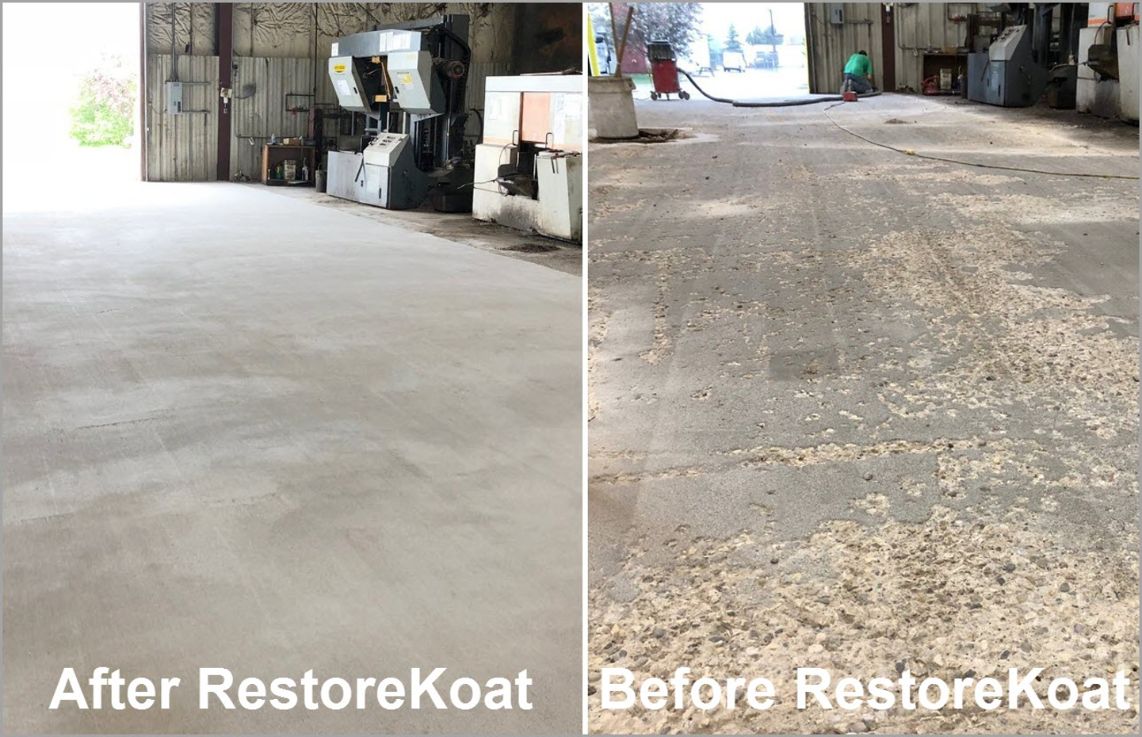 Repair ugly concrete; don't replace. RestoreKoat can transform your toughest work areas.
The durable finish is resistant to freeze/thaw cycles, salt scaling, abrasion, impact, and spills such as gas, oil, and chemicals.
Ideal in heavy-duty work locations where vehicles or machinery can take a severe toll on ordinary flooring.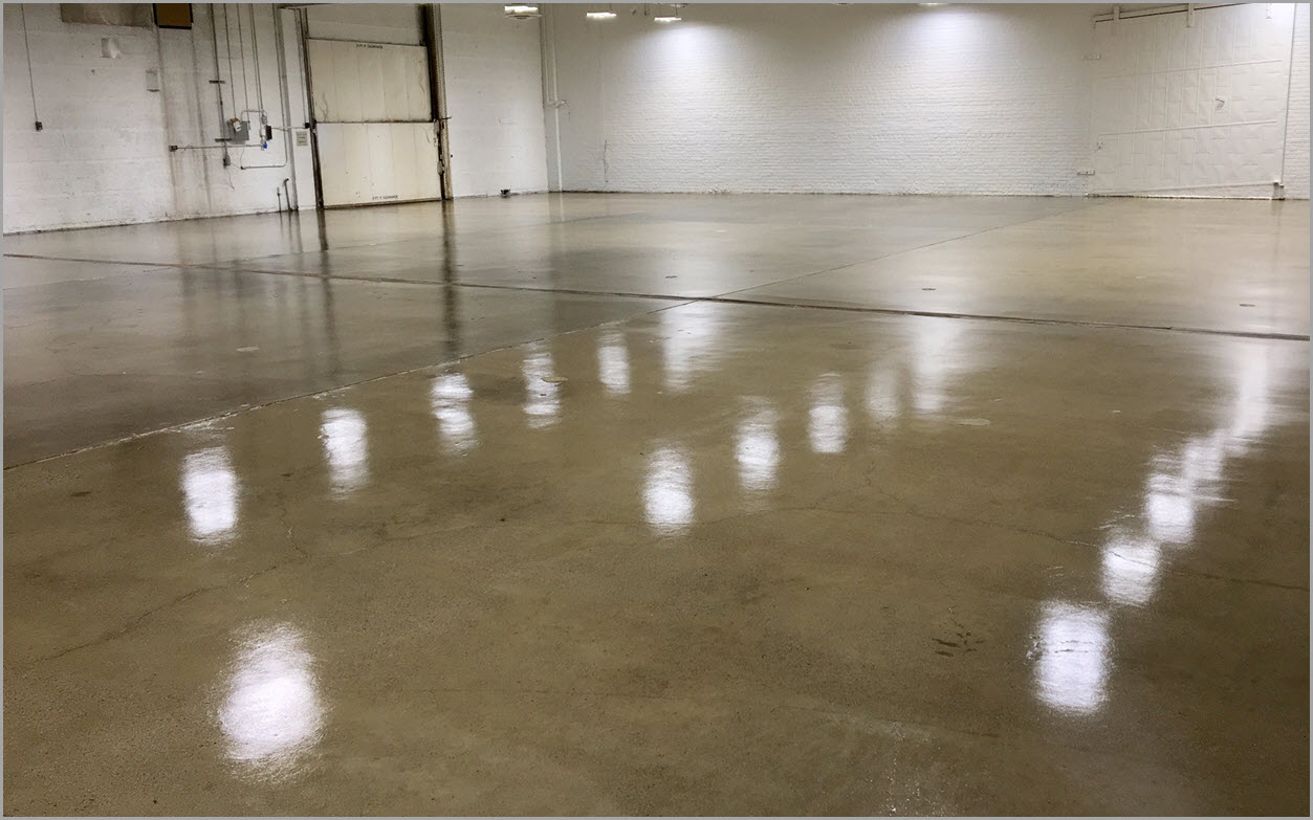 Sealed, decorative, concrete stain can transform large areas, keeping within budget.
Prepped surfaces and a moisture seal can transform storage or warehouse areas where dampness has been a problem.
The industry-tough finish will give decades of service for ongoing cost savings.
Decorative concrete resurfacing for vertical surfaces
The beauty and durability of decorative concrete is not limited to flooring. Vertical surfaces like accent walls, siding, patio retaining walls, benches, and more, can be rejuvenated with versatile decorative concrete overlays. Inside, create stunning accent walls of fabulous faux stone or wood plank for reception areas, conference rooms, and offices. Outside, faux stone siding can completely transform a storefront or professional office entryway or transform a boring patio.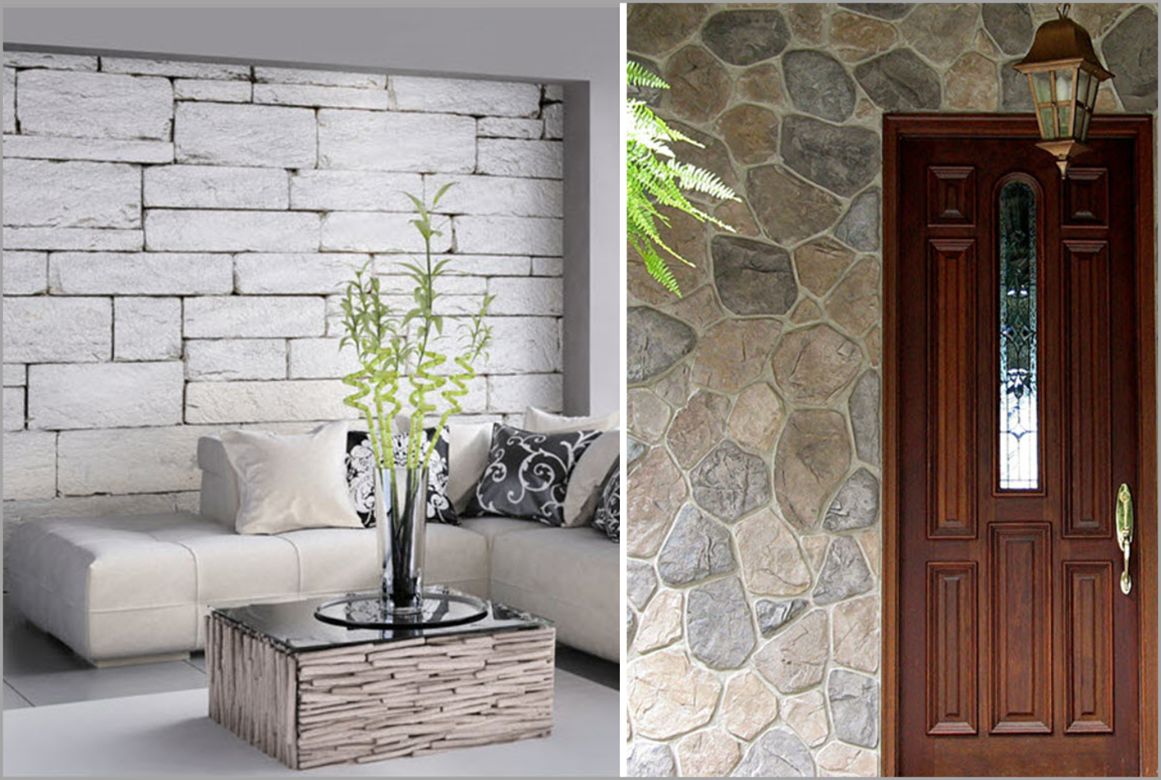 Vertical concrete overlays can be applied over brick, drywall, plaster, and wood, with 100% contact, eliminating air pockets like other veneers.
The continuous sealed surface prevents dust and dirt buildup, is stain- and moisture-resistant, creating a durable, long-lasting surface.
Replicate natural stone designs like Mountain drystack, sandstone, flagstone, cobblestone, and Orchard stone, as well as wood finishes from smooth, polished oak to rustic timber and reclaimed wood.
Decorative concrete is your design secret weapon
Whether your business needs sprucing up indoors or out, for floors, walls, or other hardscape elements, decorative concrete can be your secret weapon for a beautiful, lasting design. Before you spend time with contractors, designers, and prowling through big box stores, talk to the artisans at Concrete Craft about what decorative concrete could do to improve, rescue, and restyle your surroundings. Transform restaurants, retail spaces, manufacturing plants, schools, hospitals, office buildings, condos, and apartments with the beauty of decorative concrete and reap cost- and time-saving benefits:
Concrete floors outlast other flooring materials and don't need replacing every few years like carpet, tile, or vinyl.
Our proprietary resurfacing processes, including stamping, staining, and hand-cut, custom colored designs can give you any style of faux stone or wood plank that you desire.
Maintenance costs go down; surfaces are easy to care for and resist mold, mildew, and bacteria growth, keeping your facility cleaner.
Installation by trained professionals is a quick process, letting you get back to business.
Instead of replacing, save time, money, and the mess of demolition by revitalizing your business with custom concrete overlays for floors, walkways, patios, driveways, courtyards, and more.
Contact us today or go online to www.concretecraft.com to find the Concrete Craft location nearest you and schedule an onsite consultation. We can evaluate your concrete needs, including repair and restoration, and suggest the best options for updating your spaces for beauty, efficiency, and professional panache. Additionally, since Concrete Craft is nationwide, we can coordinate multiple locations to ensure quality control across all your facilities.