10 Best Decorative Concrete Makeovers of 2019
2019 was an exciting year for Concrete Craft® as our franchise owners across the country repaired, restored, and revitalized damaged concrete for thousands of homeowners and businesses. From concrete stains to resurfaced stamped and hand-carved faux stone and wood concrete overlays to our newest river rock stone overlay, we added beauty everywhere we went! Here are some of the most amazing before-and-after concrete makeovers of this year.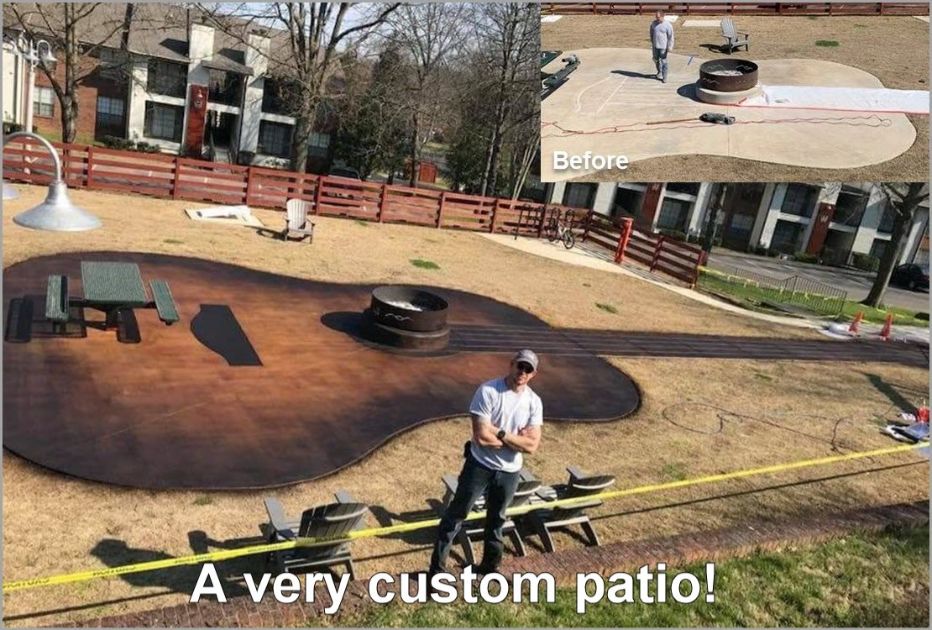 Imagine how decorative concrete could enhance your home or business, replacing distressed and damaged concrete with beautiful, durable concrete designs. What you see here is totally possible for you in the new year!
Interior floors reborn
Driveways with bragging rights
Steps, porches, and patios like new
Pool decks for endless summers
Interior floors reborn
Generally removing a floor covering exposes an ugly damaged subfloor that you immediately want to just cover back up. Decorative concrete can come to the rescue with stained concrete finishes or decorative concrete overlays for a permanent floor that you'll never have to replace.

Concrete Craft of Hamilton County, IN, transformed scary office space into gorgeous with detailed prepping of a damaged floor and staining with a custom blend of two stain colors to arrive at a copper brown. It was an economical solution for floors in serious need of renovation. All that's left is to bring in the desks and office files and get to work in great surroundings!

Concrete Craft of Southern Raleigh, NC, brought his client's vision to life with the renovation of this basement apartment. Years of primers and stains had to be removed and the floor patched before three coats of Pearl Grey concrete stain could be applied and sealed for years of enjoyment and care-free maintenance. What's not to love about revitalized living space?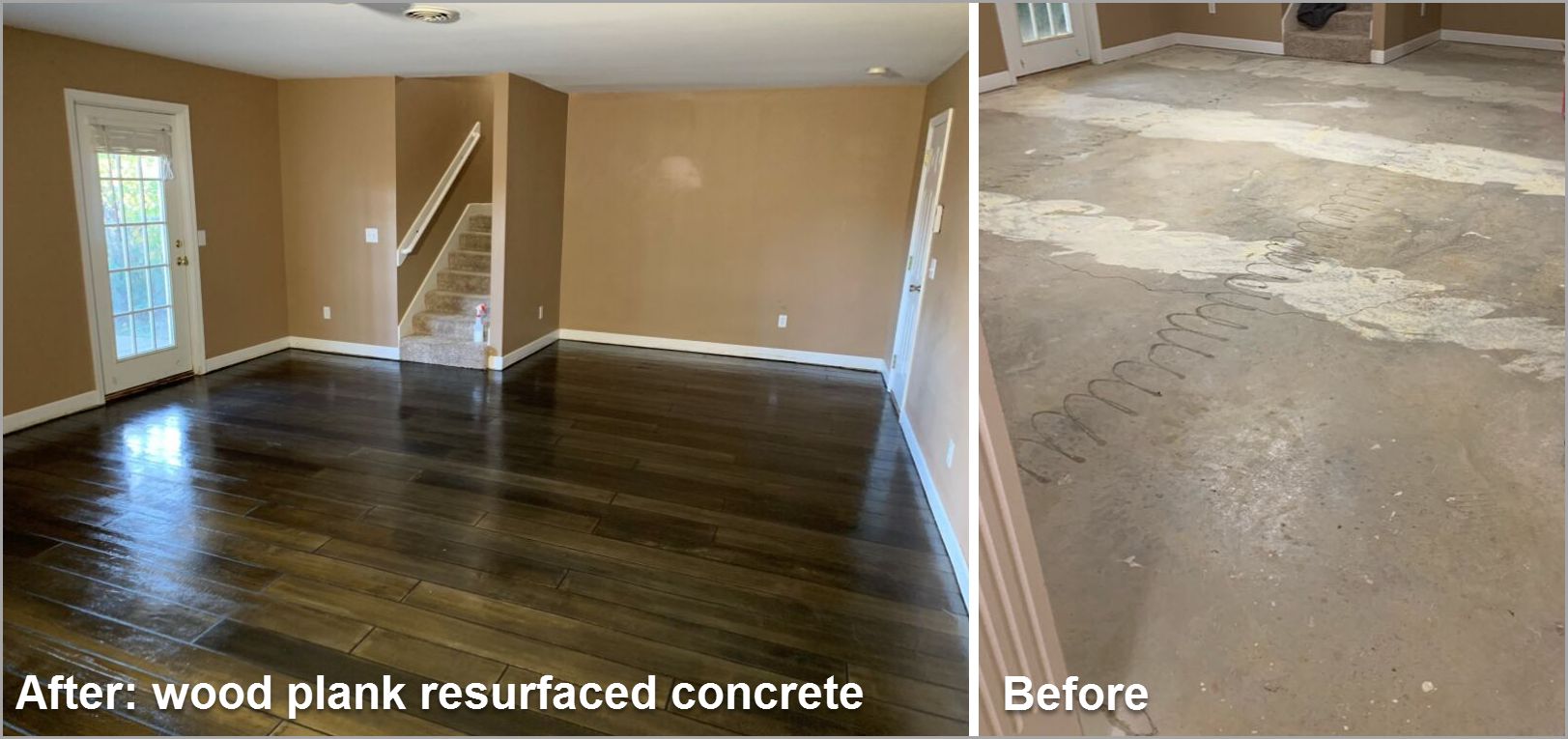 The look of hardwood floors is attainable and economical with a decorative concrete overlay and a stenciled wood plank pattern, custom stained to simulate real wood. The sealed finish has none of the problems of wood, resisting moisture and spills that can stain wood, and it won't splinter or chip even in high traffic areas. #lovethelookofwood!
Driveways with bragging rights
As the entrance to a home, when a driveway goes bad, it brings down the curb appeal of the whole property. Conversely, a beautiful, unblemished driveway is every homeowner's dream and easily attainable with Concrete Craft's proprietary processes.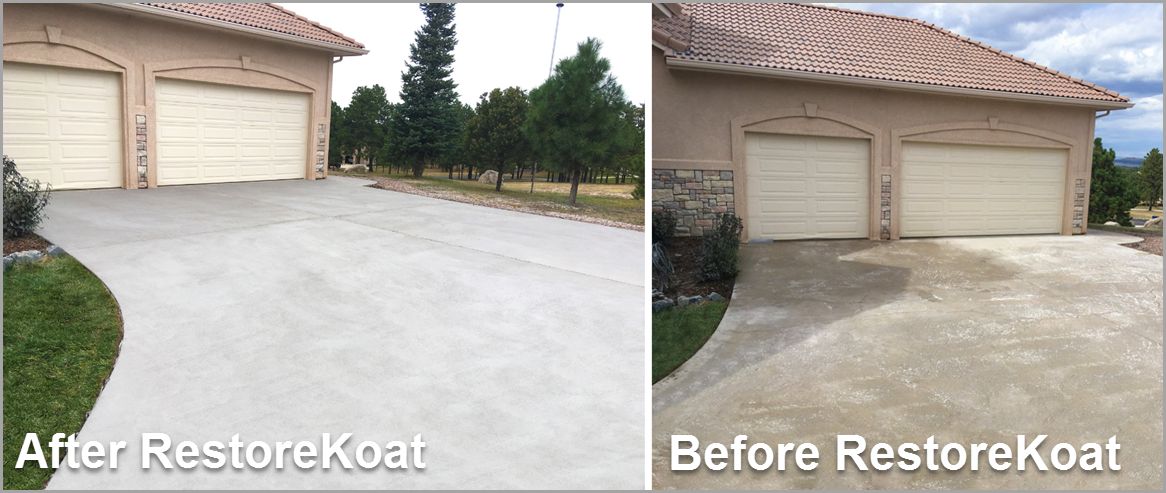 RestoreKoat is a versatile repair mortar that lets you have like-new concrete for a fraction of the cost of replacement, repairing even severely damaged concrete driveways, including spall repairs, deep cracks, and stubborn stains. This driveway will retain the clean look of freshly poured concrete and is better than new with a finish that is moisture and stain resistant and will not crack, chip, or peel even in the harshest weather.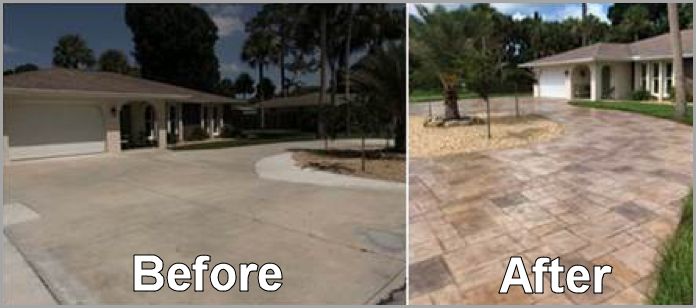 Concrete Craft of Sarasota, FL, transformed a circular patchwork driveway into a stunning Ashlar slate showstopper. A stamped concrete overlay created a new surface with an Ashlar stamp pattern that unified the various sections. Custom staining with Aspen Blend Dark and added color blocking matched the new driveway to the existing brick and stonework of the home. What a grand entrance to come home to!
Steps, Porches, and Patios Like New
Entrances to homes can take a beating from constant use whether steps, front porches, patio doors, or garage connecting doors. Cracked, chipped and stained concrete destroys the look of any concrete surface. But even disastrous concrete can be saved and restored without replacement.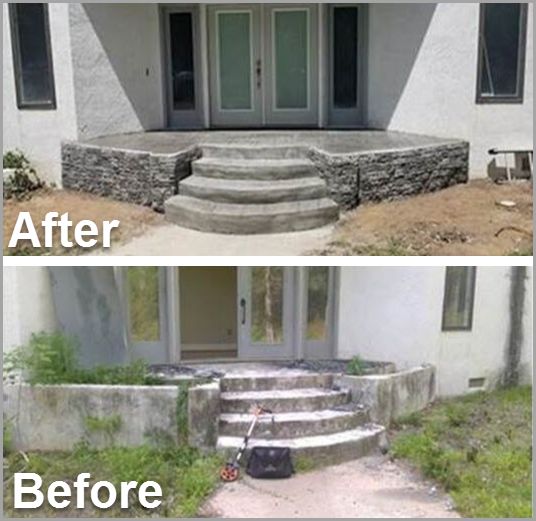 Concrete Craft of Columbia, SC, cleared away years of grime, broken tile, and glue, and gave a more modern design to this entryway porch with no demolition required. Planters were filled in and the porch floor expanded with a stamped concrete overlay in an Ashlar slate pattern and custom stained. The vertical planter walls received a moisture seal and vertical concrete resurfacing with a stamped and hand-carved stacked stone design. The whole house looks decades newer and the expanded porch adds incredible functionality.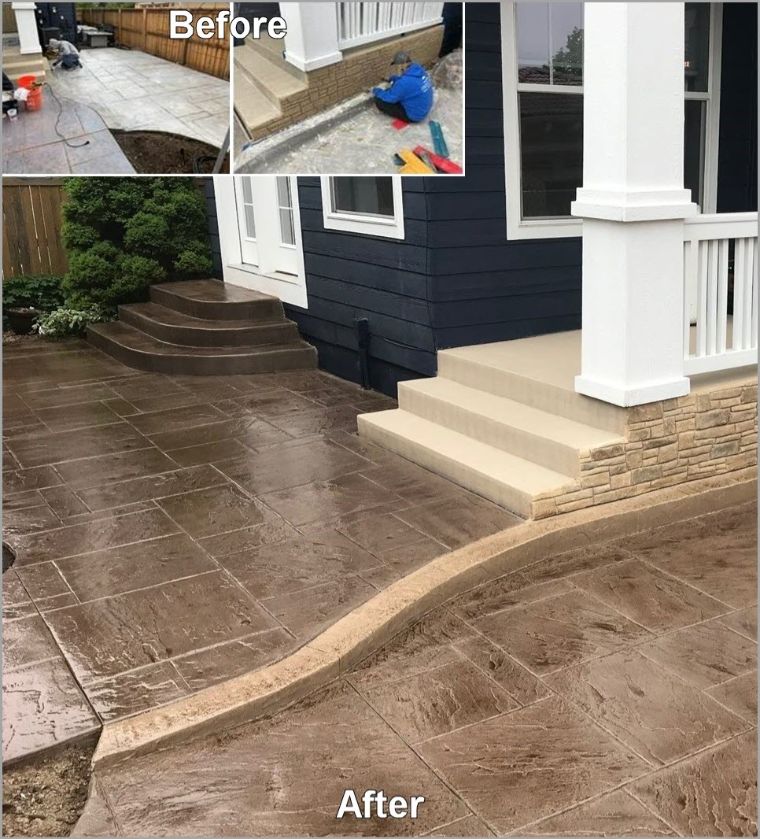 Concrete Craft of Denver blew the competition away by being able to do four different techniques to revitalize this patio area of a plain gray section and an old, faded small stamped patio. (1) A concrete overlay was applied to the newer section and stamped to match the existing design. (2) RenewKoat, a roll-on cement overlay, covered both slabs in Adobe so they perfectly matched. (3) The porch and steps were revitalized with Moroccan Buff (a one-step Color Restore System) and (4) a vertical concrete overlay on the side was stamped and stained to match an outdoor kitchen the homeowner was having built.
Pool decks for endless summers
Pool decks also fall prey to heavy traffic and use with cracks, worn spots, and stains from food, pool chemicals, oils, and suntan lotions. A transformed deck from "ugly" to "wow!" is possible with several decorative concrete options, including concrete stain, custom overlays, restorative finishes, and a real stone overlay.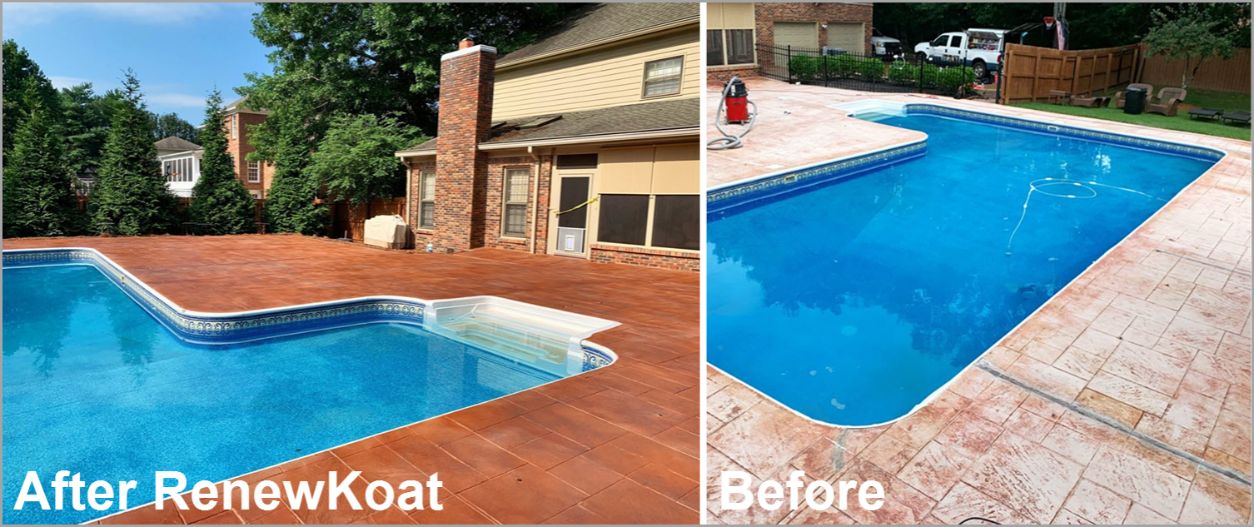 This pool deck's design had survived, but the finish was worn away from years of use and weather damage. Concrete Craft meticulously cleaned and prepped the surface and applied RenewKoat in a custom color to match the brickwork on the home, creating a stunning backyard. With little to no dust or mess, this pool deck was restored with a durable, UV-resistant finish for long-lasting beauty.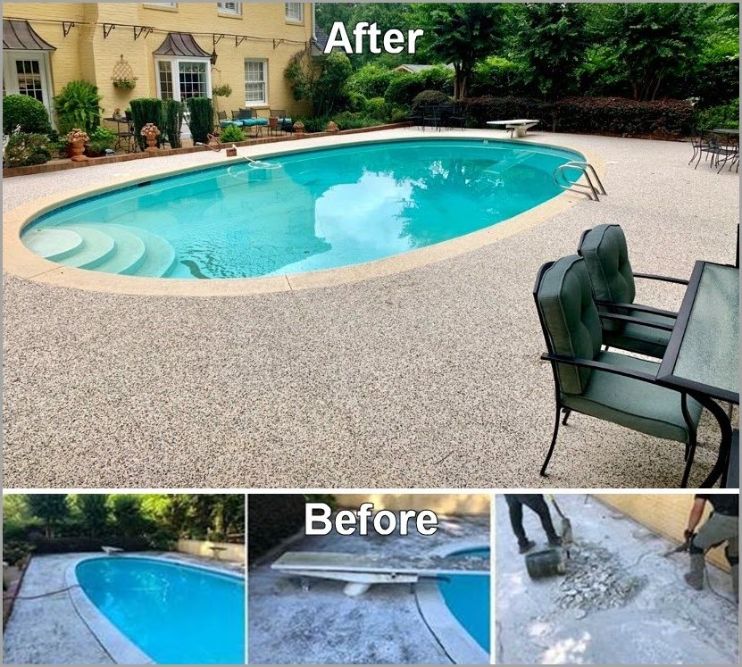 Concrete Craft of Athens, GA, transformed a truly uninviting pool deck into "the place to be" next summer! 20-year-old Kool decking was cracking and failing and the threat of replacing such a large concrete expanse distressed the homeowner. Concrete Craft repaired the foundation where needed and prepped and leveled the entire surface before applying a real stone river rock overlay. ColorKoat sealed the pool edge and this customer was extremely thrilled!
New concrete surfaces in your new year
As you can see from these amazing makeovers, ugly concrete does not have to have the last word! The artisans of Concrete Craft can transform your concrete surfaces with beautiful decorative concrete finishes, eliminating the need for demolition and replacement. You can count on Concrete Craft for expertise beyond what others can offer, performance-grade resurfacing mixes in our MasterProTM product line, and unlimited design potential with stained, stamped, and resurfaced decorative concrete finishes. Repaired and restored concrete is surprisingly affordable, and you'll love the results. Contact us today or go online to www.concretecraft.com to find the Concrete Craft location nearest you and request a FREE estimate for interior floors, patios, walkways, driveways, pool decks, and vertical concrete resurfacing for walls, steps, and more.