2018 Before-and-After Concrete Makeovers You'll Absolutely Love
The power of pictures is everywhere. Armed with Smartphones and a little attitude, selfies and images rule social media and the internet as people document their lives. Pictures can tell a story without words, evoking laughter and tears, creating connection, teaching opportunities, and endless entertainment. How many images do you check out during the day?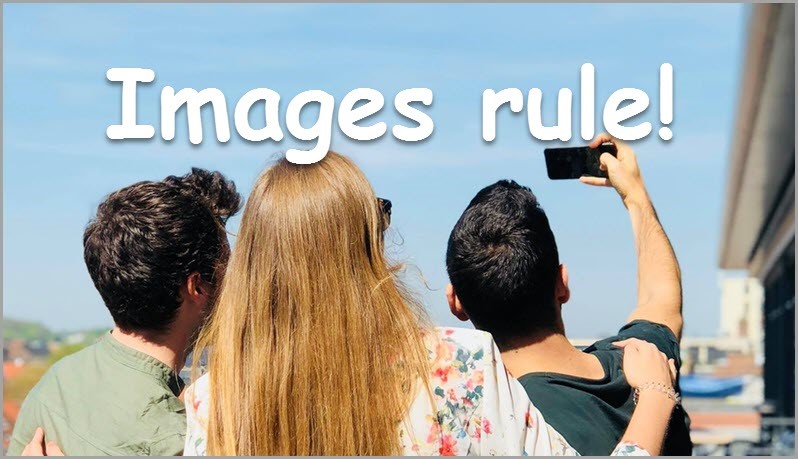 Pinterest has over 250 million active monthly users
Instagram has one billion active monthly users
Snapchat has approximately 188 million daily users
As you can see, you're in great company … everyone loves a good picture! At Concrete Craft®, we especially like the quick trip from before to after, demonstrating the incredible way that concrete overlays can transform concrete surfaces into beautiful stained, stamped, and resurfaced realistic stone finishes.
Here are six before-and-after decorative concrete projects that completely transformed spaces for homeowners across the country. And your local Concrete Craft can do the same for you!
Enhancing interior floors with exquisite concrete stains
Concrete Craft of North Denver, Colorado, updated an 18-year-old interior concrete floor that had unwanted saw cuts and uneven coloration. Sanding, filling joints, and applying our exclusive concrete microtopping overlay gave a like-new, seamless surface that wears the new gray stain beautifully. The final epoxy and urethane sealers give shine and durability that will last for decades. The customer confessed that "this was the look they had wanted from the start."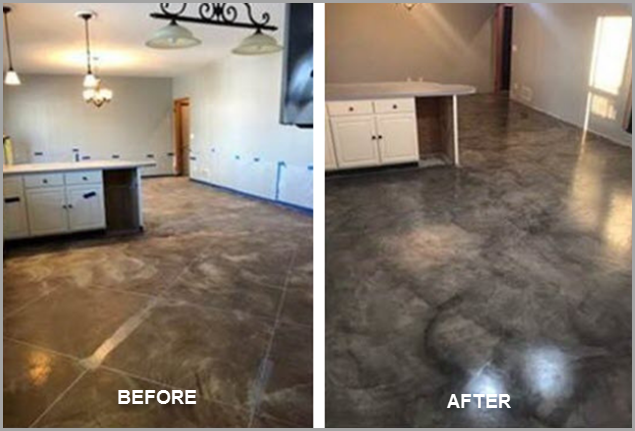 Concrete Craft of McLean, Virginia, created a vibrant purple-stained concrete floor for a client desiring a unique look. A musician that teaches children with special needs how to play the guitar, he wanted to create a happy, safe environment for his students to learn and play. They play games like pool and shuffleboard which can take a toll on a lesser floor but won't damage this surface. A stage lets his students' families come and watch their children perform. The stained concrete purple floor strikes just the right note and is the perfect, easy-care, industry-tough solution for a very busy space.

Beautiful stamped patios for year-round enjoyment
Concrete Craft of Nashville, Tennessee, did the impossible by creating a hardwood plank patio design with stamped decorative concrete. Real wood on an outdoor floor would never survive for long in Tennessee's rainy and cold winters, but this authentic-looking "hardwood" flooring will give years of carefree enjoyment and beauty. The sealed surface resists moisture, mold, and bacteria growth for a cleaner environment. Sweeping or hosing off is all that's needed to keep it looking like new.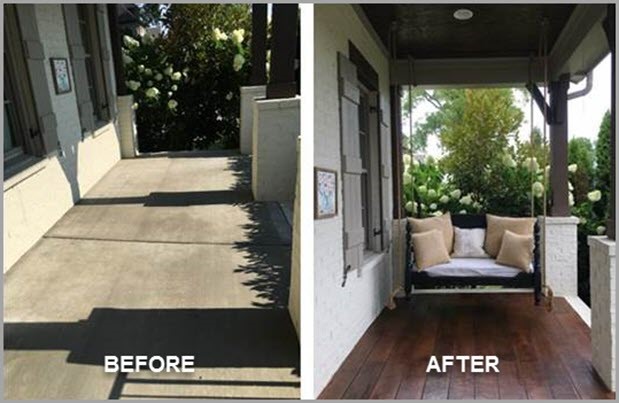 A driveway that dreams are made of
Concrete Craft of Knoxville, Tennessee, rejuvenated a very worn driveway with a broom-finish overlay installed by another company that had failed after just six months. The 3,100 square foot driveway was resurfaced with our custom overlay mix, and then hand-cut into a flagstone pattern and custom-colored to create a realistic faux stone driveway. The attention to detail and extensive hand-applied stain and sealers make this driveway a showpiece in the neighborhood.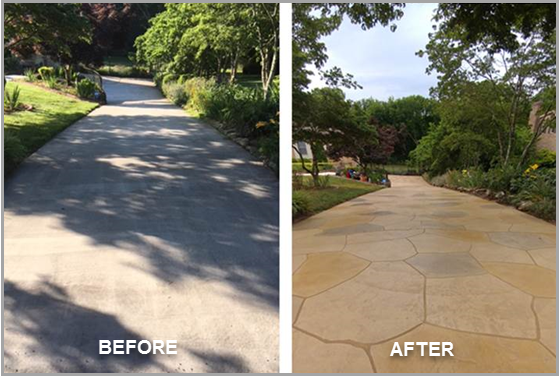 Concrete Craft of Sarasota, Florida, brought a dingy, dirty pool deck up to speed to match the million-dollar lake and golf course views that this client enjoyed. Disappointed with a previous finish that had yellowed out, she called Concrete Craft requesting an elegant and sophisticated design for the pool deck and surrounding areas. Ashlar slate in a warm, classic gray around the pool and Roman slate texture in Sarasota Blue in adjacent covered areas provided exactly the look she wanted, complementing her existing hardscapes and décor.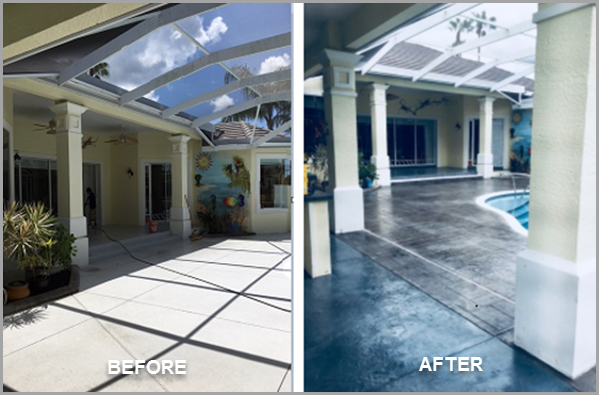 Vertical concrete resurfacing to update a fireplace
Concrete Craft of Akron, Ohio, (with a little help from their friends at Concrete Craft of Atlanta and Concrete Craft of Cincinnati), completed a fireplace resurfacing with a beautiful faux stone concrete façade. As with flooring overlays, vertical concrete overlays are hand-carved and textured to look like authentic rock and stone. Custom colors are hand-applied to ensure complete coverage and consistent colors. A sealer creates a seamless surface that resists dust and dirt buildup, unlike real stones that trap dust and smoke, causing discoloration over time.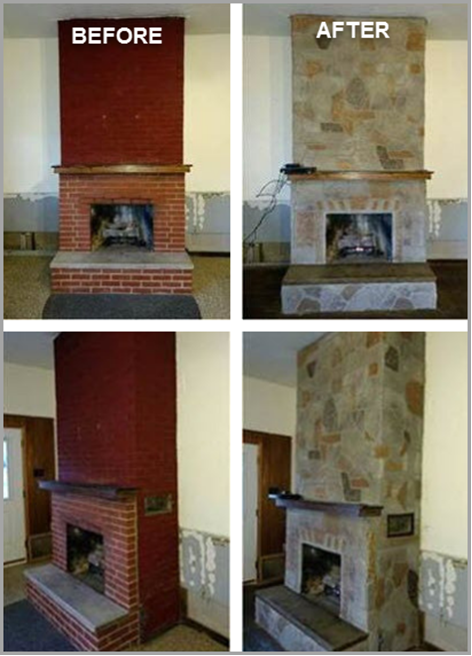 The artisans of Concrete Craft are ready to transform your concrete surfaces with beautiful decorative concrete overlays and vibrant, durable concrete stains. You can count on Concrete Craft for expertise beyond what others can offer, performance-grade resurfacing mixes in our MasterProTM product line, and unlimited design potential with stained, stamped, and resurfaced decorative concrete finishes, including flagstone, European cobblestone, Ashlar slate, Roman Slate, brick, wood plank, sandstone, stenciling and more.
Contact us today or go online to www.concretecraft.com to find the Concrete Craft location nearest you and request a FREE estimate for interior floors, patios, walkways, driveways and pool decks, as well as vertical concrete resurfacing for indoor and outdoor accent walls, fireplace surrounds, chimneys, retaining walls and entryways. Check out our digital brochure and Interior Design Guide and imagine the possibilities for your home or business.
Happy Holidays from Concrete Craft!