8 Tips to Reduce Allergens in Your Home Before Allergy Season Starts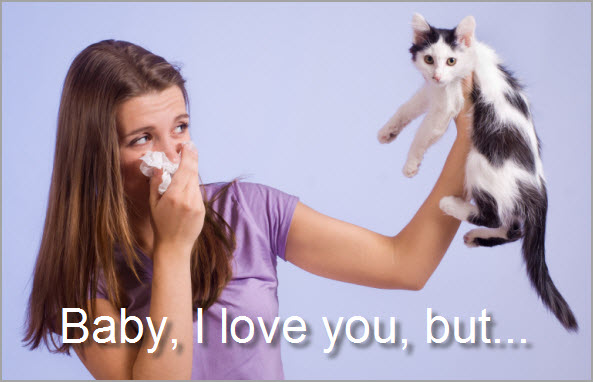 If you suffer from allergies, you're not alone. Allergies affect more than 20% of Americans, including allergies to dust mites, mold, pollens, pet dander (tiny flecks of skin), and hair. Allergens are found indoors and outdoors, with pollen season roughly February through October so, if you're prone to allergies, it's pretty much a year-round affliction. There's no escaping hay fever if you live in South Carolina with flowering Red Mulberry trees, Las Vegas with wind-pollinated desert plants, or any place in between that's green and growing.
You can't control the air quality outdoors, but you can definitely take measures to improve the air quality within your home or business. Here are eight tips for making your environment more user-friendly for allergy or asthma sufferers, starting with easy-care, allergen-reducing, beautiful concrete floors from Concrete Craft®.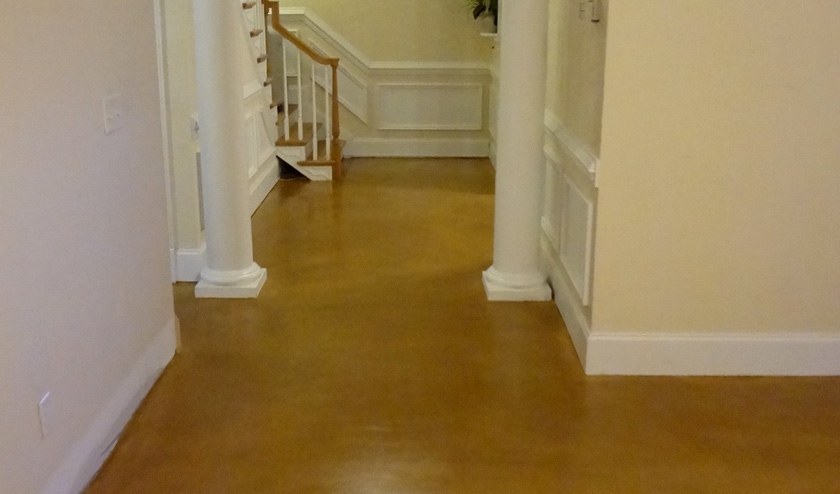 Replace carpeting with hard-surfaced flooring like stained or stamped concrete that doesn't harbor dust mites or support the growth of mold or bacteria. Carpet and carpet padding can harbor high levels of dust mites, pet dander, mold and mildew.
Reduce airborne pollens, dust, mold spores and smoke by keeping your windows closed and using an air purification system with HEPA filters for maximum protection. (HEPA-grade filters remove at least 99.97% of 0.3 micrometers airborne pollutants.)
Bedrooms harbor more dust mites than any other room, so protect mattresses, box springs and pillows with washable, allergy-proof removable covers. (Check Allergy Guard Direct for 100% cotton covers.)
Use window blinds and shades instead of curtains and drapes that trap dust and dirt in the folds. Vacuum window coverings once a week to eliminate any dust buildup. If you do prefer curtains, choose washable fabrics so you can keep them clean.
Replace air filters as recommended for your heating and cooling system, using filters with a high range MERV rating (12-13) for maximum filtration.
Vacuum often and use a HEPA filter to get maximum removal of allergens, especially important with pets in the home. Brush and groom pets outside or in the garage so there's less chance of hair and pet dander inside.
Prevent mold by controlling moisture throughout your home, such as in bathrooms, kitchen, laundry room, etc. Dry off surfaces where water collects, like shower walls and around bathtubs and kitchen sinks. Ventilate windowless rooms (including attics) with exhaust fans that circulate to the outside or open windows for ventilation. Periodically check under sinks for any leaks that could create a moist environment for mold to grow. If you have a damp basement, invest in a dehumidifier to remove excess moisture from the air.
Make bedrooms pet-free zones to eliminate pet dander and ensure a more peaceful, breathable sleep for allergy sufferers.
Concrete floors add beauty and value
Decorative concrete flooring has much to offer for creating a clean and allergy-free environment. Your home will be cleaner overall and dust bunnies can become a thing of the past. "Achoo!" will no longer be the standard family greeting. These four floors are just a sampling of how decorative concrete floors can enhance your entire home with beauty, value and health benefits.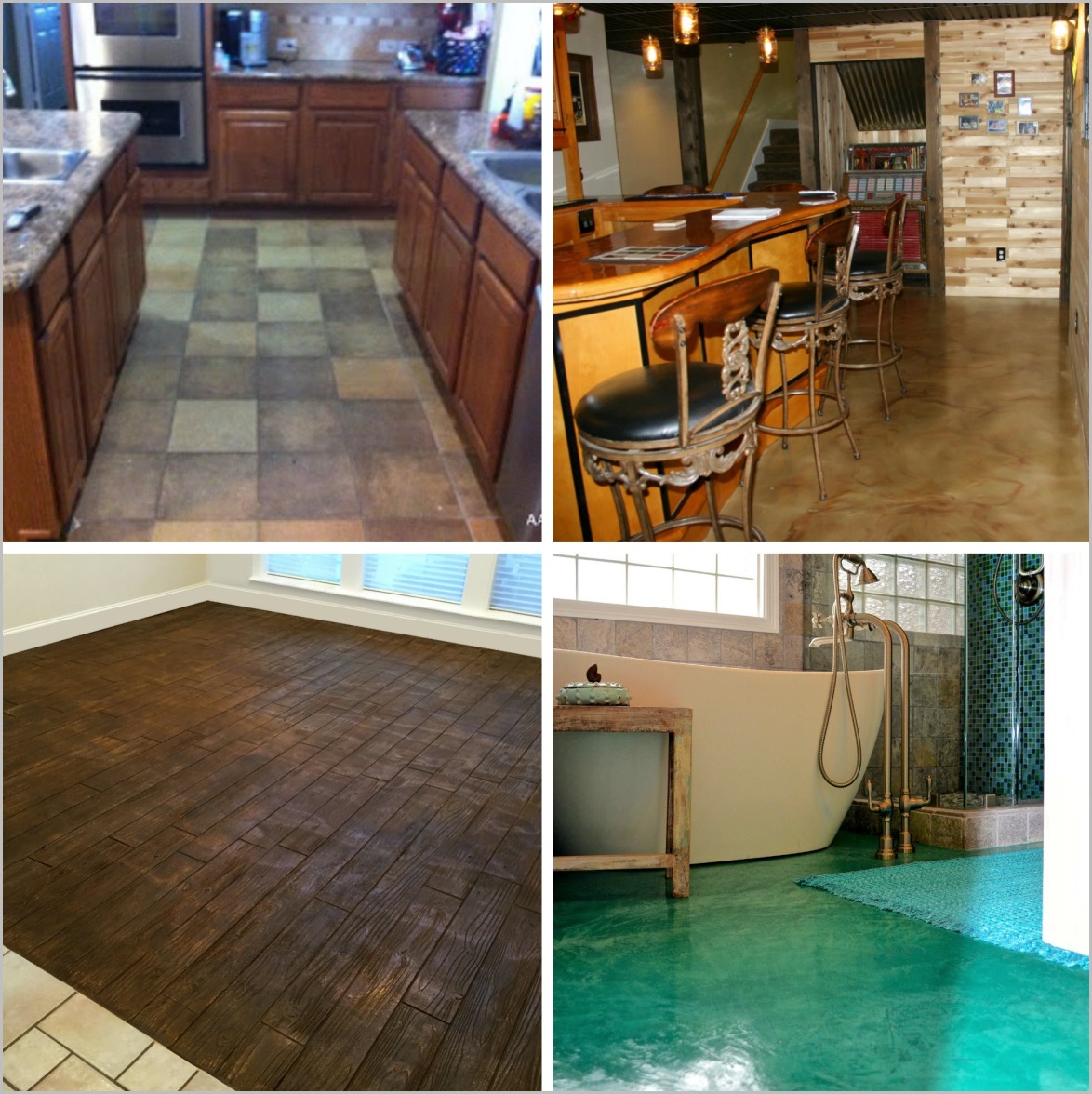 Decorative concrete inhibits the growth of mold and mildew
Sealed surface resists moisture and stains; spills and messes wipe right up
Easy to keep clean with sweeping and mopping, preventing allergen buildup
Add back softness where needed with washable throw rugs
Unlimited design potential to suit any décor
Decorative concrete floors are a fraction of the cost of real stone or wood
Reduce outside allergens with decorative concrete
An additional safeguard is a decorative concrete patio, entryway or porch that resists moisture, mold and mildew to eliminate tracking outside allergens into the house. This cobblestone patio with a resurfaced concrete overlay looks like real stone with grout lines, but is actually one continuous surface, sealed against the mold and mildew that often clings to natural stone. Plus, there are no grout lines to harbor weeds, grass and insect infestations. Decorative concrete is easy to keep clean and dry, a healthy choice for your family.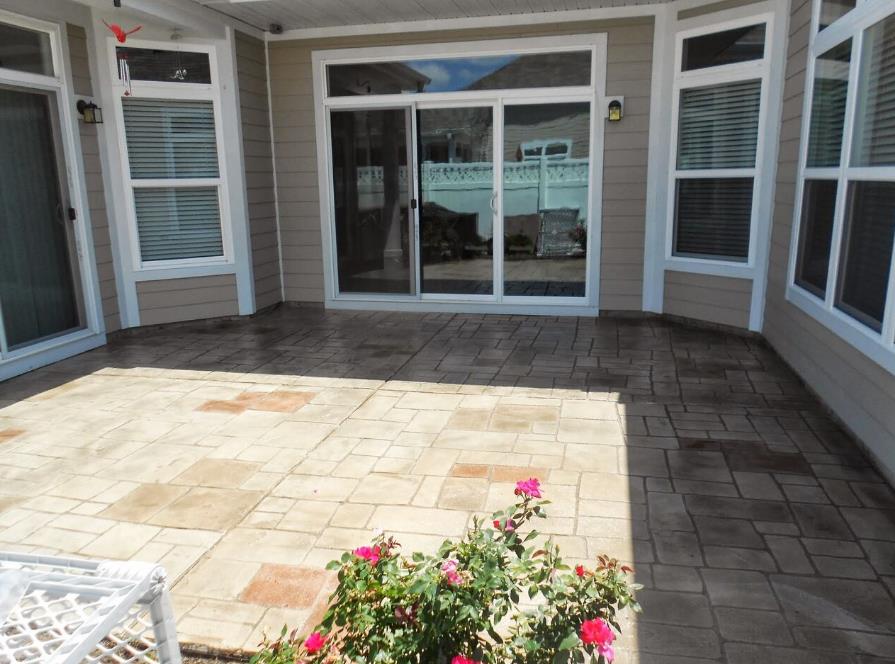 Be proactive to protect your family from allergies all year long with easy-care, decorative concrete floors for any room in your home. Call 866-813-3699 or go to www.concretecraft.com to find the Concrete Craft location nearest you and request a FREE estimate. You'll be delighted with the wide range of choices for interior floors, from a simple stain to stamped designs and hand-cut and custom-colored faux stone like Flagstone, Cobblestone, brick, Roman Textured Slate, and more, including real wood plank patterns for the look of hardwood floors. Call Concrete Craft and breathe easy.