Achieve 2019's Top Flooring Trends with Decorative Concrete
Home design is never static, and each year brings new innovations and trends to help homeowners find exactly the look and feel they desire in their homes. The style options for floor coverings fill home improvement stores, masonry yards, and design centers with myriad choices that both delight and confuse shoppers.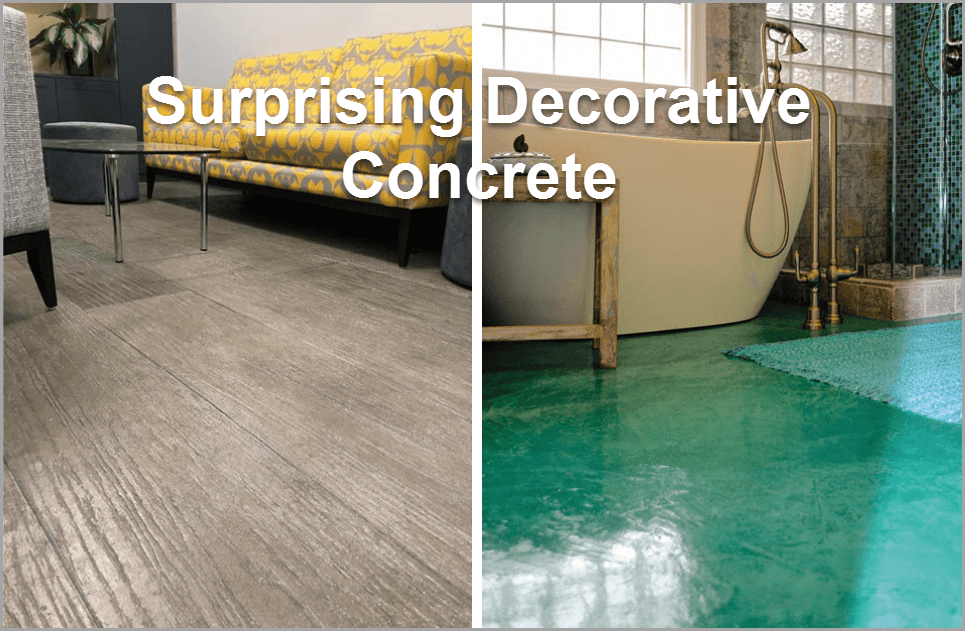 Color, durability, and cost are important factors in flooring decisions and can impact final floor choices. This sometimes means having to settle for less than what was wanted.
The desired color is in limited supply or not available
The floor is not durable enough for your family's needs
Cost is prohibitive for the floor you really want
Custom decorative concrete overlays for your interior floors may be the perfect solution. Styles, finishes, and colors are basically unlimited, and the durability of concrete is legendary in the building industry, the hardest and most-used flooring product ever. Concrete Craft® can provide solutions for achieving exactly the look you want, from stained concrete to tile, and realistic stone to "hardwood" finishes with stained, stamped, and resurfaced concrete designs.
Here are four of the top flooring trends for 2019 and how decorative concrete can make it happen.
One: Textured stone flooring
Stone floors have always been popular for the Old World charm they exude with an age-worn patina and timeless beauty. For 2019, textured stone is trending for the natural look and feel of finely-weathered stone. For interior and exterior, authentic-looking textured stone flooring like flagstone, cobblestone, slate, sandstone, and limestone can all be achieved with custom decorative concrete at a fraction of the cost of the real thing.

"Real stone" stamp patterns are pressed into the concrete overlay, creating a three-dimensional look. However, the indentations are not random depths as with real stone that can trap dirt and moisture, but shallow indentations that keep the surface smoother and easier to clean. The finish is one continuous surface, including the simulated grout lines, and the entire surface is treated with final sealers to protect and strengthen the finish.
Years of carefree functionality for indoors and outside.
Never any cracking, chipping, or "stones" lifting as with real stone flooring.
Custom staining means no possibility of running out of the right color.
Combining multiple concrete stain colors result in true rock and stone colors for a natural look.
Two: Wood flooring
The popularity of wood flooring continues to grow, especially as more "faux woods" are becoming available. However, wood-look vinyl, tiles, and laminates have negative features not associated with decorative concrete.
Limited options in color and style.
Wood-look tile will chip and crack.
Laminates hate moisture, so aren't appropriate for all areas of the home.
An uneven or cracked subfloor can create uneven tiles, allowing moisture to be trapped underneath.
Every lump of the subfloor will show as a bump on the surface of vinyl wood planks.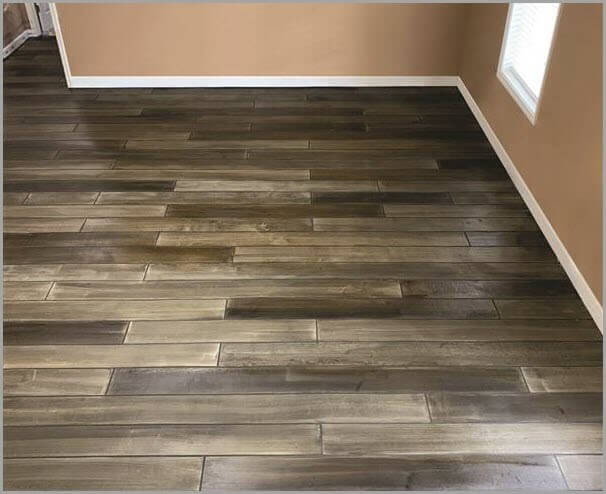 This gorgeous "wood tile" floor is custom decorative concrete. The concrete subfloor was prepped and repaired. Primer and a concrete overlay set the stage for the wood pattern stamp and then each plank is individually stained to create the authentic appearance of wood. Stamp patterns can emulate all types of wood, including smooth woods, deeply-whorled woods, rustic planks, engineered wood, and reclaimed wood.

Custom staining lets you choose any of the most popular wood colors, such as Maple, Red Oak, Walnut, Brazilian Cherry, weathered pine, and the new "greige," a combination of beige and gray for lighter wood finish options. Our stain masters can bring your "hardwood" floors to exactly the color and intensity you desire.
Wood stamp patterns can replicate longer and wider planks.
Sealed finishes resist moisture, chips, cracks, and scratches.
Decorative concrete floors prevent bacteria and mold growth for an allergen-free environment.
Have wood-look floors in any room, including laundry, kitchen, bathroom, and mudroom where humidity is high.
Three: Mosaic tiles
Mosaic tiles are gaining ground as the choice for bathrooms and powder rooms, including black and white designs, subway tiles, small squares, herringbone, chevron, and geometric patterns. With decorative concrete, using stencils, stamp patterns, and multiple stain colors, tile patterns can be replicated, from simple designs to complex.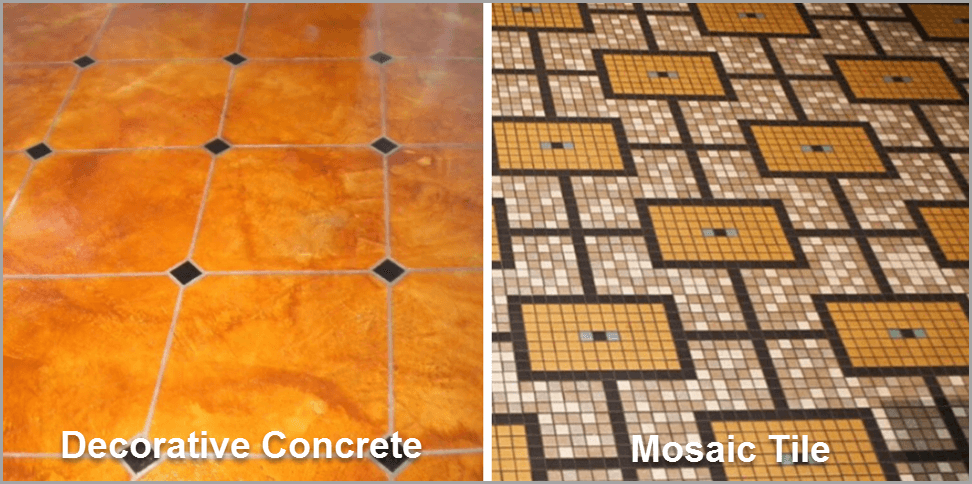 A sealed, continuous surface eliminates problems like chipped and missing tiles.
Since the concrete pattern is directly on the concrete slab, you'll never have the issue of tile adding height to the floor, creating uneven surfaces, and raised thresholds at doorways.
Easy-care, interior floors stay like new with a dust mop and occasional wet mopping.
Mosaic designs can also be installed on walls with vertical concrete resurfacing to enhance backsplashes, seat walls, fireplace surrounds, and accent walls.
Four: Large format tile
Large-format porcelain, stone, or ceramic tiles are great to create the feel of openness and more space in a room. In the past, large tiles were considered anything over 12" x 12", but now "large" is considered anything with a dimension of over 24" on a side, up to an astonishing 3' by 6' (yes, that's feet). Most homes would never handle those dimensions, but with decorative concrete, any size tiles can be stamped and stenciled for exactly the look that's needed. Patios, pool decks, and driveways could easily handle a large format tile design for a unique and elegant look.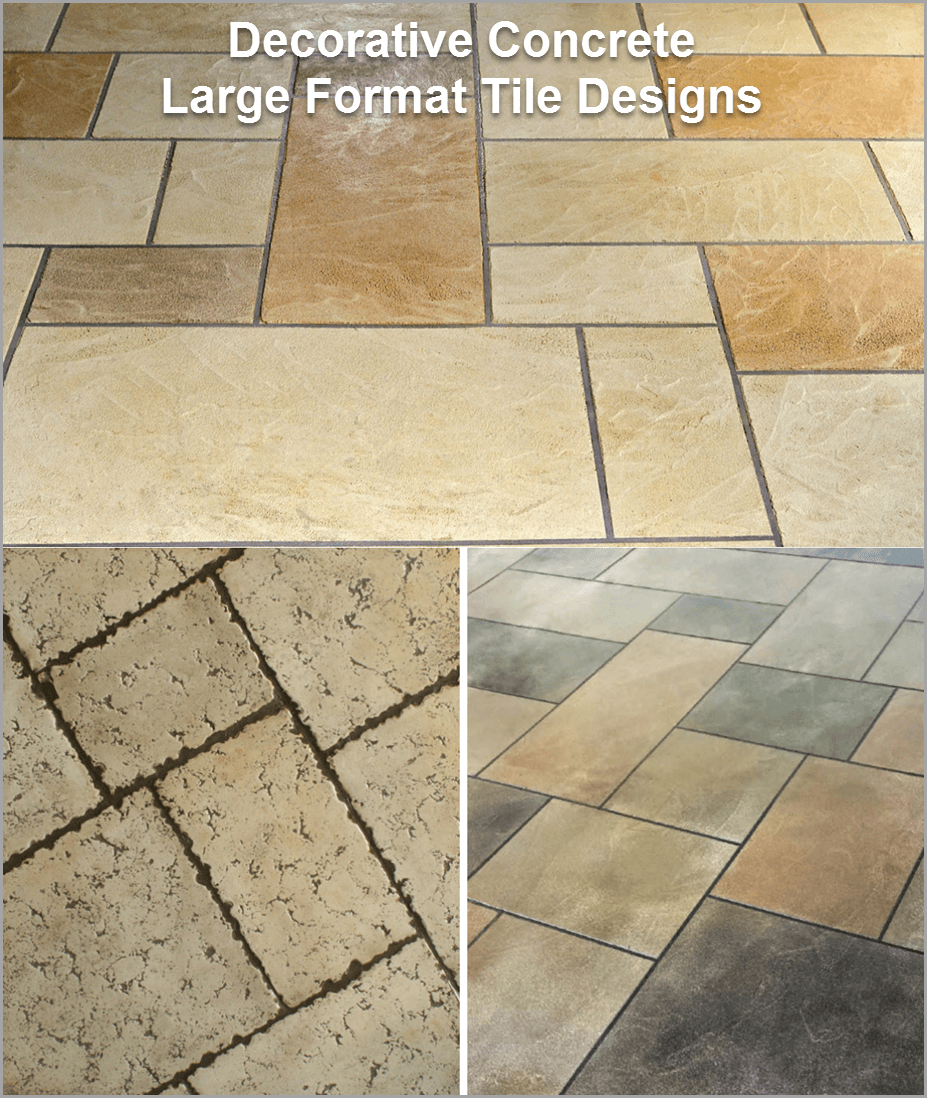 Hand-cut and custom-colored tiles mean unlimited design potential.
Never limited to size and shape of available tile stock.
Mix and match different tile shapes and sizes for custom insets and borders.
Decorative concrete will never chip or crack and the faux grout will never discolor or crumble.
New floors in the New Year
If you're planning to upgrade the flooring in your home or business in 2019, do your research, but don't buy anything until you talk with the professionals at Concrete Craft about stamped, stained, and resurfaced concrete floors. We can replicate the look of most flooring options with more diversity and styles since all our designs are customized to your exact specifications. Contact us today or go to www.concretecraft.com to find the Concrete Craft location nearest you and request a FREE estimate for the floors of your dreams. Check out our new Interior Design Guide for more decorative concrete flooring options.