Almost Everything You Need to Know About Stained Concrete
Concrete flooring is fast gaining popularity for both residential and commercial properties due to its beauty, durability, lower cost and unlimited design options. Concrete finishes range from glossy to textured surfaces, simulated natural stone such as Flagstone or Slate, and wood plank patterns.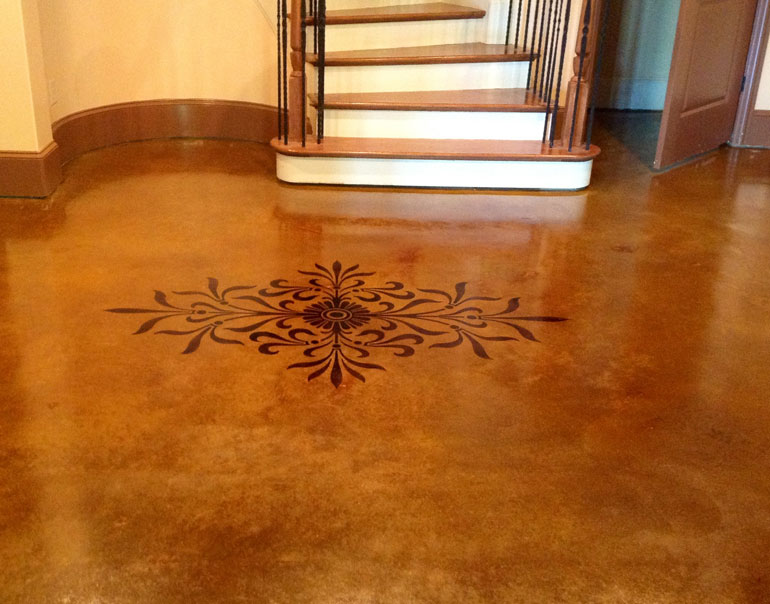 High-traffic areas like restaurants, movie theaters, and showrooms greatly benefit from the easy care and reliability of concrete floors. So do basements, garages, kitchens, family rooms, mudrooms, bedrooms, and bathrooms in a busy family home. Imagine this beautiful custom stenciled, stained concrete floor in your entryway.
Stained concrete is just one finish option offered by Concrete Craft that will add value and beauty to your home's floors, both inside and outside. Here's a quick overview of almost everything you need to know about stained concrete.
Stained concrete is versatile
The infinite array of colors and special effects that can be achieved with stain are amazing. The stain actually permeates the concrete, creating deep, rich translucent tones, as you can see in the image above. Color options are practically unlimited, and depending on the application techniques used (water-based or acid-based stains), your floor design can look antiqued, variegated, mottled, or have a consistent monochromatic color expanse.
Stained concrete stays color-true
Properly applied stain will not fade its color, chip, flake, or peel. When applied to prepped and clean concrete, the stain penetrates below the surface, creating a durable and long-lasting rich color that requires minimal care to stay like new.
Stained concrete is low-maintenance
When applied, your stained concrete floor is sealed to protect and prolong the stain. Over time and with traffic or weather exposure, the surface can wear away. Interior floors are best protected with a good floor wax application from time to time, and exterior surfaces should be resealed as needed. Regular cleaning is dry dust mopping and an occasional wet mopping with a neutral-pH cleaner.
Factors that can impact the final result
Several factors impact how a concrete surface reacts to the color staining process. One is the concrete itself, its condition, composition, age, and surface porosity.
Older concrete may have a history of spills, glue, paint, coatings, or sealers that may inhibit the stain from penetrating evenly.
Acid-based stains penetrate and react chemically with the concrete's composition and create a rich, translucent marbling effect.
Water-based stains fill the pores of the concrete surface, with no chemical reaction, so a more consistent color is possible. Water-based stains are low in VOCs (volatile organic compounds) and safer to apply.
This patio and driveway illustrate the finished results of water-based stain versus acid-based. The patio color is uniform overall while the driveway has a mottled appearance due to the chemical reaction of stain and concrete.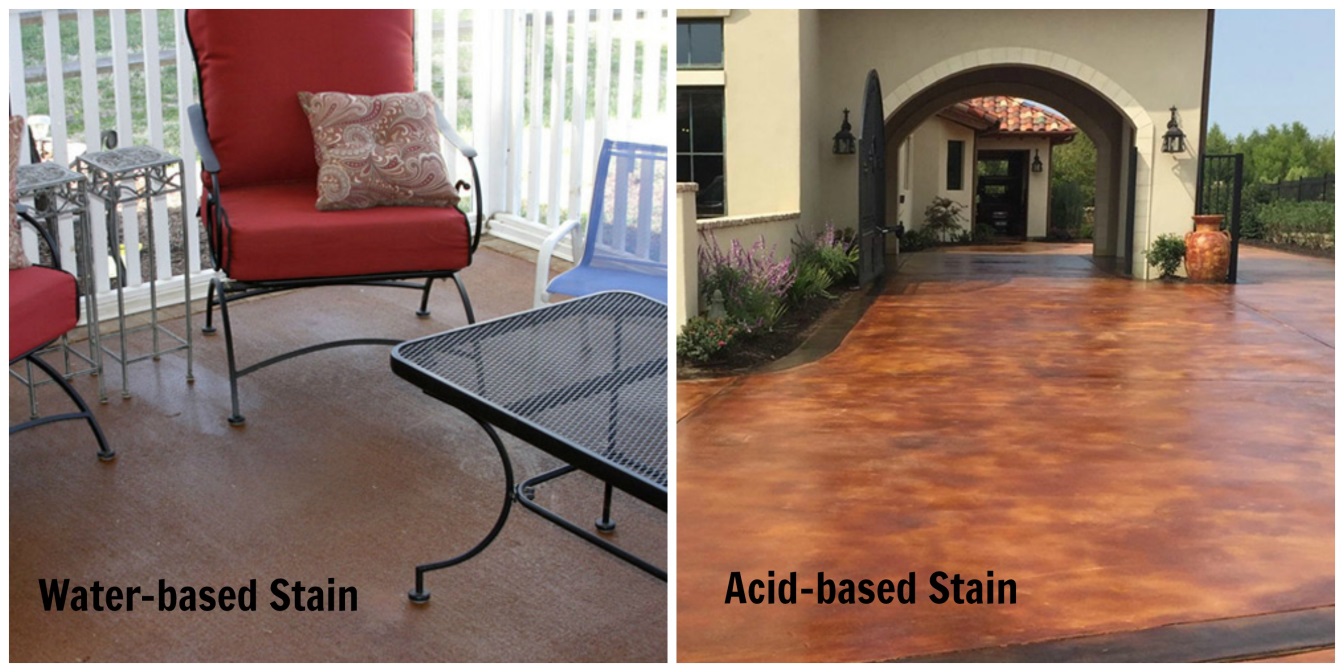 Stained concrete it not a DIY project
Despite the volume of how-to information online regarding staining your own concrete floors, staining concrete is best left to the professionals.
Evaluating your existing concrete, picking the right stain and correctly prepping the surface puts most DIYers out of their league.
Stains available for purchase for DIY installation are not always as robust and permanent as professional, industrial-grade stains.
Proper installation involves equipment and machinery not found in most garages.
An experienced professional will be able to forestall mishaps and take care of any surprises along the way.
A professional can complete the job in a fraction of the time it would take to do it yourself.
If it doesn't come outright, you have no recourse.
Professional installation by Concrete Craft comes with a two-year warranty*.
Don't just keep dreaming of beautiful concrete floors for your home or business. Call today to talk to a craftsman at Concrete Craft who can answer all your questions about stained, stamped, and resurfaced concrete floors. Call 866-813-3699 or go to www.concretecraft.com to find the Concrete Craft location nearest you and schedule a FREE estimate. Take time to scroll through our online photo galleries for patios, driveways, walkways, pool decks, and more, and pick your favorite looks. You'll be impressed with all the creative possibilities!