How Stained Concrete Can Save And Beautify Your Tired Patio Or Pool Deck
Spring is officially here and while there still may be a few chilly days ahead, patios and pool decks have become the focal point for outdoor activities. It's time to fire up the barbeque and shop for new patio cushions for patio chairs and lounges. Unless, of course, your patio or pool deck is in poor condition, and it's not calling your name to come and play. If that's the case, Concrete Craft® can have you loving your outdoor spaces with stained concrete designs to get you excited about spring and summer entertaining.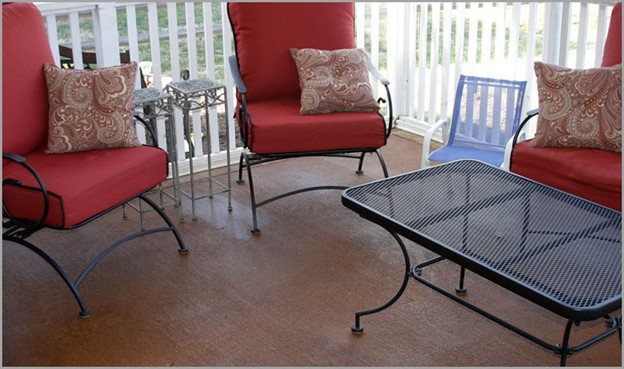 Water-based stains in natural earth tones add rich lasting color to upgrade the look of new or existing gray concrete patios
Economy and versatility of stained concrete
Stained concrete is one of the most economical ways to upgrade your patio or pool deck. With concrete in good condition, stain can be applied directly to the cleaned and prepped surface, adding vibrant color and an industry-tough, all-weather finish to completely transform the space. If your patio or pool deck is time-worn with cracks, chips, and discoloration, a resurfaced concrete overlay can be applied to hide any damage and present a fresh new finish to take the stain. Even for very large patios and pool decks that seem financially intimidating to restore, stained concrete can deliver beautiful finishes that won't break the bank! Our exclusive MasterPro StainTM concrete systems offer translucent stains as well as opaque, breathable finishes for just the look you want.
Stained concrete application techniques and finishes can mimic polished marble, natural stone, antiqued, and variegated finishes so you can match your existing hardscapes.
TruStainTM is a unique line of water-based stains that penetrate the concrete surface for vibrant, consistent translucent color and shine.
Acid-based concrete stains react chemically with the concrete slab, creating beautiful marbled and variegated effects.
Color RestoreTM and Traffickoat by Concrete CraftTM are water-based stain systems that form opaque, breathable finishes to rejuvenate concrete surfaces.
Choose solid colors, multiple-color patterns, or stenciled designs and borders for unique effects.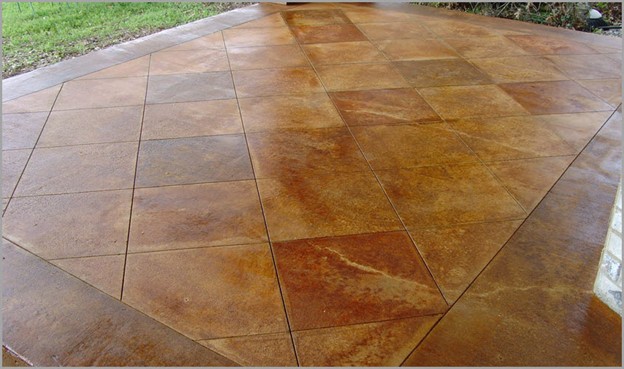 Acid-based stains create a marbling effect and using multiple stain colors results in a one-of-a-kind patio to be proud of
Durability you can count on
Although concrete is the most durable surface you can have, untreated or bare concrete can become damaged from normal use, acquiring stains, chips, and surface cracks. Patios and pool decks can be impacted by weather, including hot sun, rain, and freeze/thaw in colder climates. All of these things can eventually result in distressed looking concrete. Stained concrete applications can cover damage and discoloration and, at the same time, provide durable finishes that beautify, seal, and protect against future damage. The resistance to moisture, mold, and mildew makes stained concrete a perfect enhancement for patios, pool decks, and driveways that are exposed to damaging weather.
Stained concrete can hide discoloration and minor damage in activity areas, creating fresh new surfaces that won't fail due to moisture, impact, spills, and year-round weather assaults.
No more reassessing your patio or pool deck every spring to see if they survived the winter.
Fast curing time has your patio or pool back in service in a just a few days.
A slip-resistant surface is an optional safety feature for where water is present from kiddie pools, Slip 'N' Slides, or water balloon fights.
Patio furniture, tables, potted plants, and play equipment will never mar the surface, making your patio or pool deck a favorite hangout for everyone.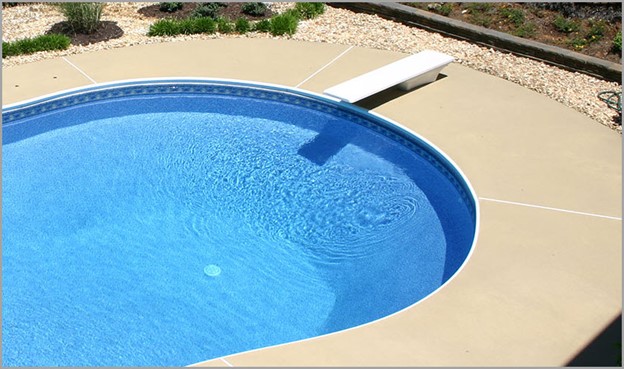 No more stains from harsh pool chemicals and a slip-resistant sealer can provide maximum safety for poolside fun
The easy care of stained concrete
The ease of maintaining stained concrete patios and pool decks will delight and amaze you! No more freaking out and running for the concrete cleaner if some hot wings hit the floor. Nothing sticks to the surface, so drink and food spills wipe right up with a damp cloth without leaving a trace. At the pool, suntan lotions and oils stay on the surface to be wiped up without staining the concrete. A broom is all you need to clear away debris and keep your spaces clean and ready for the next activity.
Stained concrete surfaces wipe clean of any spills and the sealed surface repels dust and dirt build-up, moisture, bacteria, and mold growth.
If heavily soiled, use a neutral-pH cleaner with a medium-bristle push broom or a pressure washer to keep your patio or pool deck spotless.
After heavy rain or hosing off, brush away excess water so the surface can dry quickly.
The moisture-resistant surface prevents mold and bacteria growth from taking hold under outdoor furniture, planters, and rugs.
If the stained concrete shine starts to dull or show wear after a few years, resealing will restore it to like-new condition.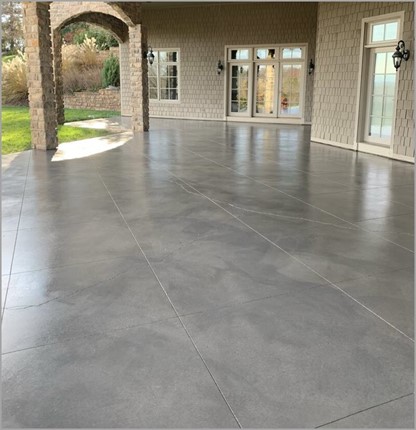 Stained concrete can upgrade all your outdoor spaces, so you never again have to worry about your concrete going bad

Concrete Craft can help you get all your concrete surfaces repaired, restored, and up to date with colors and finishes that take your home to the next level of beauty, functionality, and value. Most of our refinishing processes from stained concrete to hand-cut and custom-colored resurfaced concrete can be completed in just a few days to transform your outdoors, so act now and you'll not miss a minute of fun in the sun this spring and summer! Call 888-852-9244 today or go online to www.concretecraft.com to find the Concrete Craft location nearest you and request a free in-home or virtual* consultation. Check out our online MasterProTM Product Catalog for more options with beautiful, durable, decorative concrete.
*Virtual consultations may not be available at every location
Get more outdoor design ideas by following us on Instagram and liking us on Facebook.