Banish Summer Stress With Easy-Care Decorative Concrete Flooring Indoors and Out
Making the most of summer is on everyone's "To-Do" list, and Concrete Craft® can help you spend more time on summer fun and less time cleaning. There is a way around stained carpets, ground-in patio grime, pet accidents on hardwood floors, and oil stains from Uncle Frank's truck on the driveway that keep you perpetually cleaning. Easy-care decorative concrete floors in stained, stamped and hand-cut, resurfaced concrete faux stone designs for interior floors and outdoor concrete surfaces will eliminate the problem of excessive time spent cleaning up everyone's messes.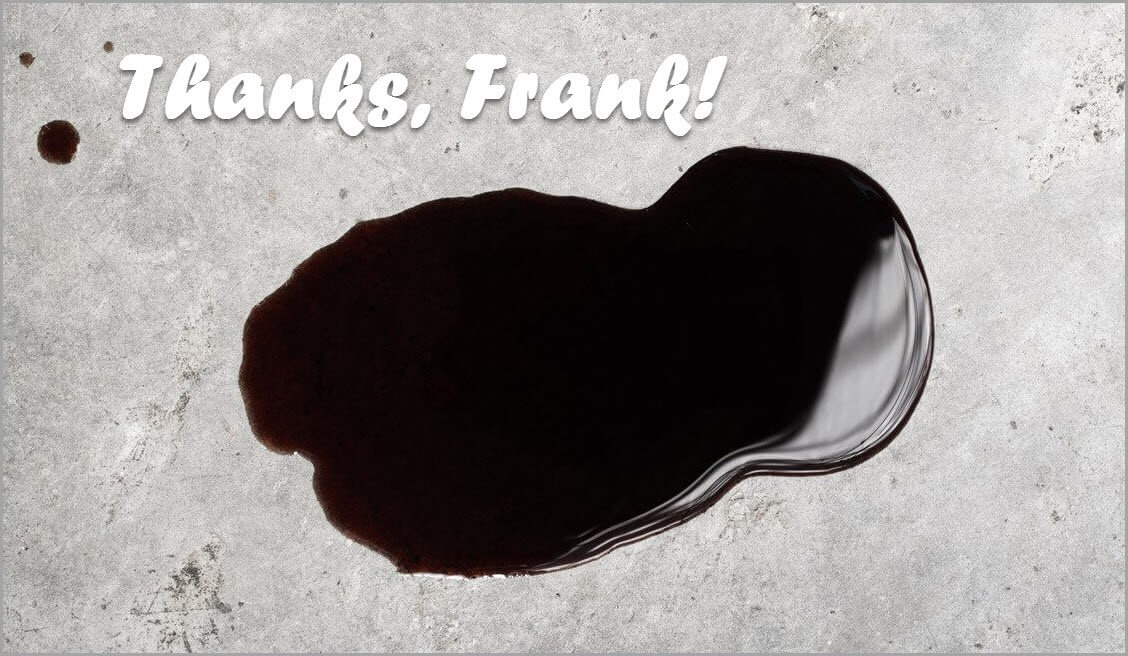 Summer is a busy time—school's out, the kids are home, and non-stop activity is the order of the day. Weekends are filled with friends and fun things to do and there's no getting around the fact that kids, pets, pool and patio parties, beach trips, snacking 'round the clock, and media marathons in the family room make for more than the usual messes. Time spent cleaning up spills and stains on traditional flooring can become considerable, as well as inconvenient, when you have to stop what you're enjoying to immediately treat spills on carpets, tile grout, untreated concrete, and hardwood flooring to prevent permanent staining and damage.
Stain-resistant decorative concrete finishes
There are lots of things that can stain the carpet, tile grout, wood flooring, and untreated concrete: coffee, tea, barbeque sauce, wine, grease, oil, pet urine, fruit juices, milk products, and chocolate are just a few common stain-makers. So, at every get-together, you have to be on red alert for spills:
Unless spills are eradicated immediately, permanent stains can result.
Each type of stain/spill requires a specific product and/or process to remove it.
Some stains become permanent no matter what you do.
On the other hand, decorative concrete floors have an industry-tough sealer that protects the finish and makes maintenance a breeze. When spills occur, a quick wipe with a cloth is all you need to preserve its integrity. The sealed surface creates a durable barrier to moisture, dust, and dirt, so you'll spend more time enjoying your summer and less time cleaning.
Repels spills of all kinds, auto fluids, oils, and sticky substances.
Non-porous surfaces will not trap mold, mildew, bacteria, allergens, or moisture.
Nothing gets through the finish to stain or mar the concrete floor.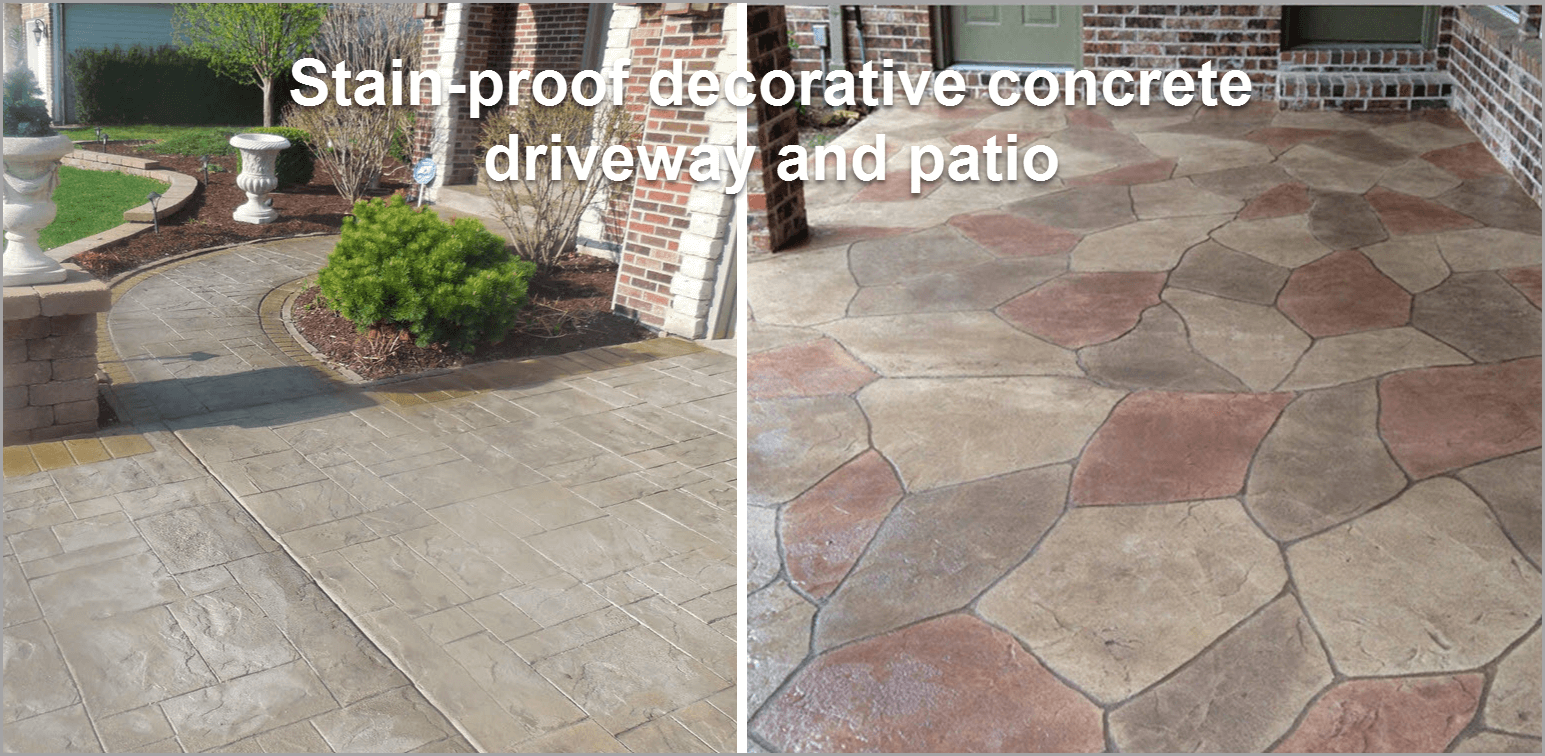 Here are three examples comparing conventional flooring stain removal and decorative concrete cleanup:
Grape juice spill
On carpet: blot up as much liquid as possible with a clean cloth. Prepare a DIY solution or use a prepared cleaning product for carpet stain removal. Saturate the stain and let it sit for a time, then blot the spot dry. Repeat the process until the stain is removed. If stubborn, use a stronger solution or rent a carpet cleaner.
On decorative concrete: Wipe up the grape juice with a clean, dry cloth and pour another drink.
Barbeque sauce
On a concrete patio: wipe up as much sauce as possible. Prepare concrete cleaner, saturate the stain and let sit for 30 minutes, then use a stiff nylon-bristle brush to clean the stain. If stain persists, use bleach mixed with water. Be sure to rinse carefully to remove any cleaning solution.
On a decorative concrete patio: Wipe up the barbeque sauce with a clean, damp cloth and carry on with the party.
Frank's truck oil
On a concrete driveway: cover the oil with clumping-style kitty litter to soak up the oil, let sit overnight and scrape up the litter and oil. Use a concrete degreaser product full strength for deep stains and work the cleaner into the oil stain with a brush. Multiple applications may be necessary, with each being allowed to work for a few hours to get results. "Lift" the oil stain out of the concrete once the stain has been emulsified with an industrial wet vac, poultice, or rags. Remove the residue with clean water and reapply more cleaner if needed until the stain is gone.
On a decorative concrete driveway: Wipe up the oil spill with a clean cloth and ask Uncle Frank to park on the street, please.
Low-maintenance floors, indoors and out, with decorative concrete
For indoor floors, regular dry dust mopping or vacuuming will keep your decorative concrete floors clean and shining. Depending on use, occasional wet mopping is recommended for deep cleaning, however, you never have to interrupt an event for a crisis floor cleaning or stain removal as can happen with carpet, tile, and wood flooring.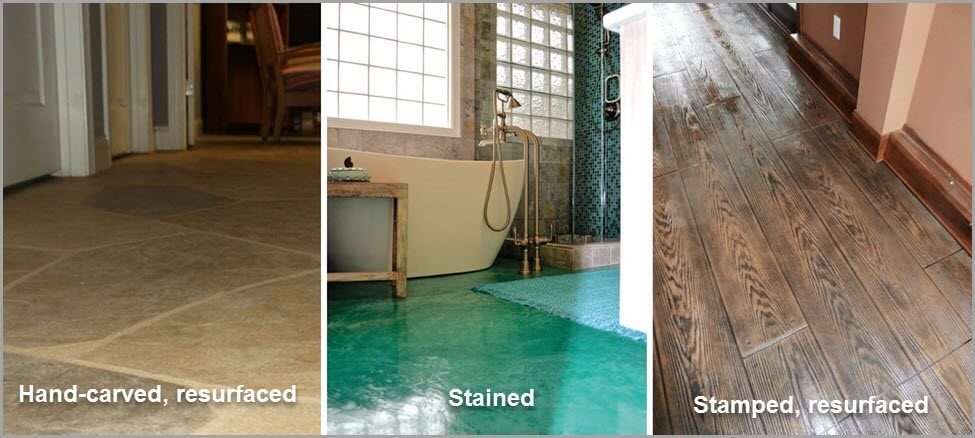 Microfiber dust mops create static electricity to grab dust and dirt and are ideal for cleaning your decorative concrete floors. Don't spray cleaners or oils on the dust mop, that can create a slick surface or dull the shine.
For wet mopping, use a neutral-pH cleaner like mild dish soap for a DIY solution. Mix purchased cleaning solutions according to the manufacturer's instruction and mop the entire floor in sections, rinsing the mop as you go.
Wring the mop as dry as you can when cleaning and be sure there are no puddles remaining on the floor.
Exterior decorative concrete like driveways, patios, porches, walkways, and pool decks can be kept clean by sweeping away any debris and occasionally hosing down or washing.

Nothing sticks to the surface, including mold or mildew, so a broom will keep your outdoor floors clean all year long.
If heavily soiled, use a neutral-pH cleaner and a medium-bristle push broom, or pressure wash with a mild detergent to keep your outside surfaces looking like new.
Brush out any puddles of water so the surface can dry quickly.
No scrimping on style with decorative concrete floors
With custom decorative concrete floors, you are not limited to one style or one look. Decorative concrete overlays can transform any indoor or outdoor concrete surface into a masterpiece, emulating real rock or stone, tile, brick, wood plank, and more.
If you're tired of spending lots of time and energy keeping your floors clean and stain-free, Concrete Craft is ready to help you transform any of your troublesome floors into beautiful, durable decorative concrete with stained, stamped, and resurfaced concrete designs that will make life easier every day. contact us today or go online to www.concretecraft.com to find the Concrete Craft location nearest you and request a FREE design consultation at your home or business. See what we can do for you: