Be the Envy of Your Neighborhood with Custom Concrete Designs
Every spring and summer the phenomenon of home and garden tours proliferates across America. The 2016 Parade of Homes in Denver, Colorado, will showcase 64 local and designer homes this August. In Atlanta, Georgia, beautiful homes were on display in early spring with The Druid Hills Tour of Homes and Gardens and The Gardens for Connoisseurs Tour, showcasing 12 private gardens.
Not only are such tours fueled by the desire to see the lovely gardens and homes, but it's also an opportunity to check out what others have done with their yards and to see…are they prettier than mine? We buy tickets and join other home and garden aficionados to feast our eyes on beautifully landscaped yards and take note of what is most interesting.
What's new with patio design?
Can a concrete driveway really be attractive?
How can you beautify plain concrete walkways and make them safe?
What are the best-dressed pool decks wearing this year?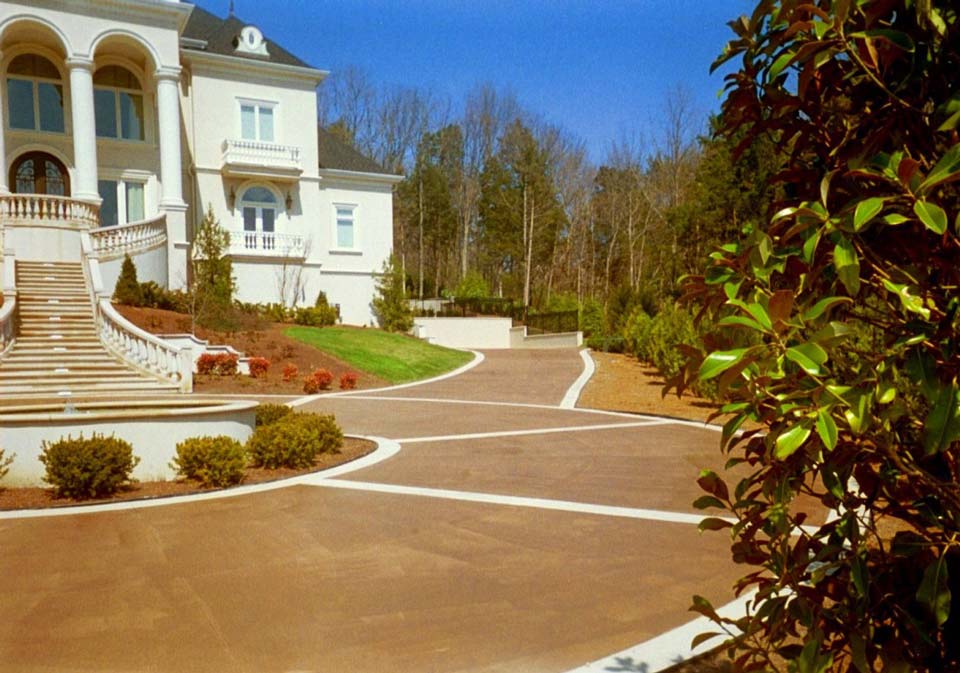 This extraordinary design by Concrete Craft™ was completed in Nashville, Tennessee, for a member of the legendary country band, Rascal Flatts. This celebrity driveway is home-tour-worthy by anyone's standards! Concrete Craft can bring this same level of style and expertise to your home at a price you just won't believe.
Functional, fabulous backyard design
If your backyard isn't everything you want it to be, the artisans at Concrete Craft can certainly help. With proprietary products and techniques, they can transform an uninspiring outdoor space into something to be proud of. Patios, outdoor fireplaces, walkways and retaining walls can become beautiful design elements that will enhance your outdoor experience every time you venture into the backyard.
Existing surfaces like concrete patios and sidewalks can be resurfaced, stamped and custom colored to emulate flagstone, brick, cobblestone, Roman slate, Travertine, random natural stone and even wood plank designs. There is no limit to the creativity to convert your backyard into your own personal retreat.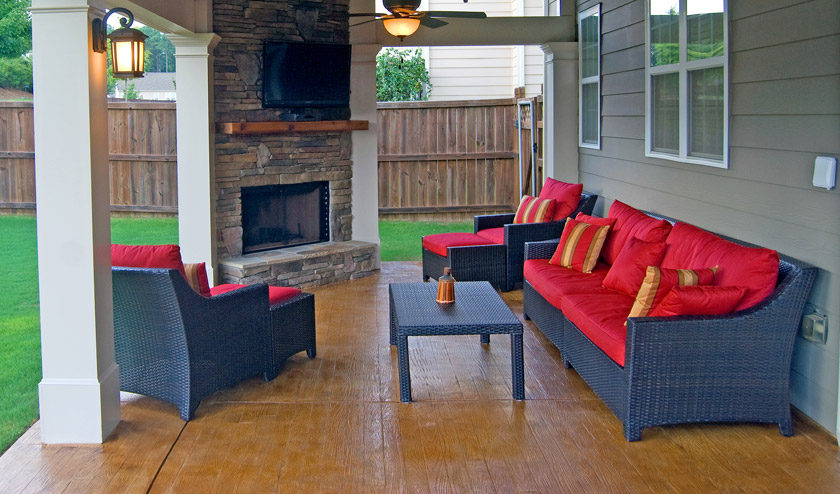 Imagine that certain neighbor's response to this patio--exquisite with a stamped wood plank design that gives the impression of a real hardwood floor. This stamped concrete patio will retain its beautiful finish for years, resisting the fading, chipping, scratches, stains and weather damage of actual wood. With stained, stamped and resurfaced concrete designs, you get the high-end look of natural stone and hardwood floors at a fraction of the cost of real. It could cause a real case of patio envy!
Pools and pool decks are often the focal point of a backyard, providing "entertainment central" for a busy family. Stamped concrete designs are specially treated to resist becoming slippery when wet so there is less likelihood of someone falling, such as kids running around the pool. This makes stamped concrete ideal for a pool or spa, as well as for walkways around water or sprinklers. The incredible durability of stained, stamped or resurfaced concrete on a pool deck means you can set up a barbeque along with patio furniture without fear of damaging the surface. The moisture-resistant surface lets you create a portable garden with your favorite plants and flowers in decorative pots for lush surroundings.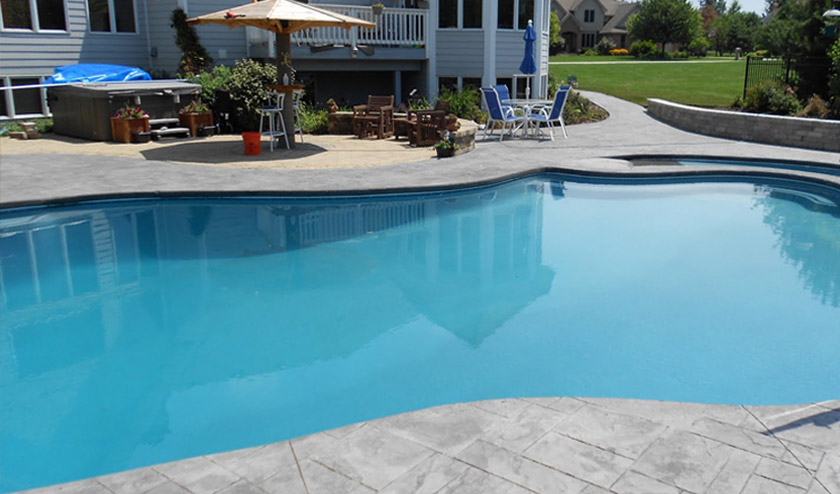 Create a welcoming front yard
Often the homes on a home tour will have grand entrance ways, including circular driveways, large porches and winding walkways. You may or may not have such design options with your own home, but you definitely can optimize the beauty and ambiance of your front yard with custom stained, stamped and resurfaced concrete applications, including vertical surfaces like your home's siding, pillars and retaining walls. You can easily make a statement home with the distinctive beauty of natural stone.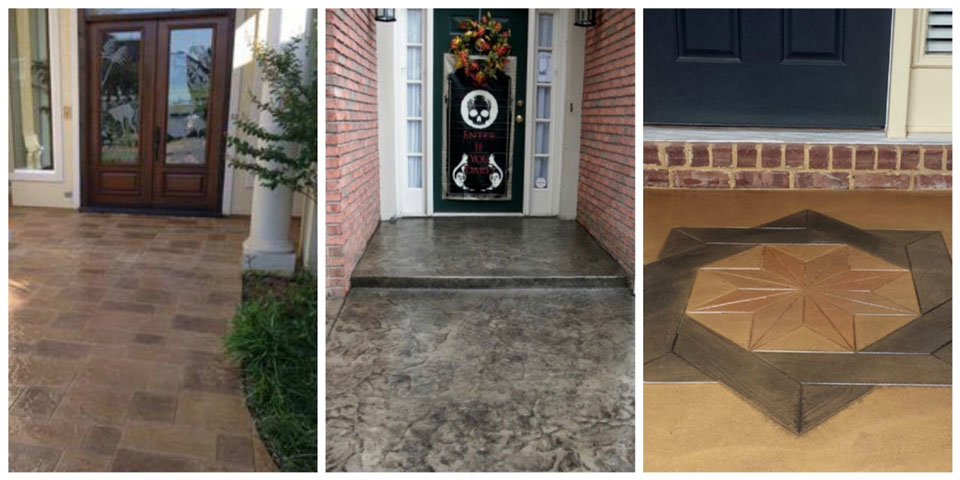 If your front porch is more utilitarian than beautiful, you can create a grand entrance that will truly make your home the talk of the neighborhood. Stained, stamped and resurfaced concrete provide unlimited design possibilities for everything from the look of polished marble with stained concrete to real stone patterns like flagstone with our hand-cut resurfaced concrete designs, to brick and slate patterns with stamped concrete. Breathe new life into your front entryway and walkway, and add a little extra touch with a custom medallion or artistic flourish to greet your visitors.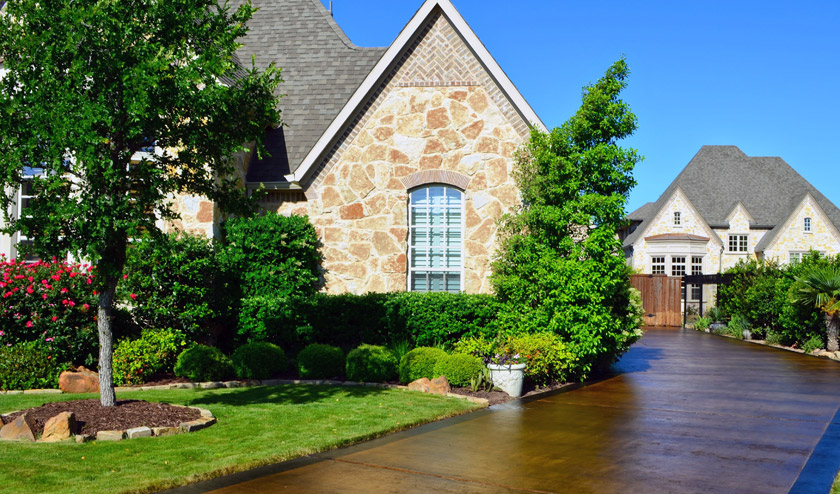 This dark brown stained concrete driveway creates an inviting entrance, framing the manicured lawn and flower beds for a charming presentation. The high-quality stain penetrates deep into the concrete surface for long-lasting, fade-resistant color. There is never any peeling or flaking, and the continuous non-porous surface is impervious to weather, foot traffic and vehicles, including bicycles, skateboards and scooters. Maintenance is easy; the driveway can merely be swept or hosed off to keep it looking beautiful for years to come.
So even if your home will never be included in an official home tour, there's no reason it shouldn't be lovely enough to attract attention. Call 866-813-3699 today or go online to ConcreteCraft.com to find the Concrete Craft nearest you. Request a free estimate for stained, stamped and resurfaced concrete for patios, walkways, driveways, pool decks, garage floors, interior floors and more, and begin to imagine the possibilities.
Concrete Craft is currently in Atlanta, GA; Naples, FL; Chicago, IL; Valparaiso, IN; Lexington, KY; Charlotte, NC; Dallas/Fort Worth, TX; Denver, CO, and Upstate, SC. If there's not a Concrete Craft near you, check out the franchise opportunity of owning a Concrete Craft. You can become the expert that people call for beautiful, versatile concrete surfaces for their homes and commercial businesses.