Before-and-After Decorative Concrete Interior Floors Will Make You a Believer
The old saying, seeing is believing, is very true. And with Concrete Craft®, there is no slight-of-hand or illusion—what you see in these before-and-after pictures is exactly what you will get!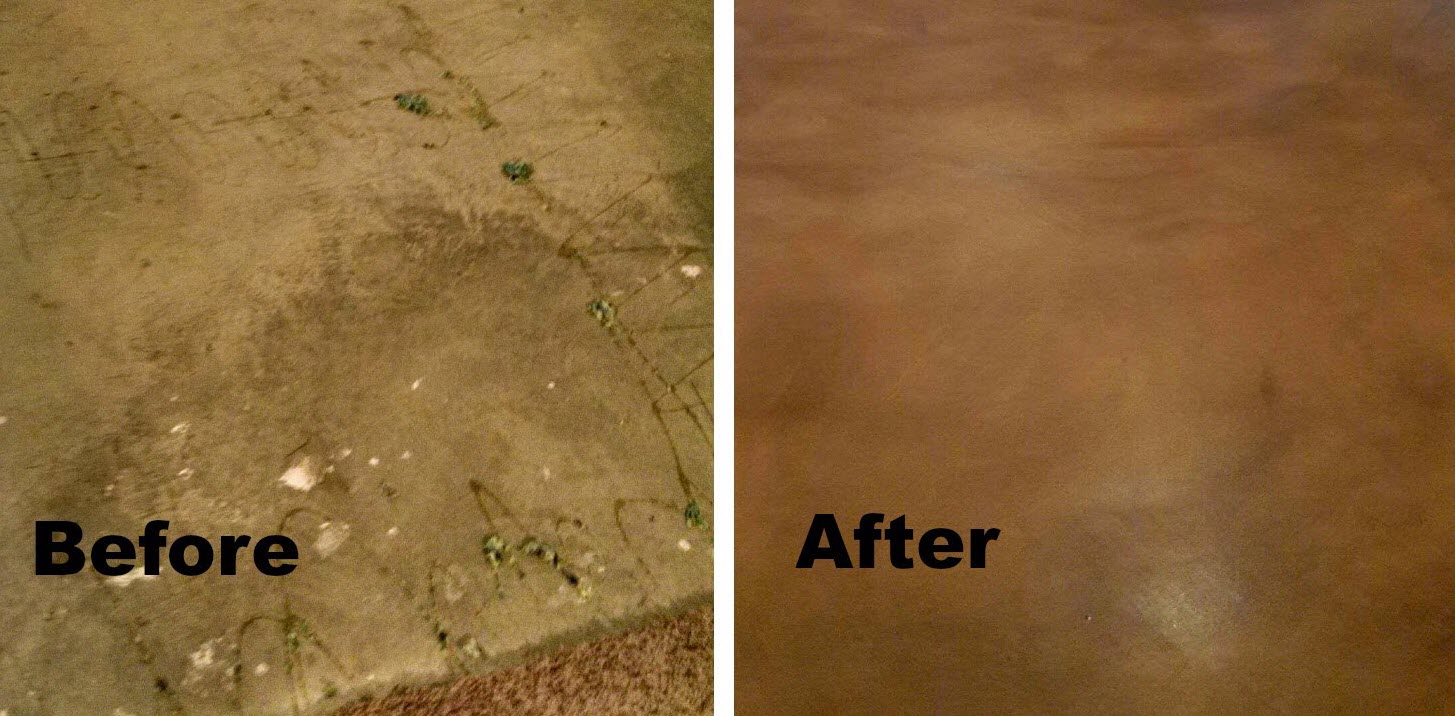 Decorative concrete floors are probably the toughest floors you can have in your home or business, and they will give decades of beauty and functionality. Most other floor coverings need replacement every few years which, over time, can add up to considerable expense. Imagine installing a floor that is:
Low-maintenance, easy care
Economical, won't need replacement
Beautiful, stylish design
Allergen reducing, resistant to dust buildup, mold and bacteria
Custom decorative concrete overlays with stained, stamped and resurfaced designs can replicate very high-end floors like flagstone, cobblestone, wood plank, brick, tile, slate, marble, and more, for a fraction of the cost.
Upgrade your interior floors with durable beauty
When it's time to remodel, replace worn floor coverings, or repair damaged floors, upgrading to versatile, custom concrete floors may be the best decision you can make. Decorative concrete floors can be installed on interior floors all year long, even when it's cold outside. Your local Concrete Craft artisan can help you plan the best time for getting your floors in shape for the upcoming holidays, as well as for everyday use to keep your home and family functioning at high capacity.
The images below follow the transformation by Concrete Craft of Dallas of a living room floor that was due for a big change. The existing floor covering was removed, exposing the concrete slab underneath. As you can see, the state of the slab would not make one think it could become a beautiful floor. That's where the wonder of a concrete overlay comes in.
A thin microtopping of Concrete Craft's flexible polymer modified concrete overlay is applied with a bonding primer for permanent adhesion. The concrete overlay (1/4 to 3/8 inches thick) creates a brand new finish on the concrete floor, presenting a damage-free surface for any decorative concrete style, including stained, stamped, stenciled or hand-carved designs.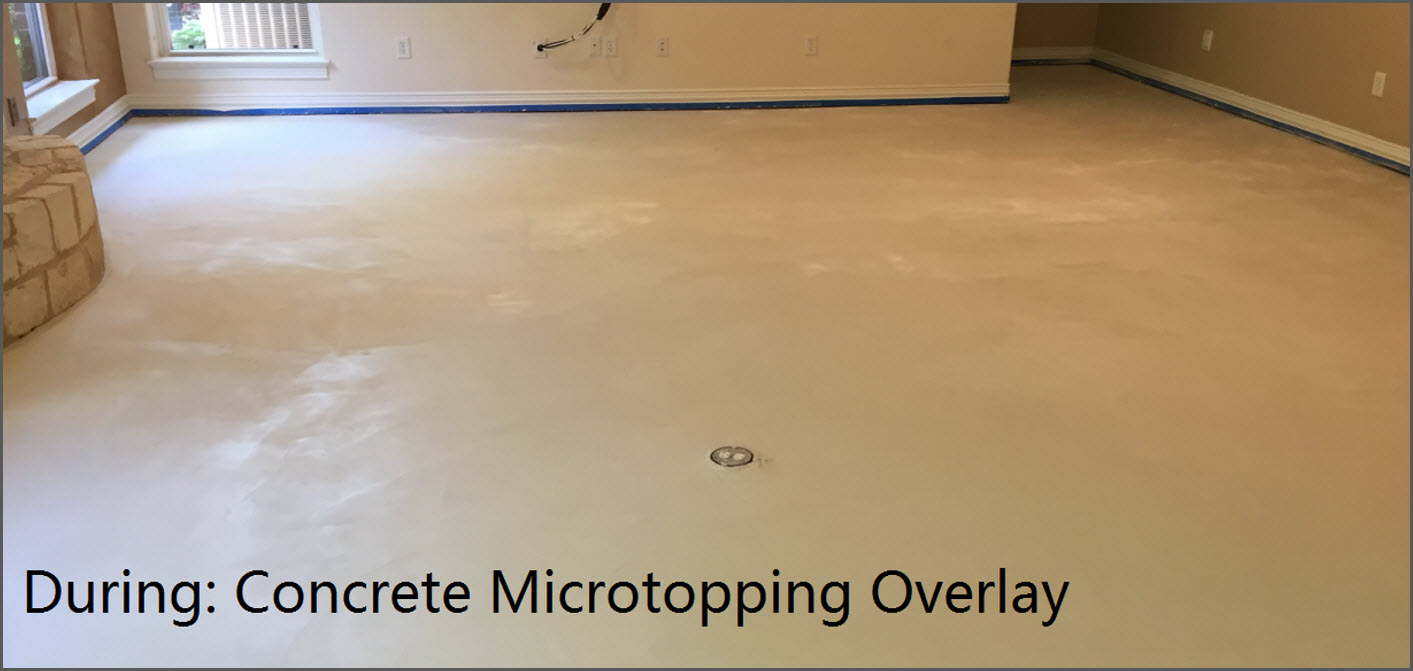 Acid-based concrete stain was applied, creating a fabulous finish for this floor that looks like polished marble. The custom-colored stains actually permeate the concrete for a permanent deep, rich translucence that will resist chipping, peeling and fading. The industry-tough sealer ensures the floor will remain beautiful for years.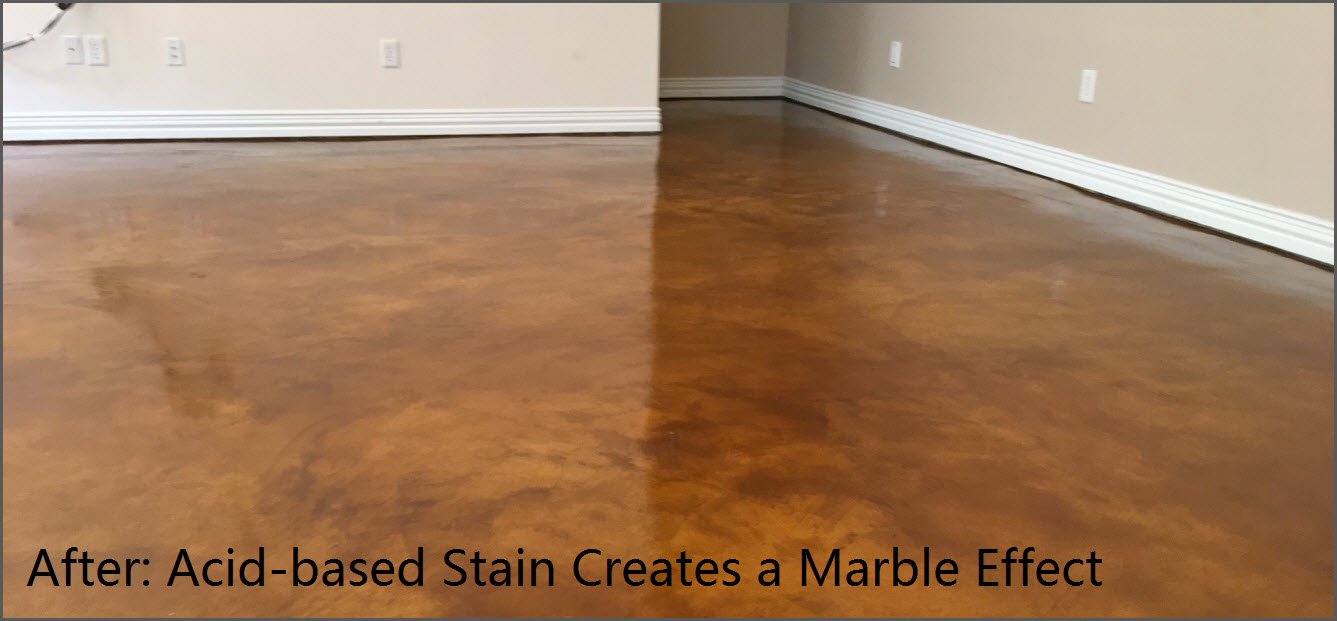 Stamp patterns mimic natural finishes
Rubber stamp patterns place a natural-looking impression into the concrete overlay before it hardens, leaving an impression of real rock, stone, wood plank, brick or tile. Custom stains are then applied to create the colors desired. Concrete Craft of Birmingham gave this restaurant a new stamped concrete floor that looks like authentic, weathered wood, creating an ambiance of casual comfort. Unlike real wood, the colors and finish will not alter over time. Built-in UV protection in the stain protects the integrity of the color and the sealed finish can stand up to foot traffic, spilled drinks and dancing till dawn.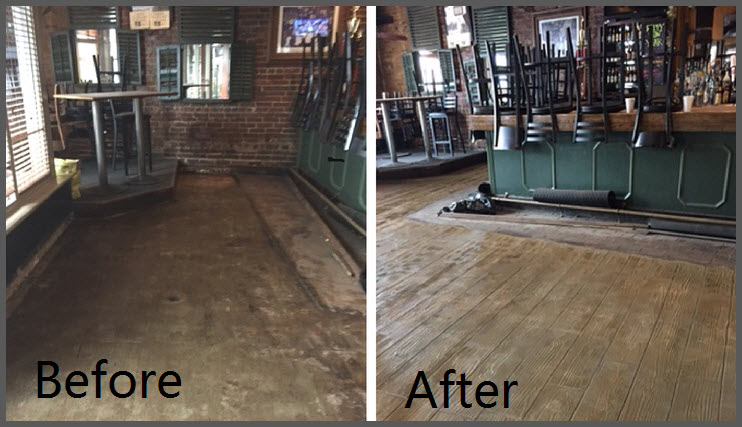 Hand-cut and custom-colored resurfaced concrete overlays
Flagstone is one of the most popular faux stone choices for interior floors as well as exterior surfaces like patios, driveways and walkways. Stones can be cut to any size; the hallway below has large stones, custom-colored to replicate the natural colors of flagstone. This floor has the look and feel of real stone, but with the durability and easy care of decorative, sealed concrete.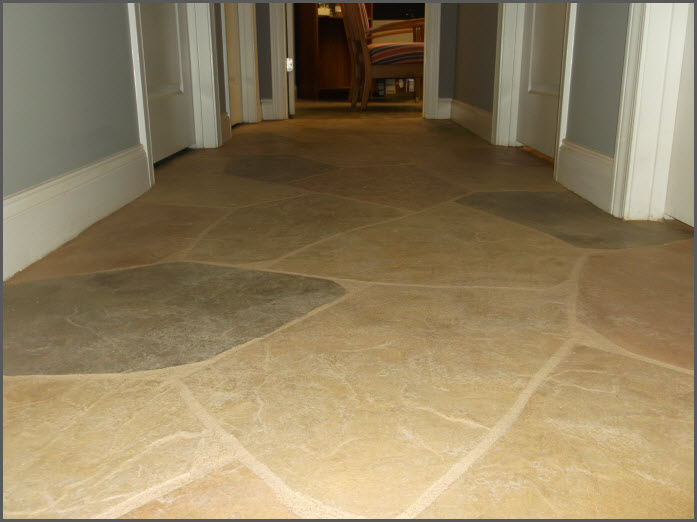 Although many people choose neutral colors, Concrete Craft can let you take a colorful walk on the wild side with the wide range of stain colors available. Stenciled designs can bring the wow factor to a plain floor, making a design statement all your own, or use colorful stains for an overall dramatic impact in any room.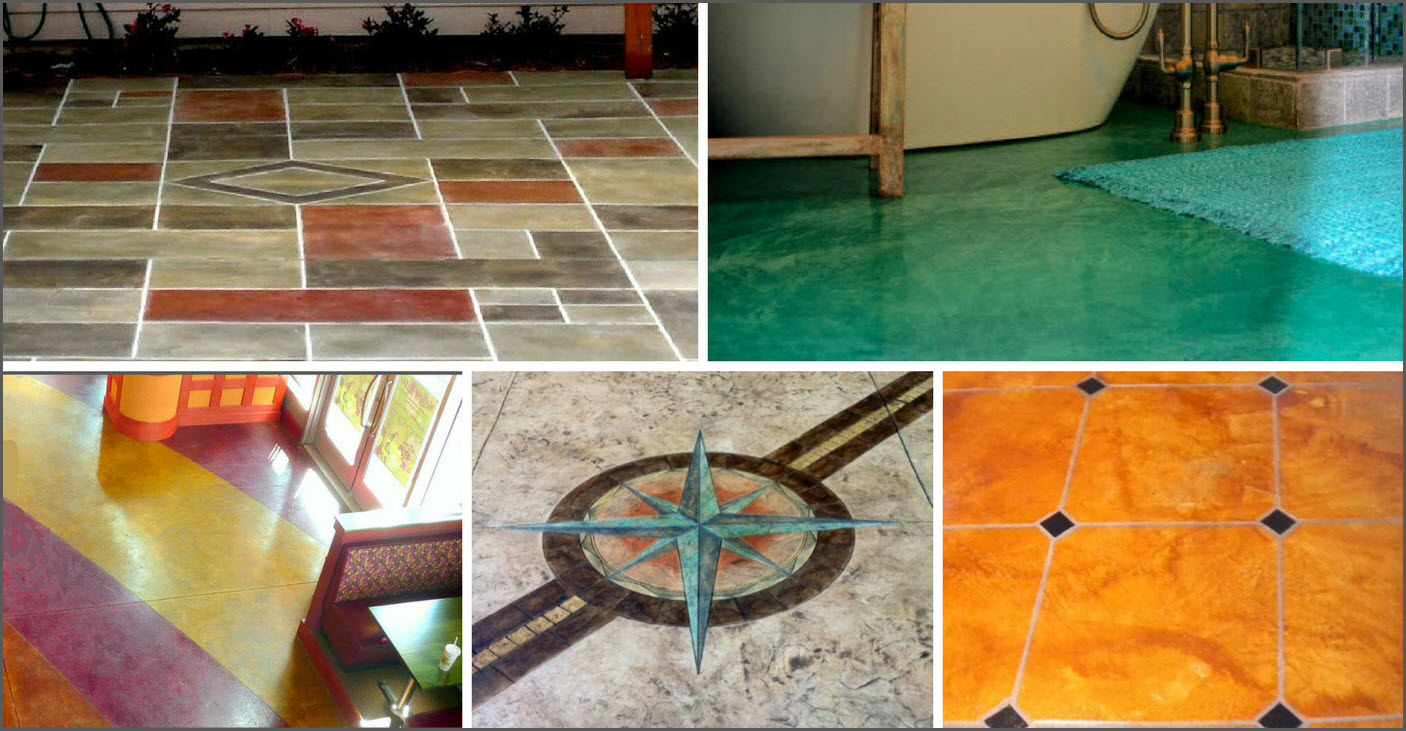 Before you replace any of your interior floors, take time to research decorative concrete flooring options with Concrete Craft. Check out our Frequently Asked Questions and flip through our digital brochure to learn more about how we can help you enhance all your concrete surfaces, indoors and out, including driveways, walkways, patios, pool decks and vertical surfaces with beautiful, decorative concrete overlays for stained, stamped and resurfaced concrete.
Contact us today or go online to www.concretecraft.com to find the Concrete Craft location nearest you and request a FREE design consultation and estimate. You can have any style from a minimalist broom-swept finish to an elaborate hand-cut stone design, custom colors to suit your mood, and be walking on your new floor in just a few days' time!