Celebrate Home and Freedom This Canada Day and Fourth of July
Every July we take time from the busyness of life to celebrate independence in Canada and the U.S. July 1 is Canada Day, celebrating the establishment of Canada from three colonies, and the Fourth of July marking the beginning of independence for the new United States. Freedom, home, and independence are cherished and celebrated the whole weekend with parades, speeches, get-togethers of all kinds, flags flying, and fireworks lighting up the sky!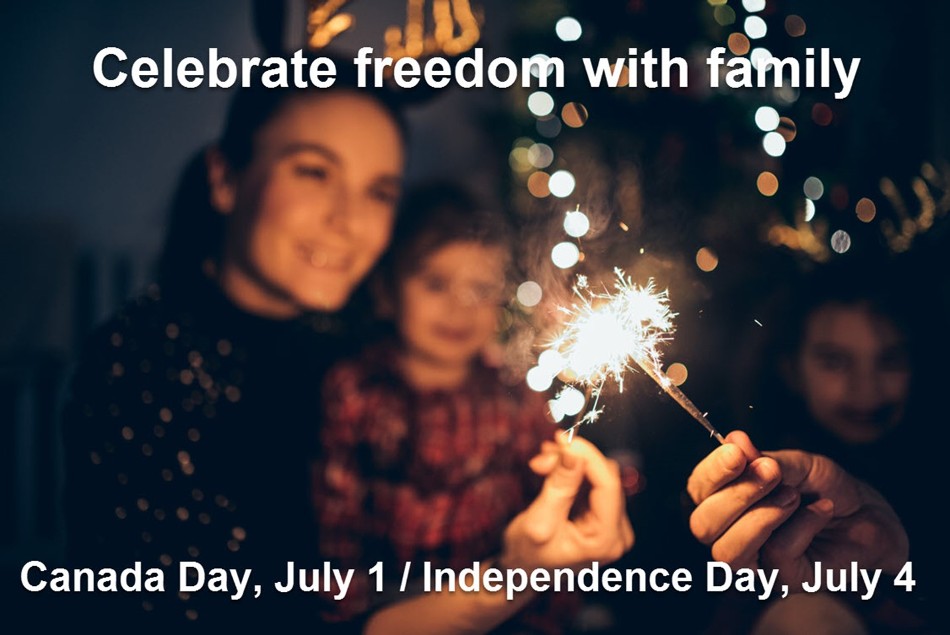 If your Independence Day celebrations center around home, Concrete Craft® can help you get all your outdoor spaces entertainment ready by enhancing or repairing any less-than-party-status patios, pool decks, driveways, porches, or walkways. Decorative concrete finishes, including polished concrete, stained concrete, stamped concrete, and custom overlays can quickly transform your concrete surfaces with beautiful, durable finishes that take the worry out of summer (and all year long) entertaining.
Decorative concrete sealed surfaces repel moisture, spills of all kinds, and dust and dirt buildup.
Finishes are extremely durable, able to withstand impact and weight from parked vehicles.
Finishes will not chip, crack, peel, or fade from UV exposure.
Outdoor spaces are easy to keep clean with sweeping or washing with mild detergent if extremely dirty.
Convert your patio to an outdoor room
You can create a more expansive feeling in your home by linking the indoors and the outdoors as functional living space. But if your patio doesn't reflect the decorating panache that's in your home (ugly concrete), imagine it as an outdoor room, an extension of your indoor space rather than a separate entity. Flooring is a huge part of a home's aesthetic and with decorative concrete you can mirror your inside floor style on the connecting patio or deck. Instead of seeing an abrupt change to plain gray concrete when you step outside, you can carry over finishes and colors to the patio with decorative concrete systems that can emulate tile, marble, wood, and stone for beautiful continuity. You'll also love the fact that sealed concrete surfaces are tough enough for any activity, resistant to food and drink spills, patio furniture impact, and lots of people having fun.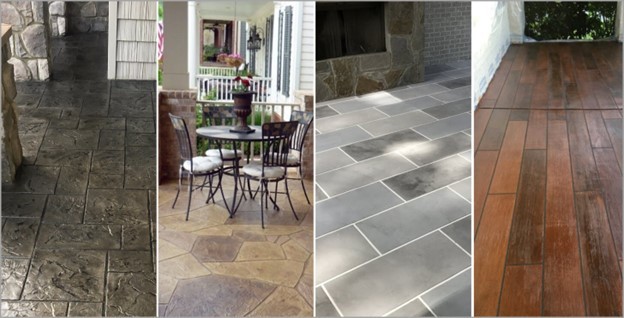 A stylish, durable decorative concrete floor sets the stage for creating an awesome outdoor room on your patio.
Stone flooring like flagstone or slate textures can be replicated by stamping and staining to match indoor flooring to blend the indoors and outdoors.
Porcelain or ceramic tiles can be duplicated with stenciled or hand-carved concrete designs.
Interior wood floors can be copied on the patio with stamped concrete made from real wood molds and custom stained for truly authentic finishes.
If your indoor floor is carpeted, stained concrete can match carpet colors with solid or multiple-color designs.
Easy care, decorative concrete floors stay clean by wiping up spills with a cloth (nothing penetrates the surface) and sweeping or hosing off any debris. No heavy-duty cleaners are ever needed.
Decorate with an intent for comfort
Now that your patio has an appealing new concrete floor that covers up years of living (stains, chips, cracks, worn spots), you can further enhance the outdoor room effect with continuity of lighting, temperature, seating, and sensory sensations that match indoor comfort. Start by uncovering sliding glass doors or French doors so that the spaces are connected visually. Use window coverings like vertical blinds or drapery that can be pulled to the side and window blinds or shades that can be pulled up, completely out of the way so activity areas are on display. Then, layer on comfort to entice everyone outdoors!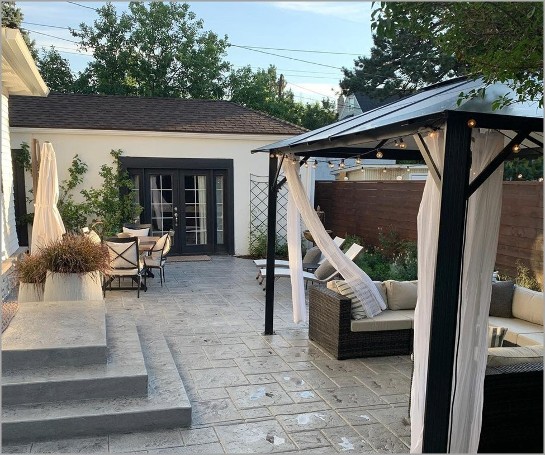 Decorative concrete Ashlar slate elegance and all the comforts of home create outdoor spaces where people want to spend time.
Add patio furniture that complements your indoor style with cushions that coordinate with your indoor color scheme.
Balance sun and shade for a comfortable day with patio covers, awnings, solar shades, and adjustable patio umbrellas to keep people and pets protected from the sun and too much heat.
Outdoor misting systems that cool and hydrate can be added to umbrellas and patio covers for overall coverage, portable systems can be moved as necessary, or have an assortment of personal mistering fans for your family and guests.
Have sufficient lighting with wall sconces, tiki torches, solar lights, path lights, lanterns, and string fairy lights to light up nighttime activities.
Scented plants like jasmine, honeysuckle, and wisteria on trellises or covering a pergola can add privacy, create gorgeous surroundings, and perfume the air.
Extend the comforts of the patio to the pool area by extending the decorative concrete flooring to the pool deck with lounges, tables, umbrellas, extra sunblock, and beach towels.

Fans will keep the air moving and mosquitoes on the run, or try

7 Ways to Make Your Yard & Home a Bug-Free Zone

.
Eight tips for a safe home fireworks display
The finish to a perfect Independence Day celebration is your own fireworks show, avoiding snarled traffic and boisterous crowds. Be mindful of the dangers of fireworks and keep everyone safe. Beware of small children and pets who can sneak in where they should not be, like next to dad when he's lighting the fireworks. Here are eight tips for safely handling fireworks at home:
Be sure fireworks are legal in your area before using or buying them. Check herefor U.S. state laws and here for Canada's Fireworks Act.
Never disassemble or try to make your own fireworks.
Always have adult supervision and never allow children to play with or ignite fireworks unattended, including sparklers. Sparklers can burn at temperatures up to 2,000 degrees and account for 14 percent of emergency room fireworks injuries. (Consumer Product Safety Commission)
Keep a bucket of water handy in case of malfunction or fire. Don't relight the duds; douse or soak them in water and throw away.
Use fireplace butane lighters with long barrels instead of matches to prevent burned fingers.
Only light fireworks on the ground and in areas that are dry and fire resistant, and never ignite fireworks in a container or hold them as they go off.
Never point sparklers or fireworks at anyone.
Babies and pets generally don't like loud fireworks. Keep them away from the action in a safe, quiet place or use noise-blocking headgear.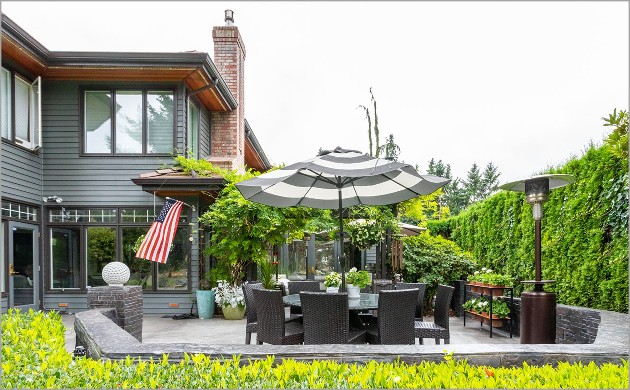 Everyone at Concrete Craft wishes you a safe and sane Independence Day! A beautiful, restored patio or pool deck will greatly enhance the fun and ensue that you're ready for anything summertime can bring. Call 888-852-9244 today or go to www.concretecraft.com to find the Concrete Craft location nearest you and request a free in-home or virtual* design consultation to discuss all your concrete needs for interior floors as well as outdoor spaces. We've got you covered.
*Virtual consultation may not be available at all locations.
Follow us on Instagram and like us on Facebook for more design inspiration.