Five Concrete Floor Finishes You Can Have In One To Two Days
If you've been procrastinating on getting your unsightly concrete repaired because of the time it will take, Concrete Craft® has some excellent news for you. Our expansive MasterProTM line of concrete restoration systems and products includes various options that take only one to two days to complete. For structurally-sound concrete that needs a facelift to hide minor damage and discoloration, here are five options that will have you back on your spaces in no time!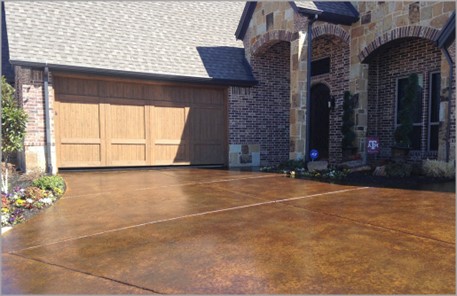 With concrete in good condition, a stain can be applied directly to the cleaned and prepped surface for instant transformation
Oh, the options with stained concrete
Stained concrete is one of the most economical ways to upgrade your outdoor concrete surfaces, including driveways, patios, pool decks, and walkways, adding vibrant color and an industry-tough finish that won't fail due to moisture, impact, spills, cracking, peeling, fading, and seasonal weather assaults. Stained concrete, translucent and opaque options, can deliver beautiful finishes that won't break the bank.
Stained concrete can hide discoloration and minor damage in activity areas, creating fresh new surfaces.
TruStainTM is a unique line of water-based stains that penetrate the concrete surface for vibrant, consistent translucent color and shine.
Acid-based concrete stains react chemically with the concrete slab, creating beautiful marbled and variegated effects.
Choose solid colors, multiple-color patterns, or stenciled designs and borders for unique effects, but intricate designs may add additional time to project completion.
Rejuvenate colored or plain gray concrete surfaces with fresh, opaque color without altering the surface texture with Concrete Craft Color RestoreTM System, a water-based stain that does not require a sealer.
TrafficKoat by Concrete CraftTM is another water-based stain/seal system to hide minor imperfections and rejuvenate distressed concrete with a solid opaque color and a consistent natural finish.
Polished concrete is a stand-alone finish
Polished concrete is also a very budget-friendly choice for concrete surfaces. The process of polished concrete mechanically grinds in stages from coarse to fine to remove the top surface of the old concrete, creating a harder and stronger finish, independent of any additional product, waxes, or other topical coatings. Since there is no downtime from chemical process curing, your space is immediately back in service with brilliant shine and smoothness.
Polished concrete can replicate the look of marble, terrazzo, and granite for stunning outdoor areas.
Your desired degree of shine and smoothness can be controlled through the grinding process for exactly the look you want to achieve.
Polishing can be done in conjunction with concrete staining for unique color, patterns, or stencil designs, but this can add additional time to the project.
Polished concrete is a high-performance floor with an incredibly tough surface that will not chip, wear, or deteriorate.
Despite its high sheen, polished concrete has a more slip-resistant surface than other finishes so it's especially safe around water areas like pool decks.
Try a new look with texture
If you want a different look to your concrete but without a substantial money and time investment, you can transform your existing concrete with our revolutionary AggreKoatTM coating for a textured, small aggregate finish. Available in eight standard colors, you can enhance any shade of gray or choose another concrete color that complements your home and landscape architecture.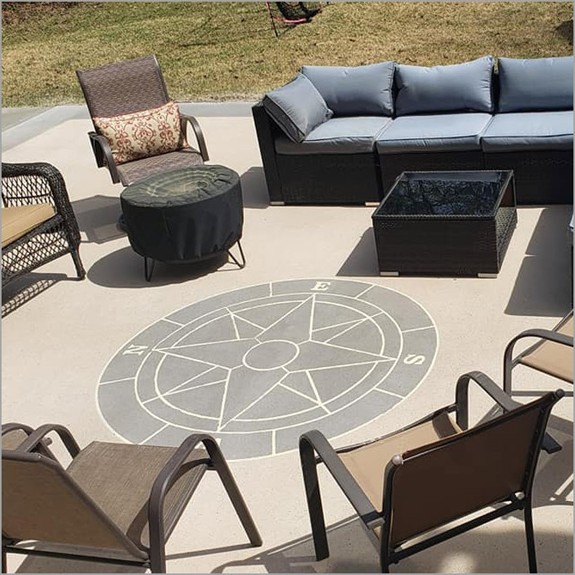 Incorporate decorative borders or stenciled designs to let your personality shine through.
Spray-applied, the coating goes on in thin layers of colors for depth and dimension with a final tough sealer with a sparkle additive to give the finish a subtle reflection.
AggreKoat can cover damaged or repaired concrete while adding color and durability with a seamless, consistent finish that resists moisture, impact, stains, and weather.
Effectively covers and unifies mismatched concrete sections for consistent color with the look of fresh concrete.
The spray-on application makes quick work of large areas like driveways, pool decks, and patios so summer fun is barely interrupted.
Only 24 hours after installation, your activity areas are back in service.
Real river rock for stunning surroundings
Experience real stone finishes with PebbleKoat by Concrete CraftTM, a non-epoxy, 100% natural, real river rock concrete overlay that can repair cracks, cover damage, and even out irregular surface heights in one application. The stand-alone overlay can be used in a variety of different applications for beautiful, durable finishes you'll be proud of that resist moisture, impact, and stains from all of life's activities.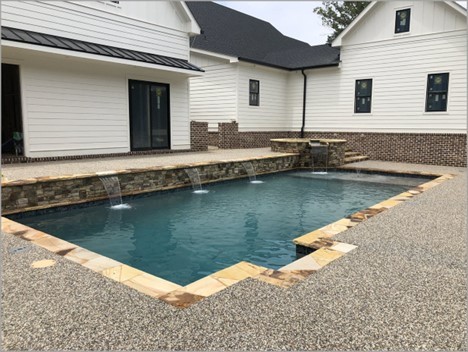 Hide endless summers of poolside damage with a single overlay that beautifies and protects your pool deck for years to come
PebbleKoat can stand up to year-round weather challenges, including freeze/thaw, rain, blistery heat, and UV light without fading, cracking, or peeling.
Create borders or patterns with multiple colors or combine with other decorative concrete finishes.
Six standard color blends from light to dark include Frost, Pebble, Sandcastle, Brownstone, Espresso, and Midnight or you can create a custom blend for a signature look.
Adjoining walkways to driveways or patios can be easily restored with a PebbleKoat overlay to repair cracks, even out surfaces, and hide damage.
PebbleKoat is low-maintenance and easy to keep clean since nothing sticks to the surface.
Repairs and restore even the worst concrete damage
Time and weather can take a toll on concrete with deep cracks, spalling, exposed aggregate, stains, and bleached out sections where harsh cleaners have removed stains, but also lightened the concrete. The result can be a mismatched concrete driveway, patio, walkway, or pool deck and not the clean concrete look you started with. RestoreKoat by Concrete CraftTM is our exclusive, heavy-duty repair mortar that creates the look of new concrete with a built-in strength that is resistant to future damage of all kinds.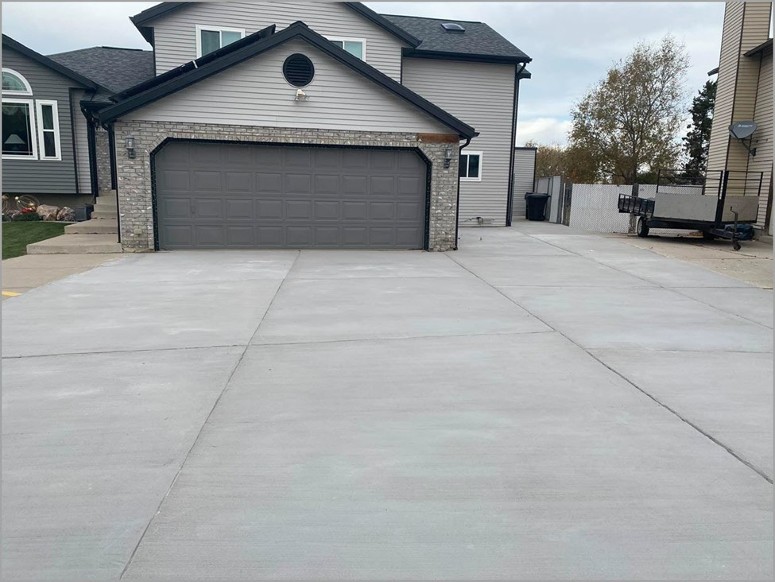 Even a concrete driveway that has extensive damage can be quickly restored to look just like a fresh-poured, new concrete finish
Suitable for small repairs or complete resurfacing, RestoreKoat is an economical solution with excellent long-term wear resistance.
RestoreKoat bonds with the surface of your existing concrete for permanent adhesion and will never crack, chip, or peel.
The overlay cures in excess of 7,000 PSI (pounds per square inch) so a repaired driveway can safely support cars, trucks, motorcycles, and RVs without damage.
Highly resistant to freeze/thaw, salt scaling, abrasion, impact, UV fading, and spills of all kinds, it's ideal for patios, pool decks, and walkways.
Take steps now to repair and restore your ugly concrete before summer ends and another winter takes a toll, making it even worse. Call 888-852-9244 today or go online to www.concretecraft.com to find the Concrete Craft location nearest you and request a free in-home or virtual* consultation and see how quickly you can upgrade your home with beautiful, custom decorative concrete finishes. You'll love the results and enjoy worry-free concrete for years to come!
*Virtual consultations may not be available at every location