Concrete Floors Are The Perfect Foundation To Show Off The New 2022 Colors Of The Year
If green is your favorite color, you're in for a treat! Major paint manufacturers have chosen 2022 colors of the year that reflect a desire for calm and comfort after the tumultuous times of the past two years. Leaning heavily into cool and warm shades of green with nature inspired hues, there's a look for everyone. Amy Donato, PPG Paint's senior color marketing manager, shares, "The easiest way to shift your mindset is to change your environment." And the easiest way to change your home's environment is with color! Take the Concrete Craft® color enrichment tour into 2022, including one very surprising color.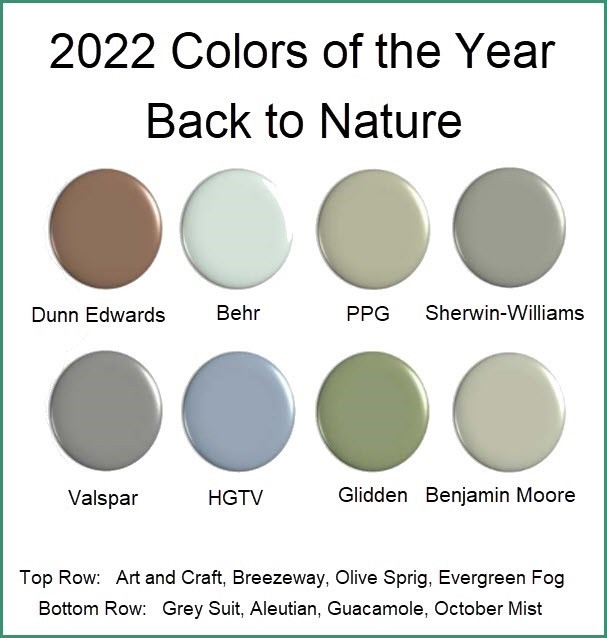 New paint colors are the quickest way to freshen up your home, along with new concrete floors in coordinating colors
Why the focus on green for the new year?
Green is one of the most populous colors on earth, in endless shades and nuances of color. Green represents rebirth and growth. It can be warm or cool, serving as a neutral that pairs well with many décor styles, and is companionable with any wood tones and natural fibers that are so popular in home décor today. Green is a nurturing color that signifies hope for the future, pointing to organic, calm, and comfort.
Behr: Breezeway is a silvery green shade with cool undertones, inspired by the beauty of the earth. Erika Woelfel, the vice president of color and creative services explains, "We wanted something that excited us and brought on a sense of renewal and restoration for the adventures ahead."
Benjamin Moore: October Mist is a light-to-mid-value green that can serve beautifully as a background hue to support other nature-inspired colors. It's just right for a bedroom or living room space where a soothing and relaxed vibe is desired.
Sherwin-Williams: Evergreen Fog is a gorgeous, comforting green that has richness and depth. It's a chameleon of color, green-meets-gray with a hint of blue. Simple but sophisticated, Evergreen Fog is a stunning statement shade—fresh, comfortable, and versatile.
PPG: Olive Sprig is a highly adaptable gray-green color with yellow undertones to entice you to brighten your environment with organic liveliness. It's a soothing color that represents healing, regrowth, and resiliency.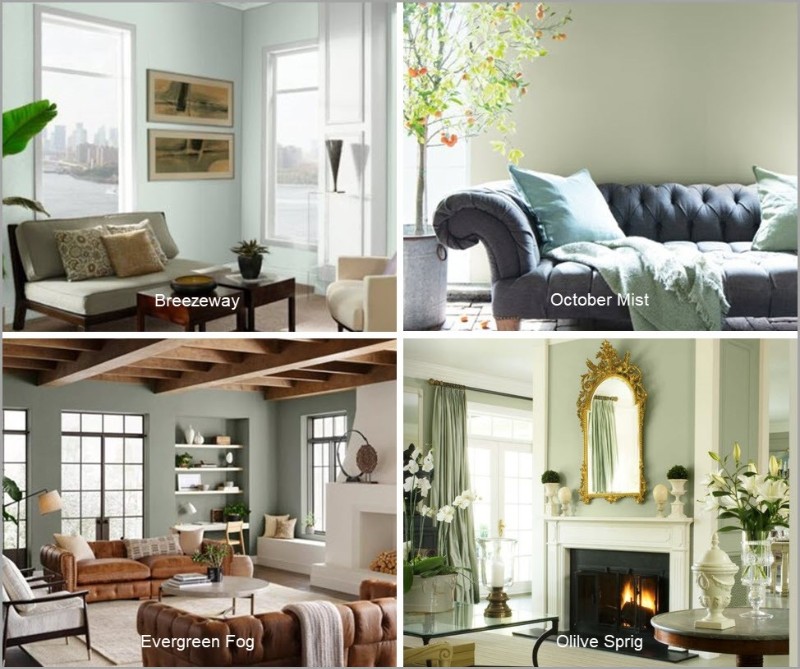 Traditional, modern, or farmhouse style, green invites gracious living
Green is a natural with realistic stone and wood concrete floors
In addition to one chosen color of the year, most companies supplement that color with expanded color palettes to assist homeowners in selecting complementary color schemes. Encompassing wall and ceiling colors, trim, accessories, and furniture, it's easier to envision a room remodel when you can see the range of colors that work harmoniously together, including floor colors in decorative concrete finishes that add texture and shine. Sherwin-Williams's color palette for Evergreen Fog includes five colors that can help you "find your fabulous" for coordinated design in any room, including the perfect custom color, faux wood stamped concrete floor.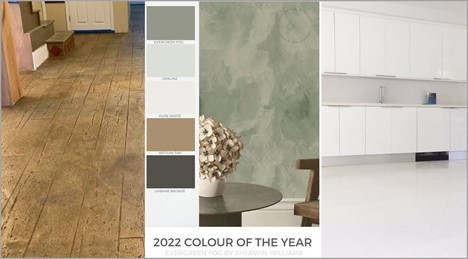 Color palettes help select other colors such as stamped concrete stain colors or a seamless MarbleKoatTM concrete floor that enhances the new green
Most of the paint color trends in 2022 are nature inspired hues, organic based greens with gray or yellow undertones. Used as a neutral for walls or cabinetry, they create a relaxing setting just waiting for colorful accessories to personalize the space. Dunn Edwards is an exception with its rich, earthy brown, Valspar with its warm Grey Suit, and HGTV's gray blue, all colors in Concrete Craft's custom concrete stains range, and all three are perfect complements to any of the greens for the new year.
To see more on each of the Colors of the Year, including color palettes, click on the links below:
Green is always right at home
Despite Kermit the Frog's song a few years back, "It's Not Easy Being Green," using green in your home to decorate and refresh your spaces is easy. As wall color, in cabinetry, furniture pieces, and accessories, living rooms, dining rooms, kitchens, and bedrooms can be beautifully styled with any of the 2022 colors of the year.
Add green accessories to neutral-colored rooms for pops of natural color
Make green your decorating neutral by painting walls and/or ceilings green
Easily increase your green quotient with live or silk plants in myriad shades of green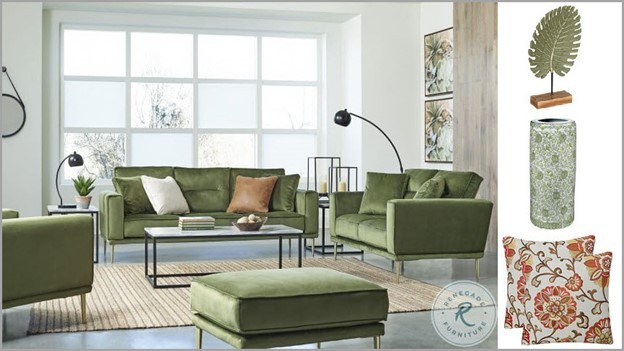 The stained concrete floor is the ideal foundation for this living room with white walls and green furniture to reflect 2002's fresh colors
The 2022 wildcard: Pantone's Very Peri
This year, fashion and home design color guru Pantone Color InstituteTM created an entirely new color to welcome the new year. Pantone's executive director Leatrice Eiseman explains, "It was really important for us to come up with a new color, because we have a very new vision of the world now." The new Very Peri is a happy periwinkle blue, spritely, joyous, and dynamic to encourage creativity and imagination. Pantone declares Veri Peri to be the happiest and warmest of all the blue hues. What do you think?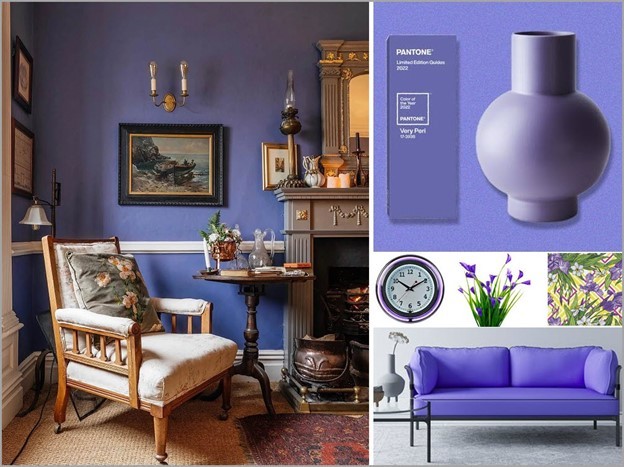 Accessorizing with Very Peri or using it as a dramatic accent wall can completely transform any room
Color does play a big part in our enjoyment of life and if you're ready to break out and shake things up a bit, consider updating your home with new concrete floors and the fresh, nurturing 2022 colors of the year!
Break the monotony of too much time in the kitchen by updating cabinetry and walls with fresh, stimulating new colors and a low-maintenance polished concrete
Completely change the feel in any room without the expense of buying new furniture with new wall color and a stained and stamped concrete floor to replace carpeting.
Bring in color with throw rugs and accent pieces in bright patterns and mixed metals.
2022 is a year of promise, so keep that promise to yourself to refresh and renew your home to make it the most comfortable and fun place for your family. Concrete Craft can help you get perfectly coordinated faux stone and wood stamped concrete floors to showcase your new year's green. Call 888-852-9244 today or go online to www.concretecraft.com to find the Concrete Craft location nearest you and request an in-home or virtual* design consultation.
*Virtual consultations may not be available at every location