Country Style Farmhouse: Stained Concrete Floors Is Your Missing Piece
Farmhouse styling has been gaining popularity for its fun and affordable way to decorate for a natural, down to earth, friendly atmosphere. From rustic to modern farmhouse, it's an eclectic way to marry traditional, classic, industrial chic, and rustic favorites for the look and feel that says "home" to you. If you've been struggling to find the missing piece to get that perfect look, Concrete Craft® can help you achieve your farmhouse ideal with a custom stained concrete floor in a stamped wood plank pattern or a one-of-a-kind concrete stain design.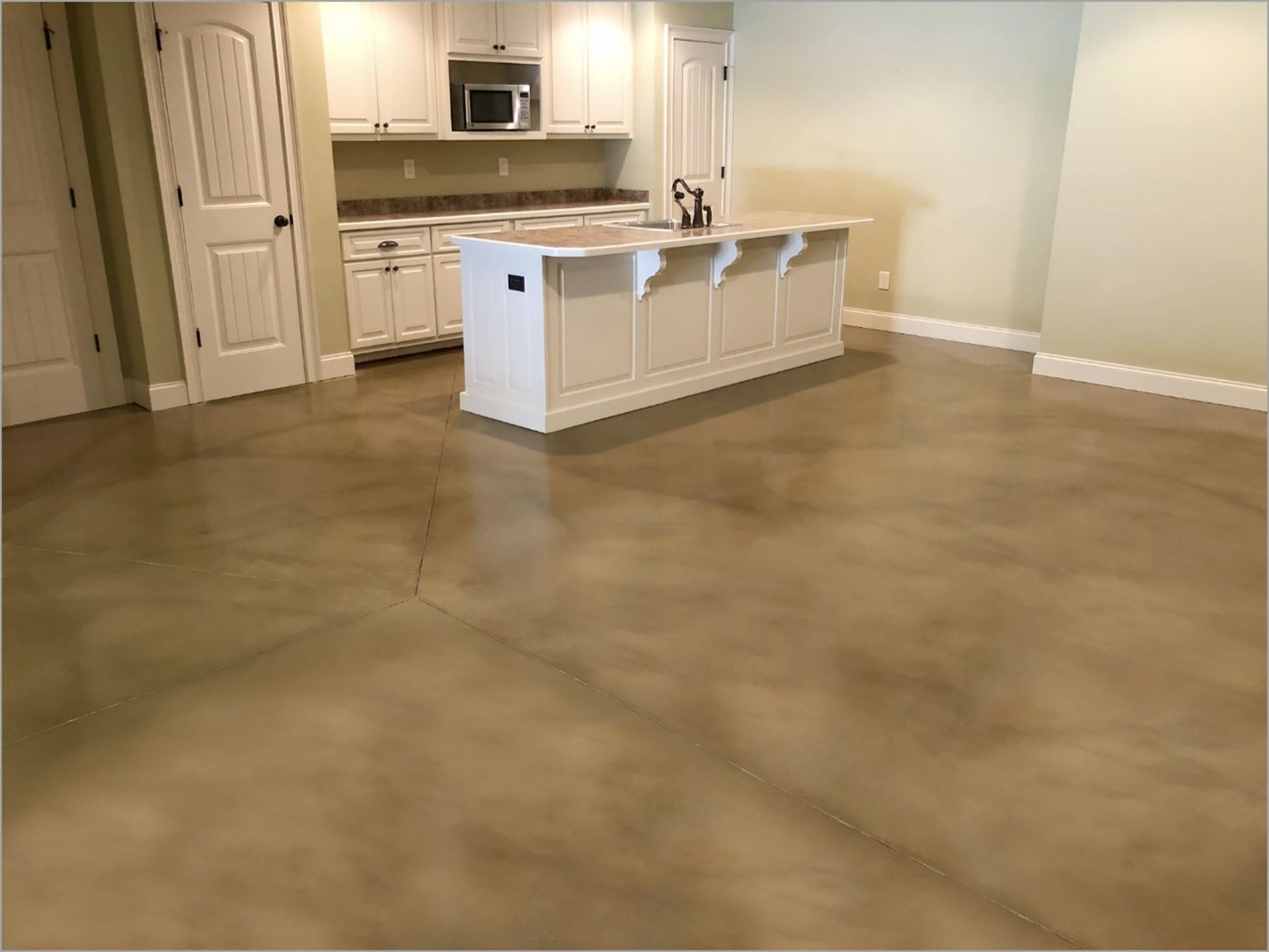 The white-toned kitchen with shiplap-style door adornments is ready for modern farmhouse perfection with a light brown, acid-stained concrete floor
Farmhouse styles highlight simplicity and practicality with a definite nod to rustic details. How rustic and how much will set the tone for modern farmhouse or serious country. For example:
Wood plank floors are a hallmark of farmhouse design, from light to dark shades and very rustic finishes to a smoother, time-worn look.
Barn doors give a more rustic feel than conventional doors and painted or sleek surfaces in furniture and accessories will be more modern than natural finishes like stone, brick, and wood.
Furniture and accessories can include antique, industrial chic, and modern, with lots of natural wood embellishments for rich farmhouse flavor.
Farmhouse stained concrete floors
If your existing floors don't lend themselves to farmhouse styling such as carpet, linoleum, and tile, all is not lost. You can easily transform your floors with decorative concrete finishes that are applied directly to the concrete subfloor once old flooring is removed. With options of resurfaced concrete overlays, indoor stained concrete floors, stamped concrete, and polished concrete, Concrete Craft can have you living in farmhouse comfort within just a few days!
Stamped faux wood flooring
Decorative concrete floors stamped or stenciled in wood plank patterns can create an immediate farmhouse vibe with wider and longer planks. Planks from five-to-ten inches wide give an authentic vintage-style look and make your space appear larger. Plus, most modern farmhouses have a more open, expansive floor plan, so the larger planks fit the scale of the room better. In this game room, the longer-length, hand-taped decorative concrete wood planks say "country," enhanced further with the cowhide rug, brick walls, and multiple wood tones in the room.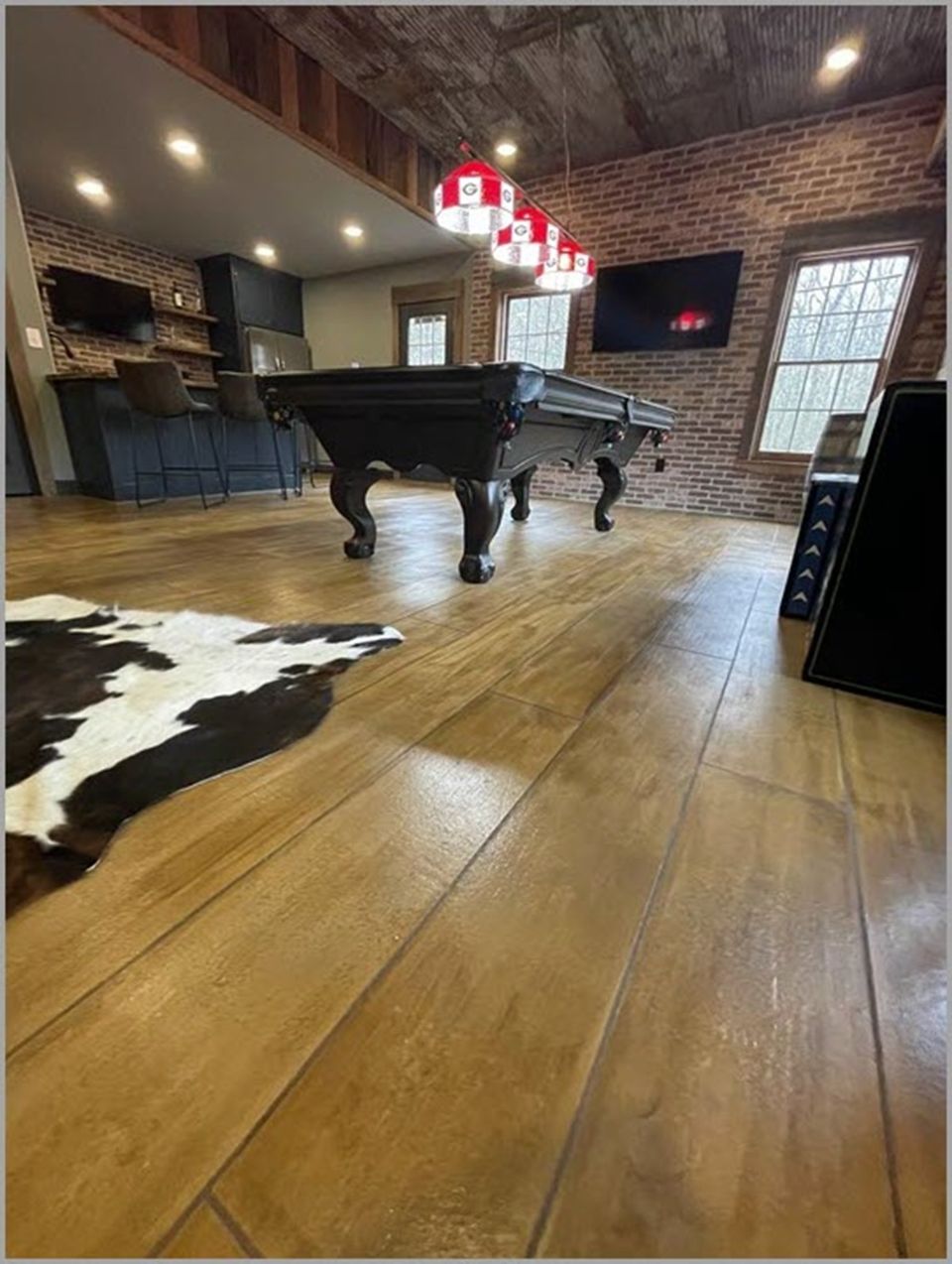 No worries of damage to the sealed, durable finish of this faux wood floor that resists spills, stains, cracks, and impact, unlike real wood flooring
Custom concrete stains can deliver on lighter colors, including grays, griege (gray and beige blend), and whitewashed faux woods.
Choose matte and satin finishes with less shine for more of a rustic appeal.
"Real wood" concrete stamps replicate hardwood flooring, including rustic and reclaimed wood traits like knots and obvious graining.
Moisture-resistant stained concrete floors let you have the look of wood anywhere in the house, including kitchens, bathrooms, laundry room, or mudroom where moisture can be a problem for hardwood.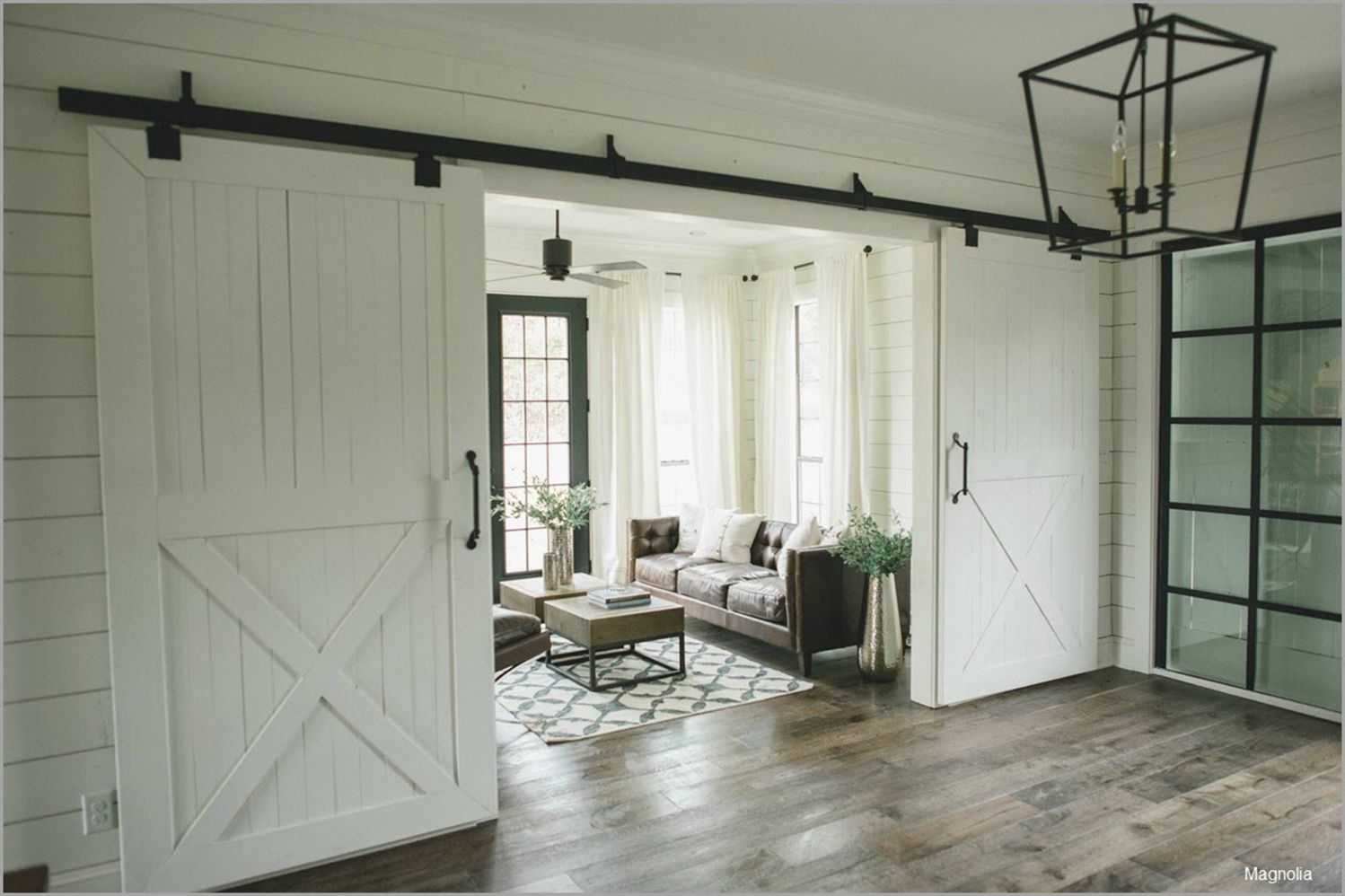 Lighter wood flooring sets the stage for modern farmhouse design with white walls, black industrial accents, and modern furniture (Chip and Joanna Gaines, Magnolia)
Sliding barn doors are a popular accent to use in place of traditional interior doors for distinctive design flair.
Accents in wrought iron for chandeliers, drapery hardware, and furniture cultivate the clean, modern farmhouse look.
Wood left natural or painted white gives just the right balance of farmhouse nostalgia and modern beauty.
Window treatments can further enhance the farmhouse look with blinds, shutters, shades, and drapes in myriad textures, materials, and colors. Check out our sister-brand, Budget Blinds®, for ideas: Moodboard: Farmhouse Style.
Stained or polished interior concrete floors
Stained or polished concrete finishes can also give a firm foundation for farmhouse styling. Both polished concrete and translucent concrete stains preserve the natural characteristics of concrete flooring which coordinate perfectly with rustic or modern farmhouse décor. Stained concrete designs can emulate real stone as well as antiqued, variegated, and mottled effects.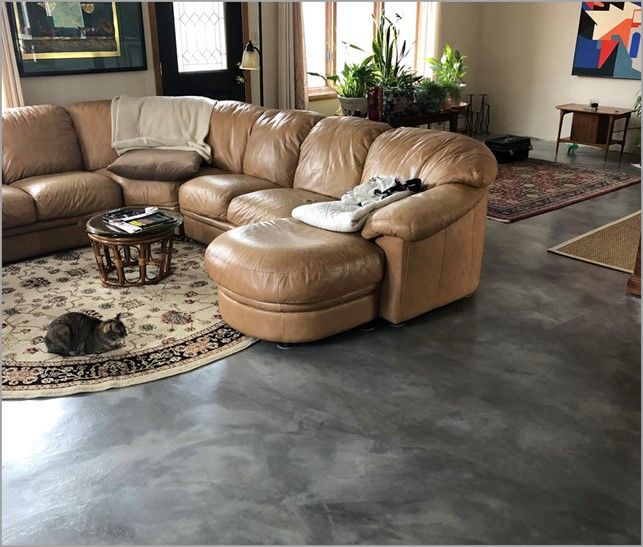 A concrete overlay gave a fresh surface for a stained concrete floor in two-tone gray for a natural stone effect that can be rustic or traditional farmhouse
Mixed metals and wood accents add to the rustic appeal of this family room
A combination of textures like leather, woven patterned rugs, and live plants create a comfortable, homey atmosphere.
The neutral concrete floor is compatible with any décor changes you may choose in future to give your home a completely different look.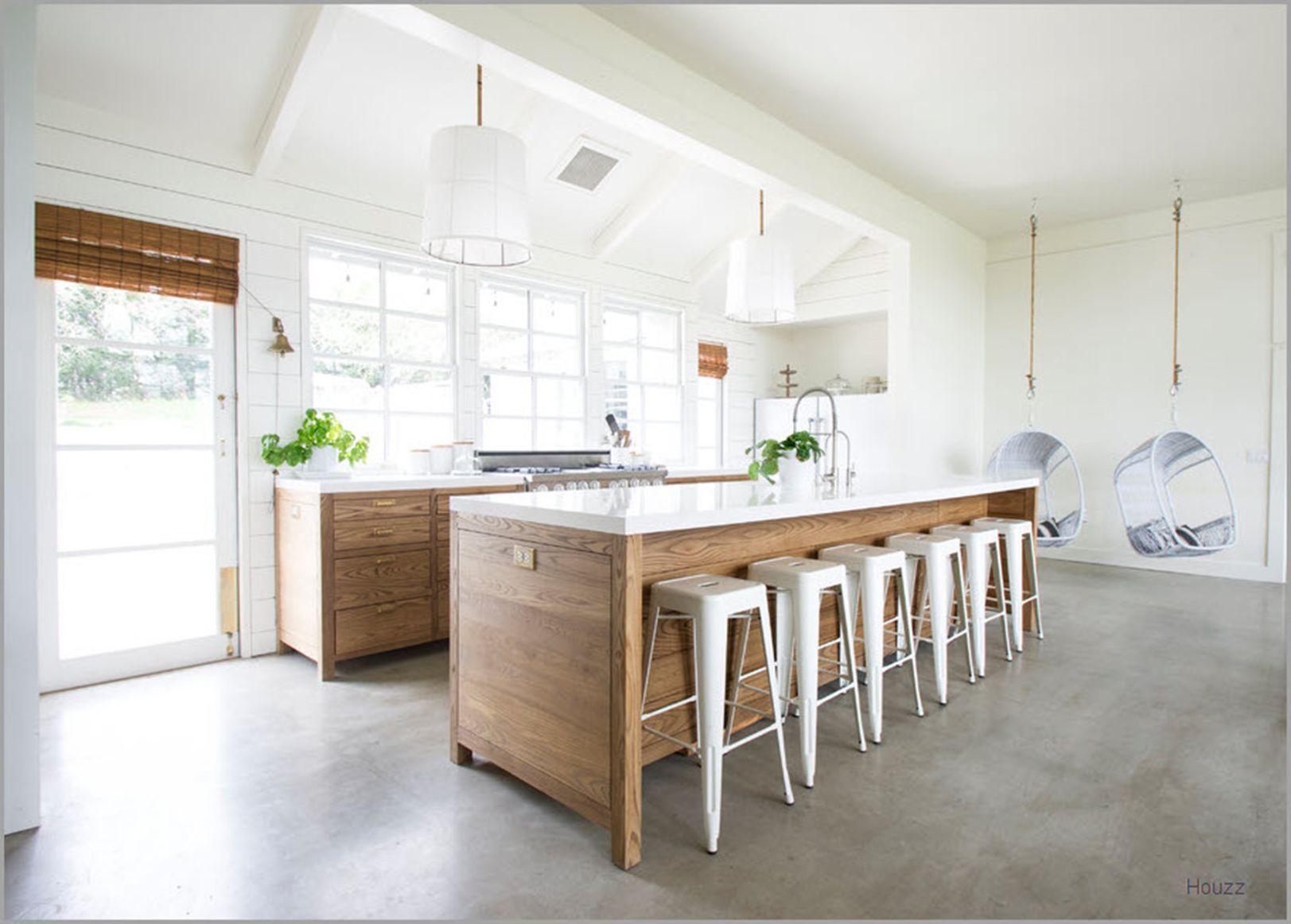 This modern kitchen has clean lines, but the polished concrete floor, white walls, industrial barstools, and natural wood textures exude farmhouse appeal
Polished concrete is a high-performance floor with an incredibly tough surface, ideal for a busy kitchen.
The most economical flooring treatment, and with no downtime from chemical process curing, your floor is immediately back in service.
Polishing can be done in conjunction with concrete staining for unique color or pattern design.
Despite its high sheen, polished concrete has a more slip-resistant surface than other flooring options.
Tips to enhance the farmhouse vibe
While the goal of farmhouse is comfort and casual, it's definitely not just thrown together. You can have a mix of antiques, modern styles, and industrial elements, as long as you incorporate major features of farmhouse style with rustic, practical, and earthy looks that bring some country into the modern urban home. Here are some key farmhouse design features that can help you arrive at the degree of rustic farmhouse versus modern farmhouse that is right for you!
Wood accents and a touch of country charm can transform any space into farmhouse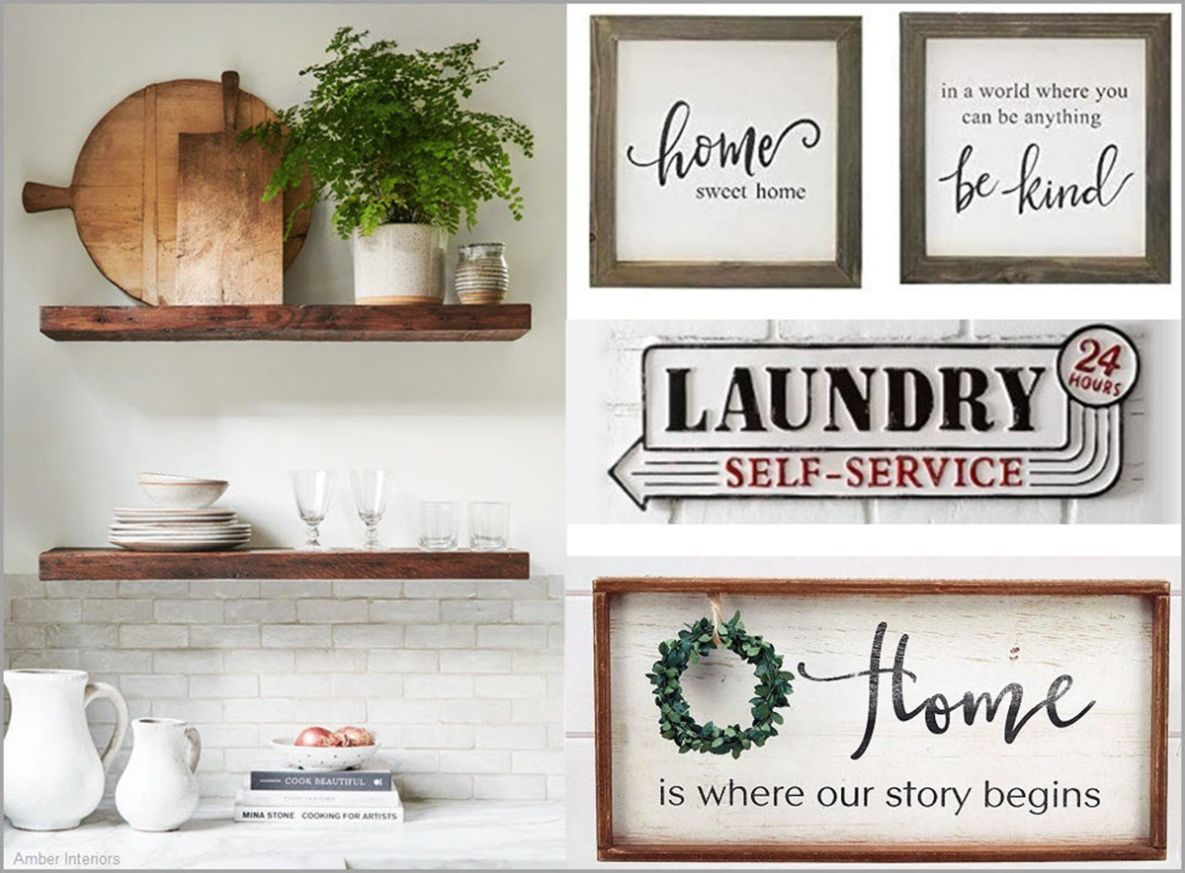 Natural wood is essential in furniture and accessories as part of the overall design. Think wooden wall paneling, shelves, side tables, mirrors, and picture frames.
White paint for walls, ceilings and bricks, and whitewashed furniture pieces like a kitchen island, dining table, or an entryway bench are pure farmhouse.
Shiplap (horizontal slabs of wood slightly overlapping one another) is one of the cornerstones of the modern farmhouse style, for walls and ceilings as well as for door fronts and cabinets.
Open shelves let you display vintage items and greenery or fresh flowers. If you don't have any antiques or family heirlooms, scour thrift stores and estate sales for treasures you can incorporate into your design.
When choosing your accents and furniture, look for textures like leather and burlap, copper, and wrought iron.
Barn doors can replace closet doors, interior French doors, or pantry and laundry room doors for a truly rustic feel.
Area rugs can invoke a specific style with pattern and color considerations. For example, rustic style has texture, raw materials, and a distressed look while farmhouse style has simple patterns in black, white, and other neutrals.
Transform a small firebox fireplace or cover an old tile surround with vertical concrete resurfacing in faux wood or faux stone such as cobblestone, mountain drystack, or orchard stone.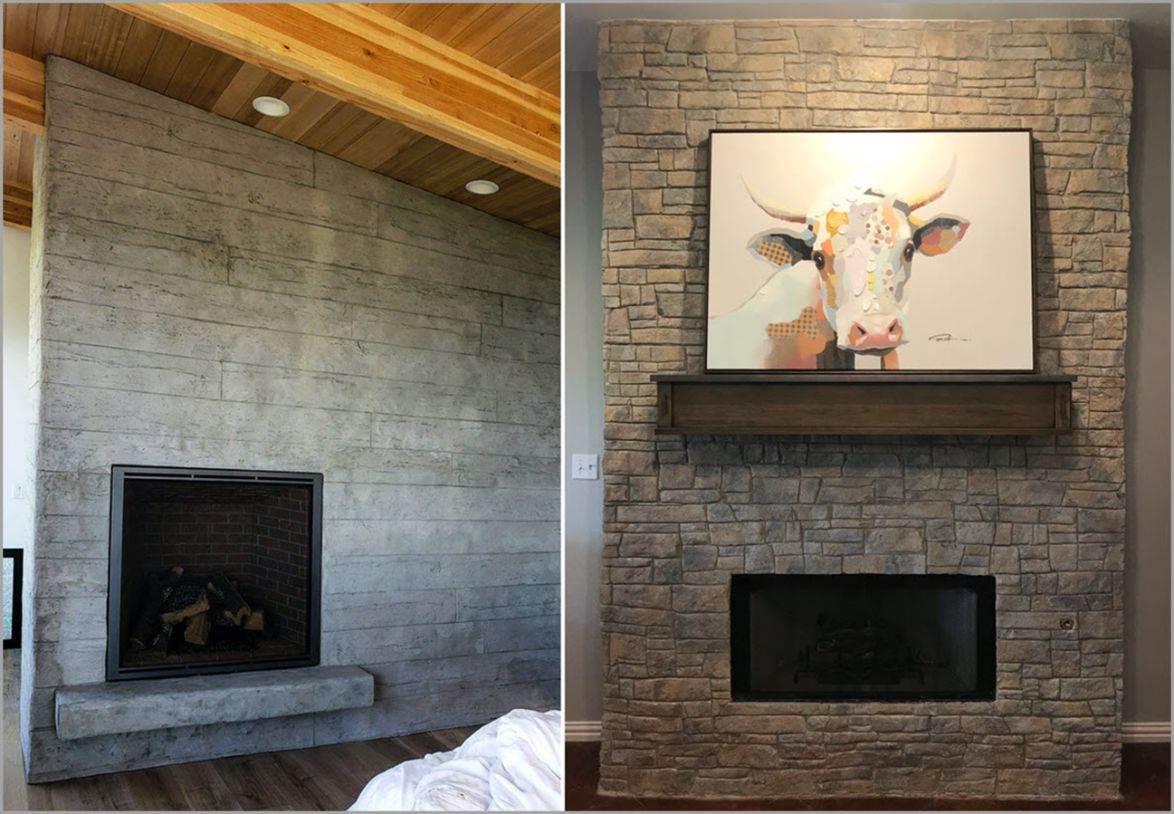 Update a boring fireplace to farmhouse style with a faux wood or faux stone fireplace surround without having to demolish the old one
Transforming your home to farmhouse style may be easier than you think by just incorporating some of these ideas. If you need new flooring to get started, Concrete Craft can help you get exactly the faux wood floor or stained or polished concrete floor to meet your needs. Contact Us today or go online to www.concretecraft.com to find the Concrete Craft location nearest you and request an in-home or virtual* design consultation. The right floor may be all the inspiration you need to go a little bit country!
*Virtual consultations may not be available at every location