Cozy Up Your Patio With Decorative Concrete Enhancements For Stress-Free Fall Entertaining
If you're fanning yourself in 90-degree heat, thinking ahead to fall may be an exhilarating feeling!
The cool, crisp evenings
Swirls of autumn leaves around your feet
The smoky, sweet outdoor fire for warm fellowship with family and friends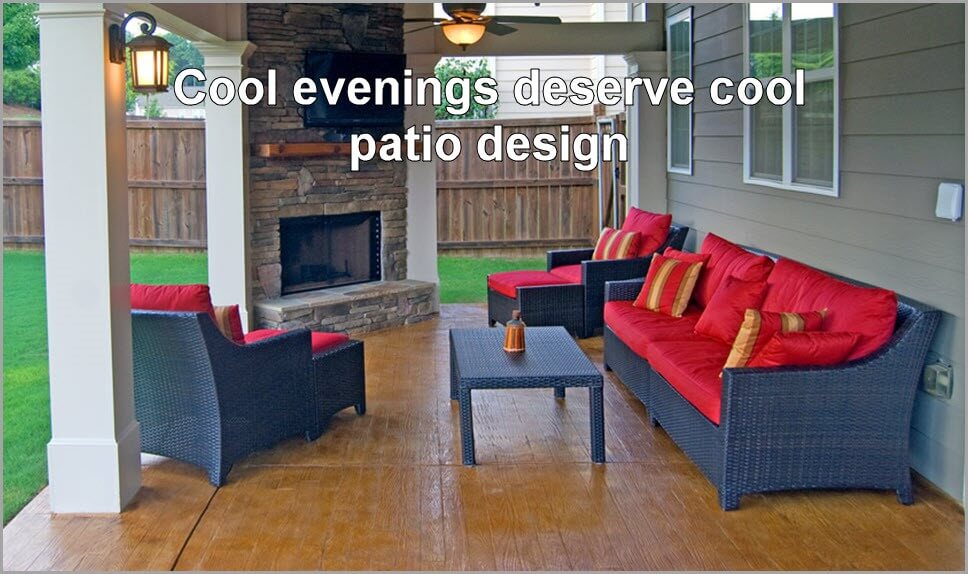 Yes, it's almost pumpkin, hot cider, and baked apples time. Summer entertaining is fun, but there's just something extra special about the outdoors when the mosquitoes are gone and there's no threat of sunburn. The autumn chill after the blistery heat of summer and before the "drive 'em indoors" cold of winter is the perfect time for patio entertaining. Concrete Craft® has some suggestions for getting your patio ready for stress-free get-togethers with decorative concrete solutions that will make your patio your favorite fall entertaining venue.
Upgrade the floor with easy-care concrete overlays
A big part of how your patio looks is obviously the patio itself. Is it cracked and stained to the point that it's an embarrassment? Is it too small, but adding on would look disjoined with mismatched concrete? If you think that demo and replacement is the only option you have to get the patio you really want, we've got good news for you! A concrete overlay in stained concrete, stamped concrete and hand-cut resurfaced decorative concrete can give your old patio a new lease on life.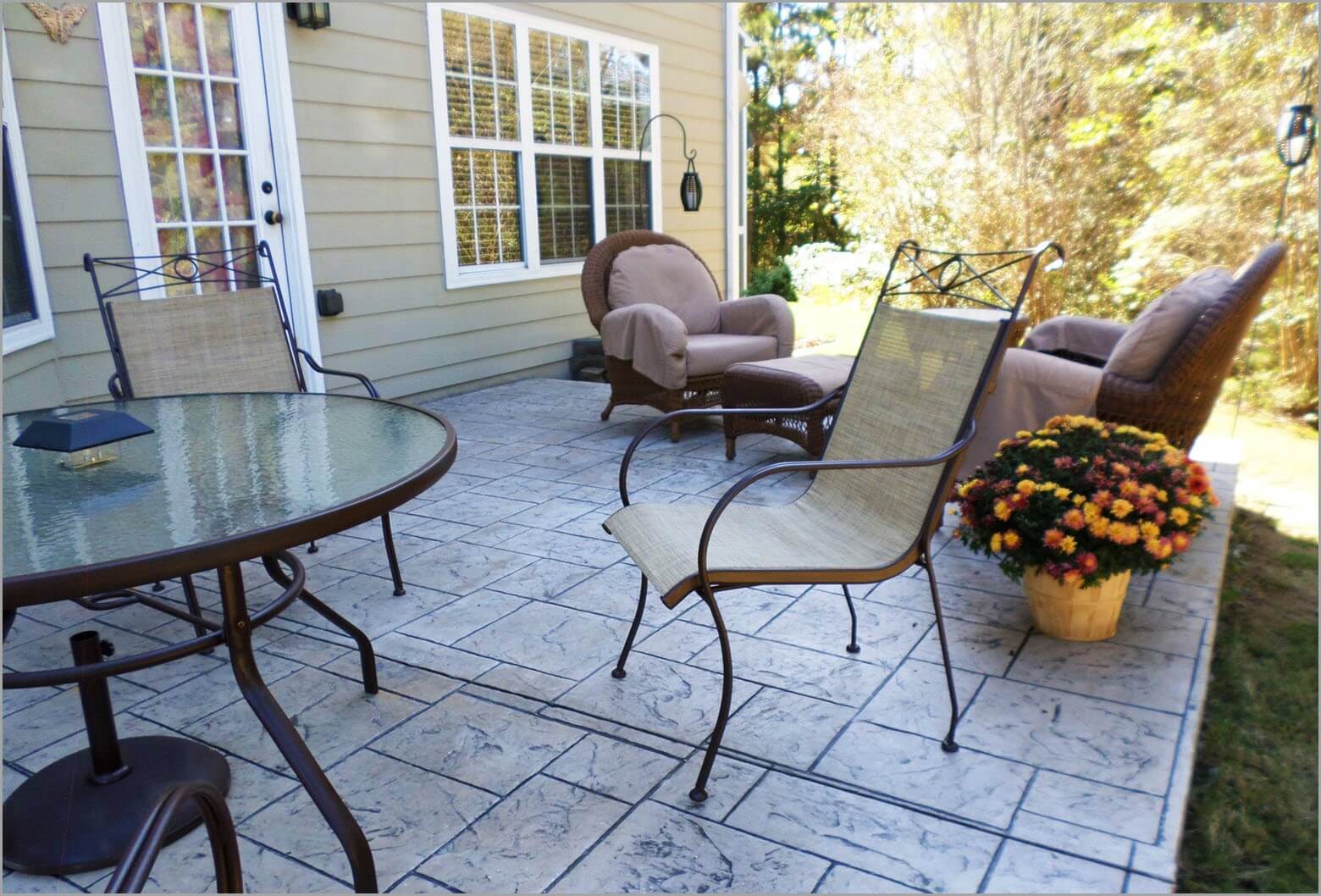 This ordinary gray patio was upgraded to extraordinary with a decorative concrete finish in an Ashlar slate pattern. The patio was resurfaced with a concrete overlay that covered stains, cracks, and imperfections in the slab. The new surface was stamped with an Ashlar slate pattern for authentic stone design and texture, and custom colored with concrete stain so it looks like real stone. A final sealer creates a finish that will not chip, crack or stain, and it's impervious to all kinds of weather, so you truly have a patio for all seasons!
If your patio is too small or you don't like its shape you don't have to worry that adding on would make your patio look like a patchwork quilt. A concrete overlay will mask any difference between the old and new concrete surfaces. This patio was too small to be very useful so it was extended with new concrete to create an outdoor area that would serve the family well for outdoor activities. The new concrete overlay finish was hand-carved and custom-stained with colors that match the brick siding for an elegant faux stone flagstone patio with no evidence that it was created in two parts.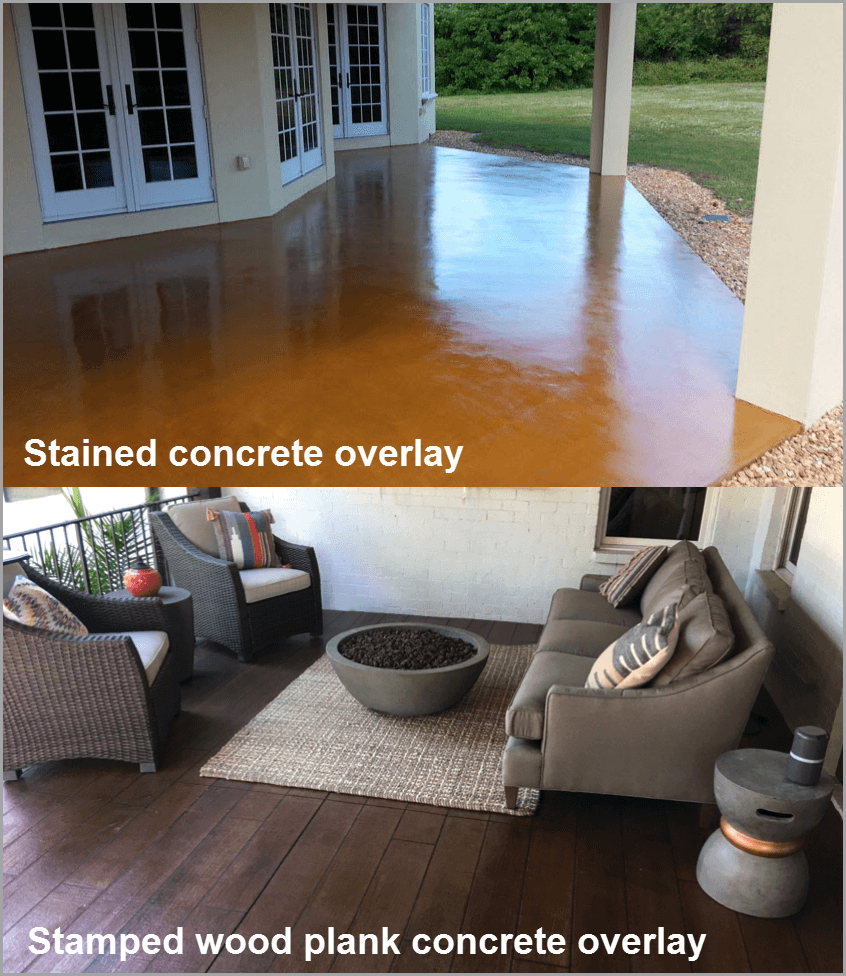 Decorative concrete overlays present a world of options for redesigning your patio. A concrete stain can transform your patio with vibrant color and shine that will last for years without fading, chipping, or peeling. Concrete stamp patterns create authentic-looking rock and stone finishes you just won't believe, like flagstone, cobblestone, Ashlar slate, Roman slate, and limestone, as well as wood plank designs from narrow to wide planks and smooth to rustic finishes. Color options are limitless since stains are custom mixed for exactly the impact you want.
Creative solutions with seat walls
Enough patio seating can sometimes be a problem when large groups gather or if everyone doesn't want to sit at the table. You can crowd the patio with furniture and bring out folding chairs, or you can enhance your patio with permanent seat walls that add style, utility, and additional seating. Concrete Craft's system for creating custom seat walls uses a core of foam liners that is flexible, enabling the creation of unique curved designs. It can be cast in nearly any form or shape and offers tremendous variety in stone type, color, and texture. We can also transform existing seat walls, retaining walls, fireplace fronts, garden surrounds, and steps with vertical concrete resurfacing.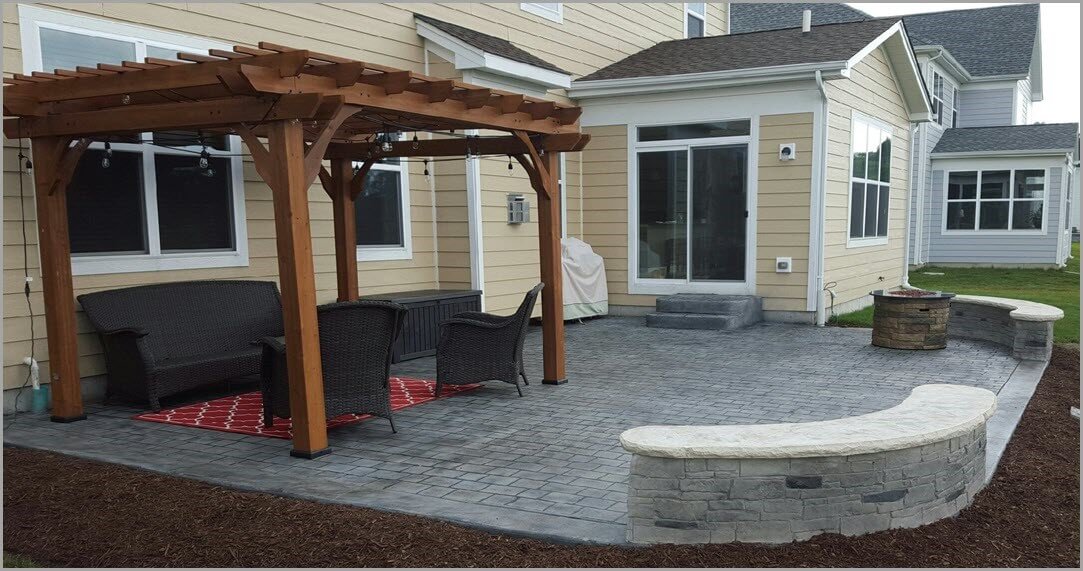 Seat walls define and enhance this patio with stylish architectural elements and the look of real stone. The additional seating eliminates the worry of too many people, and the faux stone will last for years without requiring replacement (like worn-out patio furniture). The continuous sealed surface eliminates the worry of shifting stones and crumbling mortar that can happen with real stone. Popular styles include Mountain drystack, Orchard stone, random sandstone, and hand-scored limestone. The realistic stone façade is created on-site with custom coloring to match or complement your existing hardscapes.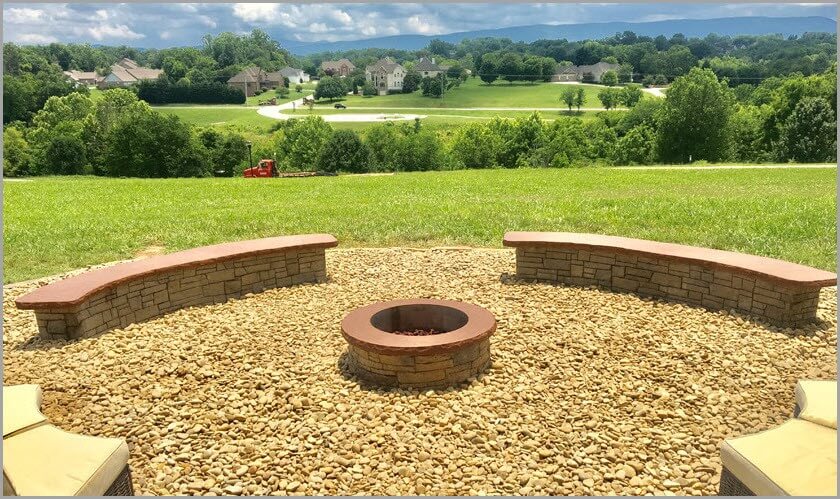 Seat walls can help to create defined and intimate settings for large outdoor areas. This graveled patio was turned into a relaxing entertainment space instead of feeling like a never-ending stretch of grasslands by installing faux stone seat walls and a fire pit. Portable awnings can provide needed shelter and patio furniture can be brought into the space as well for communal seating or break-out groups to enjoy the autumnal weather.
Give the old fireplace a facelift
In cooler temperatures, a cozy fire brings people together. A pleasant-smelling fire creates a calming space that can reduce stress, and many people have childhood memories associated with campfires, camping trips, and vacations that evoke good feelings. Fireplaces and fire pits add warmth and a comforting ambiance, especially if they are in good shape. Concrete Craft's vertical concrete resurfacing system can upgrade your outdoor fireplace or fire pit that has lost the battle to time and damaging weather with a new faux stone face, helping to create the ideal fall entertainment spot.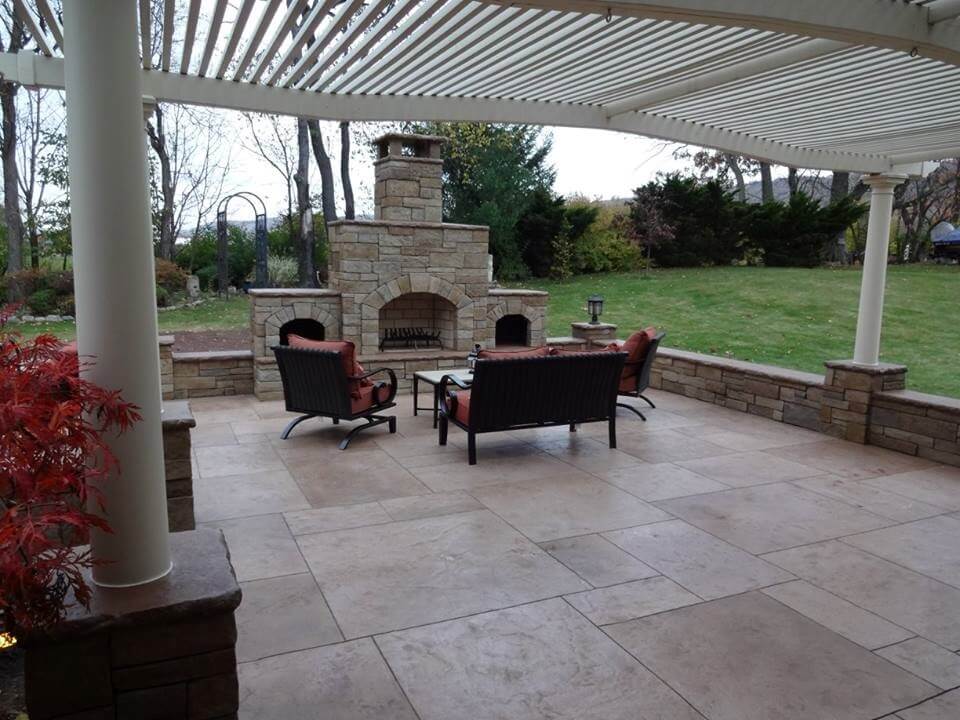 Vertical concrete resurfacing can be installed over brick, drywall, plaster, concrete, and wood for the authentic look of rock, stone, and wood for about half the cost of real materials. 100% surface contact eliminates voids or gaps that could lead to an eventual breakdown, and the continuous sealed surface keeps "stones" intact and wood designs from splintering or warping like real wood. Renew fireplaces, retaining walls, pillars, and seat walls effortlessly with hand-carved vertical concrete designs.
Tips for memorable outdoor get-togethers
With a beautiful, easy-care patio you'll always be ready for entertaining, even a pop-up party with little-to-no planning won't be stressful. Here are a few tips to make evenings on the patio the best times ever.
Simple comfort foods and hot drinks will warm up all your guests.
Add textures and color with patio cushions, rugs, and plants.
Create conversation groups with chairs and lounges clustered together.
Have blankets and soft throws available to ward off a chill as the sun goes down.
Stock up on aromatic firewood for a perfect fire every time. Check out What Is The Best-Smelling Firewood?
Now is a great time to get your patio in tip-top shape for outdoor entertaining for the remainder of summer and into fall. Contact us today or go online to www.concretecraft.com to find the Concrete Craft location nearest you and request a FREE consultation. We can help you get all your concrete surfaces updated and upgraded with versatile, durable decorative concrete, including interior floors, driveways, walkways, and pool decks.