Create a Presidential Entryway with Vertical Concrete Faux Stone Siding
Every February, we celebrate Presidents' Day. Originally honoring the birthday of George Washington, our first President, the holiday has evolved to honoring the incumbent president and all who have served in that office. We like the pomp and circumstance of things presidential, the grandeur of monuments, libraries, Air Force One, and, of course, the majestic White House. What an amazing entryway to come home to each day!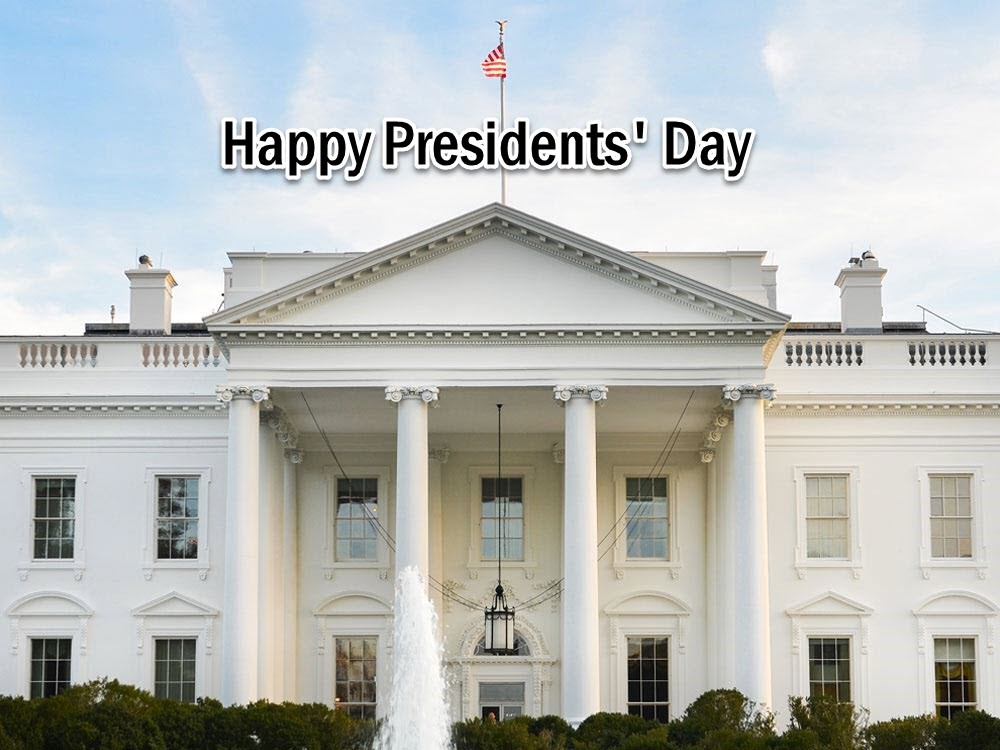 Texas Governor, Ross Sterling, liked the White House so much that he built a $1 million replica of it in 1924 as the governor's mansion (equivalent today is $14 million). Now known as the Ross Sterling Mansion, it's listed on the National Register of Historic Places, and last year sold at auction for a steal of a deal at $2.8 million. (dollartimes.com and chron.com)
That's a pretty penny to spend to get a presidential feel when you come home.
Get an awe-inspiring entryway with Concrete Craft
You don't have to break the bank to have your own awe-inspiring entryway. Not on the scale of the White House, of course, but you can give your home incredible appeal by having Concrete Craft® install faux stone siding with stamped and hand-carved vertical concrete overlays that look like natural stone and masonry. In fact, our natural stone molds look so good, only you will know it's not real.
You can cover cracked and deteriorating concrete with the look of authentic stone for a fraction of the cost of real. Our proven techniques and proprietary polymer overlays make 100% contact over wood, drywall, brick and concrete surfaces, ensuring years of worry-free performance. A new façade of stamped and hand-carved concrete can bring the beauty of realistic stone textures and colors to your home, adding style and personality.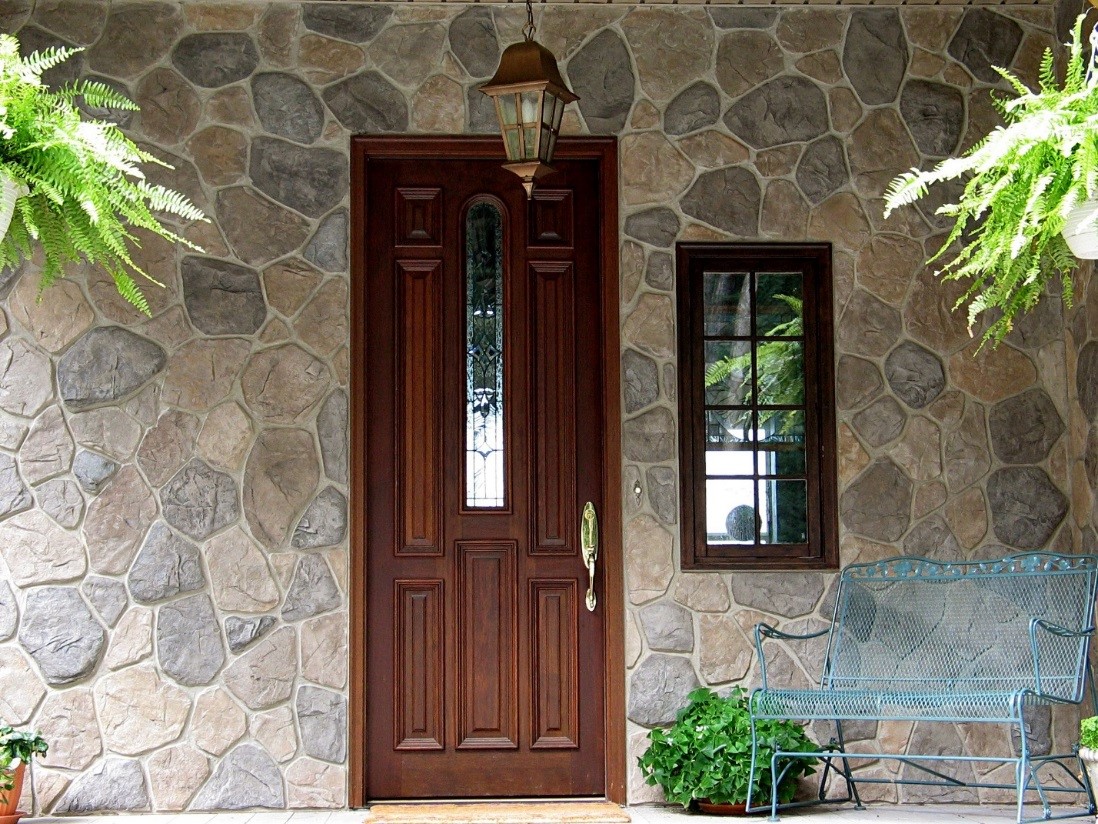 Faux stone finishes designed to last
The durability of concrete is a big plus for exterior vertical surfaces, making our faux stone finishes highly functional. Concrete can withstand extreme temperatures and wet and dry conditions without the deterioration inherent with wood and vinyl siding or actual stones that can weaken and fall out. Our continuous-surface vertical concrete overlays repel moisture and eliminate voids and gaps that can trap water, encouraging mold, fungus and insect infestation. Benefits include:
No grout between stones to break down and wear away over time.
Concrete is durable and easy to maintain, remaining beautiful for years.
Durable finishes with fade-resistant, integral colors will not chip, stain or peel.
Concrete resurfacing can cover up imperfections or revive worn-out vertical surfaces.
This impressive Mountain Drystack siding is a custom concrete overlay, hand-carved and custom-colored with a sealed surface that will withstand time and weather better than real rock or stone. You'll love the lower maintenance required to keep your faux stone siding looking like new; dust and dirt just hose away.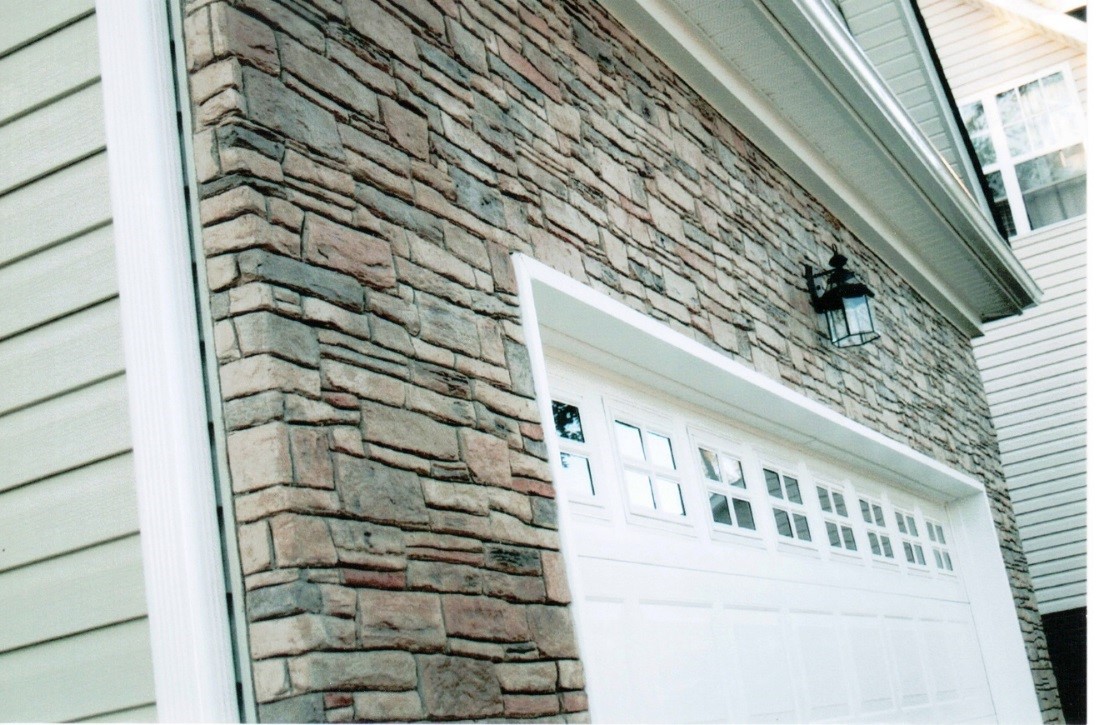 Unlimited design potential
Concrete Craft's artisans can easily replicate natural rock on vertical surfaces, making the elegance of authentic stone available to everyone. You're not limited by local rock or stone; you can choose whatever style you want. You don't have to worry about trucking in tons of stone, weight-bearing issues, color matches and limited supplies. With our hand-carved and custom-colored concrete overlay designs, we can coordinate with your exiting home and landscape style and colors for whatever you need, from one wall to complete siding.
Some of the most popular vertical stone designs are European Fan, Random Sandstone, Orchard Stone, Mountain Drystack, Hand-scored Limestone, English Cobblestone, Hand-carved Stone, Hand-carved Castle Rock, brick and slate.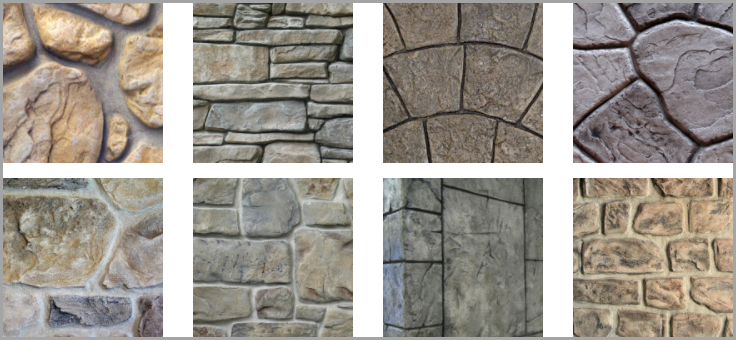 Along with entryways, vertical concrete overlays can transform any outside hardscapes such as retaining walls, seat walls, chimneys, raised flower beds, pillars and porches. With the affordability of faux stone façades, you can have the elegance of stone both indoors and out. Inside vertical surfaces that can be enhanced and transformed include fireplace surrounds, accent walls, shower stalls, basement walls and backsplashes in the kitchen or bath.
Don't wait any longer to make your dream entryway a reality with Concrete Craft. Transform your home with the elegance of stone and make coming home a truly feel-good experience. Enhance the impact of your new entryway even more with additional touches to add unique character:
Paint the front door a lively color
Add new, decorative house numbers
Get a distinctive mail box
Place a colorful welcome mat
Add potted plants and flowers
Place stylish lighting at the door or along the walkway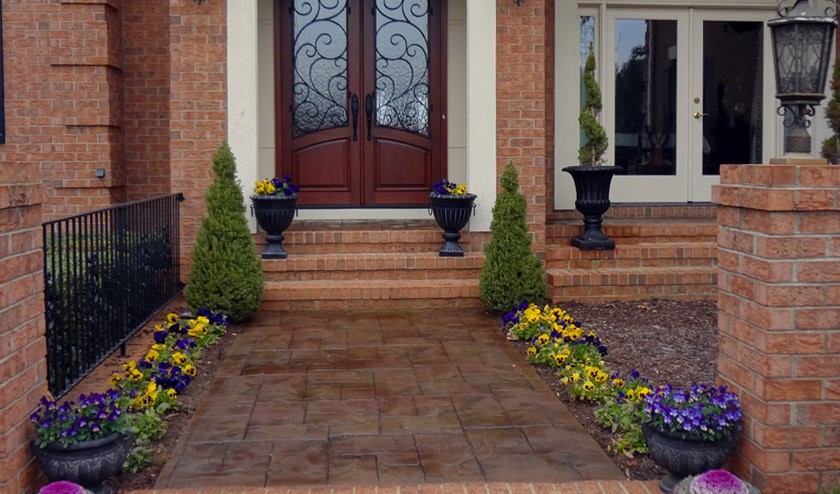 Call 866-813-3699 or go online to www.concretecraft.com to find the Concrete Craft location nearest you and request a FREE estimate for vertical concrete resurfacing to make your home the new standard in the neighborhood. We can also help with staining, stamping and resurfacing your interior and exterior concrete floors with decorative concrete overlays, including outside surfaces like patios, walkways, driveways and pool decks. You're assured exceptional quality and workmanship with everything we do, backed by a two-year warranty* on all our work. So, don't delay; call today!