Create Beautiful Living Spaces with New, Custom Concrete Floors
Quick…look down. What do you see? Are your tired, worn floors detracting from the beauty of your home? Spring has sprung and spring cleaning is sweeping the country from Naples, Florida to Valparaiso, Indiana, and all points west! Cleaning up and clearing out is the name of the game, refreshing and refurbishing living spaces in happy anticipation of spring and summer activities.
Maybe it's time to convert that dusty basement into a game and media room so the family has more options for entertaining.
The seldom-used sunroom or patio can be redecorated to provide space for a craft and hobby center, with a comfy reading nook tucked into the corner.
Your home has potential you may have never considered because the floors are not very inviting. With all the cobwebs and clutter "spring cleaned away," it's the ideal time to talk to your local Concrete Craft® artisan about updating your floors. Create beautiful, new living spaces for your family to enjoy with custom stained, resurfaced and stamped concrete.
Resurfaced Concrete
This resurfaced concrete basement floor is party-ready in a custom-colored, decorative Flagstone pattern that will never fade, chip or have the color peel away. Resurfaced concrete is impervious to heavy foot traffic and spills, making it easy to keep the basement neat and clean. Decorative overlays can even mimic Travertine tile, real stone, brick and wood planks, so your basement, family room or game room can be whatever you want it to be.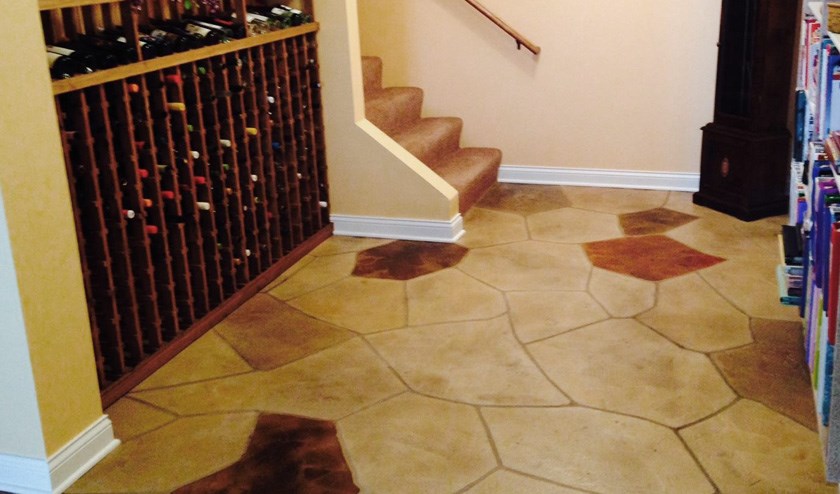 Stained Concrete
This acid-based stained concrete patio in custom colors is the perfect elegant complement to this home. Invincible to tearing, gouging, mold and water damage, this stained concrete patio can handle patio tables and chairs, storage benches and chaise lounges, giving years of enjoyment and easy care for entertaining and relaxing. Concrete stains come in a wide array of colors with finishes from "polished marble" to natural stone, in both water-based and acid-based stains.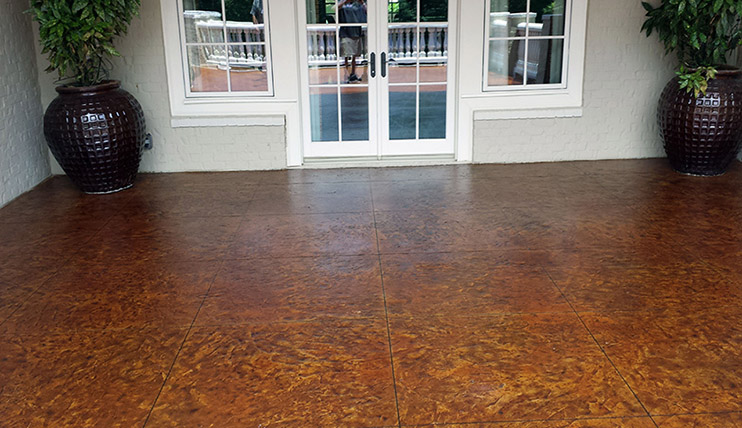 Stamped Concrete
Stamped concrete offers a wide variety of lifelike stamps that can turn any floor into a work of art. Add a touch of whimsy with custom stamps like Geckos, Sea Turtles, a compass, or colorful medallions for a unique and fun floor. Any sunroom or patio will become more inviting to spend time reading, relaxing or creating memories. Stamped concrete patterns include Ashlar Slate, brick, wood plank, cut cobblestone, sandstone and more.

In addition to almost limitless design possibilities, Concrete Craft decorative concrete floors offer excellent benefits that other flooring options can't claim, including:
Easy care and maintenance
Reducing allergens
More economical than organic flooring
No need to replace every few years
Durable finishes do not fade, chip, stain or peel
Easy, quick installation by trained professionals
Two-year warranty* on work and materials
So don't let your spring cleaning efforts go to waste! While rooms are cleared out, call 866-813-3699 today or go online to www.concretecraft.com to find the Concrete Craft location nearest you and request a FREE estimate.
Discover how new custom, decorative concrete floors can capture your under-used living spaces, giving you more home to enjoy. Check out our online photo galleries for patios, driveways, walkways, pool decks, as well as commercial spaces and vertical surfaces that can be enhanced with stained, stamped and resurfaced concrete.