Create Dream Outdoor Spaces With A Natural Stone Concrete Overlay
Outdoor living is coming into its own once again with spring and summer presenting irresistible glorious days of warm sunshine just begging everyone to come out, relax, and play. Are you ready? If your outside concrete is showing its age with deterioration and damage like stains, discoloration, and ugly cracks, Concrete Craft® has decorative concrete solutions to remedy your concrete problems. One such solution that generates absolutely gorgeous patios, pool decks, driveways, and walkways is PebbleKoat by Concrete CraftTM, a concrete overlay of real stone.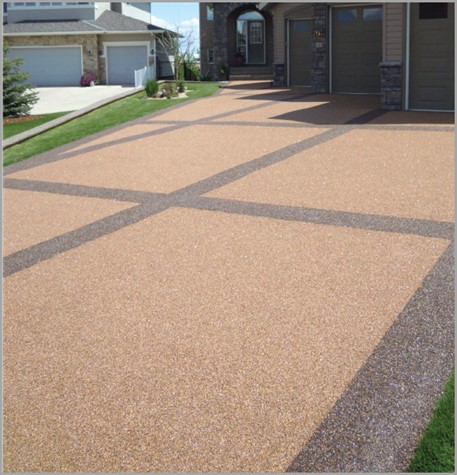 Driveway elegance can be yours with a one-of-a-kind masterpiece of real stone to complement any landscape design
PebbleKoat is unique in our MasterPro FinishTM product line in that it uses real river rock in a cement overlay to repair and resurface concrete spaces for long-lasting beauty and durability. It can be used in myriad ways to create outdoor spaces you'll be proud to show off all year long! Here are eight frequently asked questions about PebbleKoat to help you determine if it's the right solution for you.
One: Where can PebbleKoat be used?
Anywhere you have damaged but structurally concrete, including driveways, walkways, patios, pool decks, entryway porches, and stairs. As long as the concrete isn't in pieces, the overlay can cover damage, fill cracks, and level out uneven surfaces without the need for a pre-applied repair mortar. Erase years of use for stunning new concrete finishes without the need for demolition and replacement, saving time and money.
Two: How is PebbleKoat installed and how long does it take?
First and foremost, installation does not require heavy equipment in your yard that can cause unwelcomed noise or harm to your landscape. Portable equipment is used for every phase of installation, including custom mixing the product onsite. The existing concrete is cleaned and prepped to ensure permanent adhesion of the overlay, allowing PebbleKoat to restore structural integrity of any damage. Depending on project size, installations are normally completed in one to three days. The stand-alone overlay is hand-troweled for consistent application, and the fast cure time gets you back on your space within 24 hours.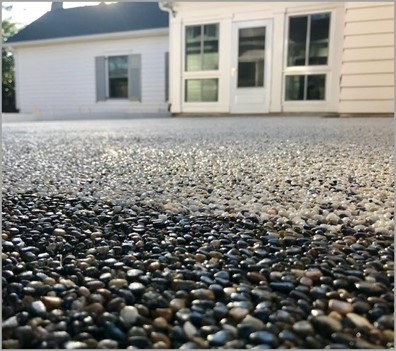 Experience, professional excellence, and attention to detail ensure quality installation and performance of any PebbleKoat project
Three: What is PebbleKoat made of?
PebbleKoat by Concrete Craft is a non-epoxy-based, hybrid resin 100% natural river rock concrete overlay that will repair cracks and uneven surfaces, creating a seamless, decorative glossy finish of real stone. There is never any color fading, nor will the overlay break down in UV light. You get real stone glamour that repairs cracks and uneven surfaces with excellent abrasion-resistant properties and durability against mechanical damage.
Four: Will the stones separate and break apart?
No, the finish is one continuous bonded surface that can stand up to all kinds of weather, including freezing snow, rain, extreme heat, and damaging UV light without fading, cracking, or peeling. The industry-tough finish cures in excess of 5000 psi (pounds per square inch) and can safely support vehicles, patio and pool deck furnishings, or playground equipment without damage.
Five: Can you use more than one color to create patterns, designs, and borders?
PebbleKoat comes in seven standard color blends from light to dark, including Frost, Pebble, Sandcastle, Brownstone, Espresso, Comet, and Midnight. You can choose one color blend or create patterns, designs, or borders using more than one color. You can also create a custom blend for a signature look to complement your home's exterior. PebbleKoat can also be combined with other decorative concrete finishes like stained concrete and stamped concrete faux stone or tile designs.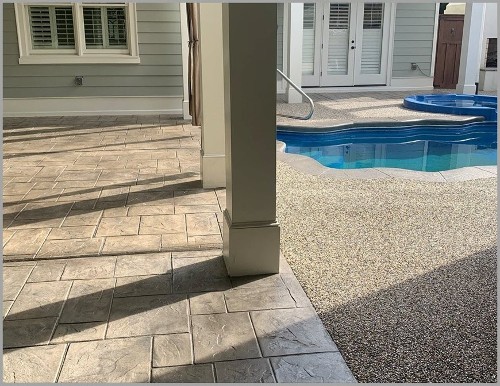 Combine decorative concrete finishes for an extraordinary effect, like this river rock pool deck and connecting stamped Ashlar slate patio
Six: What are maintenance requirements?
PebbleKoat is low-maintenance and easy to keep clean since nothing sticks to the textured surface. This means driveways are safe from auto fluids, patios from moisture and food spills, and pool decks from pool chemicals and water damage. The gloss finish can be kept clean by regular sweeping and hosing off, with occasional scrubbing with a push broom and mild detergent like Dawn dish soap for stubborn dirt. There is never the need for harsh concrete cleaners.
Seven: Does PebbleKoat have a slip-resistant surface?
Its moisture absorption helps eliminate puddles and standing water and the textured surface can be enhanced with a special additive for increased non-slip traction for a safer, slip resistant surface.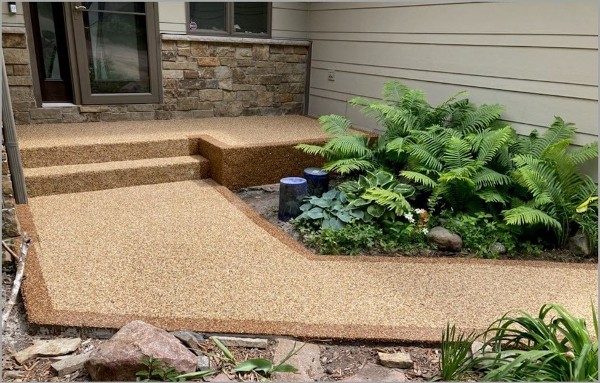 Increase safety in your entryway with slip-resistant PebbleKoat on steps and walkways
Eight: How durable is PebbleKoat?
A PebbleKoat finish is designed to become an integral part of the surface with extreme adhesion properties, saving the disruption and cost of having to refresh or renew your outdoor concrete spaces every few years. The durable surface resists cracking, abrasion, and impact as well as spills and stains common to driveways and busy outdoor play areas. PebbleKoat can stand up to year-round weather challenges, including freeze/thaw, rain, blistery heat, and UV light without deterioration. It's the ideal one-and-done solution to dress up all your outdoor spaces for worry-free style and beauty.
Be ready when the fun gets rolling
Now is the perfect time to get your outdoor entertainment areas ready for spring and summer entertainments. Making home more attractive and fun-centered will elevate family time and save money on travel and extracurricular activities. Call 888-852-9244 or go to www.concretecraft.com to find the Concrete Craft location nearest you and request a free in-home or virtual* consultation. Explore how PebbleKoat can rejuvenate your home with beauty set in stone and scroll through our product catalog for information about other decorative concrete options for indoor and outdoor enhancements.
*Virtual consultations may not be available at every location