Decorative Concrete Can Help You Fall in Love with Your Home Again
If you've been in your home for more than a few years, you've had major life events that impact the way you live in your home. New babies, kids going off to college, parents moving in or adult children returning to the nest can all impact how space is used. Maybe you're feeling a bit overcrowded or you believe you could get better use of your space. It may be time to rethink the sprawling family home in Kentucky or the mountain vista home in Colorado by upgrading your home with new floors to better meet the current needs of your family.

Concrete Craft® can help refresh your interior floors and exterior surfaces with custom concrete overlays in stained, stamped and custom-colored and hand-cut concrete designs that replicate the look of real stone, brick and wood planks. New floors could completely change the look of a room, making it suitable for a different purpose, such as converting a carpeted nursery or bedroom into a home office with a stained concrete floor. Outside areas can be upgraded with a refreshed patio or pool deck to create a more integrated indoor/outdoor living experience, making your home feel bigger.
New life for an overlooked basement
A beautiful, durable stained concrete floor can convert a basement used for storage into a studio apartment or game room for additional living or entertaining space. Install a small kitchen and set up bedroom/living room/media room furnishings to make the space functional and comfortable. A stained concrete floor resists stains, moisture, spills and scrapes, retaining its beautiful finish for years.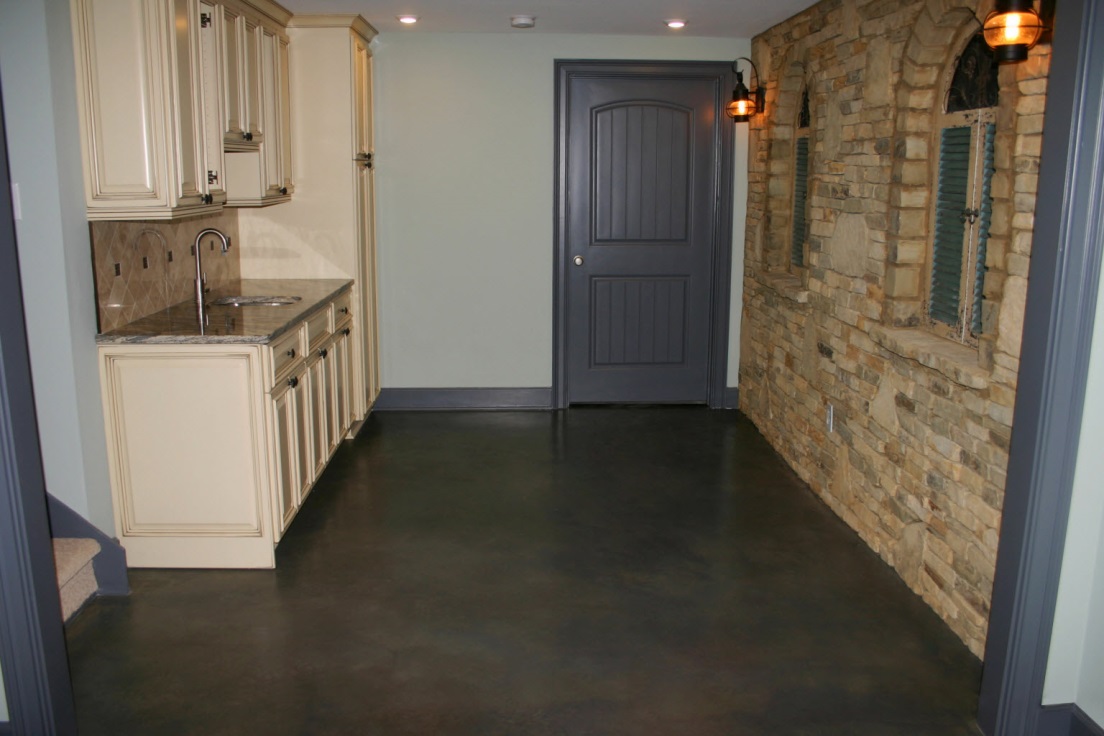 Turn your bathroom into your own personal spa
Bathrooms are notorious for being overlooked for upgrade because they are so utilitarian. If you've ever wanted a more luxurious bathroom but dreaded the cost, a gorgeous stained concrete floor is a good move. Your "spa" floor can look like expensive polished marble or real stone, yet at such a low cost you'll be able to afford the other amenities you want to create an exquisite setting. Resistance to mold, mildew and stains from bath oils, lotions and other products will keep your personal spa clean and allergen free.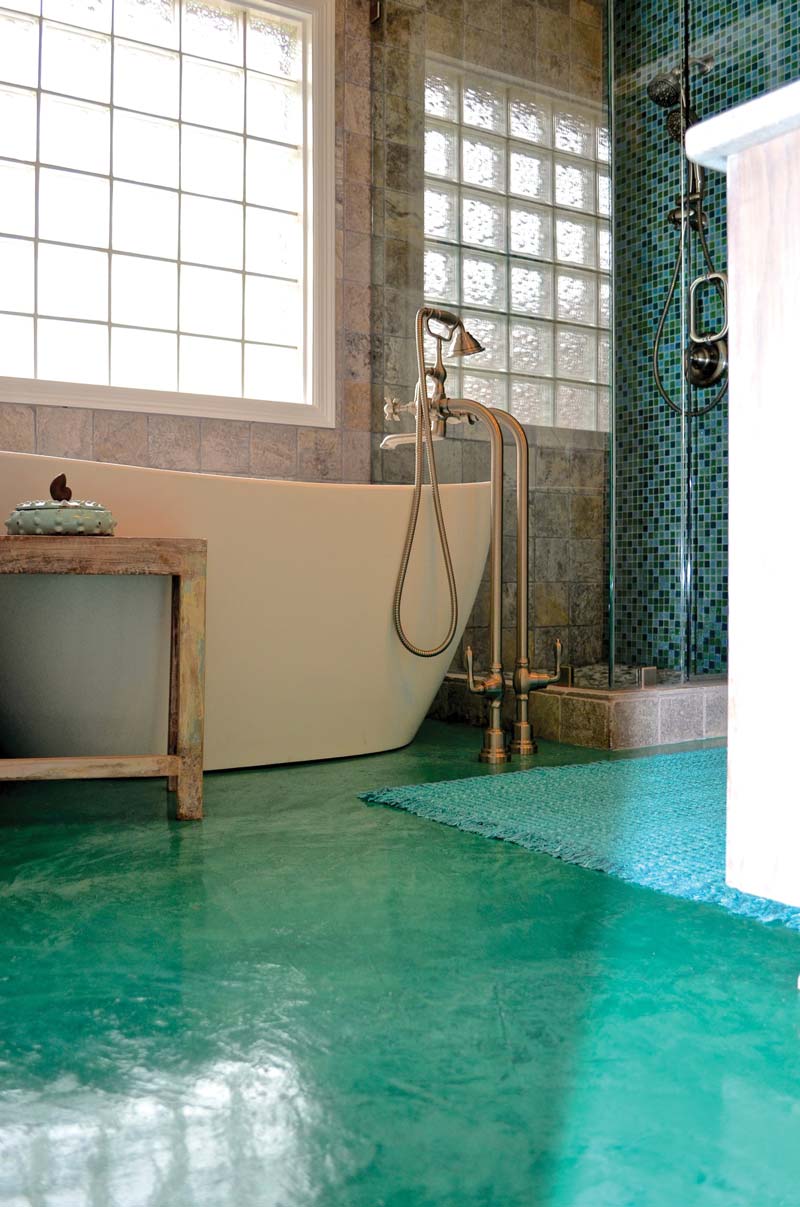 Capitalize on your outdoor spaces
If the backyard patio has become an eyesore due to ugly, distressed concrete so that nobody hangs out there any more, you can revitalize that valuable space without demolition and replacement. Even a stained and cracked patio can be refreshed with a concrete overlay, presenting a "like-new" surface for a hand-cut and custom-colored design such as Flagstone or Cobblestone that will make the patio an attractive extension of your indoor space. With outdoor furniture, plants and decorative accents your patio will become a favorite spot for relaxing and entertaining.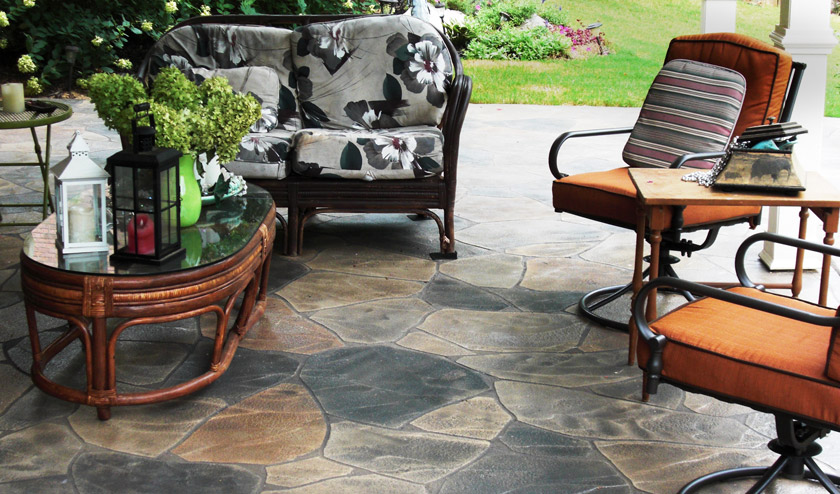 Invigorate your entryway and front yard
An entryway facelift is one of the best ways to breathe new energy into your home, adding real value and curb appeal. It creates a vibrant welcome for your guests and makes coming home more enjoyable for family members. A concrete overlay can be custom-colored to coordinate with your home's exterior the way this Flagstone pattern reflects the colors of the brick siding. The continuous surface means no grass or weeds in the "grout lines" so the walkways stay safe and maintenance-free.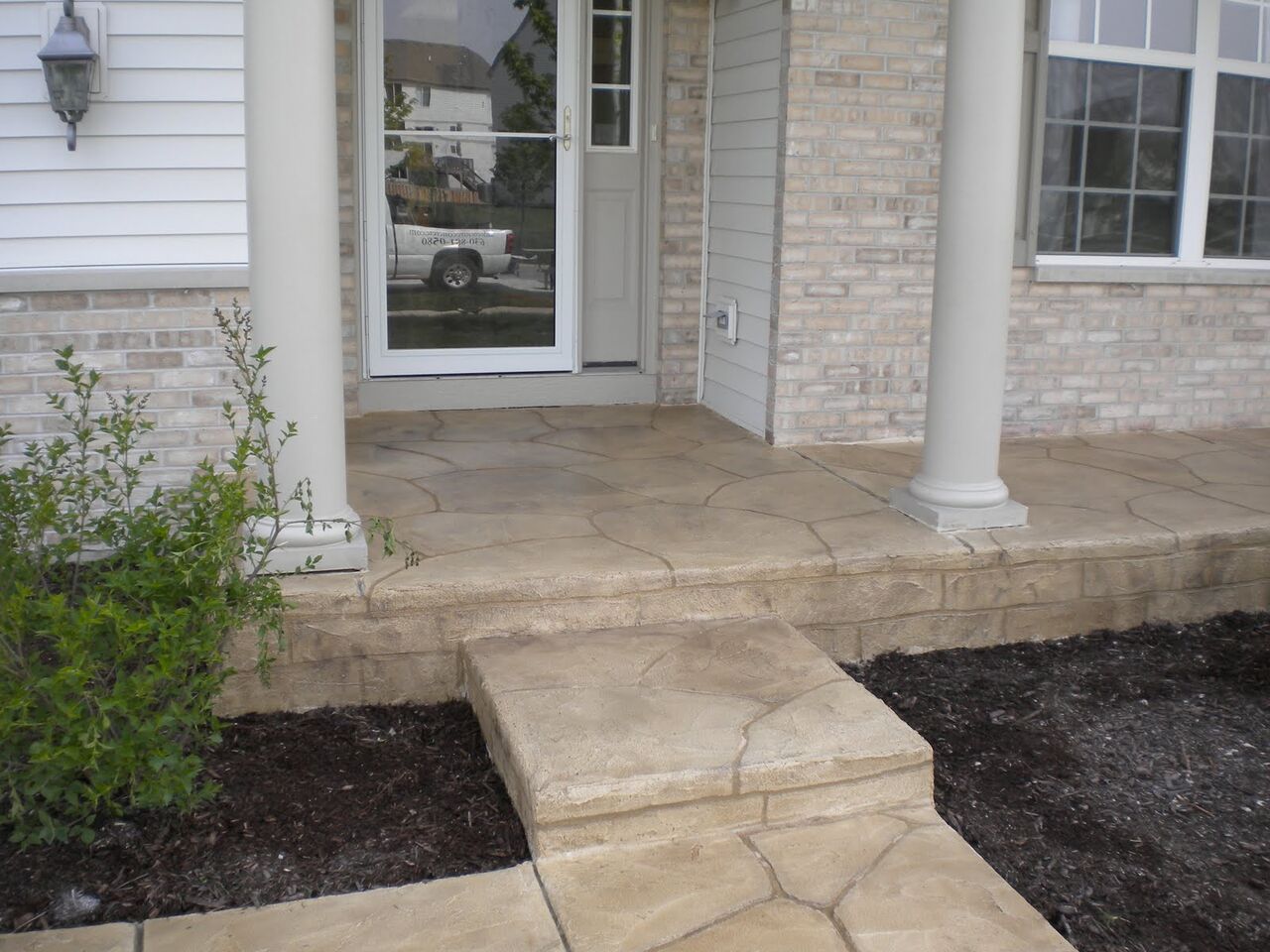 Create a statement driveway
Yes, a driveway is a working surface but that doesn't mean it can't be stunning as well. With Concrete Craft, you can have a unique driveway in any colors or patterns you desire. This broom finish gray concrete overlay with stamped brick pattern trim and border creates a one-of-a-kind driveway to make any homeowner proud. The sealed surface can withstand sun, rain and snow, effortlessly going from season to season with easy-care functionality. It's a great place for a basketball hoop, skateboarding, skates and bikes to get the kids off the video games and outside.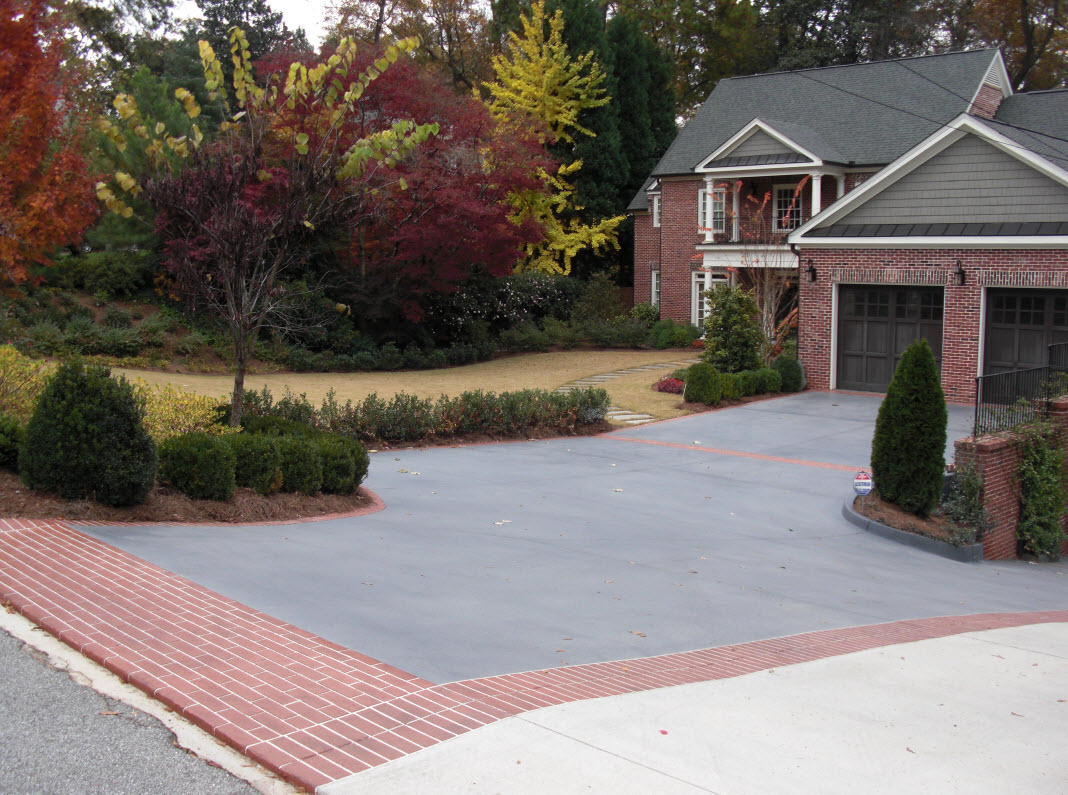 Concrete Craft is ready to assist with upgrading your home for the way you live today. In addition to flooring, we offer the same innovative designs and exceptional quality for walls and other upright surfaces with vertical concrete resurfacing. Resurface fireplaces, chimneys, backsplashes, accent walls, siding, exterior privacy walls, and more, with faux stone siding so realistic that only you will know it's not the real thing. Call 866-813-3699 today or go online to www.concretecraft.com to find the Concrete Craft location nearest you and request a FREE estimate.
We provide the same reliable products and services for commercial properties as well, helping businesses reduce maintenance costs short-term (easy-care, durable) and long-term (no need for periodic replacement). Check out our commercial flooring for interior and exterior spaces.