Decorative Concrete Designs Help Blend Indoor and Outdoor Living
Spring is officially here and, in most states, everyone is rushing outside in droves to enjoy the sunshine and warmer weather. Some opt for the adrenalin rush of sports, spectator and participant, like football, baseball, soccer and hockey. In Texas, paintball is in the top five sports and for Tennessee, it's good old NASCAR. Gardeners in Birmingham and Charlotte grab their tools and hit the dirt after the long cold spell, while others seek a more relaxing experience, such as lounging around a pool in sunny Florida, working on a tan or reading a good book and feeling their blood pressure drop.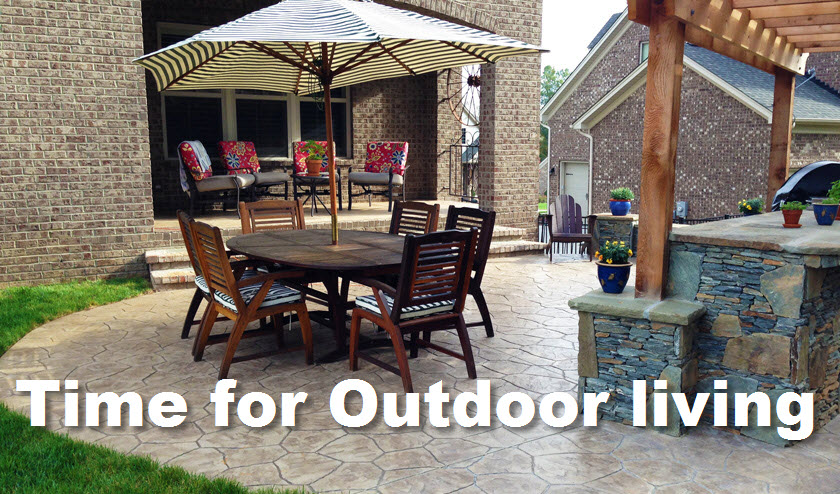 In homes across the land, Spring triggers more activities moving to outside spaces like patios, pool decks, driveways and front yards. Light patio lunches, board games, meat-lovers barbeques and neighborhood get-togethers begin to fill the days and evenings. If winter has left your outside spaces in less than perfect condition, Concrete Craft® can help you beautify all your outdoor spaces so they blend seamlessly with your indoor style. Don't miss a day of fun in the sun because of ugly concrete. If you aren't maximizing your outdoor spaces for gracious living, you should be.
Decorative concrete overlays provide options
If looking at your concrete walkways or patio makes you wince because you can't image anything but demolition and replacement, Concrete Craft can put your mind at ease and save you time and money. Our proprietary system of concrete overlays can save damaged and stained concrete that might appear beyond hope. Fresh concrete overlays create new surfaces that can be beautified with myriad custom decorative concrete designs without demo and replacement:
A stained concrete finish
Stamped concrete with lifelike patterns of real stone, tile, brick or wood plank
Hand-cut and custom-colored resurfaced concrete to resemble flagstone, cobblestone, Roman slate, Ashlar slate and more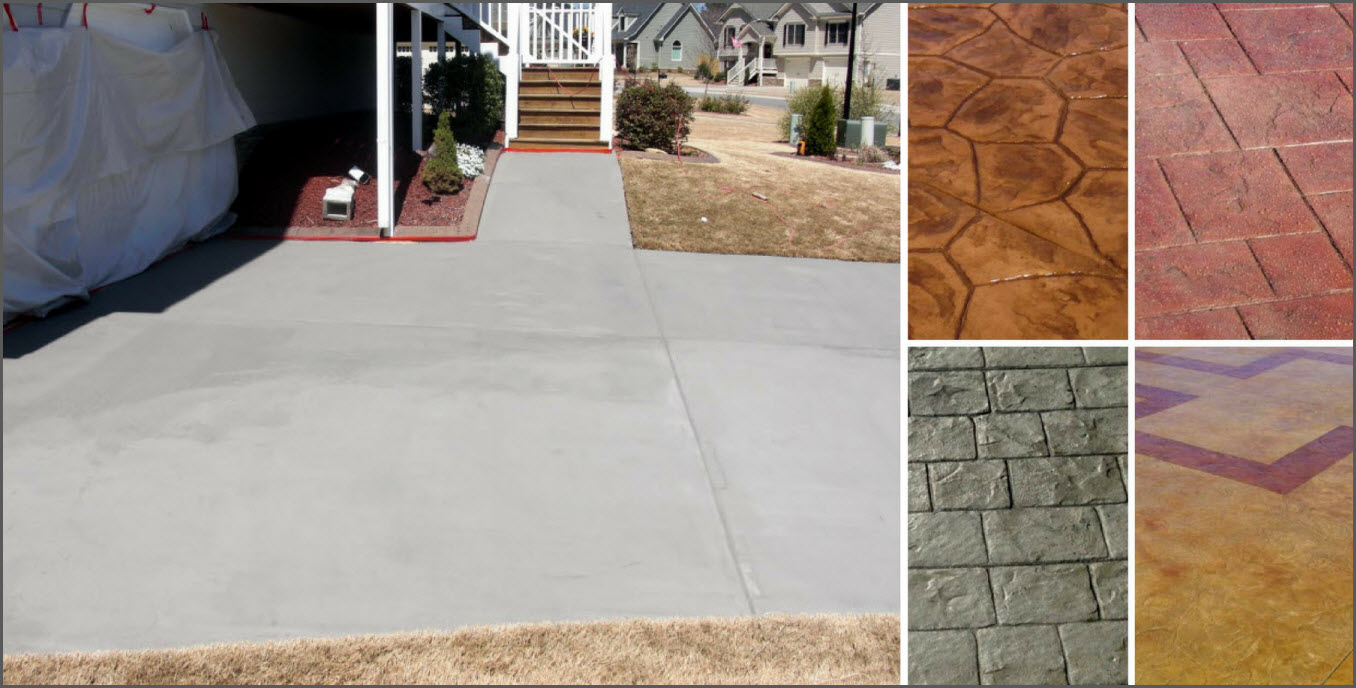 To demonstrate the options, this driveway's fresh concrete overlay can become any of the pictured samples: flagstone, Ashlar slate, Roman slate or custom stained concrete, just to name a few of the choices available. These same designs, and more, can adorn a patio, walkway or pool deck--you decide.
Resurface with Color ReStoreTM and Color KoatTM systems
Existing concrete that is in good condition can look like new with our Color ReStore or Color Koat systems that install an opaque and breathable film to the concrete, penetrating the surface and creating a durable finish. These systems are ideal for rejuvenating colored surfaces or plain gray concrete by minimizing discoloration without altering surface texture. You can save the step of a concrete overlay in some instances and still have a new, natural color appearance. As this pool deck renovation shows, it's a remarkable way to save money while upgrading your concrete surfaces.
In this "before" shot, the pool deck isn't terrible, but it is rather boring and the untreated surface will become distressed over time showing stains, cracks and discoloration.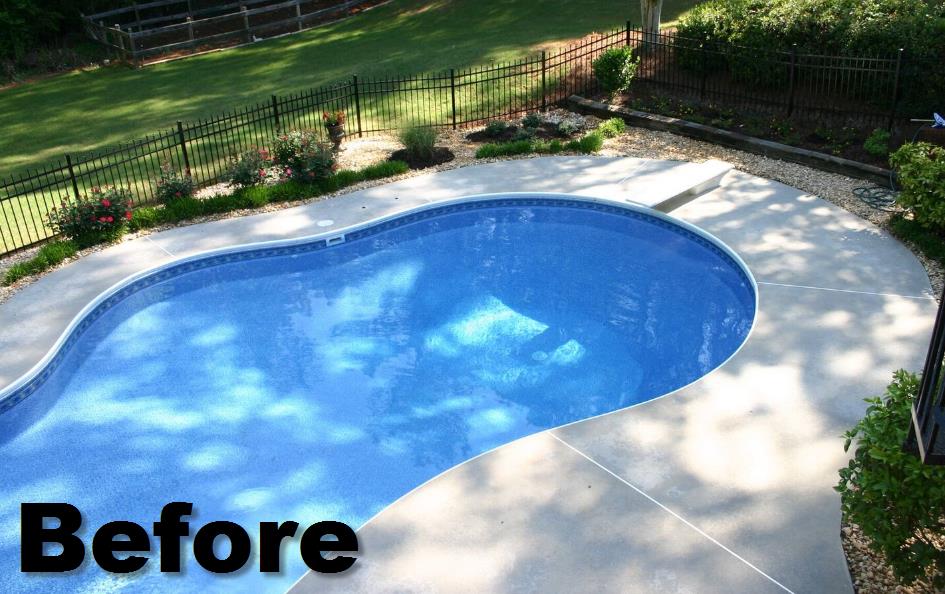 After application of Color ReStore in bisque tan, all the elements in the landscape coordinate beautifully with its warm, natural color, elevating the look of the whole area. The durable finish will give years of beauty and functionality with minimum maintenance required.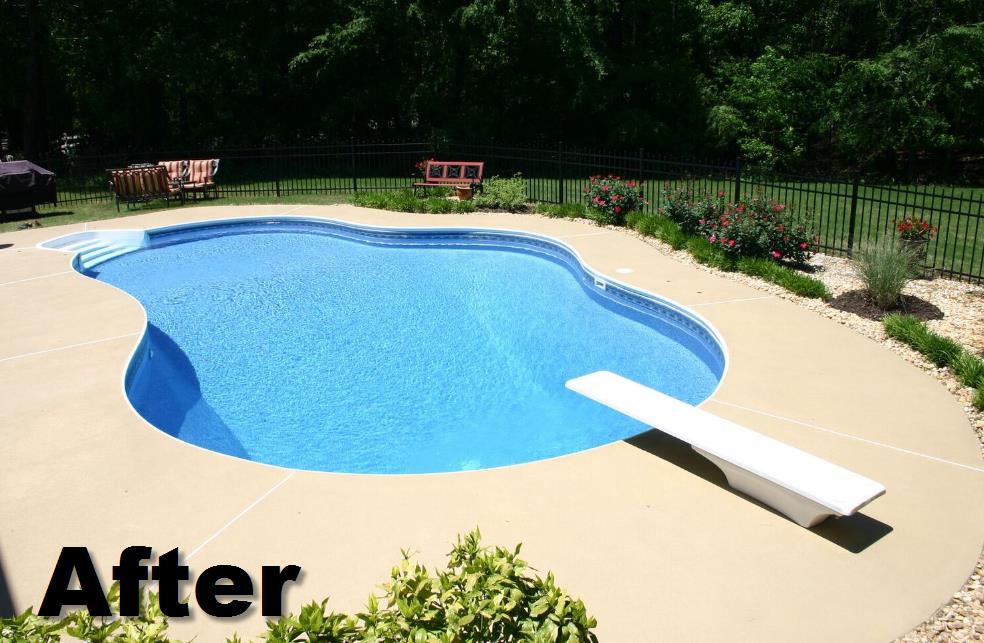 If you are interested in improving and expanding your indoor/outdoor functional living space, Concrete Craft can help you determine the very best options for your lifestyle and budget. Our craftsmen can help you design decorative concrete overlays in patterns and colors that complement your existing landscape and style.
Revolutionize your outdoors
A new floor surface is just the start of blending inside and outside spaces for Spring and Summertime fun. If you have a patio or deck right off a kitchen, dining room or family room, you only need to enhance its function and comfort to seamlessly blend the indoors and outdoors.
Extend your indoor color scheme outside with coordinating accent pieces and pillows in weather-resistant fabrics on patio chairs and lounges. Colorful planters can add pops of color with live greenery and flowers.
Make the outdoor deck or patio a natural continuation of indoor design with handy storage to control clutter and add additional outdoor seating with faux stone seat walls and a fire pit to take the chill off the evenings and add a warm glow.
To make the most of outdoor living, you need the right balance of sun, shade and protection from the elements like wind and rain. A patio cover provides shade and shelter, but exterior screens, solar shades and shutters can keep your spaces protected in any weather so your family can enjoy more time outdoors.
Upgrade outdoor fireplaces, chimneys and retaining walls with vertical concrete resurfacing in realistic faux stone patterns
With this planned patio, open the door and it becomes an extension of the kitchen, ready to host any gathering. The seat walls give lots of extra sitting room in addition to the patio furniture, and the fire pit invites togetherness. This will easily become a favorite hangout for the entire family and the gray Ashlar slate decorative concrete floor will provide years of care-free maintenance and enjoyment.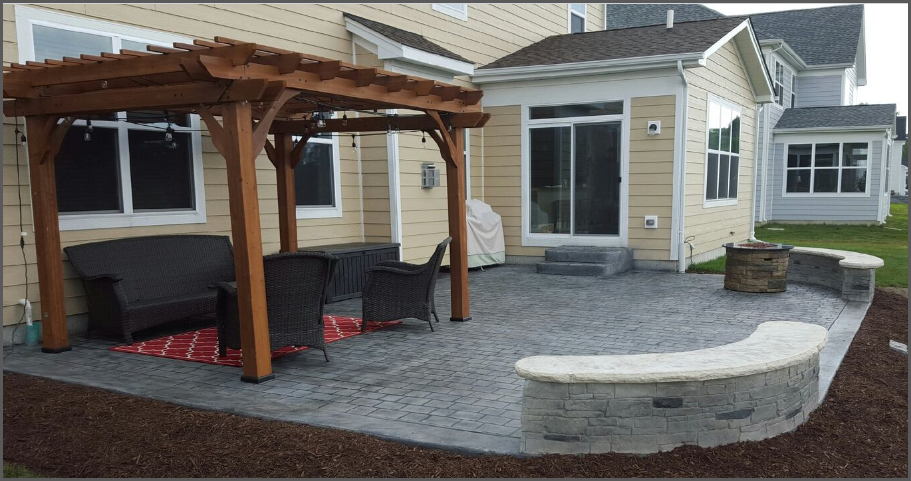 The warmer temperatures beg for spending more time outdoors, so don't wait to create outdoor spaces for relaxing, playing and entertaining that your family will love. Call 866-813-3699 today or go online to www.concretecraft.com to find the Concrete Craft location nearest you. Check out our digital brochure and see how many unique ways there are to enhance your yard.
Color ReStore and Color Koat Systems
Driveway Resurfacing System
Stamped concrete
Resurfaced concrete
Stained concrete
Vertical concrete resurfacing
Seat wall and fire pit system