Decorative Concrete In Surprising Places With Vertical Concrete Resurfacing
If the advent of fall brings about a desire to update your home's style, why not consider bringing more nature into your living spaces? Changing just one or two things can spruce up your space for a fresh, new feel without requiring a major renovation:
Large windows to let in natural light
Stone and wood enhancements for walls, floors, and furniture
Accessorize with organic fabrics like wool, cotton, and woven woods
Where stonework or wood finishes could take your decorating to the next level, vertical concrete resurfacing from Concrete Craft® can produce authentic-looking finishes for a fraction of the cost of real materials. Our custom overlay system can create realistic textures of stone and wood, with a range of design styles from traditional and rustic to modern and industrial chic. It's no longer cost-prohibitive to enhance living rooms, kitchens, patios, or entryways with the natural beauty of faux stone and wood.
Versatile vertical concrete resurfacing
Concrete Craft's exclusive MasterProTM vertical concrete overlays can be applied over brick, drywall, wood, and plaster to transform indoor and outdoor vertical surfaces into stylish faux stone or wood finishes. Along with desirable cost savings and exceptional beauty, you get more value in terms of durability, style, and easy maintenance with decorative concrete vertical overlays:
High-strength, flexible polymer overlays give 100% contact on vertical surfaces, eliminating voids and gaps that can form behind other stone or wood veneer applications.
Non-porous sealers resist moisture, mold, stains, chipping, and peeling, and cleanup is done with a damp cloth and a gentle, neutral-pH cleaner.
Enjoy beautiful faux stone finishes without the eventual grout deterioration, loose stones, and discoloration common to natural stone.
Wood-look designs can be indoors and outdoors since they won't warp from humidity or splinter like real wood.
With practically limitless options to customize design and color for any stone or wood style, you're not limited to home store selections.
Introducing a three-dimensional surface will change the dynamic of any space, as you'll see from these surprising places for vertical concrete resurfacing.
Interior accent walls
An accent wall can liven up a room or create a focal point with a splash of color or interesting wallpaper, but the "touch-me" texture of faux stone and wood goes above and beyond for a really big impact. Create a back-to-nature ambiance with vertical concrete overlays that mimic real stone and wood. Custom, hand-carved overlays can fit the size and shape of stones and wood plank widths to any unique space, shape, or dimension of the wall, including small areas like backsplashes in kitchens and bathrooms or around existing elements like windows or built-in cabinets.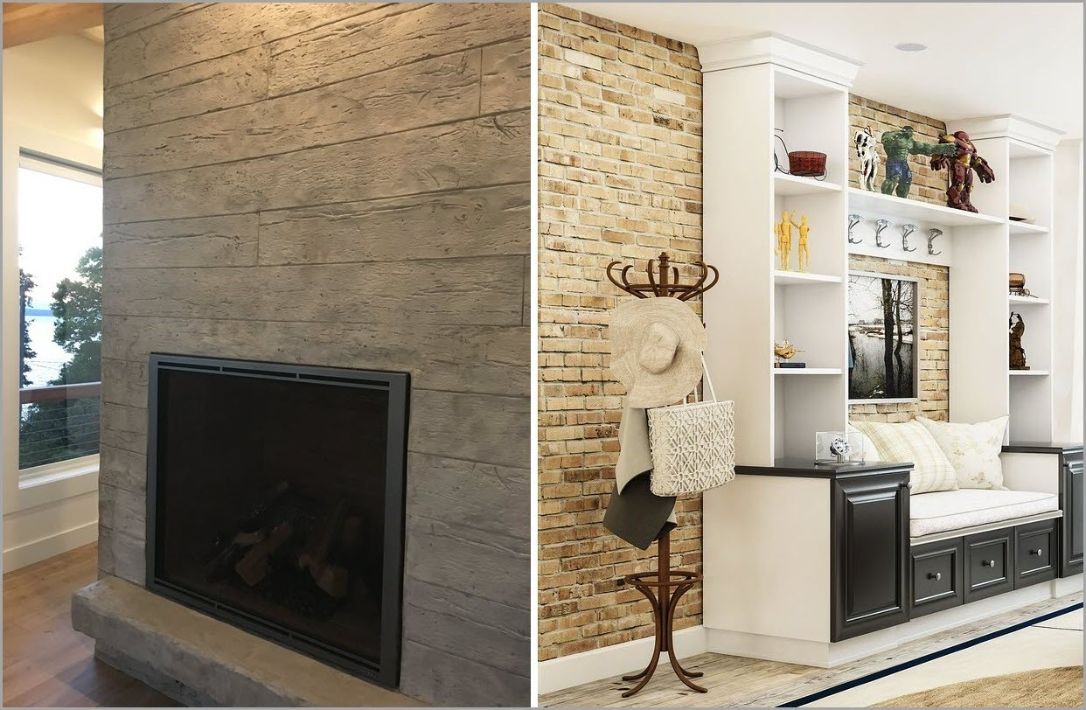 Create unique and dramatic spaces with three-dimensional accent walls, spa-worthy shower stalls, inviting entryways, and designer backsplashes.
Cozy up a bedroom with a realistic faux wood wall with stamp patterns ranging from smooth wood planks to heavily textured reclaimed wood.
Weight-bearing issues for faux stone walls are not a concern with a vertical concrete overlay, whereas a wall of real stone can be extremely heavy.
Fireplaces, indoors or out
It's easy to overlook a fireplace most of the year but when fall and winter bring cooler temperatures, the fireplace again becomes a favorite gathering place. If your fireplace needs some TLC to update its style or make repairs to a damaged surface, vertical concrete resurfacing can completely transform your indoor or outdoor fireplace without tearing down the existing structure. It's the quickest, least messy, and most economical way to get a new, stylish fireplace.
Indoor fireplace design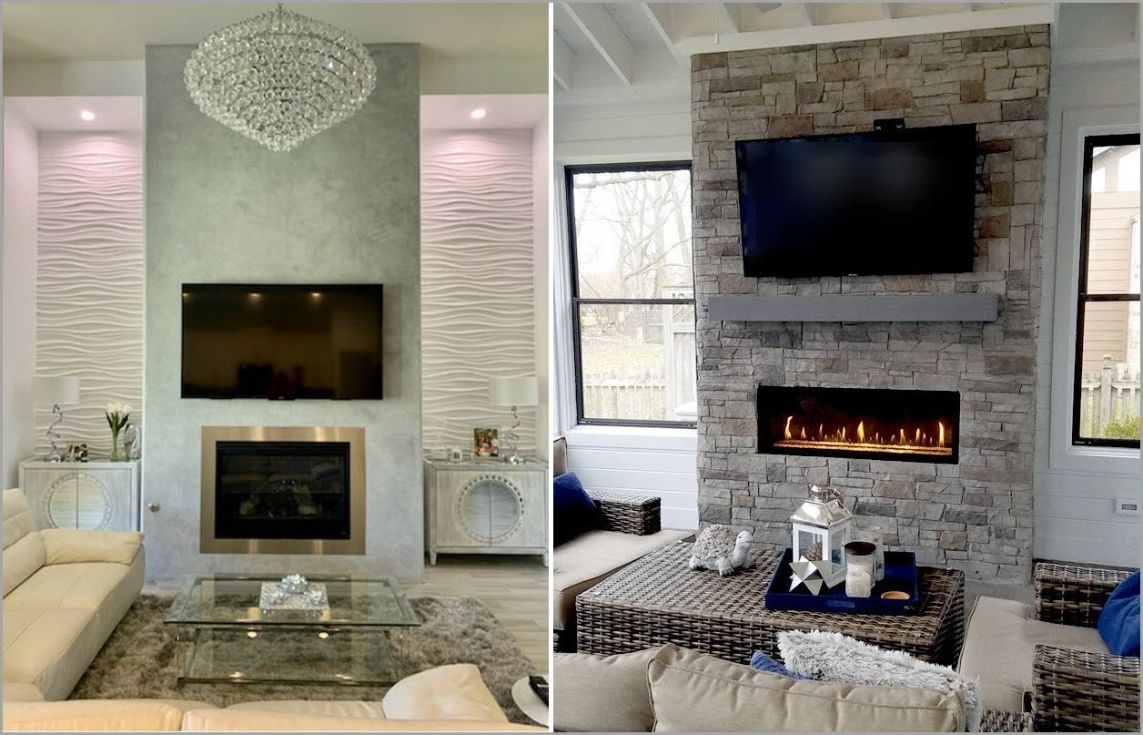 Create a modern, chic look with a smooth vertical decorative concrete finish for the look of exquisite marble.
Give the fireplace a greater presence by extending stonework all the way to the ceiling or creating a wider surround.
Cover up damaged brick or tile and get rid of years of smoke accumulation clinging to the fireplace.
Outdoor fireplace restoration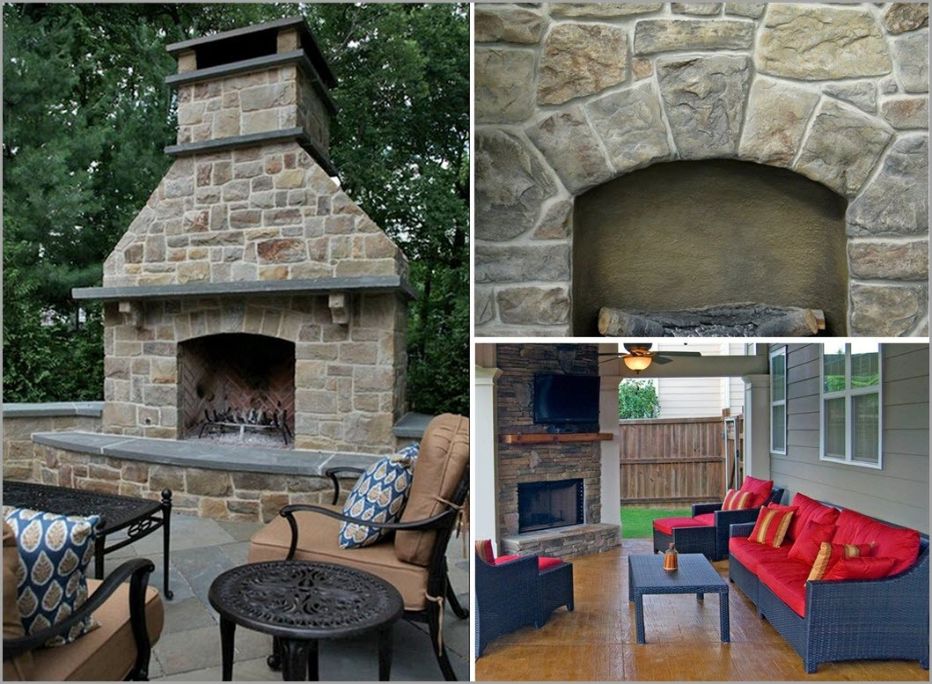 Restore an outdoor fireplace to better than new with a sealed finish that resists damage from all kinds of weather.
Go grand with large stones for a very impressive outdoor display.
Custom concrete stains create authentic-looking faux stone or wood finishes that only you will know are not the real deal.
Pillars, posts, and house siding
If the new home siding is not in the budget, you can still add unique character and charm with realistic faux stone and wood enhancements on siding, pillars, and posts. Update entryways, porches, and garages for decades of worry-free beauty with custom, natural patterns like mountain drystack, castle rock, flagstone, orchard stone, and wood plank designs.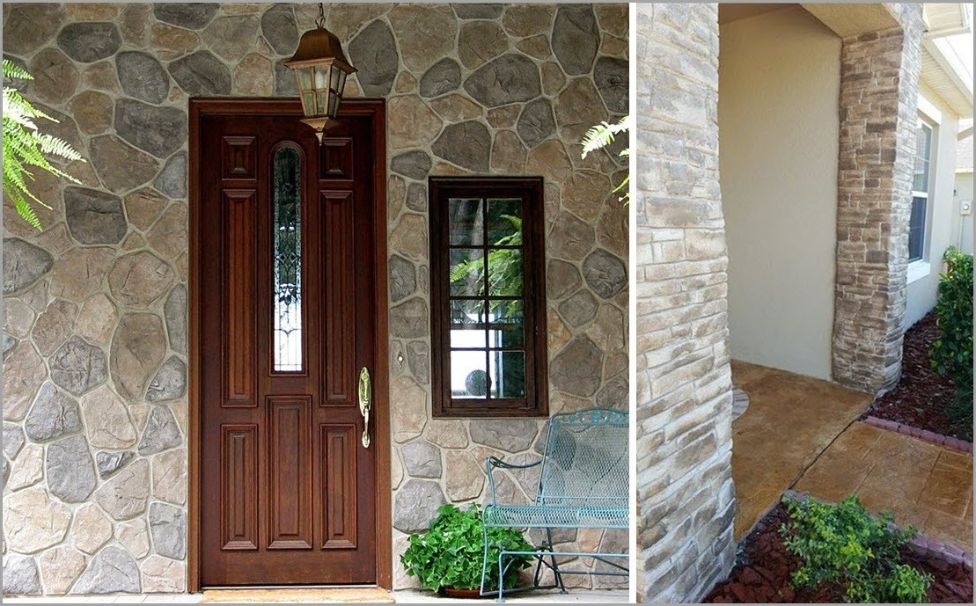 Two options to rejuvenate an entryway with vertical decorative concrete are hand-cut and custom-colored flagstone and stacked stone faux finishes.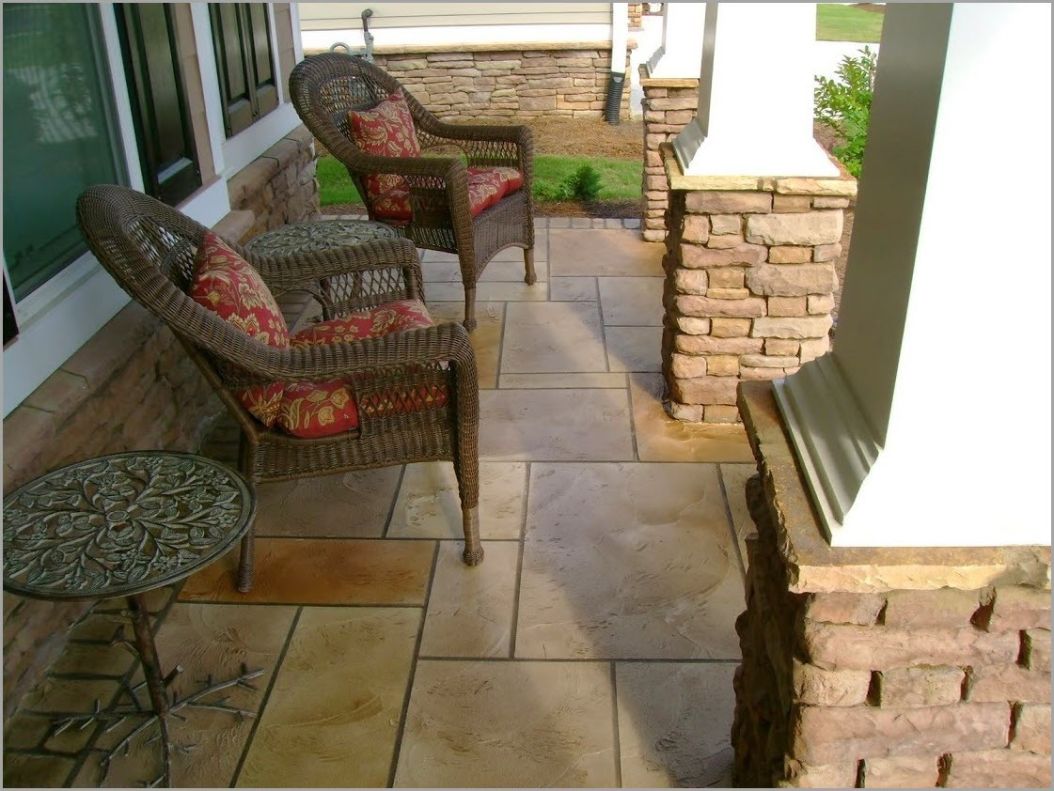 Your porch becomes a comfortable outdoor room with an Ashlar slate resurfaced decorative concrete floor and vertical concrete resurfacing faux stone on walls and posts.
Steps, seat walls, and patios
Cracked, chipped and stained concrete destroys the look of any concrete surface, including steps, walkways, patios, and retaining walls that should enhance your home's appearance. Decorative concrete resurfacing, including vertical concrete resurfacing, can save even disastrous concrete without the need for expensive replacement. Overlays cover damage and create new surfaces, ready for custom designs you'll love.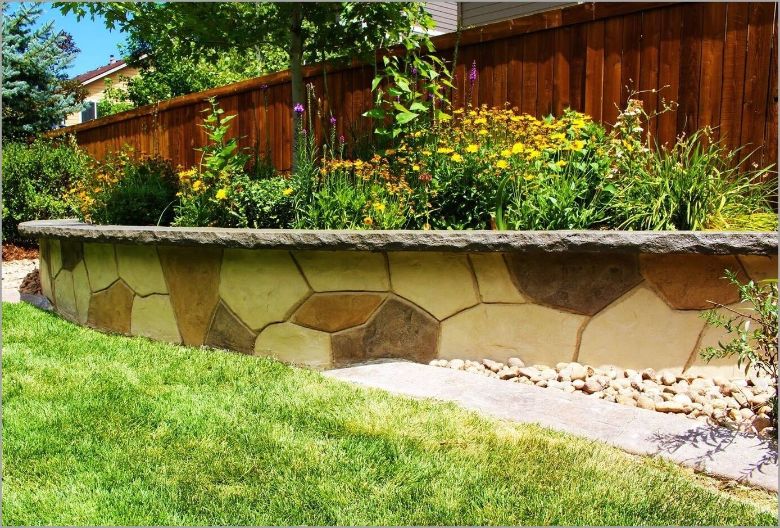 This concrete garden surround was transformed into a functional work of art with a flagstone vertical concrete overlay and a seat wall cap to top it off.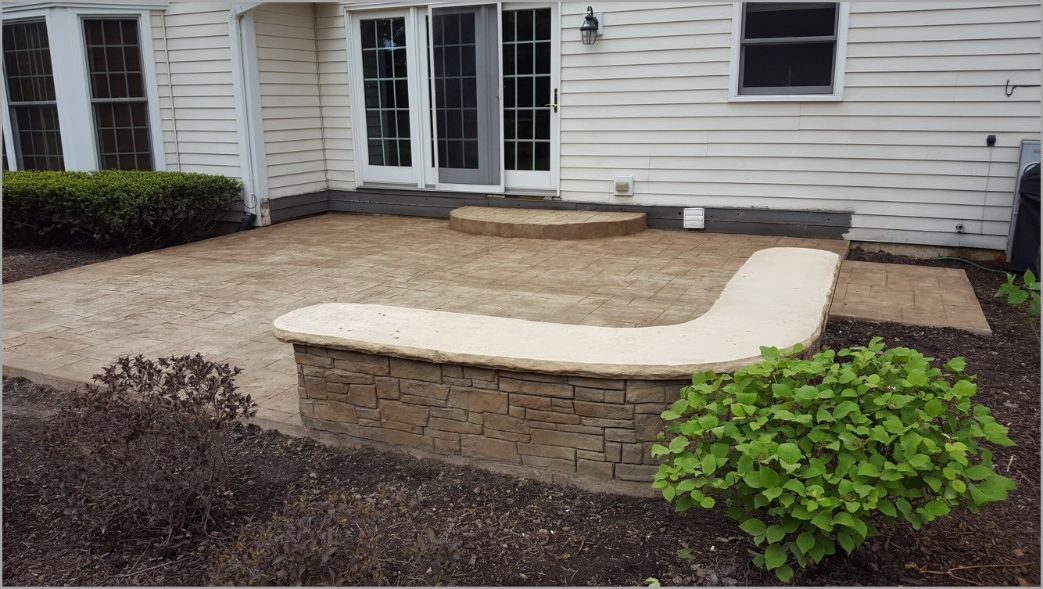 Custom seat walls can be designed to frame a patio while adding valuable seating space. The hand-cut mountain drystack vertical overlay looks like real stone and can also be installed on retaining walls or other vertical surfaces.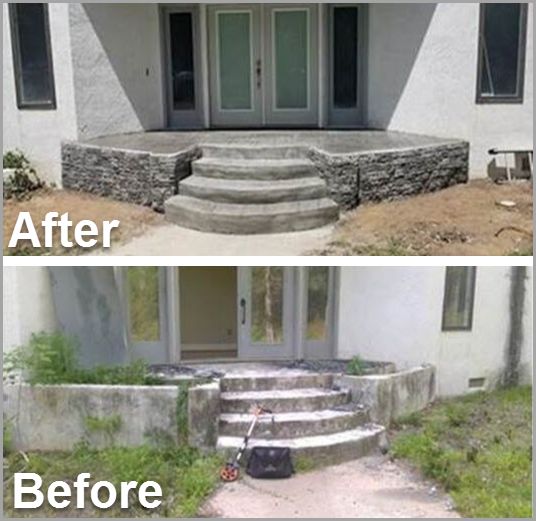 Decorative concrete resurfacing can save even the most disreputable-looking concrete with flooring and vertical overlays that repair and restore damaged concrete, as evidenced by this amazing makeover of an outdated entryway.
Update your home with natural beauty
Concrete Craft can effortlessly bring the natural beauty of stone and wood into your home with vertical concrete resurfacing. For all your concrete, we can repair, restore, and renew any concrete surfaces including driveways, patios, walkways, pool decks, vertical surfaces, and interior floors with stained, stamped, and resurfaced decorative concrete. Our expertise and attention to detail ensure authentic-looking finishes and superb craftsmanship on every project. Contact us today or go online to www.concretecraft.com to find the Concrete Craft location nearest you. Request either a free, in-home or virtual* consultation to see the many ways that faux stone and wood finishes can wake up your home's style.
*Virtual consultations may not be available at all locations.