Decorative Concrete Overlays Open Up A World Of Decorating Possibilities
Sometimes you just have to know the right people. For incredible decorative concrete transformations, all you need to know is Concrete Craft®! From outdoor patios, driveways, and pool decks to interior floors, as well as vertical surfaces like accent walls, retaining walls, and fireplace surrounds, our craftsmen can work wonders in transforming your spaces without the need for demolition and replacement of ugly, damaged, or severely outdated concrete.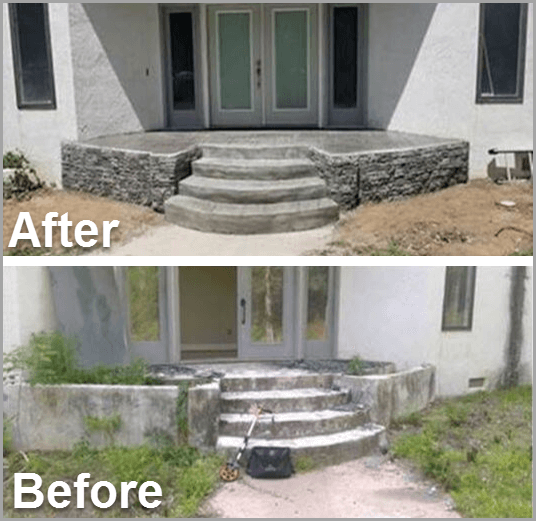 Four incredible before-and-after projects will show the versatility and beauty that is decorative concrete and how it can completely transform your home or business with authentic-looking faux stone, wood, and artistic finishes to your concrete surfaces.
Time-warp transformation for a front porch and entryway
This older family home was showing its decade with the outdated design at the entryway. The concrete planters were discolored and ugly from years of grime and deteriorated tile, and the planters restricted the usable porch area to a single walkway to the front door. Concrete Craft of Columbia, SC, stripped decades away with a modern design that expanded the porch and gave new life to the vertical planter walls with a decorative concrete faux stone design. And no demolition is required!
The remaining tile and glue were removed, the planters filled, a moisture seal applied and vertical concrete resurfacing to the outside surface with a stamped and hand-carved stacked stone design.
The expanded porch floor received a resurfaced concrete overlay, a stamped decorative concrete Ashlar slate pattern, and custom concrete stain.
The overall sealed surfaces will give years of beauty and functionality with minimum maintenance requirements to keep the porch and entryway looking like new.
Enhance curb appeal with a resurfaced, decorative concrete driveway
A long driveway is only enchanting if it's in good condition. This driveway's surface had failed after only six months and was rescued and restored by Concrete Craft of Knoxville, TN, transforming it into a showpiece in the neighborhood.
The failed broom finish was resurfaced with a decorative concrete overlay to cover discoloration, uneven spots, and cracks.
The new overlay was then hand-cut into a flagstone pattern and custom-colored to create an authentic-looking faux stone driveway.
The attention to detail in individually carved stones and hand-applied stain gives the appearance of real grouted stone, but the continuous, sealed surface eliminates any pesky weeds popping up in the grout lines.
Vibrant colored concrete can change your world
This homeowner's million-dollar lake and golf course views were spoiled by a previous concrete finish that had yellowed out on their patio and pool deck, creating an uninviting ambiance. She wanted an outdoor area that enhanced the views, not detracted from them. Concrete Craft of Sarasota, FL, gave her the elegant and sophisticated design she desired with stamped concrete.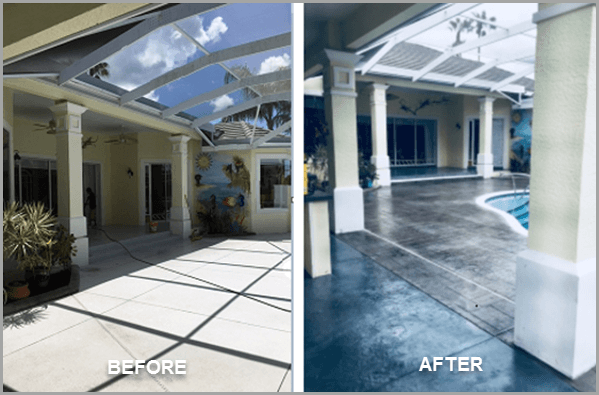 The dingy, dirty pool deck was brought up to speed with a decorative concrete overlay that presented a fresh, new finish.
The overlay was stamped with an Ashlar Slate pattern and stained in a warm, classic gray for the pool deck area.
The Roman slate texture was stamped in adjacent covered patio areas and stained a vibrant Sarasota Blue to complement her existing hardscapes and décor, keeping ambiance and views beautifully intact.
Unbelievable creativity knows no bounds
Concrete Craft of Brentwood, TN, created a commercial patio finish that is ideal for the county music vibe of nearby Nashville. The apartment complex wanted its unique guitar-shaped patio to have some real pizzazz without altering the traction of the original concrete slab.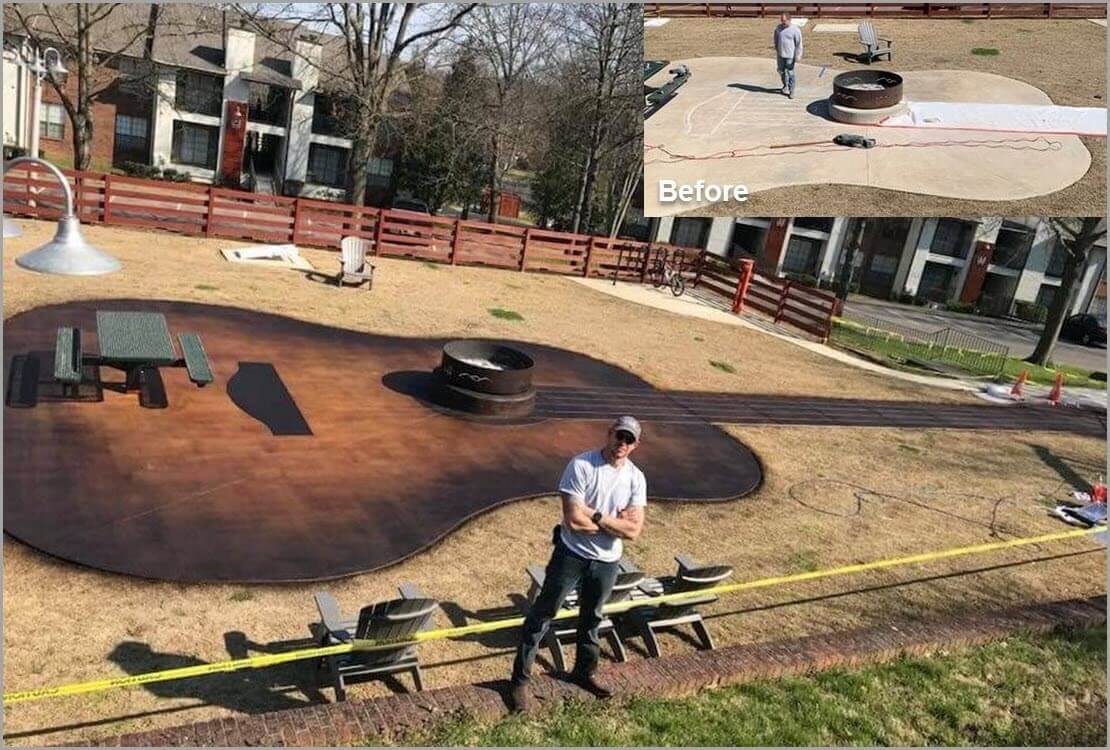 A custom stencil was created to mimic the look of strings tied into a pickup and the concrete was engraved to create the look of a real guitar.
Challenges included a product that could withstand the scorching summer sun of Tennessee without the colors fading, and without the need for constant resealing.
An industry-tough penetrating concrete stain used for amusement parks and water parks created a surface that can withstand the full summer sun without changing the texture and traction of the patio's surface.
Imagine what we can do for your concrete surfaces
Concrete Craft is the largest decorative concrete franchise in America, and with our proprietary products and techniques, we can repair, restore, transform and beautify any concrete surfaces you have. You don't have to know exactly what you want before you call us. We'll come to you for a free consultation and help you determine the best options to update and renew your home or business with decorative concrete. You'll see real samples of finishes and colors and more design options than you ever imagined!
We can replicate the look of flagstone, cobblestone, Roman slate, Ashlar slate, brick, tile, natural stone, wood plank, and more, giving you the look of high-end stonework for about half the cost of the real materials.
We are masters with stained concrete, stamped concrete, resurfaced concrete overlays, and vertical concrete resurfacing for interior and exterior vertical surfaces like walls and fireplaces.
We can repair and restore damaged concrete surfaces, so you don't have to resort to demolition and replacement of good concrete gone bad.
Our exclusive MasterProTM products are the result of over 12 years of testing and perfecting our performance-grade resurfacing mixes for a superior product that is simply better than anything else on the market.
Our highlighting and antiquing products have integral UV-resistant colors and, in combination with our industry-tough sealers, create beautiful, low-maintenance surfaces for years of enjoyment.
Contact us today or go online to www.concretecraft.com to find the Concrete Craft location nearest you and request a free consultation in your home or business. Check out our newest Product Catalog and the companion Interior Design Guide to see the many ways decorative concrete can enhance your life.