Dress Up Your Business for Spring With Commercial Flooring That Isn't Boring
"Commercial or institutional flooring" often calls to mind unimpressive hallways, drab colors and rough finishes in warehouses. But that look is so old-school. Nowadays, for both indoor and outdoor floors and surfaces, custom decorative concrete overlays from Concrete Craft® enable any commercial enterprise to have stylish and exquisite faux stone and concrete designs while saving money. This restaurant's stained concrete floor creates an immediate fun ambiance with its bright colors and high sheen, and for a cost that will make even your accountant smile.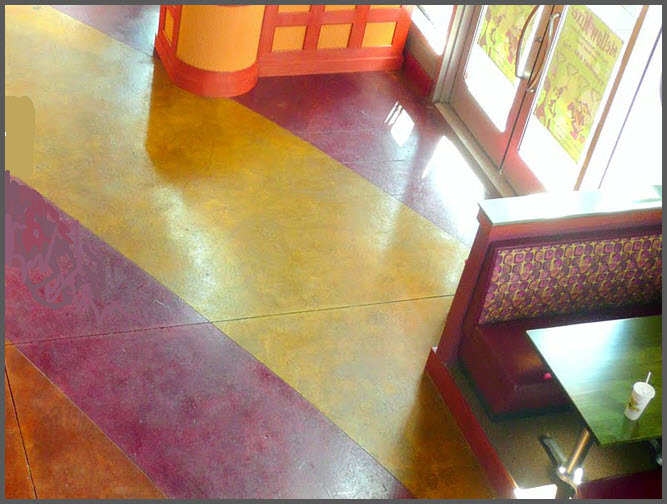 Refresh your business for Spring
Concrete Craft has been serving commercial flooring clients for many years, with such satisfied customers as the Naples Gun Range & Emporium in Florida, the Marriott in Conyers, GA, and Wing Stop, Starbucks, and Eddie Bauer in the Chicago area. Spring means more activity in and around your business as people say goodbye to the confines of winter and spend more time outdoors to embrace the warmer weather.
Restaurant patios once again become where friends congregate
Pool decks for apartment and condo complexes filled with sun-loving tenants
Outside eating areas in office buildings host brown-baggers for lunch breaks
Gym memberships increase as people start getting in shape for summer
Hotels and bed-and-breakfast resorts welcome spring and summer travelers
Shoppers linger on sidewalks and walkways in outdoor malls and shopping centers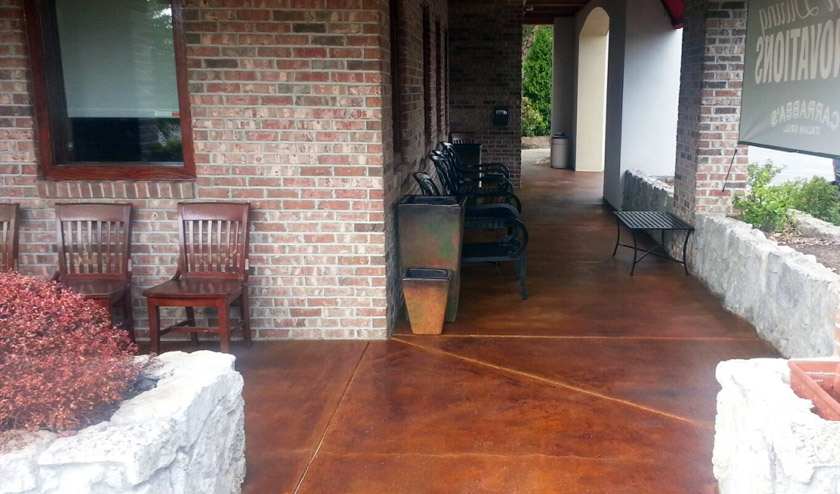 From high-traffic reception areas to penthouse conference rooms and retail stores to restaurants, Concrete Craft provides low-maintenance, extremely durable floors in a variety of colors, finishes, and design options. Additionally, stamped faux stone vertical concrete designs can update retaining walls, seat walls, fire pits, entryways, chimneys, fireplaces, and more to give your business a competitive edge.
Concrete floors help keep your business in the black
Every business keeps an eye on its bottom line, and upgrading your interior floors and exterior concrete surfaces with stamped, stained, or resurfaced decorative concrete overlays makes excellent business sense.
Concrete floors outlast other flooring materials and don't need replacing every few years.
Our proprietary resurfacing processes, including stamping, staining, and hand-cut, custom colored designs can give you any style floor you want.
Maintenance costs go down; floors are easy to care for and resist mold, mildew, and bacteria growth, keeping your facility cleaner.
Our concrete overlays cure to just over 5000 psi, meaning they are tough enough to support work trucks, heavy equipment, and lots of traffic in showrooms or driveways.
Installation by trained professionals is a quick process and a two-year warranty* on work and materials guarantees your satisfaction.
Old floors, walkways, and patio slabs can be revitalized with a concrete overlay instead of replacing, saving you time, money, and the mess of demolition.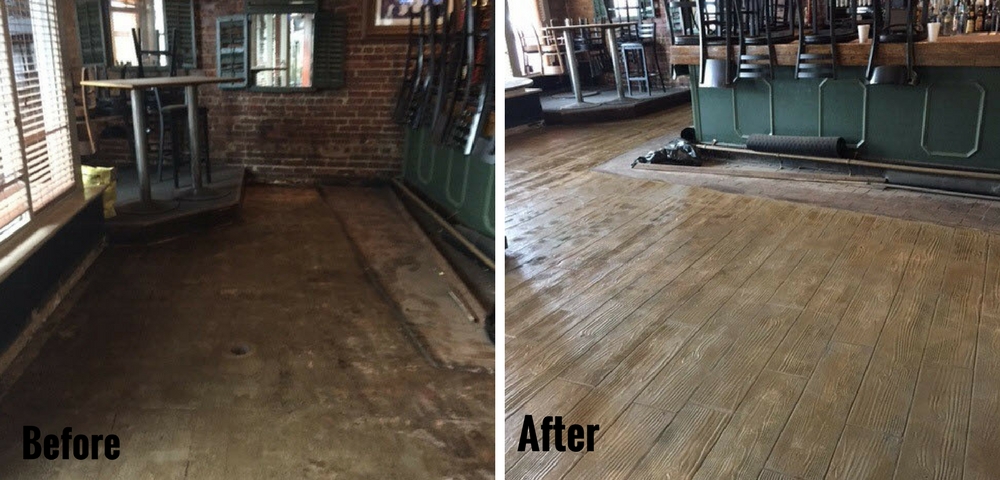 This Birmingham pub will delight customers for years with the new "hardwood" floor in stamped concrete that resists spills, chipping, and fading. Its durable, seamless surface is easy to keep clean and will provide years of worry-free functionality.
Design with an eye to up-town elegance
No matter the size of your business, with decorative concrete overlays, you can have the high-end look of authentic Flagstone, Cobblestone, Ashlar Slate, and wood planks for far less cost than the real thing. You can emulate any flooring style you love, adding subtle sophistication with the look of polished marble, natural stone, or classic patterns like brick and tile. With custom stenciling and staining, you can have logos, medallions, or rug designs integrated onto the concrete for a truly unique effect.
This hand-cut and custom-colored Ashlar Slate patio creates an elegant setting for the residents to enjoy the outdoors. Although it looks like grouted stone, the smooth, sealed surface will never present a tripping hazard as can happen with real stones that lift. The finish can withstand any weather conditions without deteriorating and the non-porous surface resists food and drink spills so even large parties won't mar its beauty year after year.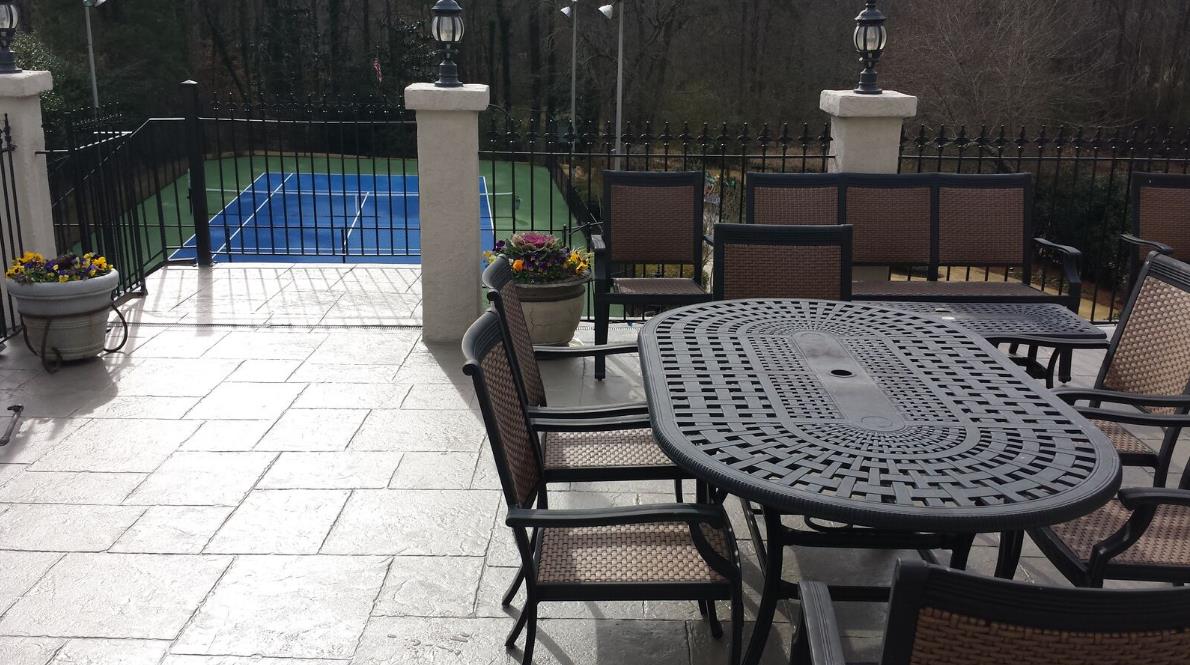 Do yourself a favor
Now is the perfect time to call about new concrete floors for your business. Be ready with updated style and panache when the warm weather brings new customers your way. Talk to the craftsmen at Concrete Craft who can help you determine whether stained, stamped or custom hand-cut designs best reflect your business's brand image. You'll be amazed at the versatility of decorative concrete for:

Call 866-813-3699 today or go online to www.concretecraft.com to find the Concrete Craft location nearest you and schedule a FREE estimate. Concrete Craft provides exceptional value and design expertise for homeowners as well as business owners for all their spaces, including interior floors, patios, pool decks, basements, driveways, walkways, and more. Check out our image galleries and see what a difference decorative concrete can make in the beauty and value of your home or business.