Elegant Faux Stone Finishes for Interior Floors and Vertical Surfaces
"Natural stone has beenpopular for use on floors for centuries. Stone tile brings the colors and texture of nature to our homes and adds a quality and warmth to a room that's not possible with any other material." (Houzz contributor)
In reality, only half of this statement is true. The popularity and beauty of stone can't be contested, but the "not possible with any other material," is definitely not true!
Stamped, hand-cut and custom-stained decorative concrete, when done by the professional artisans of Concrete Craft®, can replicate any stone for a realistic finish on your interior floors and vertical surfaces. We believe everyone should be able to enjoy the majesty of stone in their homes without the limitations of real stone.

Real stone can have limitations such as:
Prohibitive cost, especially for large rooms and long hallways
Availability of enough of the same color and size stones
Weight issues for vertical walls or other than ground-level floors
Installation can be very disruptive and time-consuming
Natural stone can stain and hold moisture due to its porosity
Benefits of decorative concrete over real stone finishes
Cost is definitely an important issue, and if you've been pricing flagstone, cobblestone, slate, Travertine, marble, granite, sandstone or limestone, you may be a bit discouraged. Not only are they pricey, but you're usually encouraged to purchase an extra case or two for inevitable future floor repairs so you're assured color and quality match.
The better option for beautiful, natural looking stone floors is custom decorative concrete overlay that will provide years of functionality and beauty without the worry of broken tiles and discolored and disintegrating grout. Benefits of decorative concrete include:
Concrete is the most durable floor you can have
You have unlimited options to customize with color, design and finishes
Can easily blend with any existing stone, tile or patterned concrete
Decorative concrete is half the cost of natural rock or stone installation
Projects go quicker with less mess and upheaval with custom concrete overlays
No dust and dirt build up; surface resists mold, bacteria and allergens for a healthier environment
Decorative concrete looks like the real thing
Only your wallet will be able to tell the difference; our proprietary hand-cut and custom-colored approach to fabricating stone allows us to create authentic-looking stone finishes. Additionally, normal grout for tile or brick has a texture that absorbs spills and can hold stains. Over time, moisture can even cause the grout to deteriorate.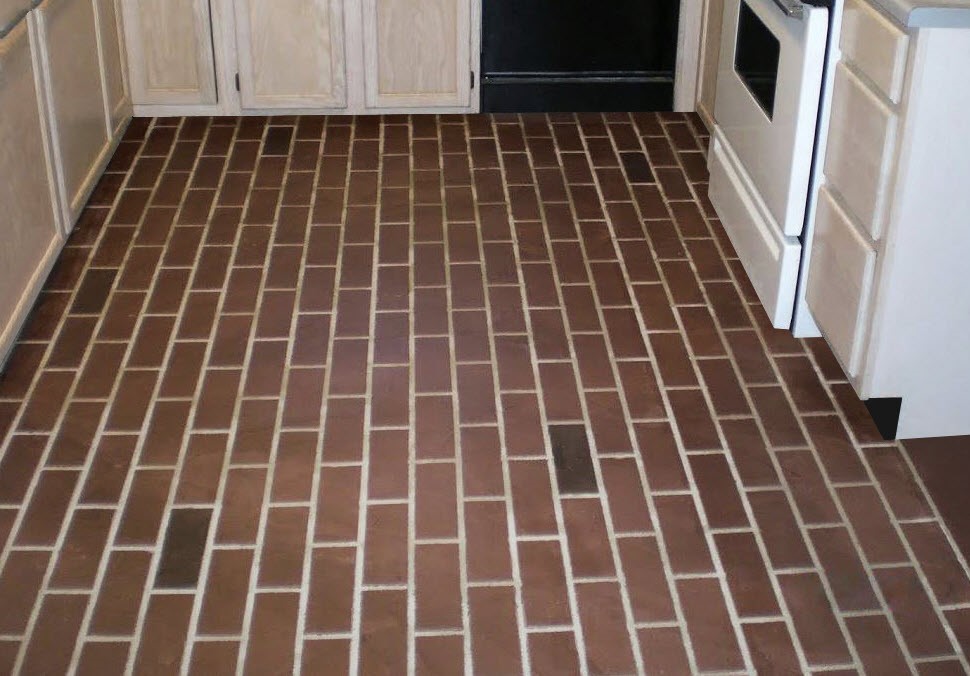 This fabulous kitchen floor looks like real red brick, but is actually stamped and custom-stained decorative concrete.
The finish is a continuous, sealed surface that repels moisture and spills so the "grout lines" never discolor or crumble.
"Bricks" will not crack, chip or peel and the color will not fade.
The sealed surface is easy to clean, dust bunnies whisk away with just a dust mop.
An occasional wet mopping will keep the floor looking like new.

Ashlar slate can bring rustic Old World charm to any space, including a family room, entryway, basement, wine cellar, bathroom suite, or laundry room. Our stamp patterns are designed from real stone molds to look natural and authentic. Exclusive fiber-enriched sand overlays let us create realistic stone surfaces by hand-cutting the stone shapes, including customizing the size and shape of stones to fit any unique space. Other popular finishes are flagstone, European cobblestone and sandstone.
Vertical faux stone finishes
The same quality and expertise that goes into our decorative faux stone concrete floors translates to vertical surfaces like accent walls, fireplace surrounds and backsplashes. Hand cutting and staining each stone gives a natural look and feel to all our faux stone surfaces. Vertical concrete overlays can be applied over wood, drywall, brick and concrete to completely transform your spaces with the elegance of custom stone finishes.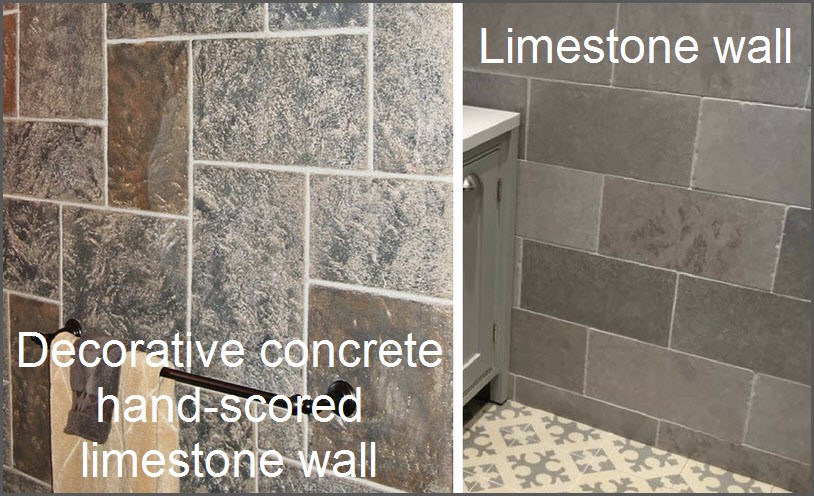 Upgrade to a spa-like atmosphere with a faux stone shower stall
Create a cozy Man Cave with a Castle Rock accent wall
Update the old fireplace surround with a trendy Travertine tile faux stone finish
Transform your kitchen with a stone floor and coordinating backsplash for a designer look
If you love the look of natural stone you don't have to just dream about it. With Concrete Craft, you can have authentic-looking faux stone finishes both inside and out, including floors, patios, seat walls and fire pits, pool decks, driveways, walkways, porches, house siding, retaining walls and more. You're assured satisfaction with the high-quality products and two-year warranty*on all our work.
Contact Us today to find the Concrete Craft location nearest you and request a FREE estimate on stained, stamped and resurfaced decorative concrete for your home or business.