Embrace the Benefits of Decorative Concrete
This Valentine's Day, we'd like you to add the benefits of decorative concrete to your love list that includes family, friends, pets, movies, music, and big heart boxes of chocolates. While the love of decorative concrete may not seem to fit, once you realize how much there is to love about decorative concrete to enhance your home, you just might change your mind!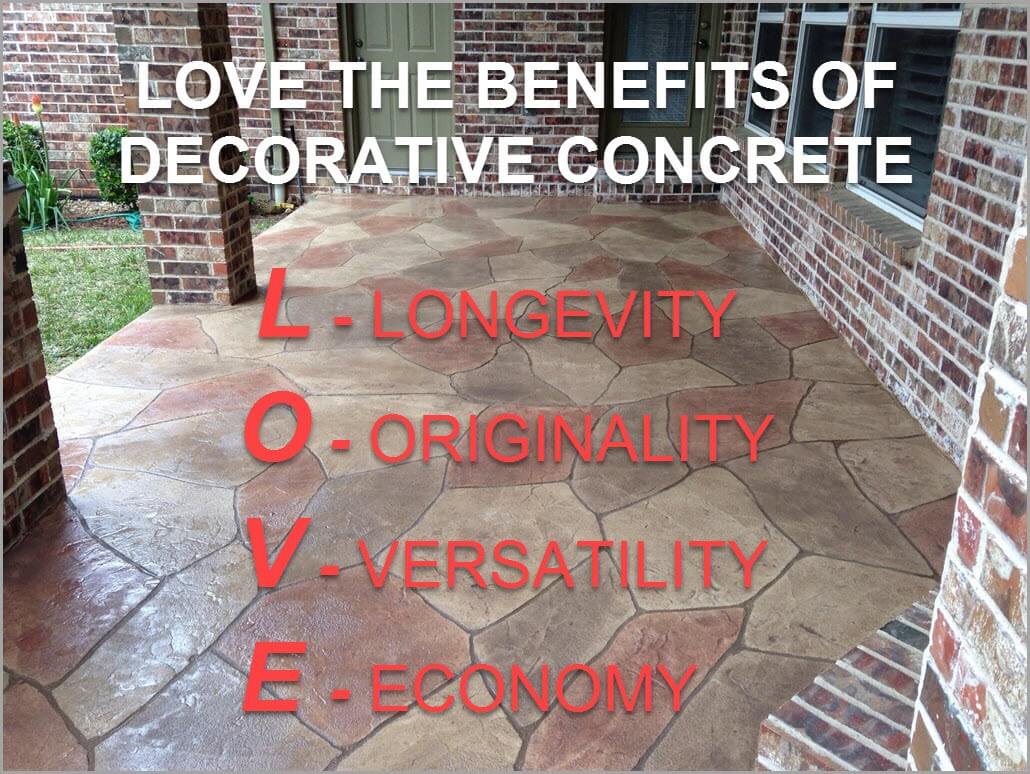 We'll explore this L-O-V-E one letter at a time to show how truly lovable decorative concrete surfaces from Concrete Craft® can be, including stained concrete, stamped concrete, and resurfaced concrete patterns for interior floors, patios, driveways, entryways, walkways, and pool decks.
L--Longevity
O--Originality
V--Versatility
E--Economy
L is for Longevity
Concrete floors are unarguably the toughest floors you can have. Concrete has been used for centuries in residential and commercial properties because of its durability. A concrete floor far outlasts other flooring options like carpet, tile, linoleum, brick, and wood. Decorative concrete transforms plain interior and exterior concrete surfaces into works of art with vibrant stain colors, realistic stamp patterns of stone, wood plank, and tile, as well as hand-carved faux stone designs. You can expect a decorative concrete floor to last for decades, providing beauty and functionality to all your spaces.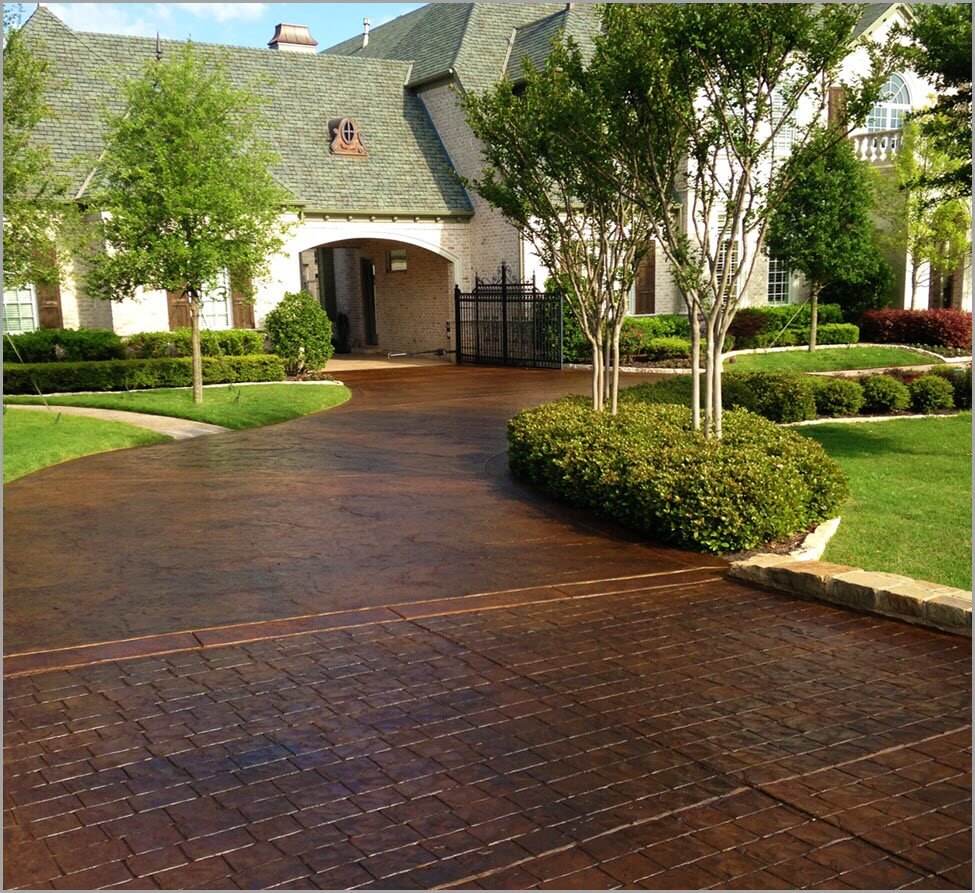 This fabulous decorative concrete cobblestone driveway will never need replacing. At most, it may require resealing every few years to keep it looking like new if it begins to show wear. The durability and longevity of decorative concrete delivers!
Will not wear down over time like porous natural stone or deteriorate like grouted surfaces.
Tough concrete sealers make the finished surface weather-resistant.
Colors are fade-resistant with UV protection built in the premium stains.
Resists damage from foot traffic, moisture, vehicles, tools, or chemical spills.
The continuous, sealed surface eliminates any concern for "stones" lifting, chipping, or cracking.
O is for Originality
Concrete Craft artisans take pride in being able to create just about anything you can imagine. They can duplicate the look of any fabulous floor you've seen and fallen in love with like veined marble at your favorite resort or vintage weathered stone. Decorative concrete's unlimited patterns and designs can bring to your floors any designs and colors you desire to express your unique personality.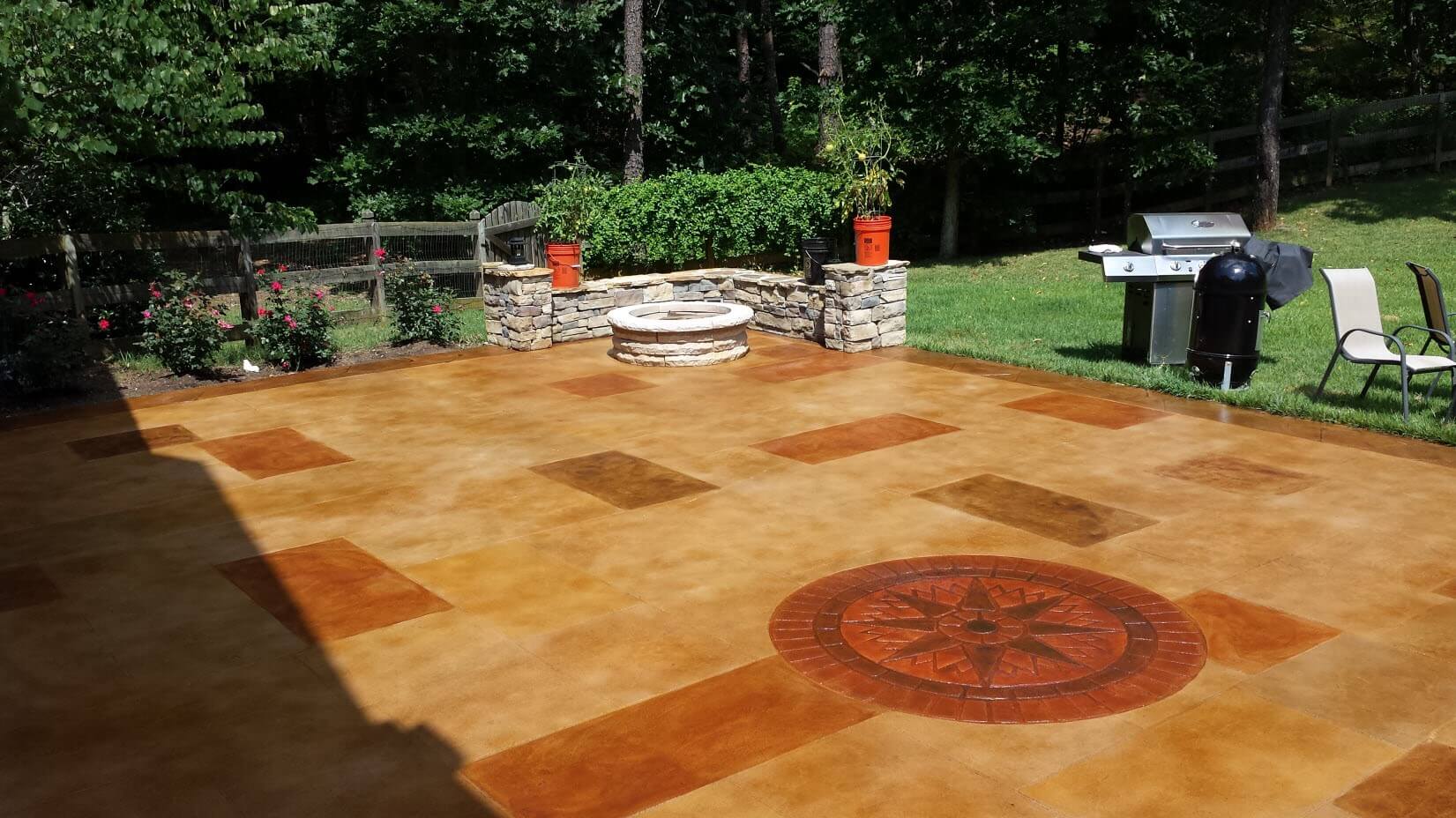 This homeowner is loving their one-of-a-kind patio in bold colors that make every get-together an extra-special event.
Since all our work is custom, you can have any pattern, design, or color.
Custom colors allow you to go beyond what nature provides. How about pink flagstone?
Stencils allow for creating custom images and logos to enhance a decorative concrete floor.
Have a family crest or company logo added to a patio, entryway, or driveway.
V is for Versatility
Decorative concrete is the most versatile floor you can find. Depending on the style, decorative concrete is appropriate for anything from a simple stained warehouse floor or hard-working driveway to a hand-carved and custom-colored elaborate faux stone pattern for an elegant foyer or pool deck. Concrete Craft has a decorative concrete finish that is perfect for any floor, indoors or out, for home or business.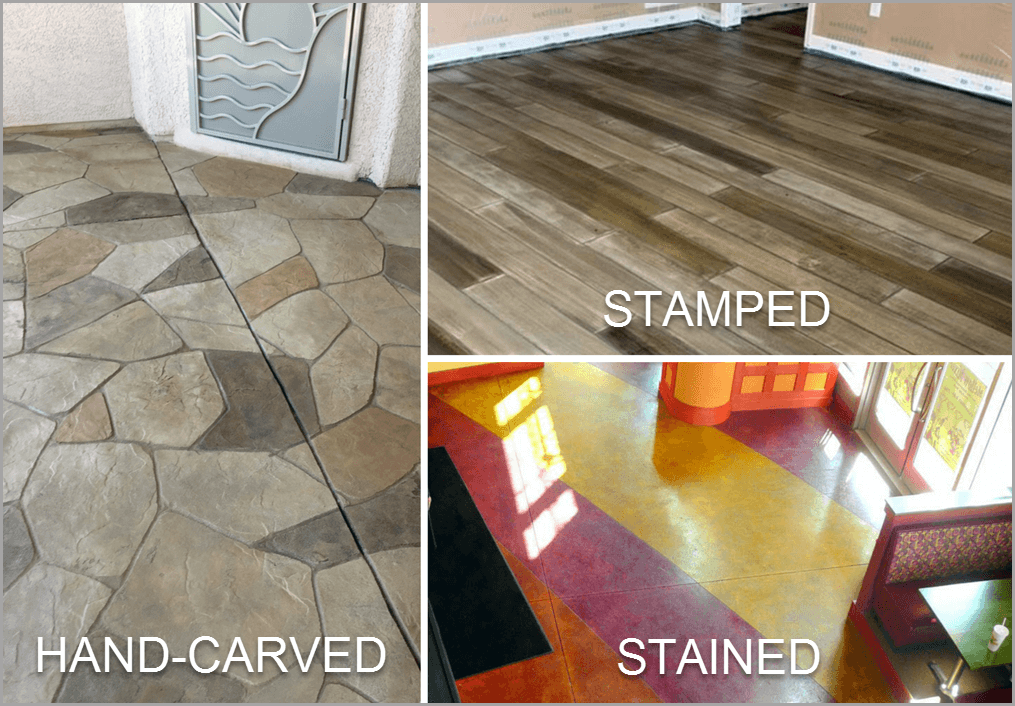 Slip-resistant surfaces are available for added safety around water, such as in kitchens and bathrooms, entryways where rain and snow get tracked in, or around swimming pools.
With decorative concrete, you can have the look of hardwood in any room in your home or even for your outside patio where real hardwood isn't practical.
Colorful concrete stains can create amazing designs and borders.
Vertical concrete resurfacing allows the same durable and beautiful faux stone finishes on vertical walls like fireplaces, chimneys, siding, and retaining walls for extraordinary design.
E is for Economy
You'll love the savings that decorative concrete offers, including out-of-pocket cost, time and energy saved on easy upkeep, and installation that has your floor back in service in just a few days.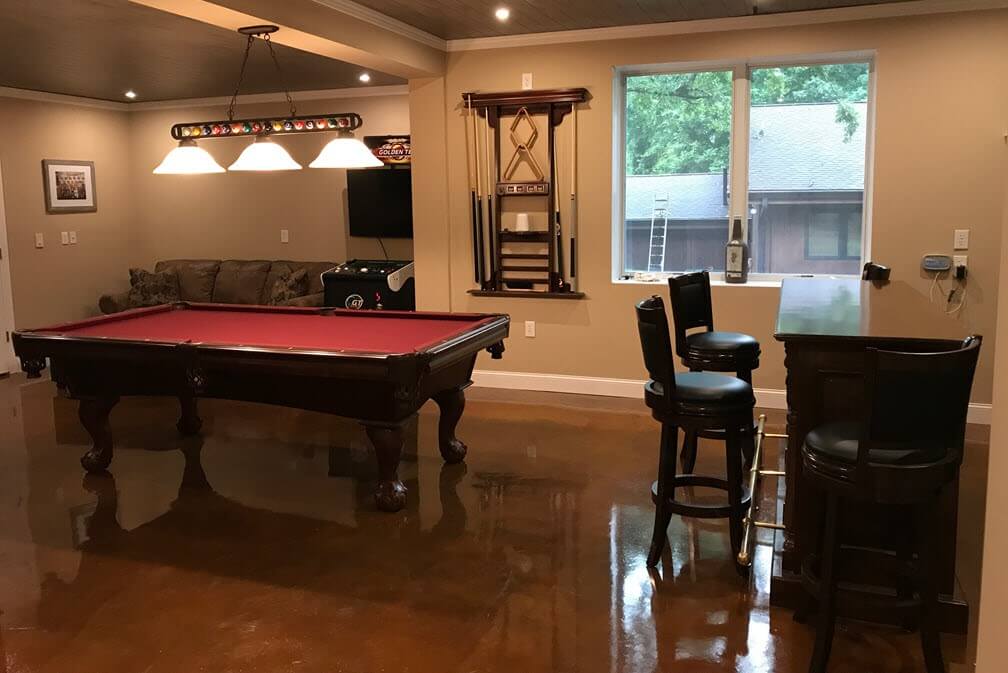 Stained concrete is the most economical floor finish, especially for large areas like driveways, showrooms, and pool decks.
Replicate the look of natural stone for a fraction of the cost of real stone.
Concrete overlays renew existing floor surfaces, so there's no need for demo and replacement of damaged floors, saving thousands of dollars.
Enjoy the look of expensive floors like stone, wood plank, brick, and high-polish finishes like marble without the expense.
Less time cleaning—the sealed floor is maintained with a dry dust mop and occasional damp mopping with a neutral-pH cleaner.
Decorative concrete: what's not to love?
If new floors would make your house more lovable, decorative concrete may be exactly what you need to bring unique beauty and comfort into your home. Outdated, worn, or damaged floors can be repaired and updated quickly and easily with concrete overlays in fabulous finishes and custom designs.
Contact us today or go online to www.concretecraft.com to find the Concrete Craft location nearest you and request a FREE estimate. We can give any concrete surface a custom makeover with colors, designs, and finishes that are virtually limitless, including interior floors, patios, walkways, driveways, and pool decks, as well as vertical concrete resurfacing. You can trust Concrete Craft to deliver on the promise of a decorative concrete project you will absolutely love!