Enhance Your Home With Decorative Concrete And The 2021 Colors of the Year
"What's next?" is the question on everyone's minds after the tumultuous year that was 2020! People are craving a fresh start in this New Year as uncertainty hovers on the horizon. If Covid restrictions, social distancing, and quarantines are still driving you mad, there is one way you can break out of the repression and freely express yourself in 2021 … with color! In your home and in your wardrobe, you can change things up for a refreshing new take on the new year.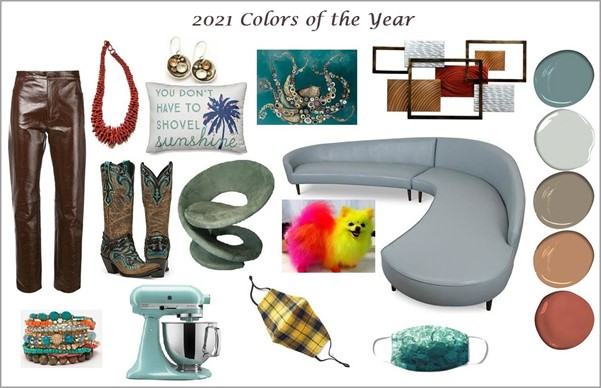 Make every day more fun with colors that add whimsy and comfort throughout your home
Beautiful design possibilities with 2021's Colors of the Year
This year, the colors of the year took a slightly different turn. Rather than selecting one statement color to define the new year, multiple colors and full-color palettes were selected by Pantone Color InstituteTM, the ultimate color guru, and major paint companies to help people reduce the stress of the ongoing pandemic by refreshing their living spaces with redefining color. Concrete Craft® has compiled five of the top color influencers—Pantone, Sherwin-Williams®, Benjamin Moore®, PPG, and Behr®—to help you work your way through the color maze and create your personal best looks for 2021.
Pantone's dynamic duo
For the first time in its history, Pantone has selected two colors. Illuminating, a sunny yellow, to represent a renewed sense of optimism and enthusiasm for the new year, and Ultimate Gray to acknowledge the resiliency that got us through all the challenges of 2020. Leatrice Eiseman, Executive Director of Pantone Color Institute, explains the historic duo: "The union of an enduring Ultimate Gray with the vibrant yellow Illuminating expresses a message of positivity supported by fortitude. Practical and rock-solid but at the same time warming and optimistic, this is a color combination that gives us resilience and hope. We need to feel encouraged and uplifted; this is essential to the human spirit."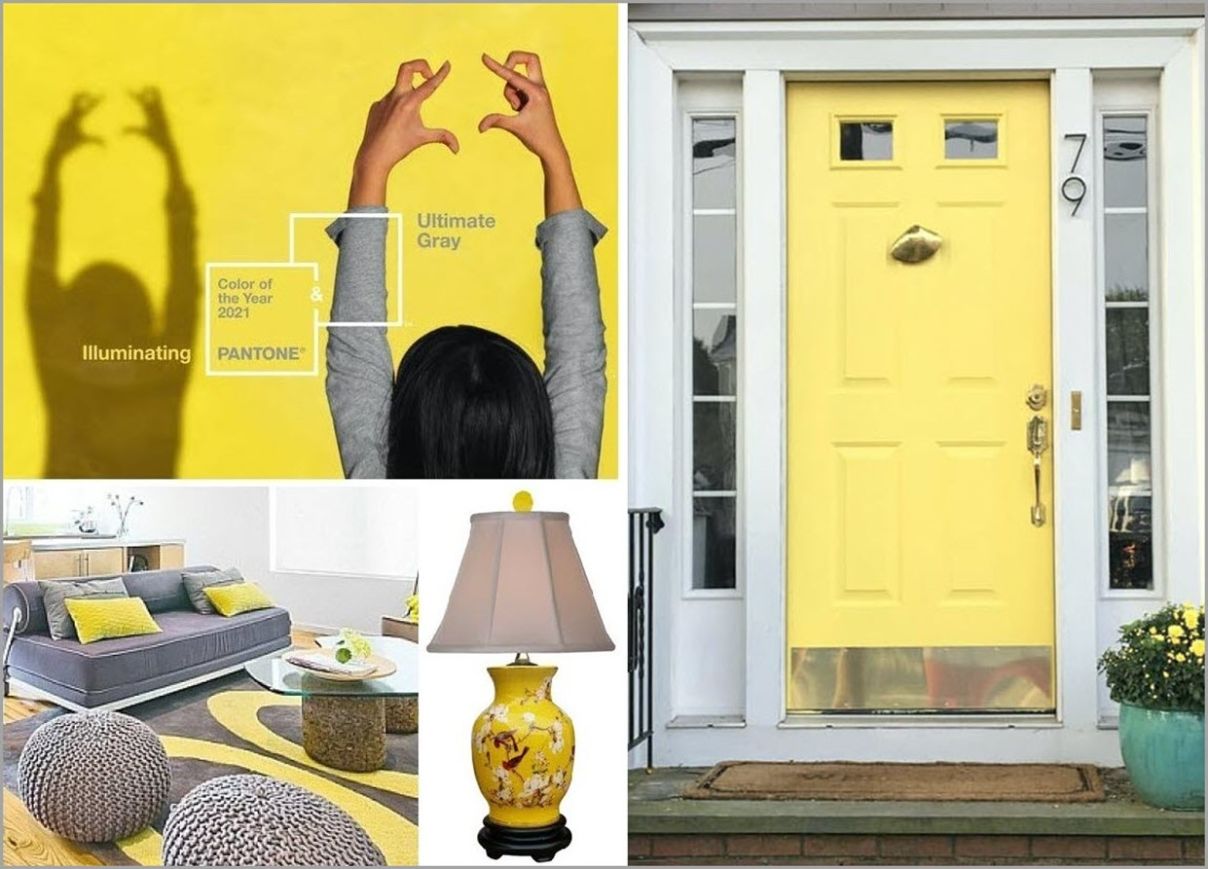 Indoors and out, the contrast of Illuminating and Ultimate Gray can have a dazzling impact on your home
Ultimate Gray presents a neutral background just waiting for awakening pops of color from Illuminating and other bright accent colors in rugs, lamps, and decorative pillows.
Sunny yellow can liven up a room as a painted end table, framed art, or a fun and fanciful vase full of daffodils.
Your home's curb appeal will be instantly elevated with an Illuminating front door that brings cheer to the whole neighborhood.
Benjamin Moore's Aegean Teal
Supported by a Color Trends Palette, Benjamin Moore chose just one Color of the Year for 2021, Aegean Teal. It's restful, cool, and in the ever-popular family of blues, loved by all from the palest tones to deep, saturated color. Andrea Magno, Director of color marketing and development with Benjamin Moore paint says, "Aegean Teal is a color to nourish your spirit, it is intriguing, balanced, and deeply soothing. It is a color that inspires us to enjoy our homes; to 'settle in' and appreciate the simple pleasures of life."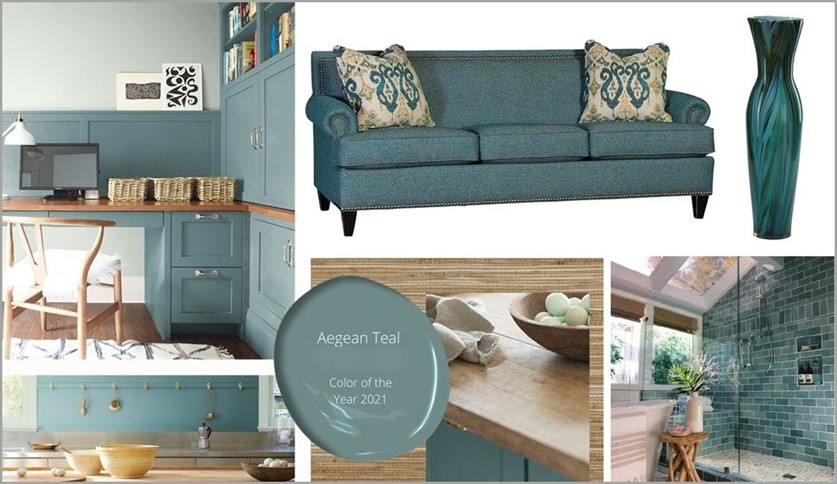 Aegean Teal creates a calming ambiance for a home office, busy kitchen, or much-loved family room
Paint your walls for a calming sanctuary or use Aegean Teal as a highlight color to enliven more neutral surroundings along with white, ivory, and metallic accessories in gold, brass, or silver
Enjoy an in-home spa experience with a master bath decorated in shades-of-teal for wall color, cabinetry, or a tiled walk-in shower.
Bring teal into your wardrobe, it's one of the most flattering colors for all skin types and coordinates beautifully with a wide range of colors.
Sherwin-Williams' new neutral, Urbane Bronze
The bold, rich color chosen by Sherwin-Williams is inviting, creating a sophisticated, comforting haven to shed the stresses of the world. Sue Wadden, director of color marketing for Sherwin-Williams, shares, "Urbane Bronze is a comforting color, drawing from nature for a feeling of relaxation and serenity. It encourages you to create a sanctuary space for mindful reflection and renewal." Equally timeless and trendy, this warm, earthy color with notes of gray is a "new neutral" that goes well in any part of your home, combined with natural wood finishes, stone accents, and metallic adornments for organic appeal.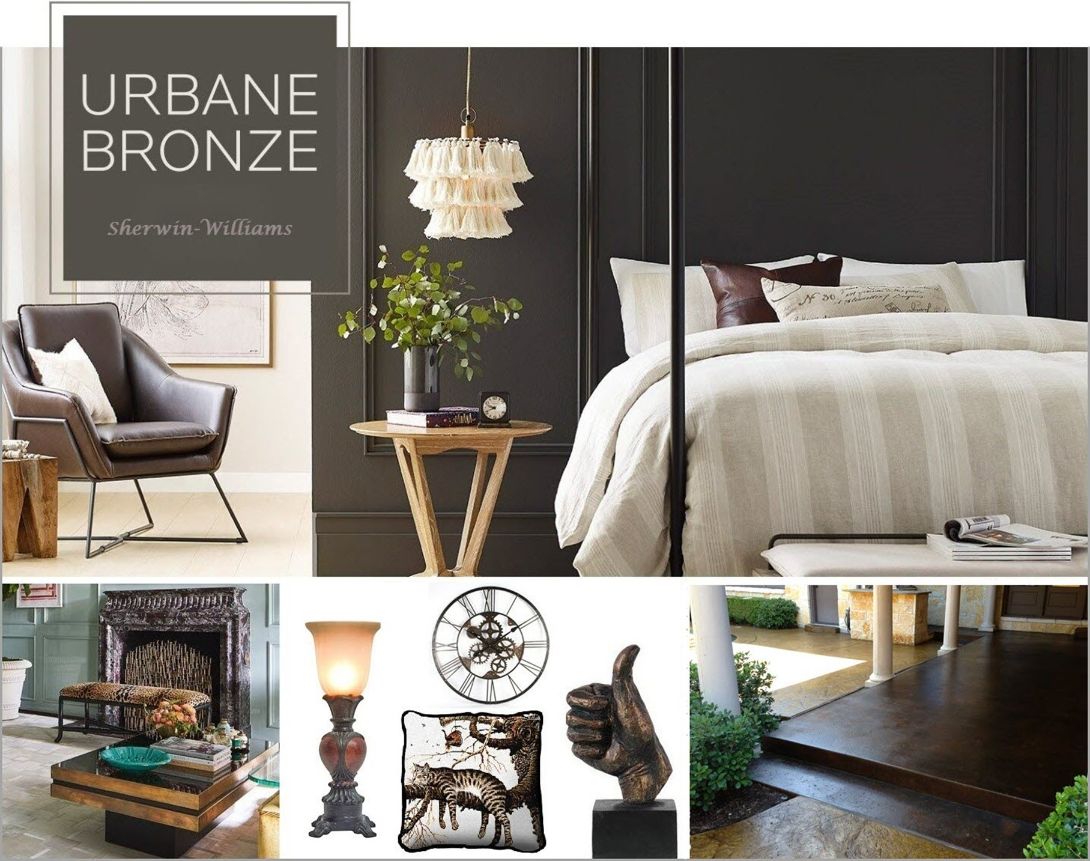 Find sanctuary your way, accented with contrasting colors and creamy, light neutrals
Urbane Bronze coordinates with colors in warm spicy tones from reds and oranges to soothing sage greens, shades of blue, and golden yellows.
Create drama with Urbane Bronze as a primary or accent color combined with warm whites and barely-there brighter colors.
Enhance your entryway with the elegance of stained decorative concrete in the rich and earthy dark brown tones of Urbane Bronze.
PPG courts comfort and nostalgia
Warm up the cold of winter by planning a spring or summer makeover for your home with PPG's first-ever Color Palette of the Year. 2021 presents three soft neutral shades—Transcend, Big Cypress, and Misty Aqua—for their "Be Well" nod to the new year, evoking comfort, compassion, and nostalgia. PPG explains: "Both natural and serene, our 2021 paint color palette of the year was chosen by our color and design experts to bring warm lightness and a sense of calm to a space. This palette is also easy to use and flexible, made with versatile tones that can be used as either the supporting or dominant color in the room."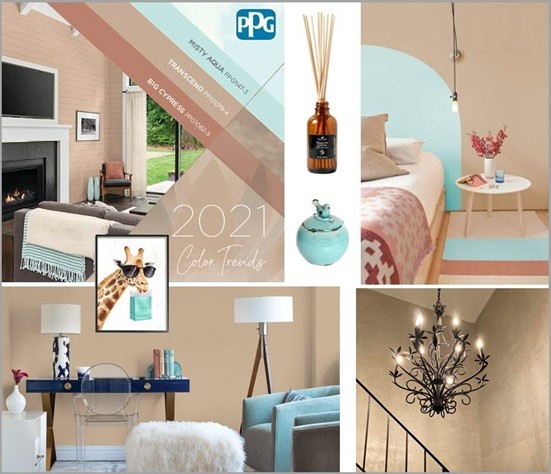 The Color Trends palette creates a serene environment with colors of the sea and sand, the perfect backdrop for adding favorite colors in furniture and décor items
Concrete Craft's MarbleKoatTM brings faux stone finishes to floors and vertical surfaces, like this stairwell, in the warm, transcending colors of 2021.
If neutrals are too neutral for your design taste, follow the 60-30-10 design rule of 60% dominant color, 30% secondary color, and 10% devoted to the accent color/s to make things pop.
Reminiscent of the 80s Southwest desert-scape décor, capture those soothing colors for any room in your home with the modern twist of layered textures and geometric patterns.
Behr's 21-color salute to the new year
From subtle pastels and soft neutrals to vibrant and rich, saturated colors, you'll be able to find that balance that reflects your personality in Behr's Color Trends 2021 Palette. The 21 colors offer a wide range of both warm and cool, that present incredible scope for design and style imagination. Erika Woelfel, Vice President of Color at Behr, says, "The relationship we have with our homes has significantly shifted because of the pandemic and we believe paint color has never played a more important role to set a certain mood, generate positive feelings, or provide a sense of comfort." This year take a tip from Behr and find your home bliss through color and create an atmosphere in your home that says, "We like it here and we have fun here!"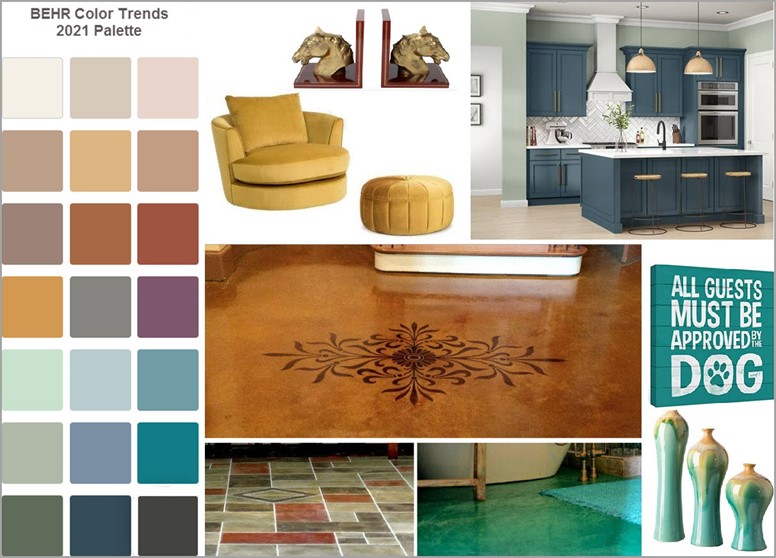 Behr's 2021 Color Trends Palette lets you embrace the power of color coupled with creative expression, transforming your home from the floor up
Breathe new life into every room with easy-care decorative concrete floors in brilliant stains and custom stamped concrete patterns for a stunning new year
Break kitchen-time monotony with new colors for cabinets and walls, and add rugs and accent pieces in textures, bright patterns, and shiny metallics to spice up other living areas.
Mix up color schemes and rotate furniture pieces to different rooms for reimagined use. Example: replace the wood coffee table with an ottoman and decorative tray on top or repaint a bookcase and use it as a free-standing linen closet.
What 2021 has in store is a mystery yet to be revealed, but you can make home the most comfortable and fun place for your family, as the weeks and months unfold. Refresh and enhance your living spaces with your favorite 2021 colors of the year, including decorative concrete floors that bring beauty and durability to every area of your home. Contact us today or go to www.concretecraft.com to find the Concrete Craft location nearest you and request a free in-home or virtual* design consultation to talk about updating interior floors, patios, driveways, and more, with the 2021 colors of the year.
*Virtual consultations may not be available at every location