Enjoy A Carefree Labor Day Weekend On Your New Faux Wood Concrete Patio
Labor Day weekend is the last hurrah of summer as we slip into the routines of back to school and work. It's a three-day "reward" of well-deserved R & R for hard-working folks in both the U.S. and Canada to kick back and relax, honoring the achievements of all workers who contribute to the economic strength, prosperity, and well-being of their respective countries. If your backyard patio isn't ready to host a weekend of fun for your family and friends, Concrete Craft® can have you grilling and sunning on a stylish, faux wood resurfaced concrete patio in a few days, just in time for Labor Day!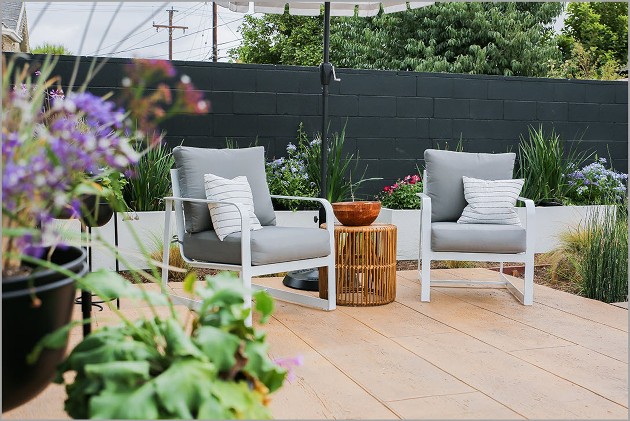 Create a modern outdoor setting by giving new life to an old patio with a concrete overlay stamped to look like real wood
Wood is often discounted as a patio finish because it can easily deteriorate and splinter with extended use and ongoing weather assaults. And who wants to be constantly repairing outdoor wood? But with a stamped concrete patio, you can enjoy the look of a wood deck with improved durability and about as low maintenance as you can get!
Choose your favorite wood style
Concrete Craft has mastered the art of creating faux wood finishes that transform concrete into any look you desire from a smooth, sanded look to a rough, reclaimed wood finish. You can feel the texture of your chosen wood finish in grain pattern, divots, knots, and swirls, which is part of wood's classic charm. Concrete stamps created from real wood molds give our stamped concrete finishes authenticity that rivals the look and feel of real wood.
Our wood plank stamps come in narrow (3.5") to wide (7.25") planks and textured for smooth or rough finishes for any wood style.
Achieve a fashionable distressed look with a stamp replicating reclaimed timber planking and custom concrete stains for the rich, naturally weathered color and patina of real wood.
Custom stain colors let you harmonize with the exterior of your home from light tones like maple to dark mahogany, or custom match colors to existing brick or stone landscape elements.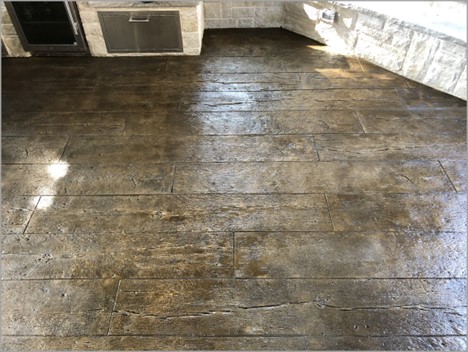 The ruggedness of reclaimed wood is easily achievable, and a durable sealer ensures your concrete patio stays intact and beautiful year after year
Durability you can count on
Concrete itself is the toughest material you can have for a patio, and decorative concrete overlays go one better by enhancing the durability of the surface with industry-tough sealers. Whereas bare or untreated concrete can absorb moisture and stains over time resulting in cracks and discoloration, decorative concrete's industry-tough finishes resist moisture and will not fade, chip, crack, or peel. A stamped concrete faux wood finish gives you the best of both worlds—the beauty and character of wood but with the long-term durability of concrete.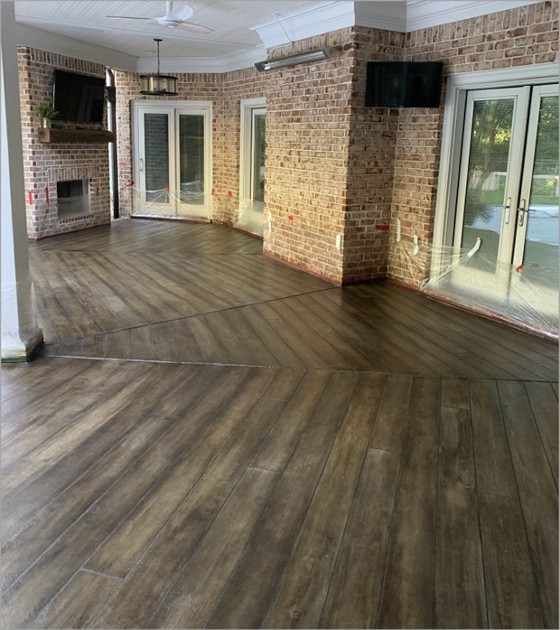 Enjoy a beautiful farmhouse style faux wood patio all year and never worry about sanding and re-staining like real wood
The final sealer protects the wood texture; it will never wear down or crack and splinter as real wood can.
You never have to worry about dry rot, mildew, splinters, warping, or wood-damaging insects that plague real outside wood.
Faux wood surfaces can stand up to wet or dry weather conditions, human traffic and rambunctious pets, and barbeque spills like wine and food wipe right up with no residual effect.
Spend time relaxing, not cleaning
An extended benefit of decorative concrete's durability is how easy it is to keep your outdoor spaces clean. A faux wood patio will stay clean with just a broom to clear away debris. The seamless, non-porous surface creates a durable barrier to moisture, dust, and dirt, so you'll spend less time cleaning and have more time to enjoy the holiday weekend. Spills wipe up with a cloth and even soggy leaves and dirt can't stick to the surface, making maintenance a breeze! You can have the beauty of wood on a patio or porch all year long without any of the constant upkeep demands of real wood.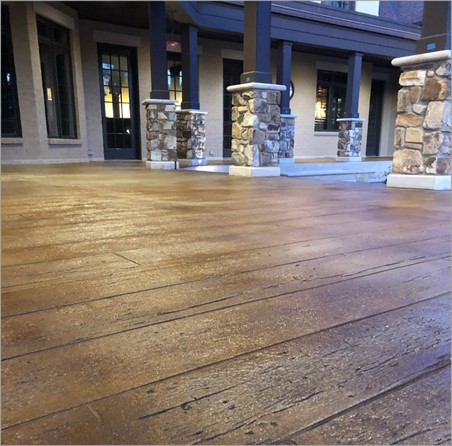 Nothing sticks to the surface, so a broom will keep your patio clean and always ready for the next activity
The moisture-resistant surface prevents mold and bacteria growth from taking hold under outdoor furniture, planters, and rugs.
If heavily soiled, use a neutral-pH cleaner with a medium-bristle push broom or a pressure washer to keep your patio spotless and brush away excess water so the surface dries quickly.
If after a few years the finish starts to dull or show wear in highly trafficked areas, resealing will restore it to like new condition.
Keep money in your pocket with faux wood finishes
There's a lot to love about fabulous faux wood decorative concrete finishes from Concrete Craft, and one more key factor is cost. Our stamped and stenciled faux wood designs let you enjoy the beauty of wood for about half the cost of real or engineered hardwood costs. You don't have to deal with complicated cost differentials like panel length and width that can impact cost and quickly blowup a budget. Concrete stamps let you choose any style for the exact look you want for your wood patio.
You not only have the option of wood-look finishes without the high cost of wood, but you also save future dollars not required for maintenance and ongoing repairs.
Avoid demolition and replacement by rescuing damaged and ugly concrete with a resurfacing concrete overlay and stylish wood stamp design that makes your patio look like new.
A stamped concrete overlay takes just a few days and you're back on the patio as opposed to the time and hassle of installing individual wood planks.
Get your patio in shape now for the last long weekend of summer! Call 888-852-9244 today or go online to www.concretecraft.com to find the Concrete Craft location nearest you and request a free in-home or virtual* consultation. Along with faux wood finishes, we can also replicate popular stone designs such as flagstone, cobblestone, slate, brick, marble, and more. Check out our online MasterProTM Product Catalog for more decorative concrete options, including vertical concrete resurfacing to enhance your interior and exterior spaces.
Happy Labor Day from everyone at Concrete Craft!
*Virtual consultation may not be available at all locations.