How To Use Stamped Concrete Borders On Driveways And Patios
Restoring your outdoor concrete spaces with decorative concrete is one of the best things you can do for your home. When concrete starts to look old or worn out, you can give it new life with repair, restoration, and coloring systems from Concrete Craft® that make it look like new. And for a little extra punch, adding borders to solid color or patterned driveways and patios can take your design to the next level without a great deal of expense. You can easily have flagstone, cobblestone, or slate borders adding texture and color that will make your spaces come alive.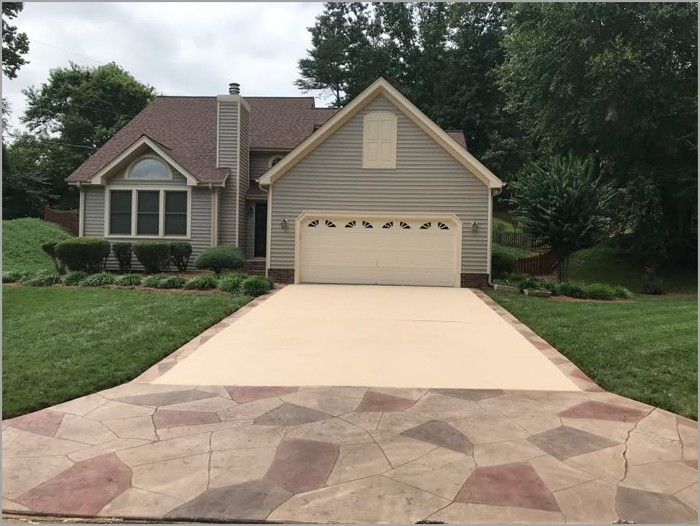 A stamped flagstone design in wide and narrow borders adds the beauty of stone to this Color RestoreTM resurfaced driveway
Keep costs down by having stamped concrete borders with more economical concrete finishes.
Design with more than one texture; one for the body of the space and another for the border.
Contrasting colors can make your spaces pop.
Use borders as design elements to break up very large areas and unify expanded spaces.
Concrete Craft has a wide range of products that can accommodate any budget while giving your concrete beautiful and durable finishes that will last for years! Combine systems to create one-of-a-kind designs, like adding stamped concrete borders.
Control costs with distinctive borders
For large areas, it's not uncommon to opt for less expensive decorative concrete finishes that don't involve stamped concrete patterns or hand-crafted designs. But by using stamped concrete borders, you can enjoy the look of real stone enhancements without the expense of stamping the whole area. In the driveway above, the main area was revitalized with our Color RestoreTM system with side borders and the driveway apron resurfaced and stamped with a flagstone design custom colored to coordinate with the home's exterior. The combination of a solid color with the multi-colored flagstone creates a perfect balance to enhance the home without being an overpowering design.
Create interest with multiple textures
Sometimes an expanse of just one style is all you need for your space to be perfect. But other times, to achieve that elusive perfection, additional color or detail may be required. That's where stamped concrete borders can come to the rescue, bringing additional texture, color, and pizazz to driveways and patios. The patio and walkways below were resurfaced with our exclusive PebbleKoatTM river rock overlay and framed and enhanced with a contrasting textured and stained border that makes the whole area more dramatic. The darker border intensifies the color blend of the stones and ties the backyard together with harmonious colors.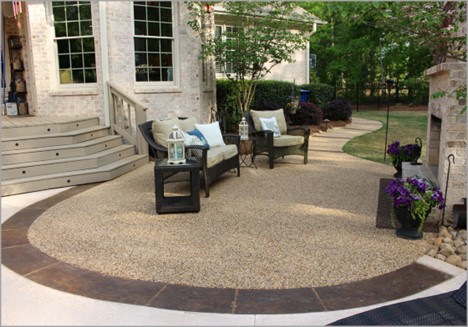 A textured and stained darker stamped concrete border defines this gorgeous outdoor room and fireplace for a cozy feeling
Embellish wide-open spaces with eye candy
Both patios and driveways can be expansive and one color over a large area can be overpowering and even a little tedious. Stamped concrete borders can break up expansive spaces with texture and color for an interesting visual sense, carving out sections and creating organization and order. This AggreKoatTM driveway with stamped concrete red brick borders complements the home's exterior, making this long driveway feel homier and less like a runway. The patterned driveway creates a more cohesive appearance with the house, rather than separate objects.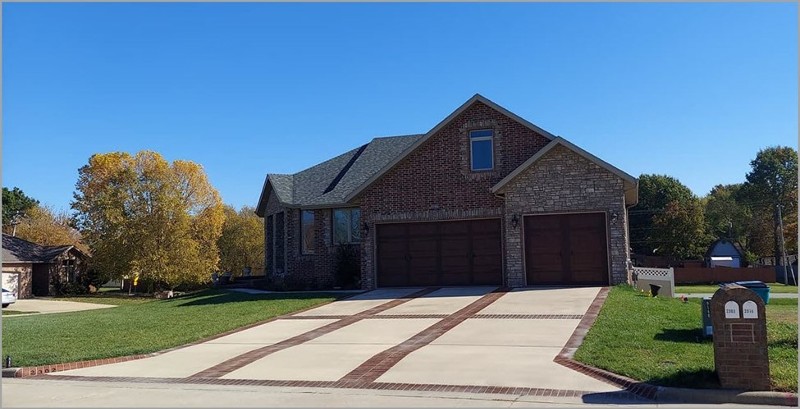 Stamped concrete borders are an easy way to create a unique appearance for your home, making it a standout in the neighborhood
Two colors, one texture, dynamite result
Stamped faux stone designs are very popular for patio and driveway makeovers for stunning looks. Enhancing the design even further, contrasting borders highlight the texture with the two colors side by side. This Ashlar slate stamped concrete patio has contrasting borders in a lighter color that make the stone textures pop. The surface of the entire patio, borders included, is one seamless, continuous sealed surface that will not chip, crack, fade, or peel. The simulated grout lines will never discolor, disintegrate, or require regrouting as with real stone. Stamped concrete borders are an integral part of the overall design and won't pull away or crumble.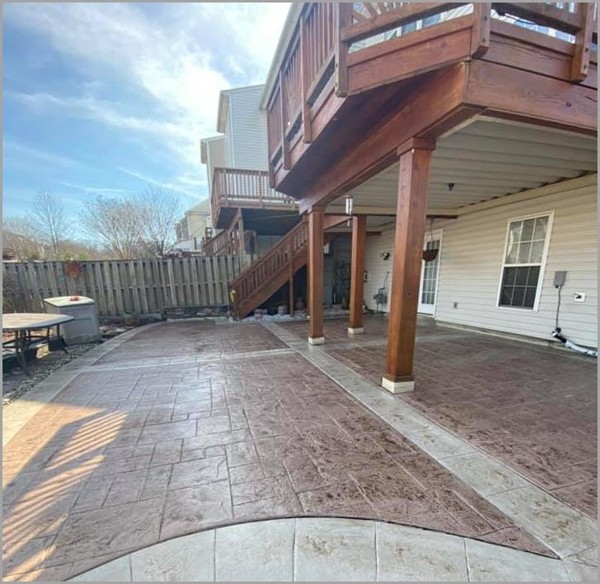 Achieve a high-end, designer look with stamped concrete faux stone patterns and borders for the look of real stone
Five facts about stamped concrete
Stamped concrete is truly a wonder. It's an affordable alternative to natural stone and wood plank designs, creating realistic textures for a fraction of the cost of the real materials. Also called patterned concrete or imprinted concrete, it's become an ultimate trend-setter for renovating interior and exterior concrete floors and vertical surfaces. Here are five quick facts about stamped concrete and why it may be the answer to your concrete woes:
Concrete stamps can be applied to newly poured concrete or existing concrete surfaces by applying a decorative concrete overlay to hide any damage.
Custom concrete stains bring stamped impressions to life with realistic colors and application processes.
Stamped concrete installation is faster than setting natural stone or wood plank since it goes over existing surfaces and completion usually takes only a few days.
Stamped concrete offers more durability and lower maintenance than most of the materials it can replicates, giving years of worry-free enjoyment as well as minimum maintenance requirements.
Stamped concrete can be used on vertical surfacesfor amazing transformations with faux stone and wood designs that can be applied over brick, drywall, plaster or wood.
Call 888-852-9244 today or go to www.concretecraft.com to find the Concrete Craft location nearest you and request a free in-home or virtual* consultation and learn more about how stamped concrete can enhance your spaces with custom designs and stunning borders! Check out our MasterProTM Product Catalog for the many ways decorative concrete can enhance your home or business.
*Virtual consultation may not be available at all locations.