Enjoy Authentic-Looking Stone Finishes with Decorate Concrete Overlays
Have you ever looked longingly at a faux stone concrete floor or wall application that looks like real rock or stone and wondered, "How do they do that? It looks so real it must have cost a fortune!"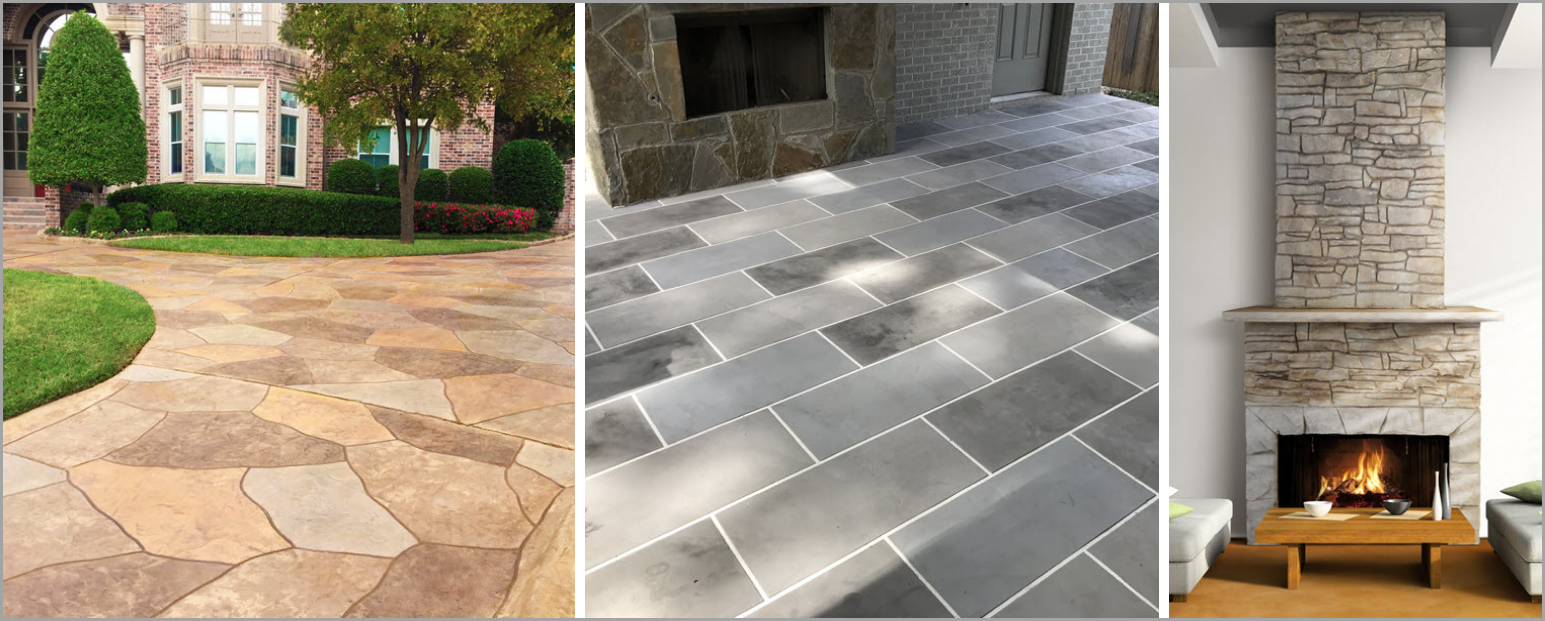 At Concrete Craft®, we take pride in our proprietary methods and exceptional products to bring only the best in decorative concrete overlays to our customers. Whether you call it resurfacing, concrete overlay, or coating, we can transform existing concrete into faux stone decorative designs for driveways, walkways, patios, pool decks, interior floors, and vertical surfaces with a resurfaced concrete overlay that can be stamped, stained, and hand-cut and custom-colored for remarkable results!
Decorative concrete is art and science
There is a lot of expertise that goes into creating authentic-looking faux stone finishes. The science involves understanding the composition of the concrete slab and formulating the right products to use for a successful, long-lasting result. Art is reflected in the training and skill required to create natural, realistic stone finishes like flagstone, Ashlar slate, Roman slate, and European cobblestone, with vertical finishes such as orchard stone, mountain drystack, castle rock, European fan, limestone, and random sandstone.
These wonderful stone finishes (and more) can be obtained with resurfaced concrete overlays from the artisans at Concrete Craft, at about half the cost of the real thing and no one will be able to tell the difference!
The science of decorative concrete overlays
Analyze the existing concrete
Prepare/repair the surface
Select proper overlay mix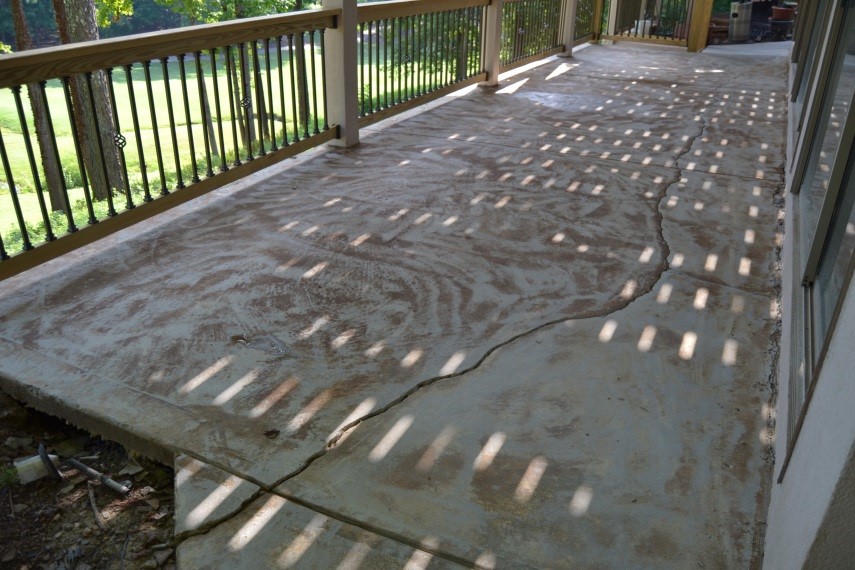 This patio desperately needs attention, in fact, it looks like it needs demolition. But it is structurally sound enough that, in the right hands, this damaged patio can become a thing of beauty. John Kostro, the Co-founder and President of Concrete Craft, explains why even cracks like this don't mean you need a new slab: "Another cool part of this project is how we incorporate cracks into the design. Many jobs have cracks but are still structurally sound concrete."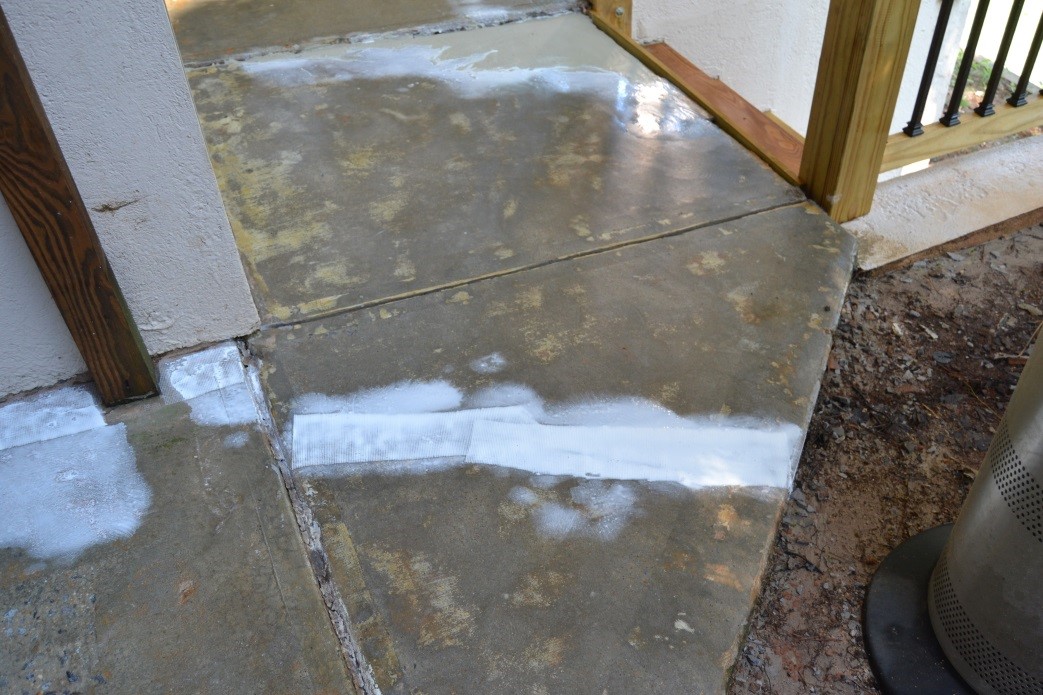 The concrete surface must be properly cleaned and prepared so that the concrete overlay will permanently adhere to the surface. This means cleaning the surface of any anti-adherents and then pressure washing it to eliminate loose debris before applying bonding primer, patching any damaged or sunken areas, and applying the overlay. Depending on how much repair work was needed and the condition of the surface of the slab, two coats of primer may be required. Patched areas will disappear once the overlay is applied. Cracks and expansion joints become invisible as integral parts of the overall hand-cut design.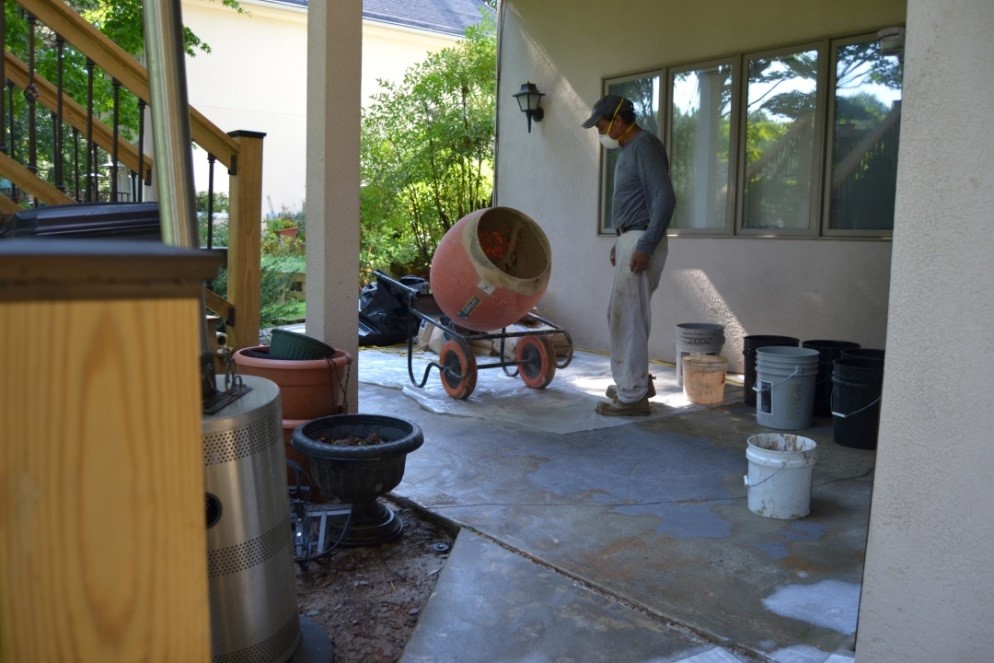 Our proprietary products are custom-blended from over 12 years of experience, resulting in our exclusive MasterProTM line of products that provide superior performance in any climate, for any process. When compared side by side with other decorative concrete, our quality is evident and is simply better than anything the competition can offer. The right concrete overlay blend is determined and mixed fresh on-site with the proper amounts of ingredients, including rubberized polymer, elastomeric resin, cement, cement modifiers, fibers, polymers, and aggregates for a durable, long-lasting overlay.
The art of decorative concrete overlays and design
Installing the overlay
Stamping and hand-cutting the pattern
Custom, hand-coloring the design
The faultless, durable sealer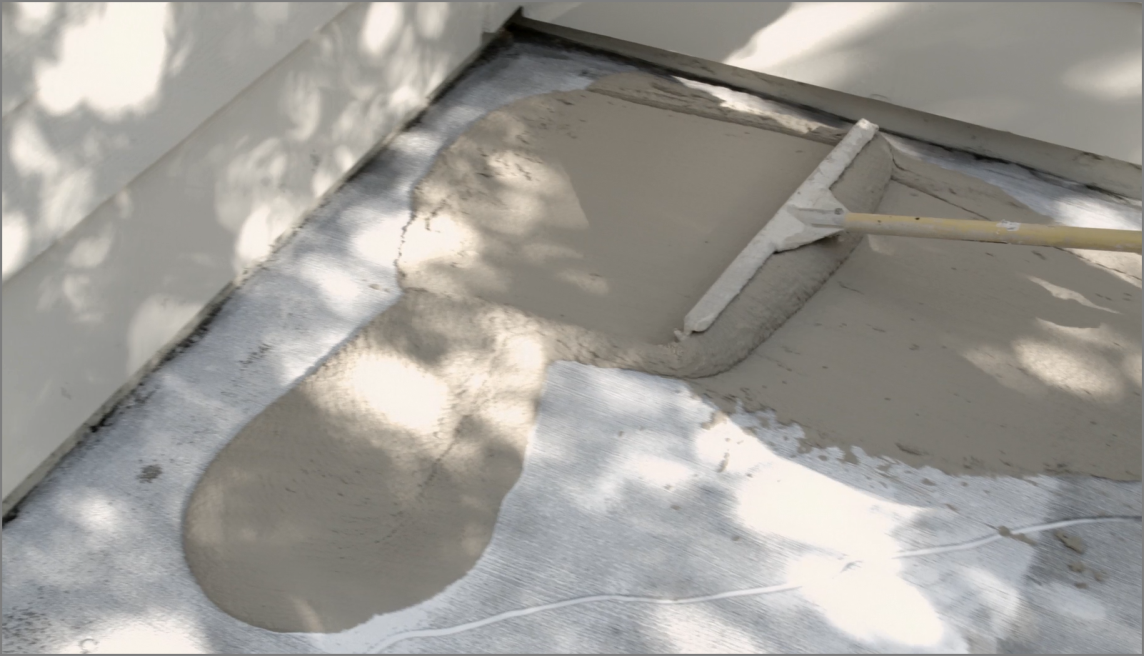 Skilled installers work quickly, pouring to the correct thickness and smoothing properly to eliminate any unevenness or show-through. The finished overlay looks like a newly-poured concrete slab, ready for hand-carving and custom-coloring to simulate real stone, in this case, flagstone.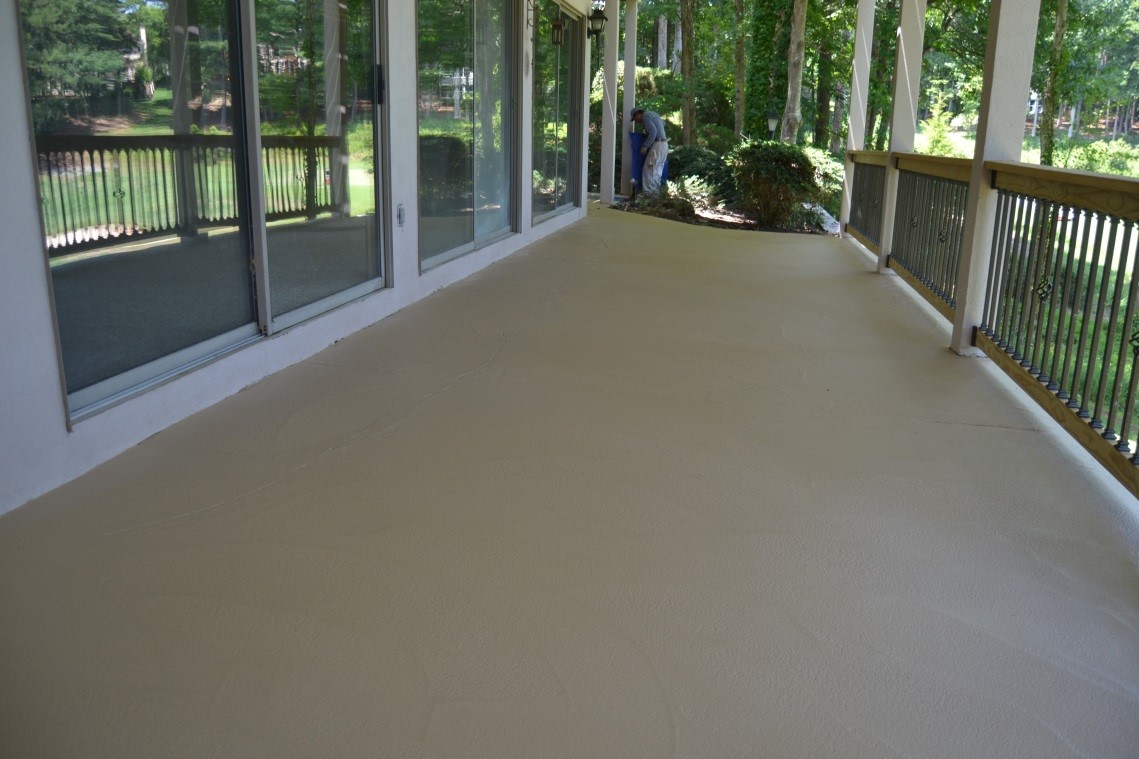 This is where Concrete Craft's craftsmanship, artistry, and authenticity of design place us out in front of the competition. The surface of the overlay is texturized by hand or with stamp patterns, creating the appearance of real stone instead of the smooth, brushed concrete finish on the overlay.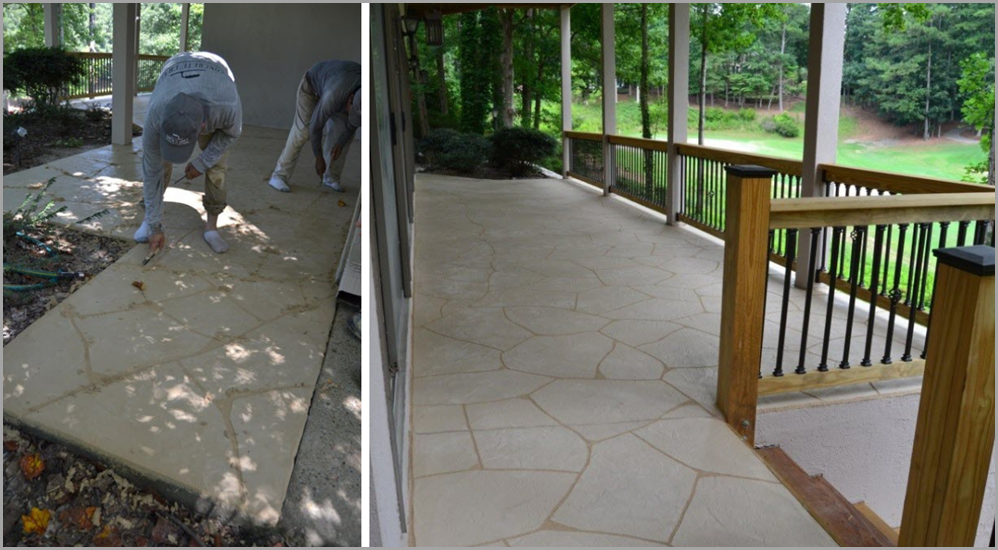 Stones are cut to size and measure to fit the area with attention to detail and careful execution of the "grout lines," hand-cut to the correct depth, so there are smooth, non-chip edges for the flagstone design. Grout lines and cracks have been seamlessly consolidated into the design, and it's ready for overnight curing before the hand-applied concrete stain will bring the design to life.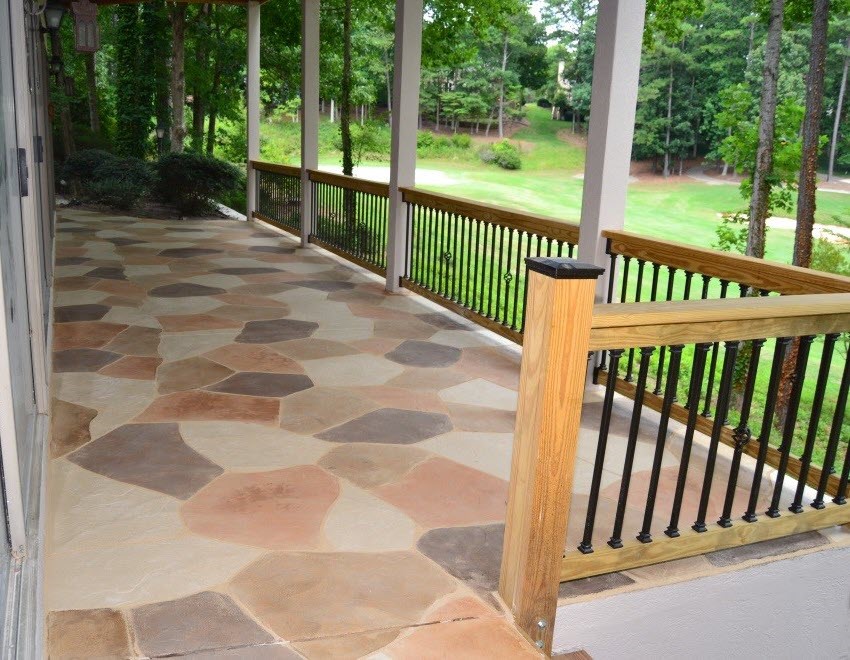 The randomness of the colored "stones" gives authenticity to the design, mirroring the randomness of nature's colors in natural stone and rock formations. Each stone is hand stained, ensuring that the stain saturates and penetrates to the edges for a very real appearance. The flagstone pattern is a combination of the primary colors for the stones and a colored base wash that completes the colors' amalgamation and darkens the grout lines, creating a more realistic look. Built-in UV protection in our concrete stains ensures that the colors will remain true for years to come.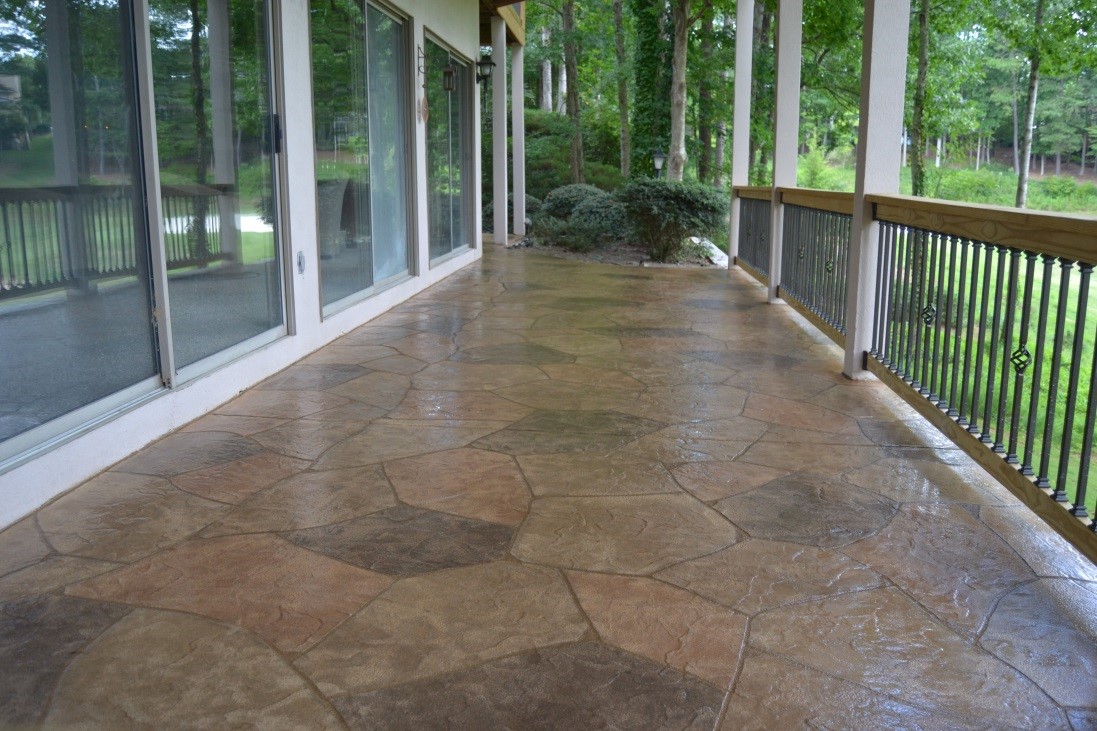 Our heavy-duty sealers are the final step, creating a durable surface that resists moisture, stains, chips, and cracks. Two coats of sealer are applied by hand rather than using sprayers which can result in missed sections, thin spots, bubbles, or puddles. Hand application ensures an even coating over the entire surface, with edges receiving special attention to make sure that the sealer gets into every nook and cranny for a continuous, protective coating. This patio and walkway now have the authentic look of flagstone, at half the cost of the real thing.
Faux stone finishes for your home
Now you know how they do it and that they can do it for you! Resurfaced decorative concrete overlays for floors and vertical surfaces can transform your home in a matter of a few days, without demolition and replacement. Contact us today or go online to www.concretecraft.com to find the Concrete Craft location nearest you and request a FREE design consultation and estimate for patio, driveway, walkways, pool deck, interior floors, and more.
For additional information about stained, stamped, and resurfaced concrete, check out Concrete Craft Frequently Asked Questions