Everything You Need To Know About Very Versatile Stamped Concrete
Stamped concrete is truly a wonder. It's an affordable alternative to natural stone and wood plank designs, creating realistic textures for a fraction of the cost of the real materials. Also called patterned concrete or imprinted concrete, it's become an ultimate trend-setter for renovating concrete floors and vertical walls. For both interior and exterior surfaces, discerning homeowners and business owners are embracing the natural appeal of wood, rock, and stone to enhance their surroundings.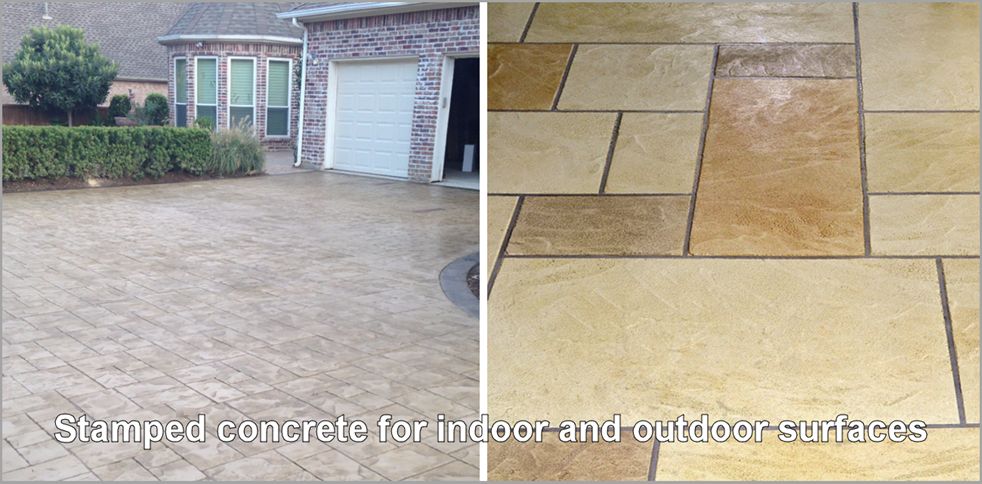 Concrete Craft® is ready to help with any stamped concrete projects you have. If you have questions, bring them on … we love talking concrete! To start, here are five important things you need to know about stamped concrete if you're considering updating your concrete surfaces with beautiful faux finishes.
One: Concrete stamps can be applied to newly poured concrete or to existing concrete
With newly poured concrete, the desired pattern is stamped into the concrete before it cures. This is time and cost-saving for new construction if the determination is made upfront to have faux stone or wood plank floors. For existing concrete, applying a decorative concrete overlay can disguise discoloration and minor damage on driveways, patios, walkways, pool decks, and floors with a fresh concrete surface that can be stamped with the pattern of choice.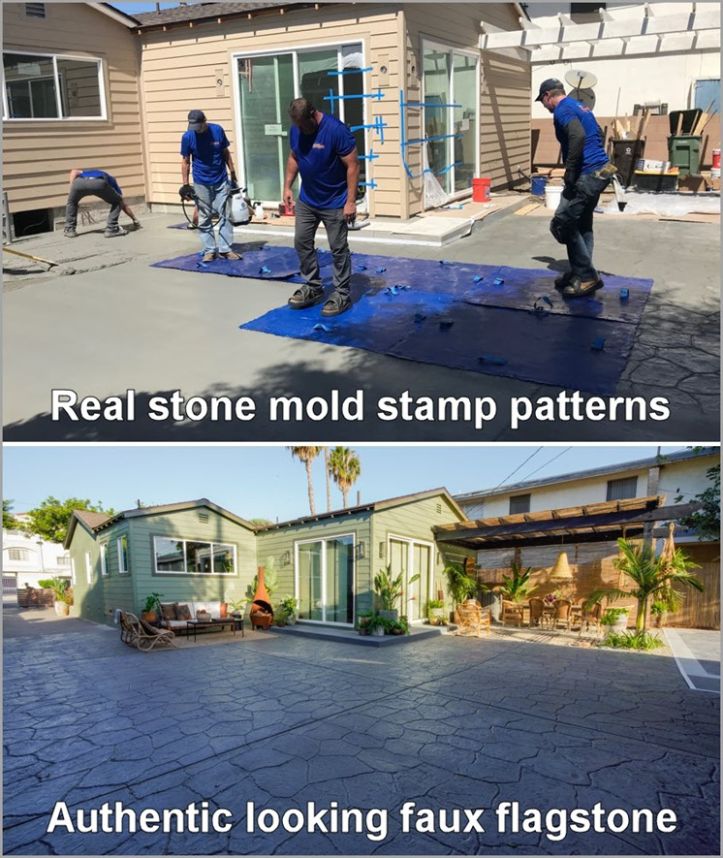 Upgrade your plain concrete with the beauty and texture of natural stone, brick, slate, cobblestone, or wood without having to replace existing concrete.
Rubber stamps designed from real stone and wood plank molds offer more realistic-looking finish options, ranging from ultra-smooth to heavily textured surfaces.
Large format tile designs, typically 16 x 16 inches, can be trickier and more expensive to install but with stamped concrete designs there is no such problem.
Create borders or define spaces by combining multiple patterns in the same space.
Two: Custom concrete stains bring the stamped impressions to life
From an aesthetic standpoint, stamped concrete is hard to beat when it comes to pattern and color options, which are virtually unlimited. With stained concrete, you can choose to replicate the colors found in nature or take a walk on the wild side with non-conventional colors. With custom concrete stains, it's easy to match the colors of existing landscape elements for a cohesive look with the surroundings.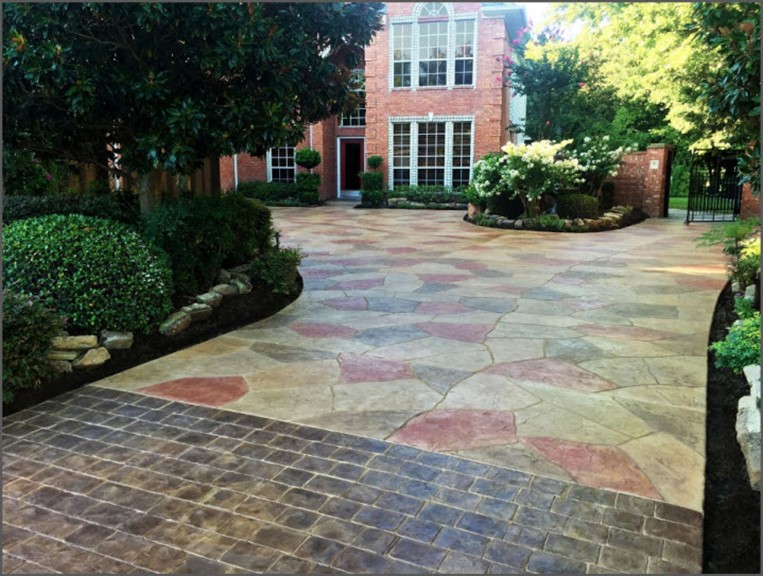 Combining or layering colors can create depth and dimension, intensifying texture and design.
Acid-based concrete stains react chemically with the concrete to form translucent color and attractive marbling effects.
Non-reactive water-based stains produce a more consistent color and are low in VOCs (volatile organic compounds).
Multiple colors can be used within the same project for realistic coloration, decorative borders, stenciled designs, or a contrasting color pattern.
Three: Stamped concrete installation is faster than setting natural stone or wood plank
Since stamped concrete goes over existing surfaces, the installation goes a lot faster and with less mess than setting grouted stones and tiles or laying wood planks. Prepping the surface, applying the overlay, stamping the pattern, and staining and sealing generally takes only a few days to complete and your floor is back in service.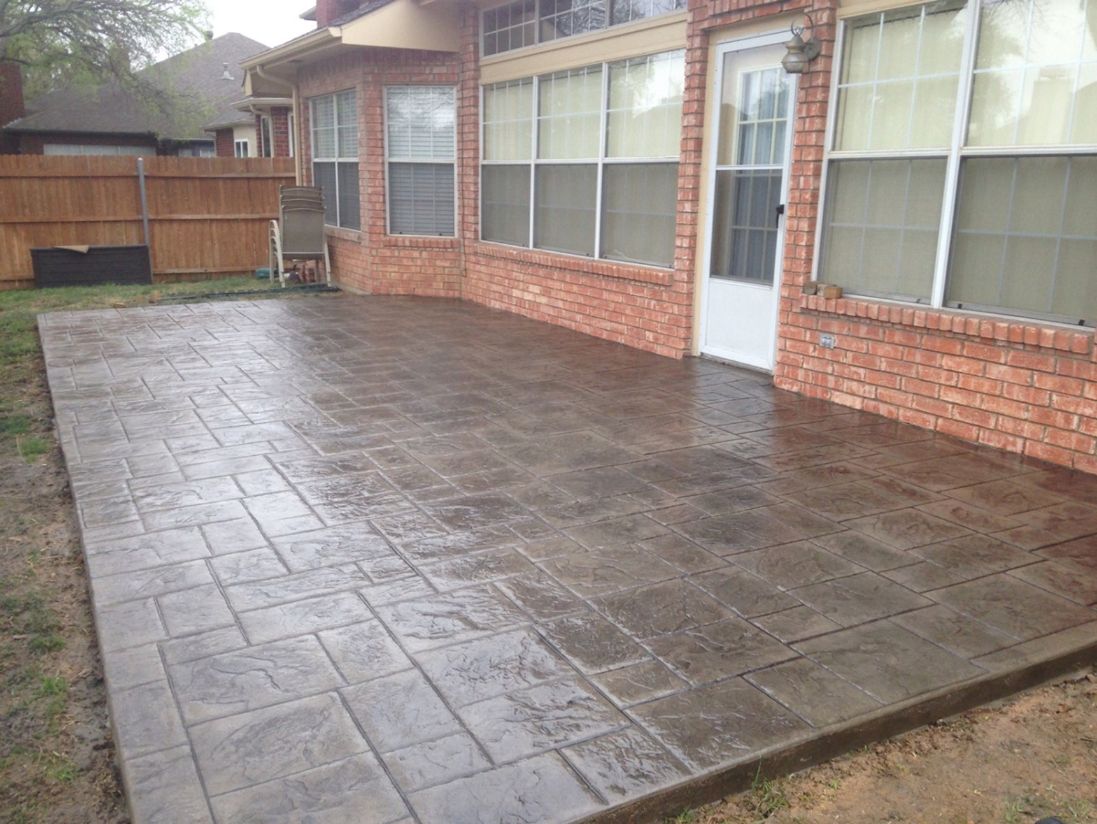 No transportation costs for heavy stones or pallets of wood plank, nor buying extra materials to ensure proper fit and cuts.
No heavy equipment means no damage to surrounding property, including plants and hardscapes.
Concrete Craft professional installers leave everything clean and ready for use, there's no debris for you to deal with.
Four: Stamped concrete offers more durability and lower maintenance than most of the materials it can replicate
Real stone, designer tile, and wood finishes have regimes of care that can be time-consuming yet still result in deteriorating surfaces over time. Grouted tile or stones come loose as grout disintegrates and weeds and grass grow in the seams. Exterior wood finishes can splinter with use and warp in wet weather. Sealed stamped concrete surfaces are resistant to any weather, including freeze/thaw, rain, snow, and heat without chipping, cracking or peeling. You'll get years of worry-free enjoyment as well as minimum maintenance requirements to keep your concrete looking like new.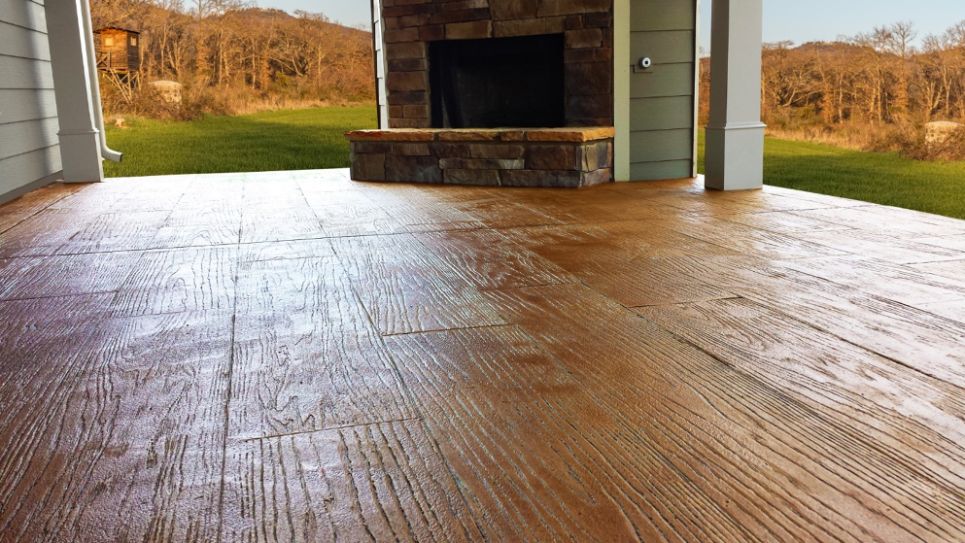 Wood-look patios and decks can withstand heavy use and abusive weather year after year.
Nothing sticks to the sealed surface so clean up is quick and easy; just a broom and hosing off for exterior surfaces and a dust mop and occasional wet mopping for interior floors.
Faux stone designs have integrated "grout" lines that eliminate any intrusion of pesky grass or weed growth.
Five: Stamped concrete can be used on vertical surfaces for amazing transformations
With the ability to apply decorative stamped concrete on floors or vertically, the options to update and add value to your home are endless. Faux stone or wood vertical concrete resurfacing on an interior accent wall or fireplace surround can completely transform a room. Outdoors, porches and entryways enhanced with faux wood and stone will improve curb appeal and make your home look like new.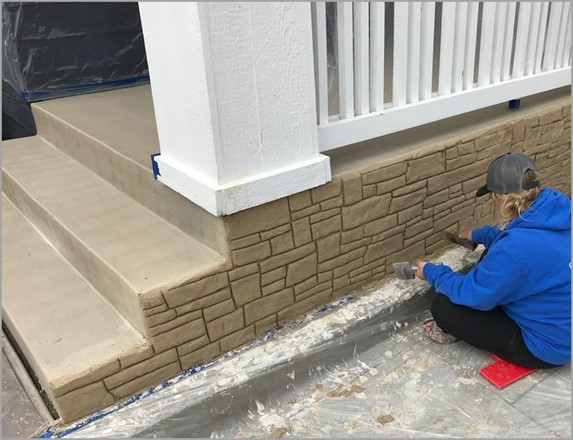 Vertical concrete overlays can be applied over brick, drywall, plaster, wood, and more.
Stamped and hand-carved rock or stone designs create 100% adhesion to the surface with no air pockets or space for moisture to weaken the bond.
Enjoy the look of stone and wood anywhere inside and out.
Now is the perfect time to contact your local Concrete Craft to get all your concrete surfaces beautiful and protected before winter arrives. Updating patios, driveways, interior floors, and walkways with beautiful, durable stamped concrete will banish any worry of cold weather damage. Call 888-852-9244 today or go online to www.concretecraft.com to find the Concrete Craft location nearest you and request a free in-home or virtual* consultation. From concrete repair to overlays and restoration, Concrete Craft can offer custom finishes for every need with our exclusive MasterProTM line of products.
*Virtual consultation may not be available at all locations.