Faux Wood Designs To Transform Your Home
Wood finishes are enjoying a resurgence as popular home decoration and design. Until recently, if you wanted the look of wood in your home, you had to bite the bullet and pay for real wood. The last few years have seen advances in faux wood finishes, bringing the beauty of wood back into everyone's budget. With Concrete Craft®, you have not only the option of wood-look finishes without the high cost of wood, but you also get the most durable surfaces for floors and vertical spaces with decorative concrete overlays, including vertical concrete resurfacing.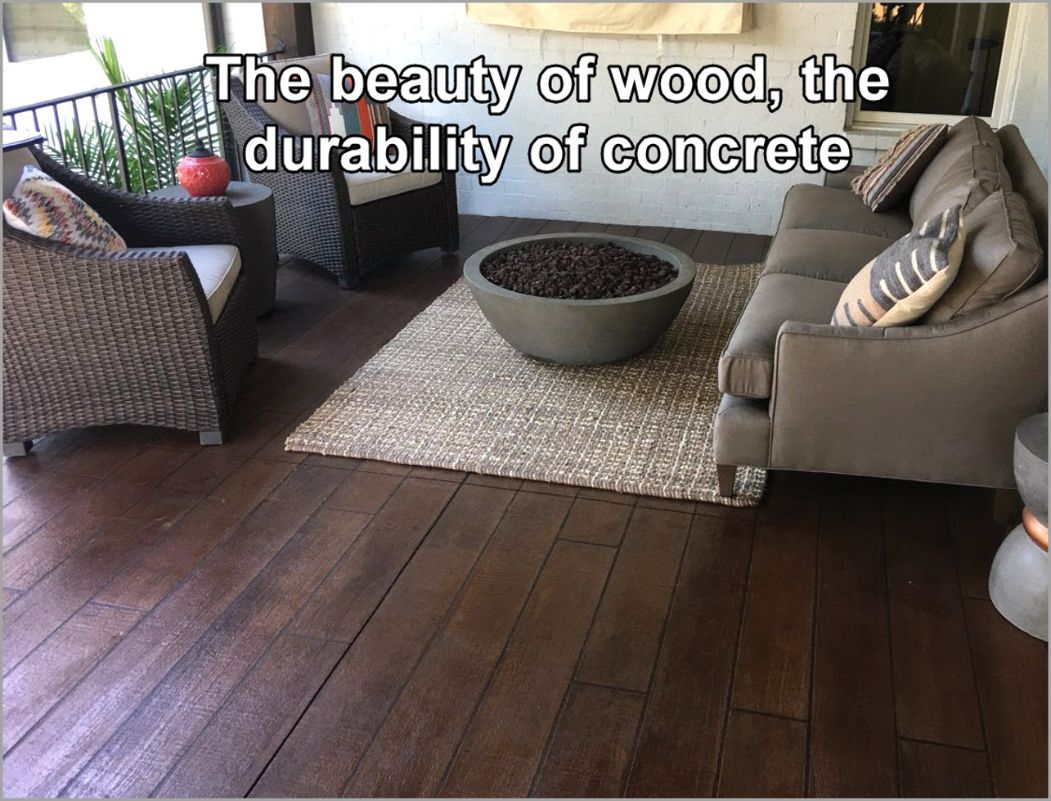 This patio with a stenciled and custom-stained faux wood plank design will provide years of outdoor fun and relaxation for the family. Unlike real wood, this decorative concrete patio can stand up to any weather conditions, wet or dry, and retain its beauty and functionality. The UV-resistant concrete stain will not fade, and the sealed finish will never chip, scratch or peel. You can enjoy the beauty of wood on a patio or porch all year long without any of the constant upkeep demands of real wood.
The authentic texture and the feel of wood
Wood-look tiles for floors and walls in porcelain or ceramic are often installed for a faux wood enhancement but, while they may look like wood, they don't have the dimensional texture and feel of real wood. With concrete overlays, faux wood floor designs, and vertical concrete resurfacing on walls can be texturized with real wood stamps, so your faux wood is more authentic. You can actually feel the texture of your chosen wood finish, which is part of wood's charm, from a smooth, sanded look to a rough, reclaimed wood finish.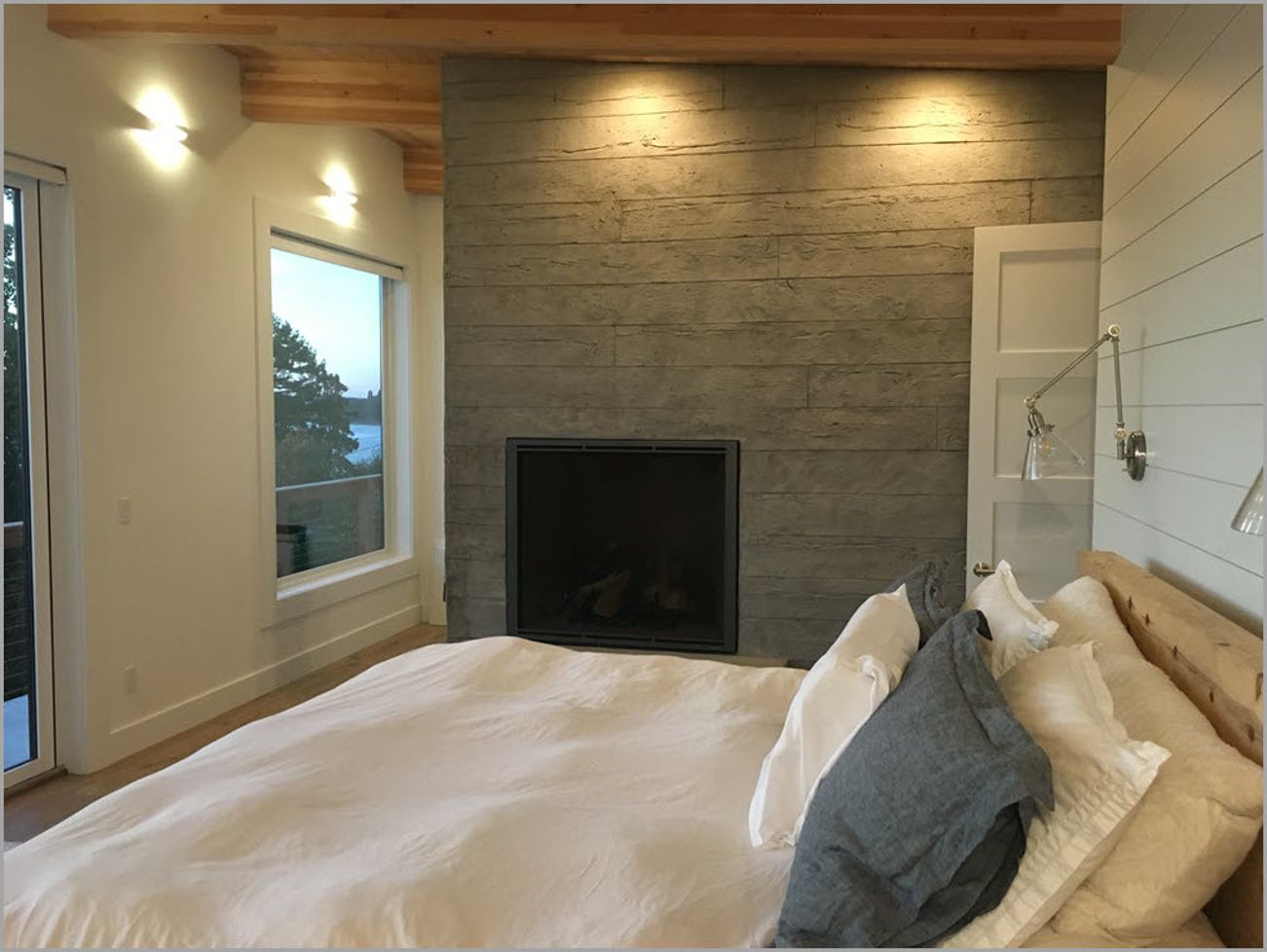 A textured wall adds a rustic appeal to this bedroom, a backdrop for casual or glamorous, depending on other design elements in the room.
The faux wood wall is an inviting contrast to the smooth surfaces in the room.
Although looking and feeling like wood, the surface is sealed to resist stains, moisture, and dirt that can damage real wood.
Decorative concrete can mimic wood-look tile
If you happen to prefer the smoothness of tile, you can have a faux wood finish in decorative concrete that imitates the surface of woodgrain ceramic and porcelain tiles. By stenciling and hand-staining the individual planks, you'll get the "tile smooth" finish for your faux wood floor. There are no limitations on color and style with custom decorative concrete designs as can happen with tile. You'll never see chipped corners, and you don't have to purchase extra tiles to ensure proper fit at installation or to allow for future repairs as tiles crack.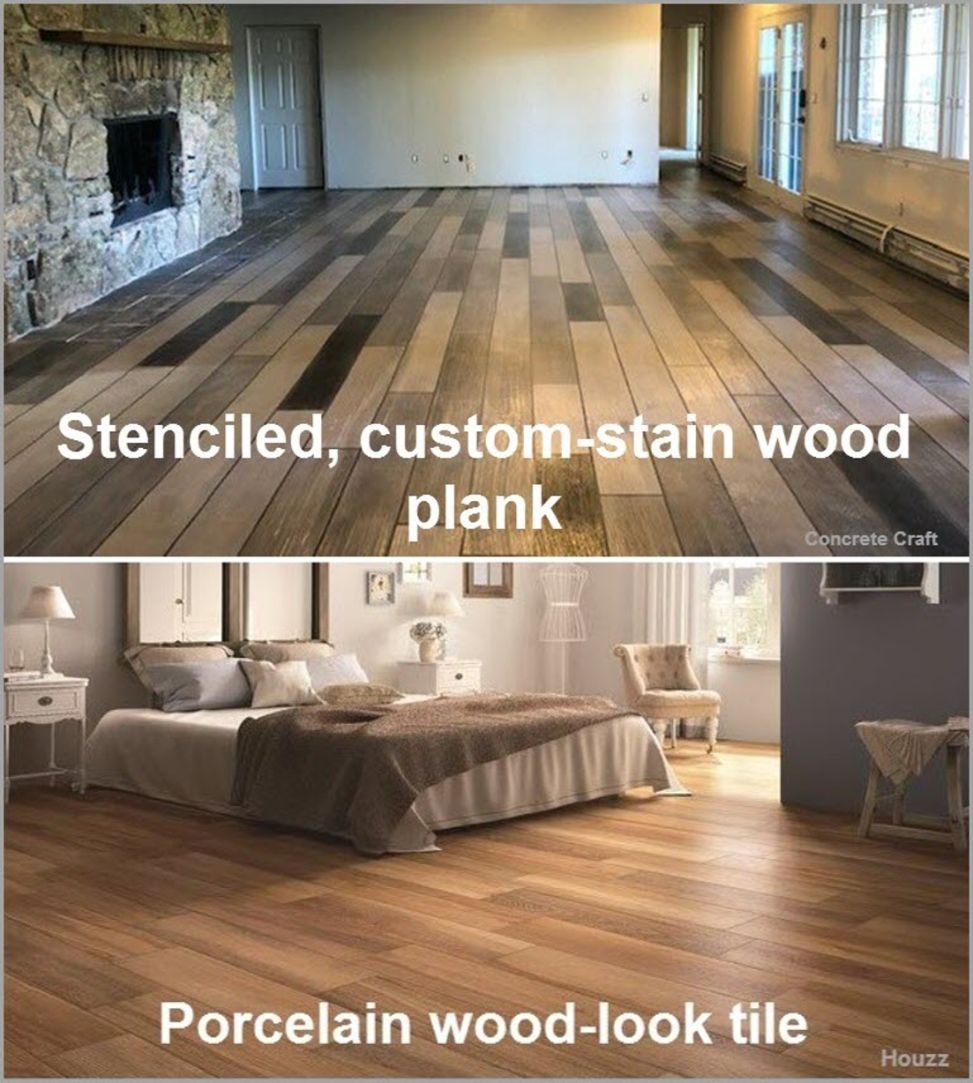 Stenciled wood designs give the smooth finish of woodgrain tiles, but the floor is seamless so moisture cannot seep in as can happen with individual tiles.
Concrete stamps made from real wood planks along with multiple concrete stain colors create authentic representations with a hand-applied stain from dark mahogany to bleached finishes.
The thickness of tile can cause a problem of unwanted height to a floor at thresholds; a concrete overlay bonds to the existing surface without adding height.
Enjoy any color, anywhere
With decorative concrete faux wood overlays, there are no restrictions on color, style, or location for wood enhancements to your home. Interior and exterior walls and floors can have the look of wood, even where real wood is not practical. For example, moisture and humidity would be a detriment to real wood in kitchens, bathrooms, laundry rooms, and outdoor surfaces like patios, porches, and decks. Faux wood decorative concrete resists moisture so it's safe to use anywhere. With custom staining, you can enjoy wood tones from light to medium to dark without fear of color change or fading over time. UV protection is built into the stain and the sealed finish adds additional protection to keep your faux wood surfaces like new.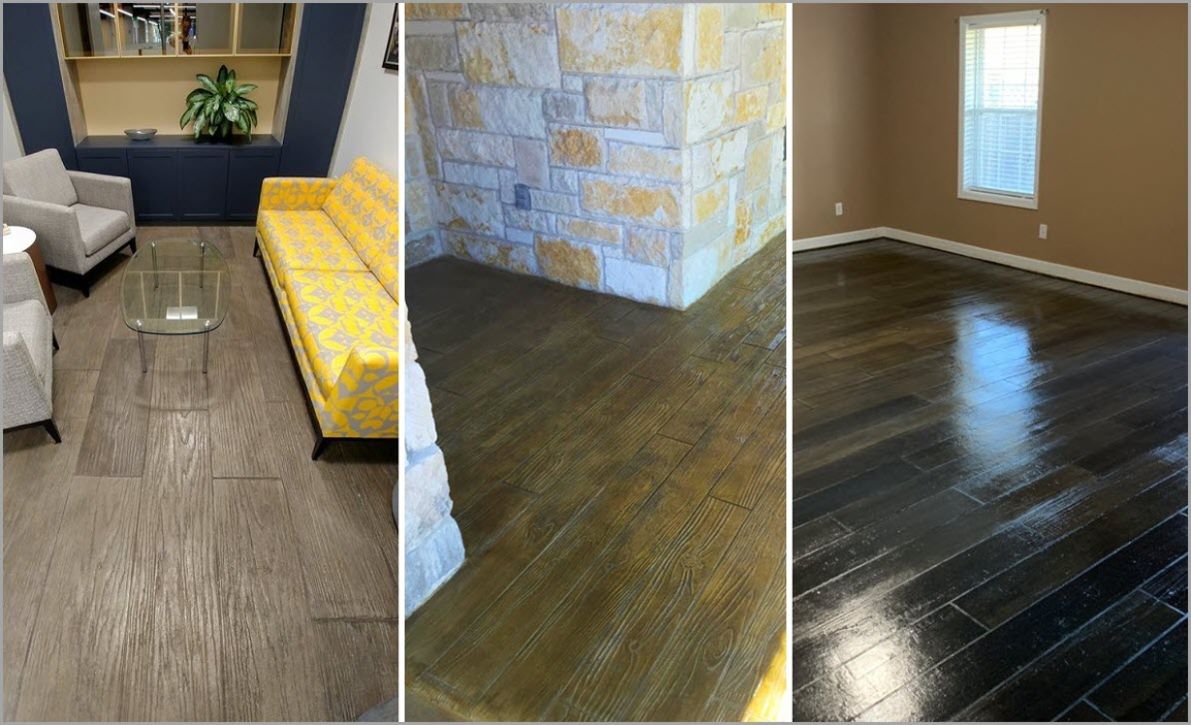 Emulate nature's wood tones or customize them to a color of your own design.
Coordinate stain colors with existing architecture and outdoor landscape elements.
Have the look and warmth of real wood without the high-cost and high-maintenance hassles.
Industry-tough faux wood finishes in your home
With Concrete Craft, you can have the same industry-tough decorative concrete finishes for your home that are installed in commercial properties. All our MasterProTM products deliver the same excellence and durability for residential and business properties. This faux wood planter could easily be duplicated in a home setting to ring a patio or update retaining walls with the natural look of wood. Our vertical concrete overlays can be applied over wood, drywall, plaster, brick, stone, or concrete to create beautiful faux wood finishes.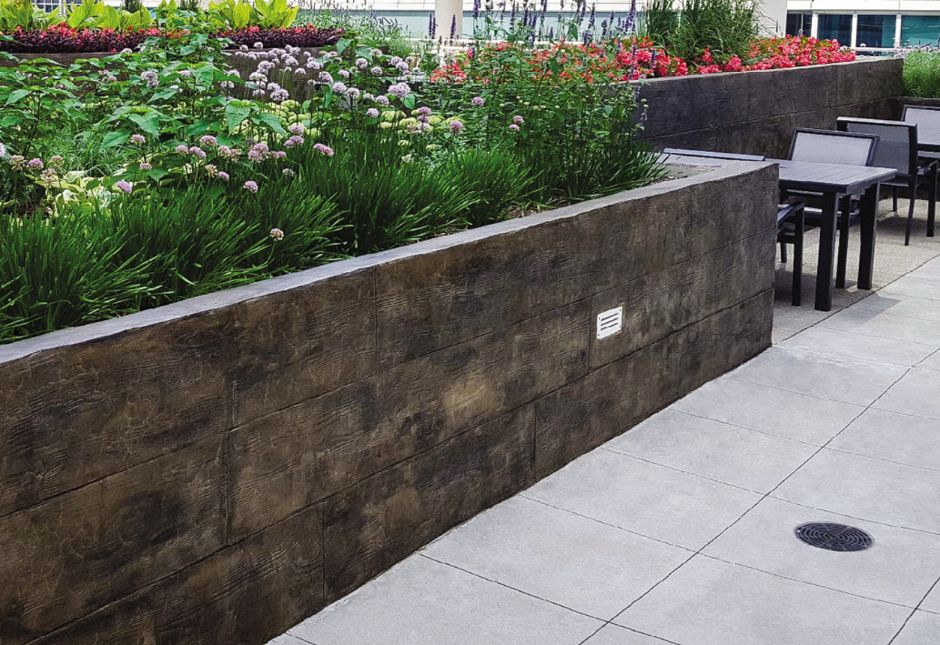 If you've shied away from wood design elements to update your home due to the cost and care of real wood, Concrete Craft can take you from wanting wood to having authentic-looking faux wood finishes in your home. Faux wood flooring can transform your spaces, indoors and out, with modern designs you'll love. Vertical surfaces like accent walls, backsplashes, and fireplace surrounds can bring wood into surprising places! Contact us today or go online to www.concretecraft.com to find the Concrete Craft location nearest you and request a free design consultation with our professional craftsmen. Scroll through the online MasterPro Product Catalog to learn about custom faux stone finishes with stained concrete, stamped concrete, and resurfaced decorative concrete for driveways, patios, walkways, pool decks, interior floors, and more.