Five Incredible Faux Wood Decorative Concrete Makeovers
Natural wood finishes are enjoying a resurgence as desirable home décor for hardwood floors and decorative accent walls, for both interior and exterior living spaces. But real wood enhancements generally have two major barriers: cost and care.
Real wood can be expensive.
Maintaining wood finishes, especially outdoors, can be a never-ending process of touchups and repair.
Concrete Craft's® concrete resurfacing overlay systems can bring the beauty of wood into your home with authentic-looking faux wood finishes for floors and vertical surfaces without the high cost or the high maintenance of real wood.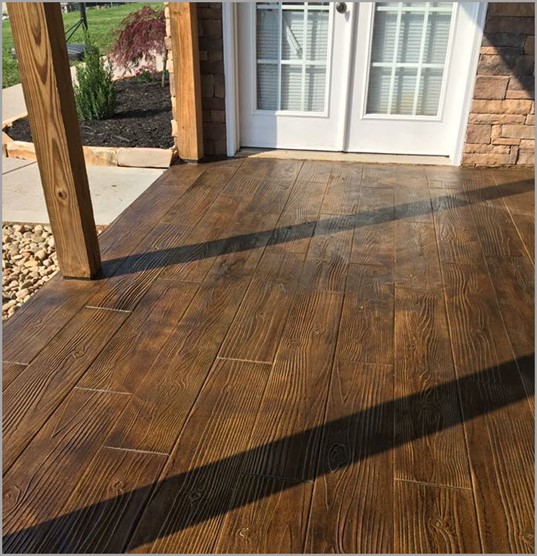 You can have that wood plank patio with durable decorative concrete in a faux wood finish that will last for years
Look-alikes to real wood
Concrete Craft has mastered the art of creating faux wood finishes with decorative concrete overlays that rival the look and feel of real wood. Concrete stamps created from real wood give our stamped concrete finishes the dimensional texture and feel of wood, from a smooth, sanded look to a rough, reclaimed wood finish. You can feel the texture of your chosen wood finish, which is part of wood's charm. The final sealer protects the wood texture; it will never wear down or crack and splinter as real wood can. Here are five different faux wood decorative concrete finishes that transformed uninspired floors and walls into beautiful spaces.
It's okay to have wood in the kitchen
Rooms with high moisture and humidity, like kitchens, bathrooms, and laundry rooms, are usually discounted as viable spaces for wood floors because of the risk of damage from moisture. When this kitchen's floor needed replacing, the dream of a wood plank kitchen floor was realized with a concrete overlay in a faux wood finish. The smooth wood plank design was hand-taped and hand-stained to create the look of a real wood floor, giving this cozy kitchen a new lease on life.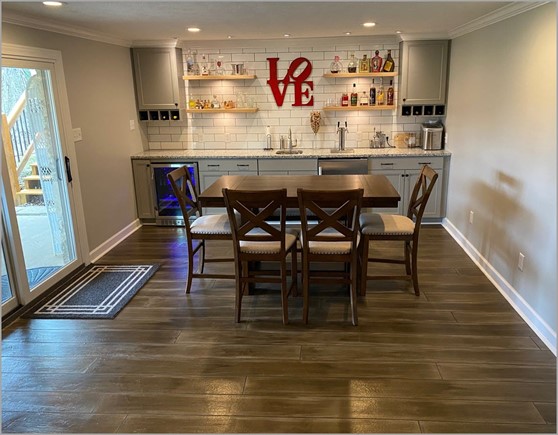 With decorative concrete, the warmth of wood can safely be in any kitchen
Spills and moisture are not a problem, the sealed finish resists stains, cracks, and peeling.
Industry-tough, dropped cups and sliding chairs won't damage the sealed surface.
Cleanup is quick and easy with a dry dust mop and occasional wet mopping with a neutral-pH cleaner.
Add texture where there is none
Sometimes a smooth wall isn't pulling its weight in the decorating department. Creating an accent wall of wood can completely transform the feel of a room, adding interesting texture and color to enhance a space. Amazing effects can be achieved with vertical concrete resurfacing, as in this bedroom that had ho-hum walls and a marginalized fireplace. This overlay was stamped and texturized for a rustic wood finish, giving character to the room and making the fireplace a more integrated element.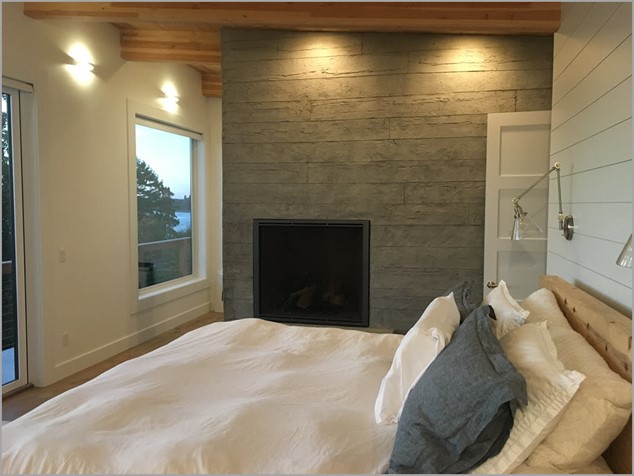 Wonderful, winsome wood … it's not just for flooring
Enjoy the look and texture of real wood without any of its inherent problems.
The textured wall adds homey appeal, a backdrop for casual or glamorous, depending on other design elements in the room.
The high-strength overlay gives 100% contact on vertical surfaces, there's never a worry about the new wall coming loose like other veneers.
Reclaimed or salvaged wood
Reclaimed wood flooring has gained popularity for both indoors and outdoors for a rustic farmhouse appeal. Not for everyone, it has a unique charm in that no two pieces of reclaimed wood are exactly alike, with differences in grain pattern, coloring, texture, knots, and swirls. With Concrete Craft's faux wood stamps, the ruggedness of a reclaimed wood floor is easily achievable, with custom concrete stains for the rich, naturally weathered color and patina of real wood.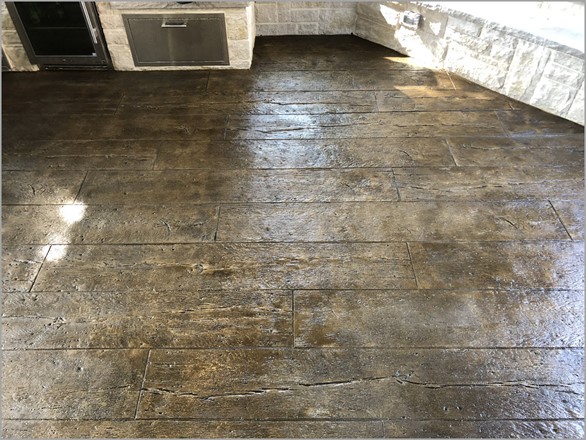 Faux reclaimed wood retains its beauty and character without damage from heavy use or inclement weather
Choose light to heavily textured stamps for exactly the reclaimed wood look you want.
No limitation due to available plank widths and lengths of real reclaimed wood; concrete stamps can create your ideal floor.
The weathered look and color are protected by a durable sealer to ensure your wood floor stays intact and beautiful year after year.
Go smooth with stenciled faux wood patterns
Decorative concrete stenciled designs give the smooth finish of ceramic and porcelain faux wood tiles or luxury vinyl wood planks. With decorative concrete, the overlay permanently bonds to the existing floor and the stained concrete colors penetrate the concrete overlay for vibrant, long-lasting, UV-resistant color. Embrace the authentic look of wood plank designs to reflect your lifestyle—elegant, modern, or traditional—for about half the cost of the real materials.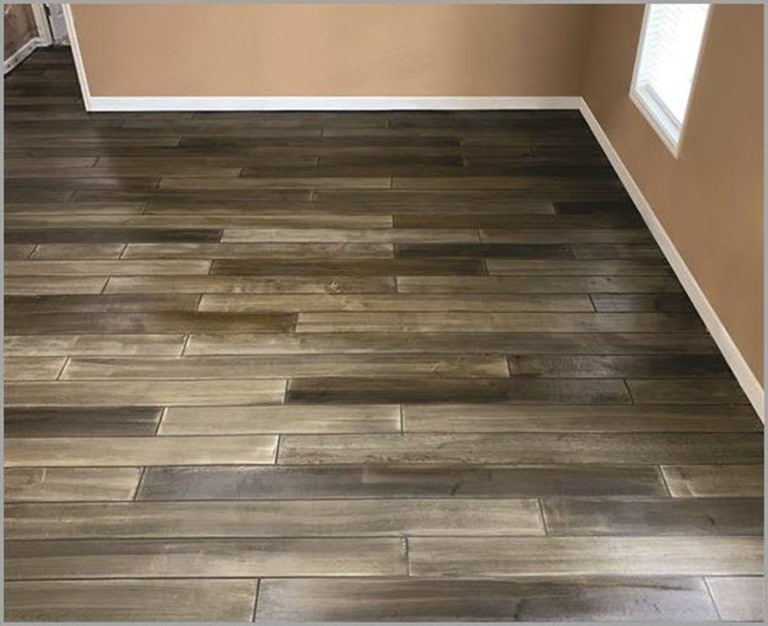 The continuous sealed surface resists moisture, spills, and impact making decorative concrete faux wood floors appropriate for any room
Faux wood flooring can transform your spaces with modern wood designs you'll love.
Our MasterProTM custom concrete stains provide an unlimited range of colors to emulate nature or create a color all your own.
With decorative concrete faux wood floors, you can afford the look of hardwood throughout your home.
Outdoor wood enhancements that last
Although wood comes from the great outdoors, outdoor wood structures deteriorate from weather, moisture, scorching sun, and pests. If you've resisted outdoor wood for retaining walls, planters, seat walls, and siding, faux wood vertical concrete resurfacing lets you have the natural beauty of wood anywhere outside. Our durable, realistic wood facades can complement your home's exterior and any existing outdoor hardscapes for years of trouble-free beauty.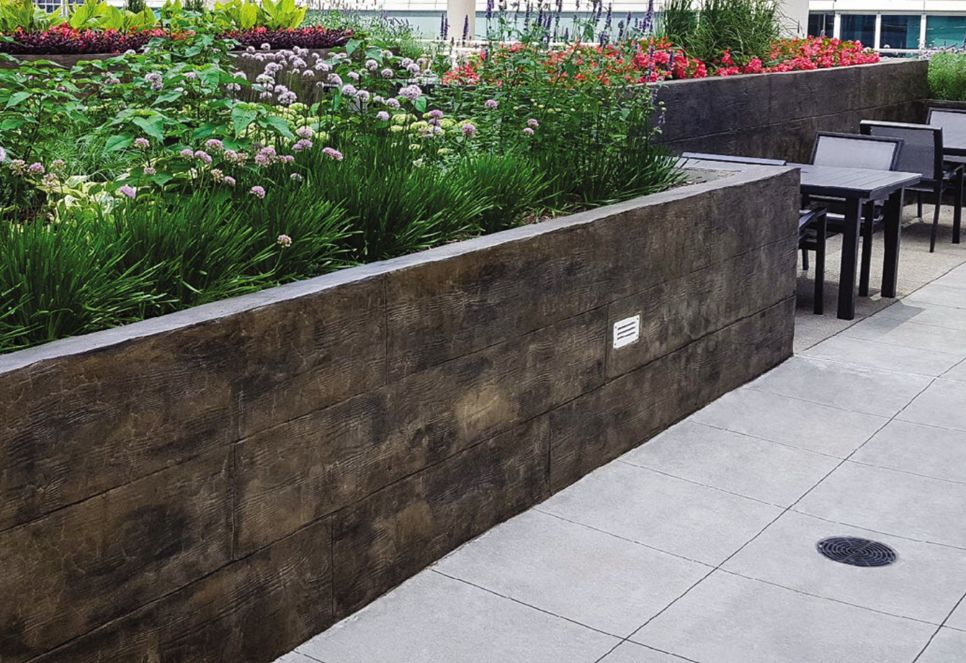 Enhance gardens and patios with the look of real wood while enjoying the steadfast durability of concrete
Vertical concrete overlays can be applied over any wall, including brick, drywall, plaster, concrete, and wood.
Faux wood resurfaced planters and retaining walls don't have the problem of warping panels due to moisture.
You never have to worry about dry rot, mildew, splinters, or wood-damaging insects that plague outside wood.
Surround yourself with the beauty of wood
With Concrete Craft, you can have the elegance of wood, in whatever style you prefer, in any area of your home, including outside patios, walkways, pool decks, and porches. Choose designs of smooth, hand-scraped, distressed, and reclaimed wood, ranging in color from bleached wood to dark mahogany for enhancing floors and vertical surfaces. Our expertise and attention to detail ensure authentic-looking finishes and superb craftsmanship on every project, and custom concrete stamps and vibrant stains allow for unlimited design potential. Contact us today or go to www.concretecraft.com to find the Concrete Craft location nearest you and request a free in-home or virtual* design consultation. You may discover that very versatile faux wood finishes are just the design component you need to transform your home.
*Virtual consultation may not be available at all locations.