Five Reasons Stamped Decorative Concrete Is Better Than Pavers
No conversation about stamped decorative concrete versus pavers would be complete without talking about weeds, so let's start with that most obvious reason (Number One), that decorative concrete from Concrete Craft® could be the better choice. "Paver ravers" insist that weed and grass growth in the joints is not a big problem but, yes, it can be, as evidenced by the image below.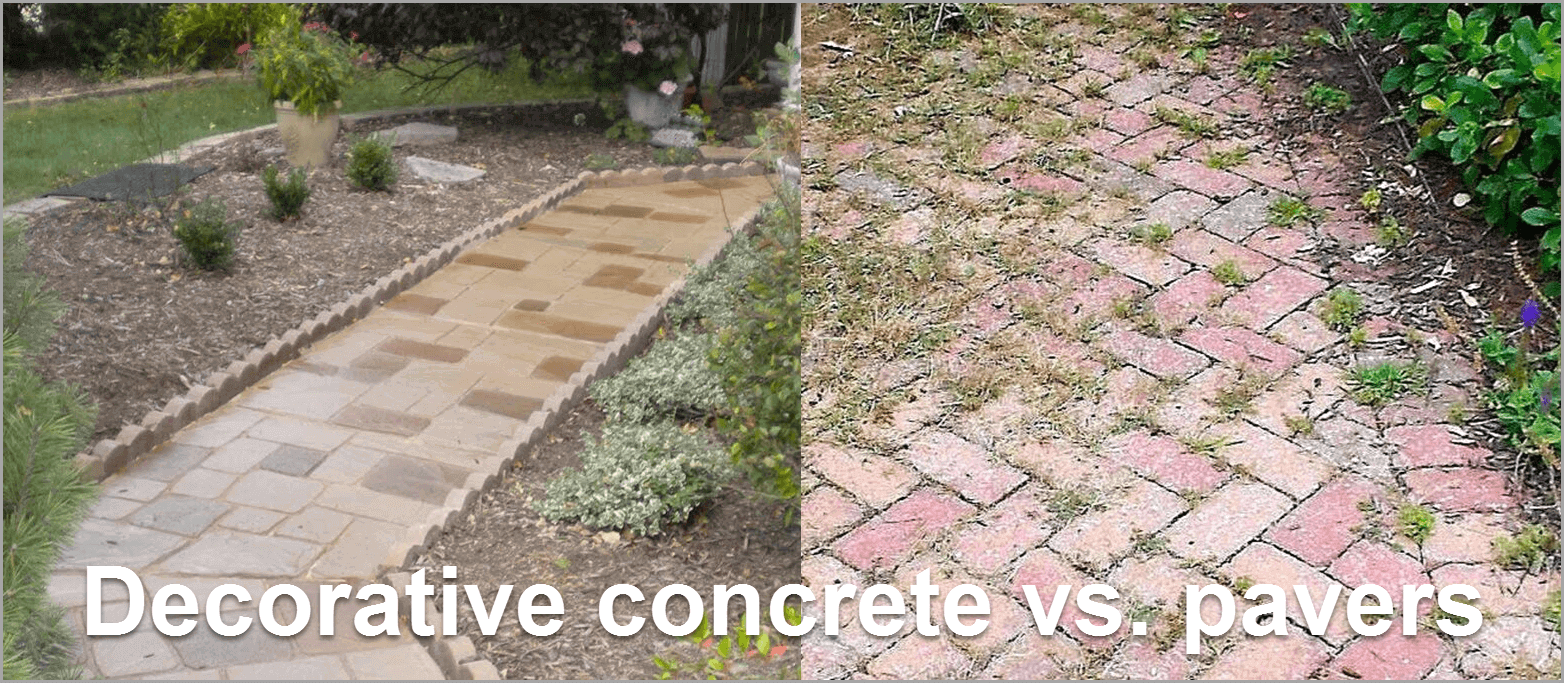 Individually placed pavers made of concrete, clay brick, or natural stone have joints between each stone and, although filled with a sand mixture, stubborn weeds and grass will push through, especially in wet and humid climates. Constant surveillance for intruders is required, and either pulling the weeds or applying weed killer in the crevices is part of the ongoing maintenance.
With stamped decorative concrete, you can have a real-stone mold stamped design, custom colored for authenticity, that is one continuous, sealed surface. The joints are part of the overall design and there is never a problem with grass or weed growth. You can spend your time enjoying your outdoor surfaces, not weeding them.
Reason two: Installation
Installation of pavers is much more complicated and takes longer than a stamped, resurfaced decorative concrete overlay to an existing patio, driveway, or walkway. The description of the process of laying pavers the right way is quite complex and takes three to five days for an average patio—"The installation process includes excavation, grading, sub-base compaction, geotextile fiber installation, base preparation, base compaction, sand preparation, paver laying, border cutting, bond beam preparation, and stone compaction." Taking shortcuts or missing steps increases the likelihood of pavers shifting and creating an uneven surface.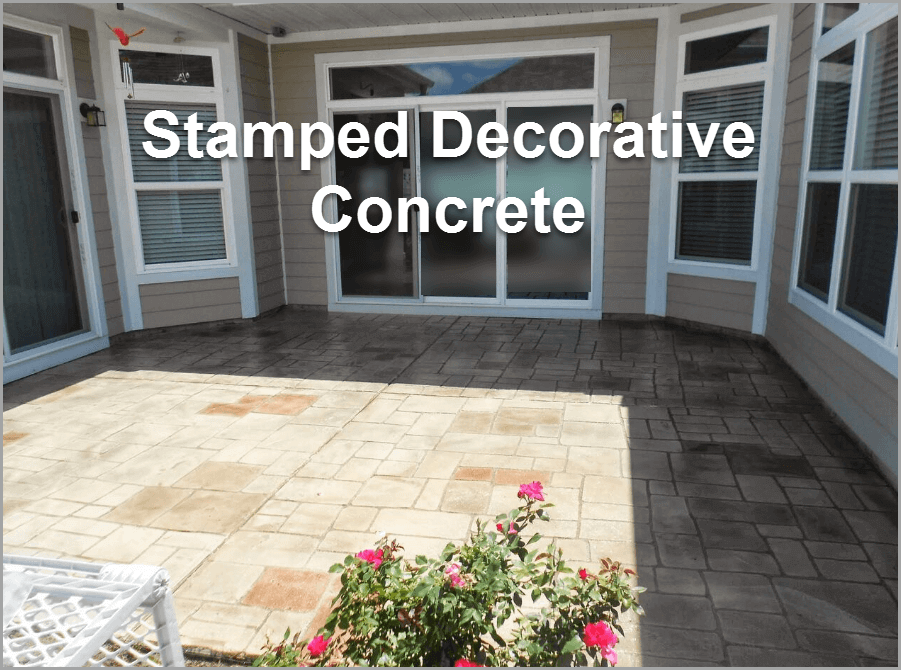 Application of a concrete overlay involves cleaning and prepping the slab, applying the overlay, pressing the stamp pattern into the overlay, coloring with UV-stable concrete stains, and applying a final sealer. Only a few days will take a weather-worn concrete surface to a new faux stone finish that is resistant to weather extremes, moisture, mold and bacteria growth, spills of all kinds, chipping, cracking, or peeling.
A concrete overlay will not alter the height of your patio or driveway, but pavers over concrete can increase the height by up to three inches, depending on the pavers installed. Additionally, pavers over an existing concrete surface have inherent moisture problems that can create serious problems over time. If you want to go from a concrete patio to a paver patio, it's recommended to remove the concrete first. Or … Concrete Craft can install a stamped decorative concrete overlay for your patio in your choice of rock or stone pattern, including flagstone, cobblestone, limestone, and Travertine.
Reason Three: Maintenance
We've touched on some issues of maintenance already but will get more specific. Pavers, including brick, natural stone, and manufactured products, can readily absorb moisture due to their porous nature. This creates issues with stains, rust, and the growth of mold and moss, especially in shaded areas where the stones may never get completely dry. Specialty products are available to clean the mold, involving lots of elbow grease and scrubbing. Power washing is an option but will tend to dislodge and wash away the sand in the joints. Reapplying sand is a maintenance step as well, refilling the crevices as the sand erodes. Stones can shift or sink, creating an uneven surface and requiring repair.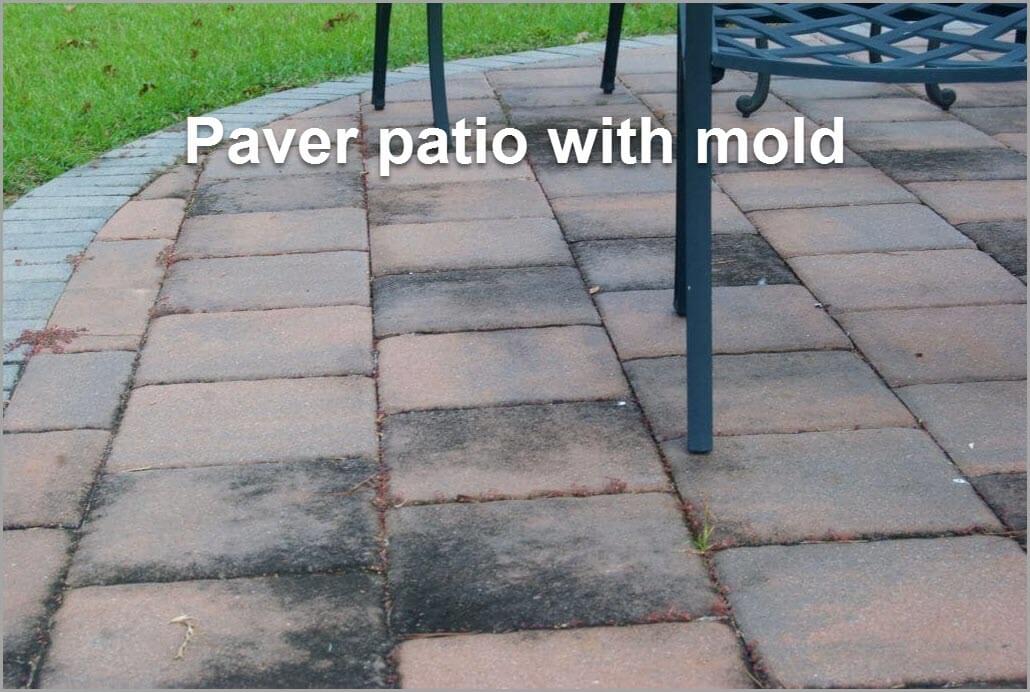 Decorative concrete sealers create an industry-tough surface that is extremely low-maintenance. Driveways, walkways, patios, and pool decks require very little upkeep. Regular sweeping will prevent dust and dirt buildup, stains don't penetrate and can be wiped up with a cloth, mold, moss, and bacteria growth are repelled, and an occasional washing with a neutral-Ph cleaner is all your need to keep your concrete like new. And, since no weeds or grass intrude, there's no back-breaking weeding for large areas like a driveway, and the faux stones will never shift or create an uneven surface.
Reason Four: Unlimited design potential
Pavers are especially popular for the intricate designs that can be accomplished. But the more complex the design, the longer it will take to install and the more it will cost. There is also the limitation of available color options, especially with natural stone.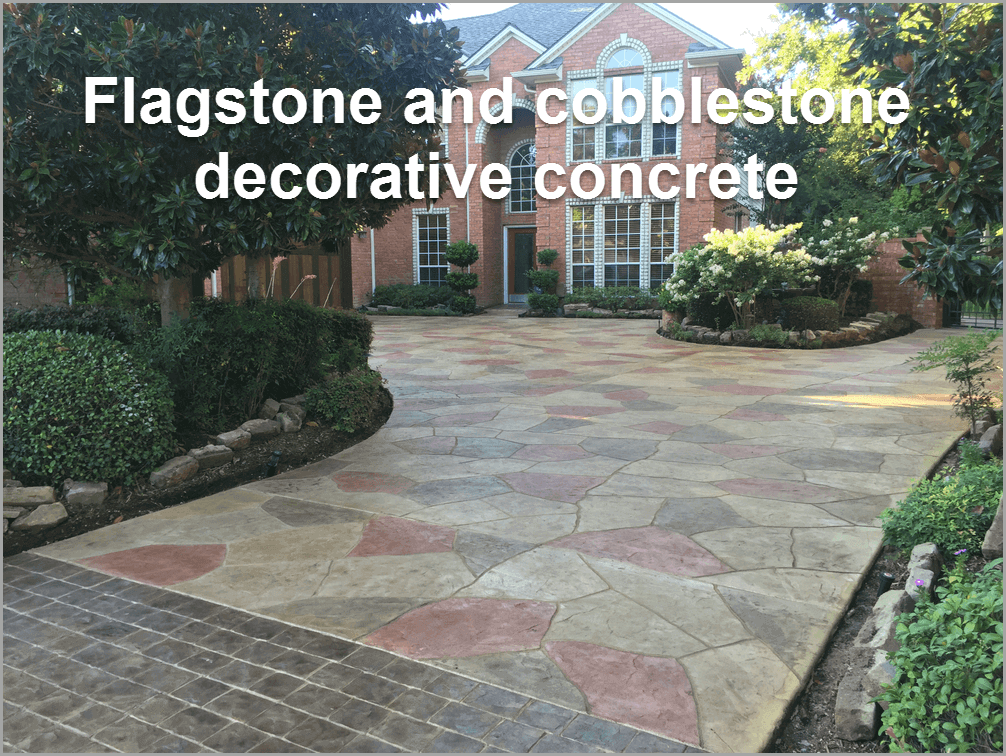 With decorative concrete, there are no limitations on color, our MasterProTM concrete stains open up a world of possibility for custom colors to create any look you want. Custom concrete stamps and stencils allow us to formulate intricate designs and patterns, including multiple designs together as in this flagstone driveway with a stamped cobblestone entrance border.
Reason Five: Cost
One online source stated that a basic (simple pattern) paver installation is initially 30% higher than the same-sized stamped concrete patio. Decorative concrete can give you all the bells and whistles of pavers, i.e., intricate patterns, the look of real stone, natural colors, and custom design for much less cost than pavers. And, if you have an existing patio or driveway you want to update, with decorative concrete overlays you don't need to demo the existing slab, installation is quicker with much less mess, and the cost savings will delight you. You'll save time and money year after year due to the low-maintenance requirements for decorative concrete and its rock-solid durability.
Embrace the dream of stone
With Concrete Craft you can have to look of pavers for your outdoor concrete surfaces through the "magic" of decorative concrete! There are many options to updating and restoring imperfect and worn-out concrete surfaces that don't involve demolition and replacement. Talk with your local Concrete Craft professional about the many ways to enhance your indoor and outdoor spaces with beautiful decorative concrete finishes. Contact us today or go online to www.concretecraft.com to find the Concrete Craft location nearest you and request a free design consultation. View our MasterProTM Product Catalog to see what decorative concrete in stained, stamped, and resurfaced faux stone designs, including vertical concrete resurfacing like fireplaces and seat walls, can do to enhance your home or business.