5 Reasons Why Stamped Concrete Beats Pavers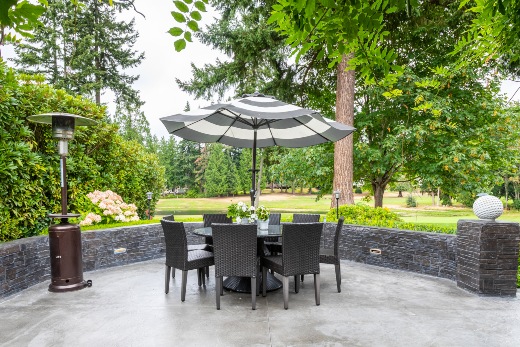 When it's time to sit down and crunch the numbers for the patio you want, there are so many options and factors to consider. While there are a variety of materials you can use, stamped concrete has the most benefits, especially when compared to pavers. Concrete has become much more than the traditional grey slab you probably remember from your past. Stamped concrete, as the name suggests uses a mold or rubber imprint to create a pattern in the concrete. You can mimic the look of wood planks, tiling, and much more. Because stamped concrete remains one slab, you can enjoy the look of pavers without the downsides that accompany them.
Why stamped concrete is better than pavers
1. Cost
Most estimates for stamped concrete laid over a concrete pad show that materials and installation top out at approximately half the cost of the same installation of pavers. If you are interested in a different style, texture or color of pavers, that can incur even higher costs, including shipping. Unlike stamped concrete, pavers cannot be created on-site, so any delay in supply lines can also drive up your cost.
2. Safety
Most paver patios are literally built on shifting sands. Any change in the weather can tip their edges upward, and make it more likely that they will become a tripping hazard for you and your guests. Your stamped concrete deck, on the other hand, will contain non-slip elements in the finishing sealer to keep your family and guests safe, and as it is one larger surface, settling should not make the surface unlevel.
3. Color choices
Pavers tend to come in standard colors, and in so doing, restrict your choice of what your patio is going to look like for the next few decades. Any kind of custom coloration outside the norm will incur extra costs to get your pavers created offsite and shipped to your backyard. Stamped concrete colors, on the other hand, are stains that are combined with the concrete during installation. The color of your choice means you get to put your own stamp on your outdoor haven. And because the stain is intrinsic to the concrete, maintenance of the color will be easily obtained through resealing every two or three years.
4. Texture choices
Once you have chosen a paver style, you are stuck with the texture that is available in your area. The patio is the focal point of most backyards, but if you are not happy with your choice, you may have no option but to simply settle for what's available. Stamped concrete, on the other hand, allows you to decide up to the moment of installation that you want the Roman slate or other different tiled appearance for your new patio, rather than the weathered wood look.
5. Shape choices
Creating curved integral shapes and edges that are unique to your yard with concrete pavers is extremely hard to accomplish. Curved stairs or edges, on the other hand, are quite easily accomplished in stamped concrete.
Other differences between stamped concrete and pavers

The ability to add other modular stamped concrete installations
Your patio choices between stamped concrete and pavers are just the beginning of building your backyard oasis. By choosing stamped concrete, and its ability to support graceful curves and stairs, you begin a journey toward recognizing your vision of your backyard, and a whole new range of possibilities that are not necessarily achievable with concrete pavers.
If at some point you decide you want a seating area with a built-in fire pit, you can use complementary or contrasting colors to those in your stamped concrete patio and have the choice of complementary or contrasting textures, as well. For instance, a little further down the road, you might want to add a fire pit and seat walls that flow naturally from the curves of your patio area.
That same stamped concrete can be used to create the hot tub area you always wanted, and use those complementary or contrasting textures and colors as well. For instance, while you may choose a weathered wood look for your stamped concrete patio, you may want to use a Roman slate or another tile look that works well with the patio. The graceful curves and edges of your patio can also find an echo in these installations, making a harmonious whole.
You can incorporate a pool area as well. If you already have a pool, you will be able to extend your pool deck to create a complementary or contrasting color or texture for your new patio. If you are dreaming of a pool, once you've decided to move forward to that, the stamped concrete patio design will blend beautifully with a new pool deck with stamped concrete in any style you choose.
Your stamped concrete patio and any add-ons into other areas of your backyard will also lend themselves well to that outdoor kitchen you've wanted for so long. Stamped concrete's durability and flexibility of texture and color will help you create the perfect place to chill out, relax, barbecue, and enjoy your family and friends' company throughout the warm summer months.
Finding your best living option
At Concrete Craft, they believe that the work they will accomplish for you and your family is the most important part of their job. They are true craftsmen, and their work will last a lifetime. With UV-resistant and other proprietary products that other businesses simply don't have, this team is uniquely suited to supply your needs, whether you're building new or upgrading your existing property.
Even more importantly, they know that your backyard is your place where you go to relax, and will make sure your new patio truly satisfies that vision you have of how you want your yard to look. They know how to build in the expansion possibilities to suit your long-term vision, and how to satisfy your current project with care and speed. Contact them today for your free consultation!