For Father's Day Give Your Grill Master His Dream Patio
June 19 is Father's Day and the perfect time to show Dad how much you love and appreciate him. And although dads are content with "classic" Father's Day gifts like funny ties, T-shirts, and personalized coffee mugs, why not push the envelope a bit? Give him a custom decorative concrete patio from Concrete Craft® so he can take his grilling skills to the next level and be the undisputed neighborhood Grill Master!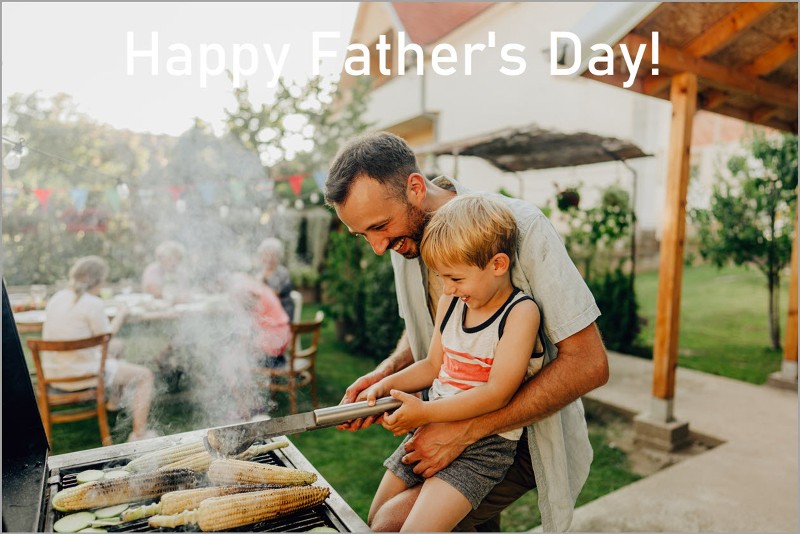 Passing on the legacy of grilling will be more fun on a custom patio that cleans up quickly and stays beautiful year after year
Outside grilling is a very popular dad thing, and now is the time of year when many take over the meat cooking chores with outdoor grilling. Giving him an impressive place to show off his culinary skills would be an ideal Father's Day gift. Happily enveloped in clouds of smoke from ribs, chicken, hot dogs, burgers, and kabobs, he won't have to worry about the occasional mishap. All our decorative concrete finishes, including stained concrete, stamped concrete and resurfacing systems are moisture- and stain-resistant so even the occasional dropped hot wing or paper plate failure is not a problem.
Patio designs for real life
Patios come in all sizes and shapes but with the same goal: providing outdoor entertainment and activity areas for family living. Making your patio the best it can be will not only give dad a showplace to grill but will create a space where nothing can spoil the fun of alfresco dining or send everyone back indoors to eat instead of enjoying the backyard. Decorative concrete enhancements include flooring, seat walls and fire pits, as well as vertical concrete resurfacing on fireplaces, outdoor kitchens, and siding. Celebrate dad all year long with a user-friendly, comfortable patio that will keep the party outside and going even after the sun goes down.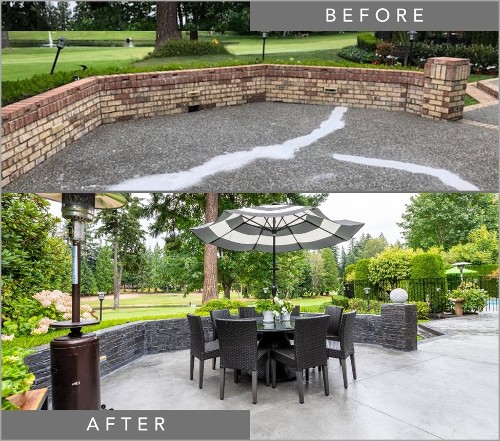 No demolition was required for this amazing patio transformation featuring resurfaced concrete flooring and faux stone vertical concrete resurfacing on the retaining walls
The patio and walkways received a seamless, continuous sealed concrete overlay uniting the space.
Vertical concrete resurfacing with a hand-carved stacked stone design and custom concrete stain modernized the old brick retaining wall.
Bring on the patio furniture, barbeque, umbrellas, potted plants, and rugs for an outdoor room that will be the envy of the neighborhood.
Stamped concrete patio designs
Our MasterPro FinishTM stamped concrete resurfacing systems can convert damaged and discolored patios with a fresh concrete overlay that can be stamped with any number of faux stone and wood patterns for a high-end finish to any patio. You can choose popular flagstone, cobblestone, slate, tile, brick, and wood plank designs that cost far less than the real materials but look authentic. Custom concrete stains let you match your house colors or any other hardscape designs in your yard for flawless design.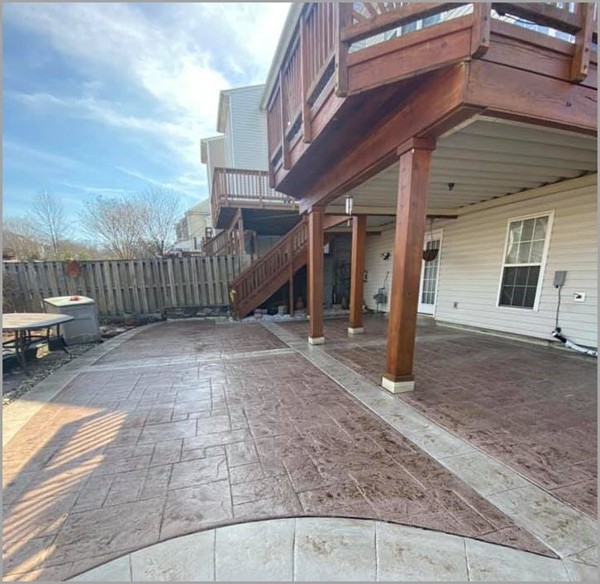 Stamped concrete Ashlar slate in two colors creates a beautifully bordered patio for year-round enjoyment
The industry-tough surface can stand up to patio furniture, cooking, kids, and pets without damage.
Nothing sticks to the surface so spills wipe right up, and a broom or blower will clean away all debris, so your patio is always ready for the next grilling session.
Although looking like grouted stone, the seams are part of the continuous sealed surface and will never deteriorate, discolor, or have lifting stones.
Creative solutions with seat walls
If enough patio seating is a problem with large groups, you can avoid crowding the patio with furniture and folding chairs by adding permanent seat walls that add style, utility, and additional seating. A core of flexible foam liners enables the creation of unique curved designs that can be cast to frame any patio shape. With vertical concrete resurfacing you have tremendous variety in stone type, color, and texture to finish new or existing seat walls, retaining walls, fireplace surrounds, garden enclosures, and steps to update your entire backyard.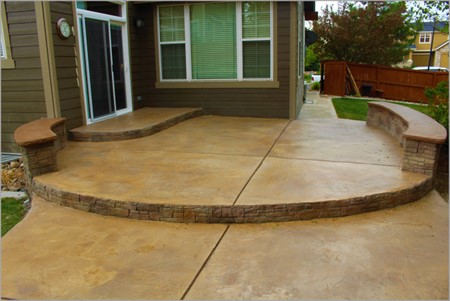 Seat walls can define and enhance a patio with stylish architectural elements without taking up too much space
The realistic stone façade is created on-site with hand-crafted designs and custom coloring to match or complement your existing hardscapes.
The continuous sealed surface eliminates the worry of shifting stones and crumbling mortar that can happen with real stone exposed to weather.
The perfect burger for the perfect patio
Now that he's got the perfect patio, all he needs are some perfect burger recipes and a Grill Master, the Man, the Myth, the Legend BBQ apron. As Grill Master, he can easily turn mere hamburger into sensational-tasting mega-burgers, served on toasted buns or in lettuce wraps (no carb burgers) with all the favorite burger toppings, including bacon, bacon, bacon:
Mix a packet of Ranch dressing mix into the meat, form into patties.
Add bleu cheese crumbles to the hamburger, with salt and pepper to taste.
Add chopped onions, peppers, and Worcestershire sauce.
Spice the meat with garlic, onion powder, and steak sauce.
Ensure bacon in every bite with this simple, three-step recipe below.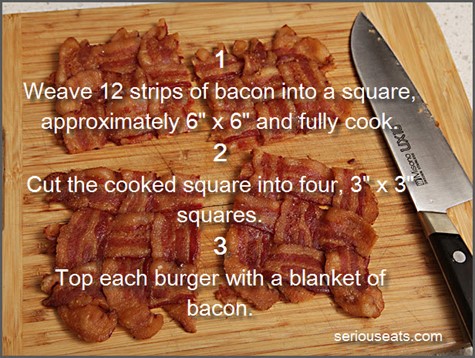 Trust Concrete Craft for exceptional quality and value
With Concrete Craft, you can rest assured that your Father's Day gift is backed by integrity and the highest-quality products and expertise in the industry. Our artisans are masters with stained concrete, stamped concrete, hand-carved resurfaced concrete overlays, vertical concrete resurfacing, and concrete repair and restoration for damaged concrete. Chances are, even an ugly patio can become an ideal Father's Day gift without demolition and replacement, making you a hero.
Call 888-852-9244 today or go online to www.concretecraft.com to find the Concrete Craft location nearest you and request a free in-home or virtual* consultation to determine the ideal gift for your dad or purchase a gift certificate for later use. If your dad is distant, do a ZIP code search where he lives, and his local Concrete Craft will be in touch and take care of everything to create his one-of-a-kind, custom patio.
Still looking? Check out: Here Are the Best Father's Day Gifts to Celebrate Dad.
*Virtual consultations may not be available at every location