Four Benefits Of Switching To Decorative Concrete Floors
Is it time to do something about your floors? Maybe you've lived with floors you love but they need replacement, or you've never liked your floors and have been counting the days until you can change them out for something different. If you've started shopping for new flooring and gotten confused by everything available … and don't even mention the price! … you may decide to live with what you have a little longer.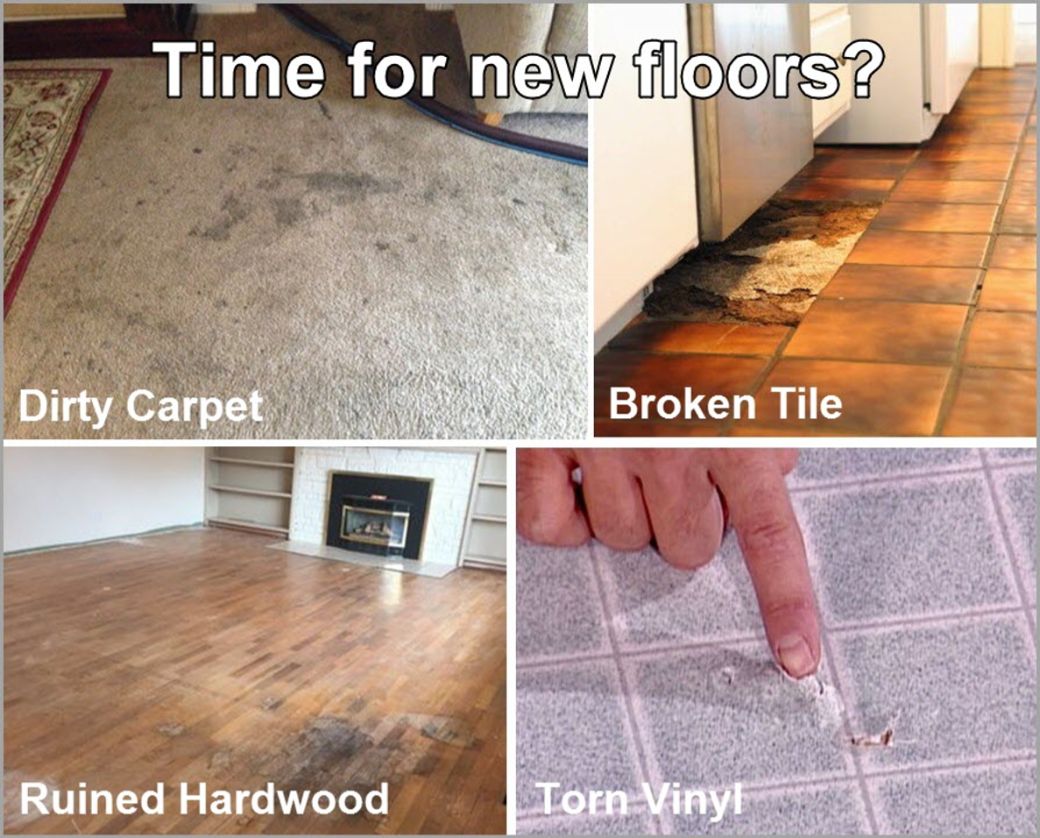 But that's not really an option when floors have gone bad, so before you get any more stressed out, pull together all your collected pictures and samples and call your local Concrete Craft® and see how easy it is to get beautiful, resurfaced decorative concrete floors in any style your heart desires. You'll be amazed at the versatility of concrete for emulating other flooring styles for less cost and more benefits!
Benefit One: Unlimited Design Potential
With decorative concrete, you can have the look of tile, brick, natural stone, and wood plank through the magic of stained, stamped, and resurfaced concrete. You're never limited to the locally available styles and colors in the big box stores. Floors are created onsite—no prefab materials—with our realistic stone and wood stamp patterns to create authentic-looking designs in custom colors and finishes so you get exactly the floor you want.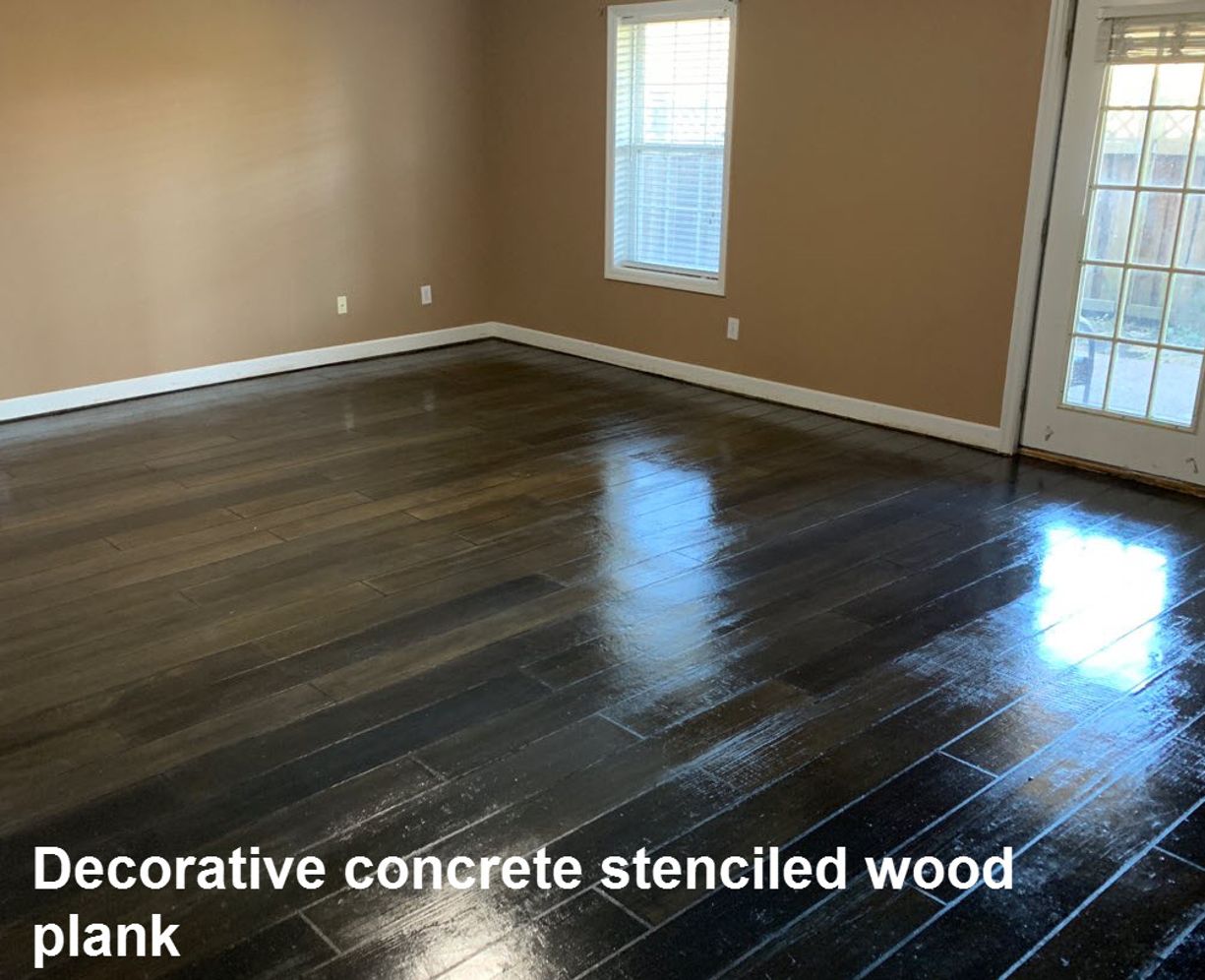 You can have the look of real hardwood floors throughout your home at a fraction of the cost of the real materials. Choose smooth wood finishes, distressed wood, wider planks, stronger graining, and reclaimed wood in custom stain colors to match your décor.
Stained concrete floors offer an infinite array of colors and special effects, including antiqued, variegated, mottled, solid, or multiple colors, and stenciled designs or borders.
Stamped concrete overlays emulate real stone and tile, including integrated grout lines for authenticity, but without the challenges of maintaining grout. Stamp patterns and stencils can recreate the three-dimensional look of your favorite tile, including slate, travertine, ceramic, and porcelain styles.
Benefit Two: Durability and long-lasting beauty
Switching to decorative concrete means this is the last time you'll have to replace your flooring. Decorative concrete floors outlast most other flooring choices, eliminating replacement every few years. You can expect a decorative concrete floor to last for decades, providing beauty and functionality to all your spaces from a stylish entryway to a spacious, living/dining room, and into bedrooms, bathrooms, and the kitchen where toughness really counts.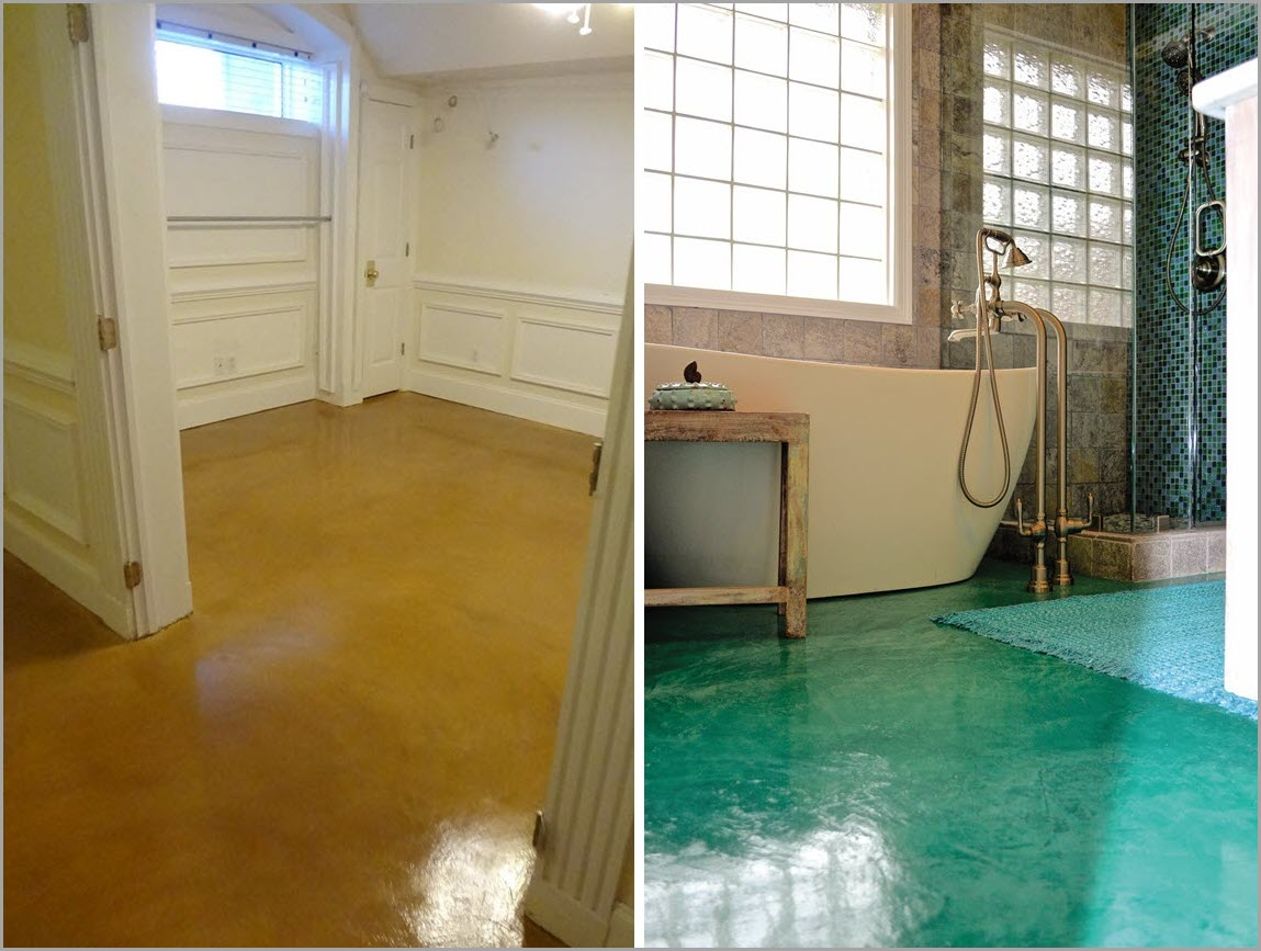 The finish is one continuous surface, including simulated grout lines and wood grains, and the entire surface is treated with our industry-tough sealers to protect and strengthen the finish.
Concrete stains penetrate below the surface, creating a durable and long-lasting rich color that will not fade, chip, flake, or peel.
Sealed decorative concrete finishes are moisture-resistant and appropriate for rooms with high humidity like bathrooms, laundry rooms, and kitchens where other flooring, like hardwood, may not be appropriate.
Durable surface resists damage from everyday life, including spills, pets' claws, running feet, and rearranging furniture.
Eventually, if your floor starts to show wear in highly trafficked areas, resealing will restore it to like new.
Benefit Three: Save time and money
Decorative concrete is one of the fastest ways to redo your floors and get your house back in order. Not only do you not have to run all over town checking who has what tile or wood selections available, but you also enjoy the ultimate convenience of shopping in your home. With unlimited design options. For less money. From a single stain to hand-cut and custom-colored faux stone designs, you'll see all your options together for easier decision-making. You'll love the savings that decorative concrete offers, including out-of-pocket cost, time and energy saved on easy upkeep, and quick installation that has your floor back in service in just a few days.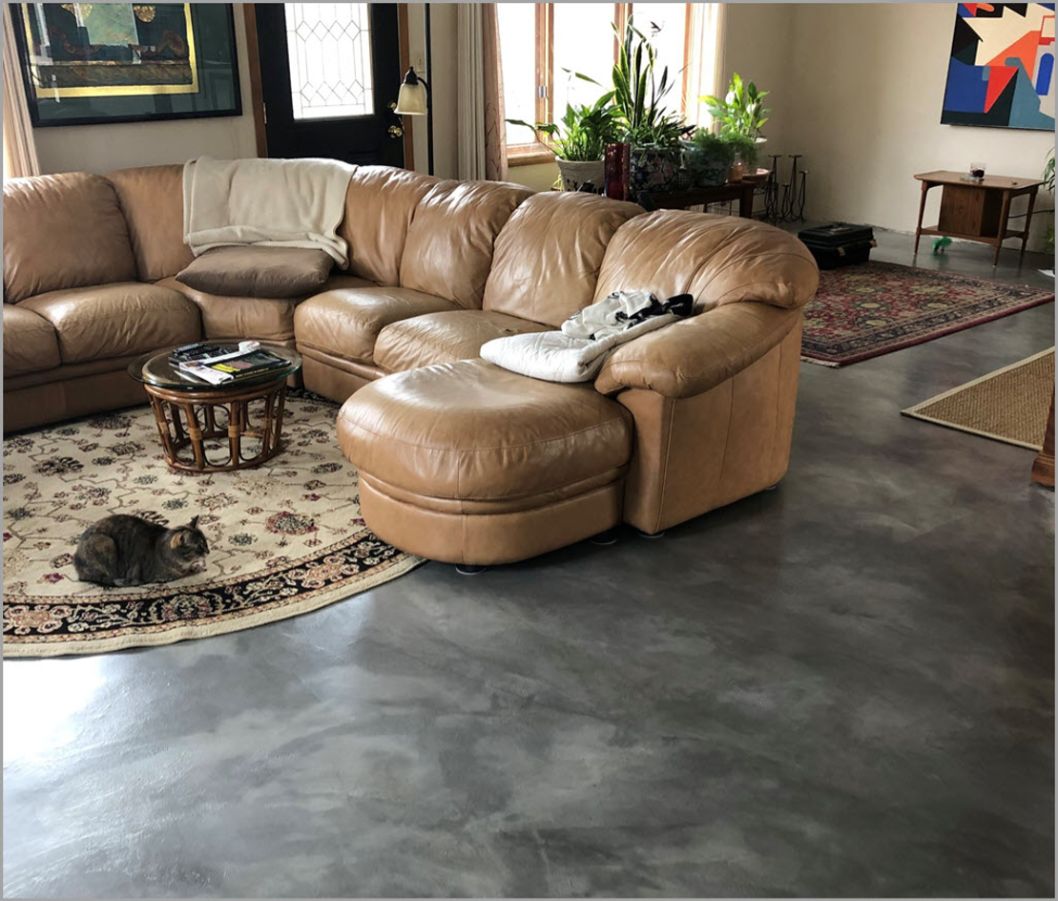 There's no need to replace imperfect concrete floors where the previous flooring was removed. A decorative concrete overlay creates a fresh, unblemished surface for a new concrete design.
You can enjoy the look of authentic stone, tile, marble, brick, and wood floors for a fraction of the cost of real materials.
If going green is important to you, renewing and restoring concrete floors is a sustainable option, avoiding the consumption of new materials like wood, tile, or carpet.
If you think you'll miss the feel of carpet under your feet, area rugs can soften your spaces, and when your style tastes change just buy new rugs instead of installing new carpet.
Benefit Four: Spend less time worrying about your floors and more time enjoying them
We've already established the durability of decorative concrete floors, and easy care and maintenance is an extension of that benefit. With decorative concrete, you can have different floor styles, if you choose, but only one cleaning regime to keep your floors looking new. You don't need special cleaners for carpet, hardwood, and grouted tile. Spills wipe right up without leaving stains, even from cooking messes or toddlers with Sippy cups. That means less worry and stress!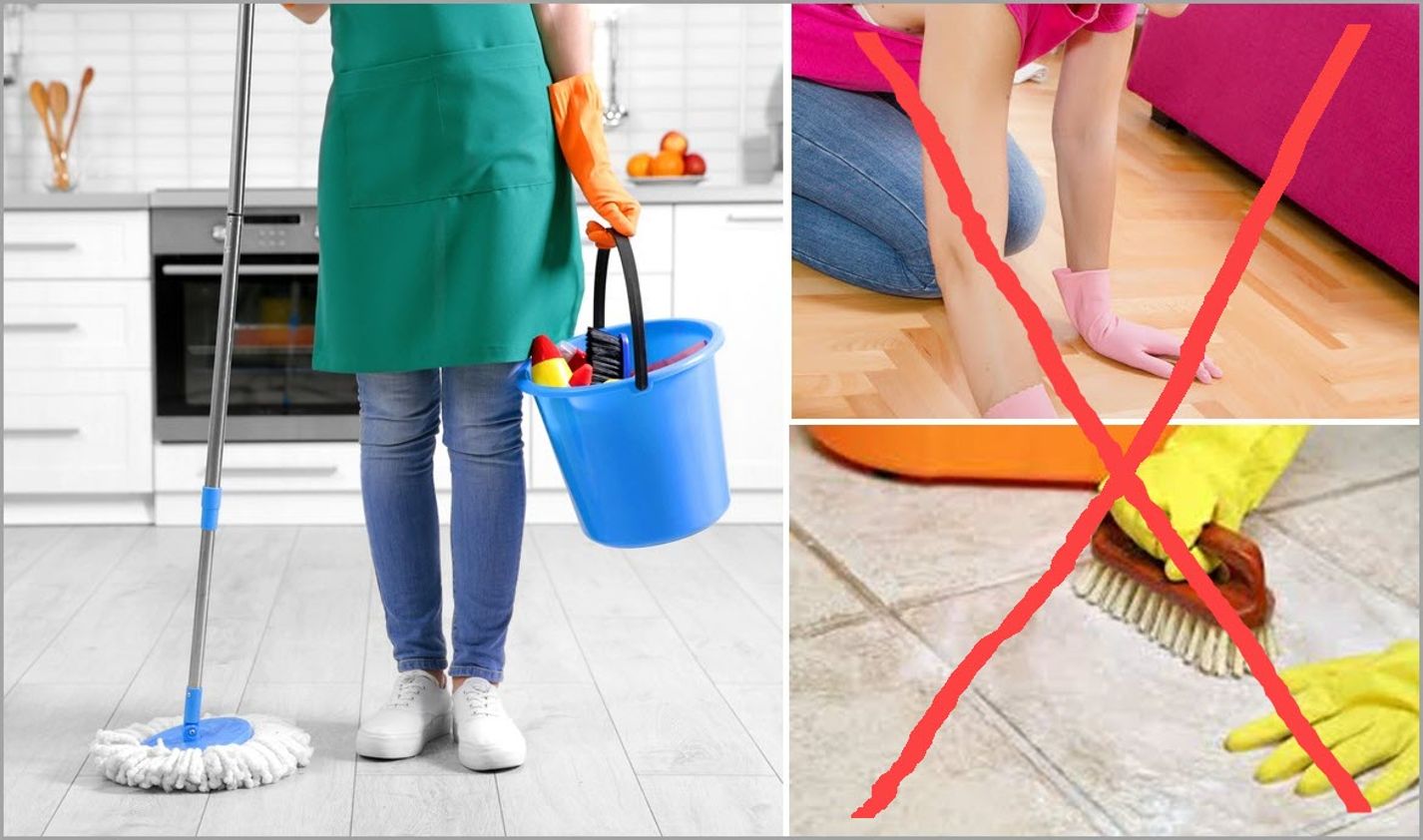 Keep interior floors clean and shining with a dry dust mop or regular vacuuming.
Occasional wet mopping gives a deep clean, using a neutral-pH cleaner (like Dawn dish soap) and a microfiber mop, wringing the mop almost dry and cleaning a section at a time.
Entertain with confidence; any drink or food spills will wipe right up, and the fun can continue without tears and apologies over spilled wine or dropped plates.
Go ahead and get that new puppy; it won't ruin your floors while it's being housebroken.
Reduce in-home allergens and breathe easier since decorative concrete surfaces resist moisture, dust and dirt buildup, mold, and bacteria growth.
Transform your home today
Don't wait any longer to update your home with new floors that you'll love. Contact us today or go online to www.concretecraft.com to find the Concrete Craft location nearest you and request a free, in-home consultation. See if you don't agree that Concrete Craft is THE place to go for all your flooring needs! With decorative concrete, you can add realistic texture and patterns to all your floors with custom stamp patterns and unlimited stain color options to create elegant faux stone, tile, brick, and wood plank floors. To learn more about how Concrete Craft can transform your home inside and out, check out our online MasterProTMProduct Catalog filled with design ideas for all your spaces.