Four Big Reasons Why Stamped Concrete Is A Great Alternative To Wooden Decks
If you love the look of a wood deck, stamped concrete may not be on your radar as an alternative. But if you've never investigated the wonders of decorative stamped concrete, you probably don't know that concrete stamps can replicate natural wood, including looks from smooth finishes to highly textured reclaimed wood planks. So, before you start pricing out wooden decking and counting your pennies, check out these four big reasons why a stamped concrete deck from Concrete Craft®is a better alternative to real wood.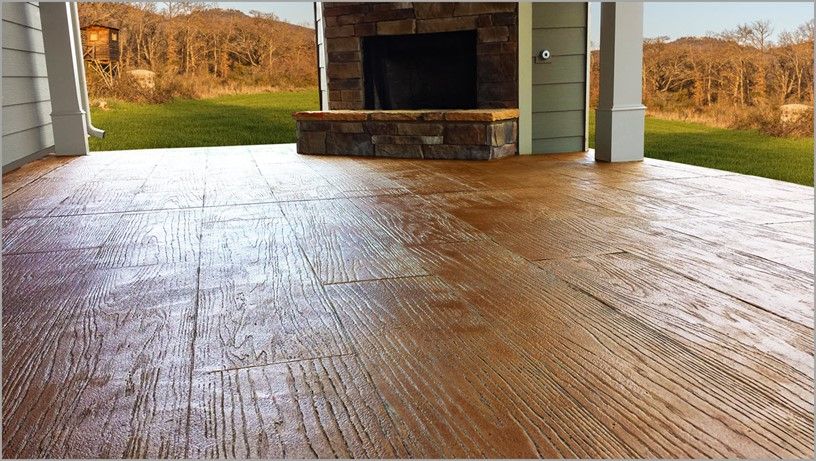 Enjoy lasting, durable beauty with a stamped concrete faux wood deck that looks like real wood
Reason One: Maintenance requirements
There really is no contest between the high-maintenance requirements of a wood deck and the low-maintenance requirements of stamped concrete. If you prefer to spend time enjoying your backyard deck instead of maintaining it, this one reason may be all you need!
Wood: To protect the wood deck from sun and moisture damage, you have to keep up routine maintenance, including sanding, resealing, and staining to prevent rot, mold growth, fading, and discoloration. This can become costly over time.
Concrete: Stamped concrete stains and finishes are resistant to moisture and UV damage so, at most, you may want to reseal a concrete deck after a few years to restore any diminished shine.
Wood: It will cost anywhere from $500 to $1,000 to reseal a wood deck. (homeadvior.com)
Concrete: The cost to reseal a concrete patio is half the cost of sealing a wood deck. (Concrete Craft)
Wood: Wooden planks have spaces in between that can trap stubborn dirt that is difficult to wash away without a scrub brush or power washer.
Concrete: The continuous sealed surface of stamped concrete eliminates any place for dirt to hide.
Wood: Deck cleaners and stain removers can be expensive, and some are harmful to surrounding vegetation. Once the deck is scrubbed, it needs time to dry before using the deck.
Concrete: Nothing sticks to the surface so a quick sweep and hosing off will keep the patio deck clean and immediately back in service. If extra-dirty, use a mild, neutral-pH cleaner like Dawn dish soap in water with a push broom.
Reason Two: Stamped concrete is more durable than wood
Concrete is one of the strongest building materials you can have, with a life expectancy of 50 to 100 years. Wood decking comes in soft woods and hard woods, but all are porous and will absorb moisture which can lead to many different problems.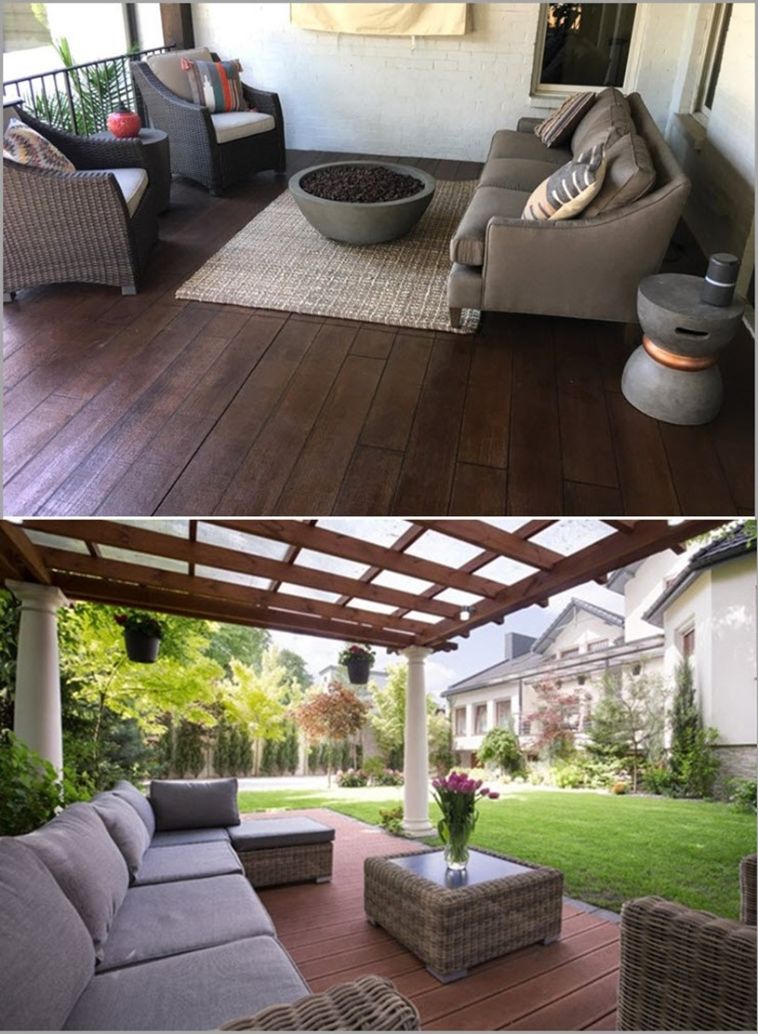 Only you will know your deck is stamped concrete (top) and not real wood; guests will just admire its long-lasting beauty
Wood: Since wood does deteriorate over time, a wood deck can be expected to last about 10 years with regular care and less time if not maintained.
Concrete: A faux wood stamped concrete deck patio can last for decades.
Wood: Inherent problems with wood decking are dents, splitting, cracking, warping, splintering, and boards loosening.
Concrete: Stamped concrete faux wood decks have a seamless, durable finish that resists cracks, peeling, chipping, and impact.
Wood: Wood decks can present a fire hazard unless specifically treated to be fire-safe, but rain and exposure can weaken the fire-retardant qualities of the wood, requiring repeated application.
Concrete: Does not burn; cannot sustain a flame.
Reason Three: Cost to build/install
In general, wood decks cost considerably more to build than a stamped concrete patio deck. Size, quality of materials, and the difficulty of the terrain where it sits all influence the final cost. For a comparative look, homeadvisor.com weighs in:
"Decks cost around $7,000, or $35 per square foot with installation, depending on the type of material chosen, the size of the deck, the ground and other conditions where it is being constructed. Materials alone range from $3 to $25 per square foot." (This represents a 200 sq. ft. patio at $35/sf)
"Patios are typically less expensive than decks. Depending on the materials selected and the size of the patio involved, building a patio will cost about $3,200 or $10 to $20 per square foot installed. You'll pay $1.50 to $30 per square foot for the materials alone." (This cost applied to a 200 sq. ft. concrete patio equals $16/sf)
Wood: The cost of hard woods (oak, cedar, mahogany, Ipe) versus softer woods (pine, spruce, fir) can increase the cost of a wood deck considerably.
Concrete: Prices will vary contractor to contractor, but a stamped faux wood deck will always cost less.
Reason Four: You can easily transform a plain concrete patio into the look of a wood deck
If you're considering a wood deck because you have an ugly concrete patio that you want to hide, Concrete Craft can give you a realistic looking wood plank patio deck without the hassles of demolition or building out a wood deck on top of the existing patio.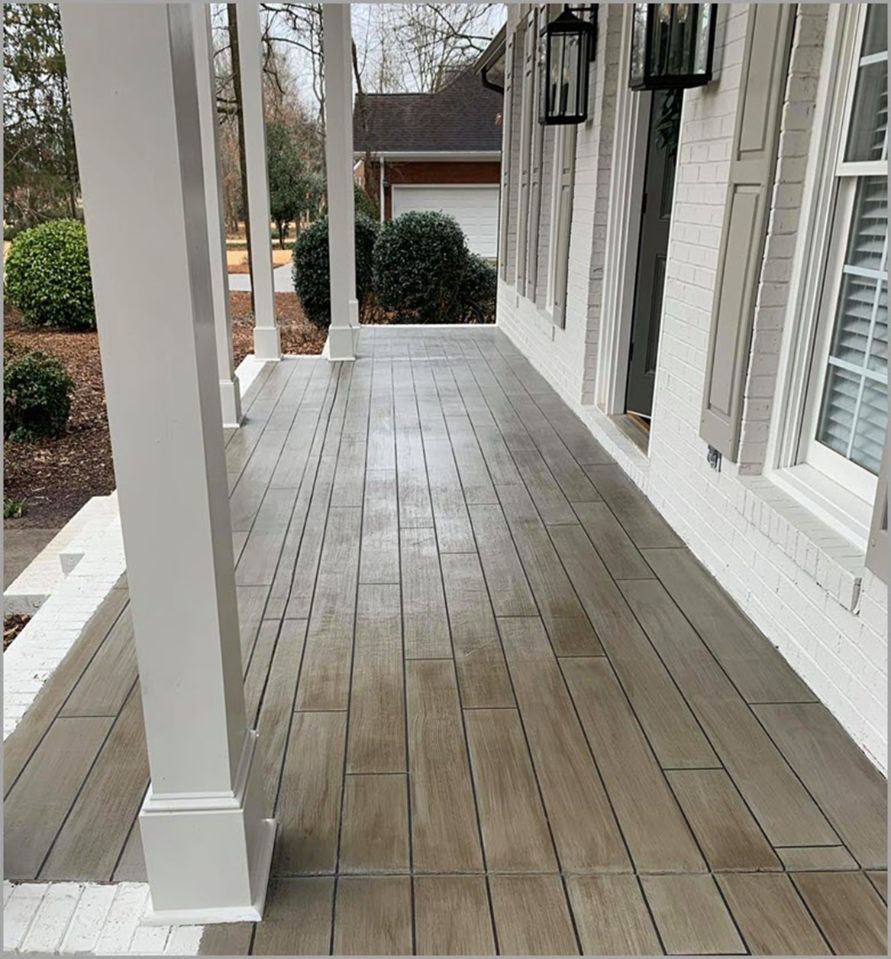 Achieve a totally new, wood-look deck without added height or invasive construction with a decorative concrete overlay
Wood: You cannot attach wood directly to concrete, you have to have a framework of sleepers built and attached to the concrete with plastic anchors and bolts before the wood planks can be placed.
Concrete: A resurfaced concrete overlay will cover any damage and discoloration of the existing patio and present a fresh surface for a stamped faux wood pattern in the style and color of your choice.
Wood: Building a framework will add height to the patio which could be problematic.
Concrete: The concrete resurfacing microtopping will not add height to your existing patio deck.
The beauty of wood without the worry
If you want a beautiful wood deck, a decorative concrete custom wood stamp pattern will give you that look but without the extra cost and maintenance. You'll have a durable deck that will last for many years beyond the expectation of real wood, and with our custom stained concrete colors and unique wood plank designs, you can choose a higher-end wood style for far less money.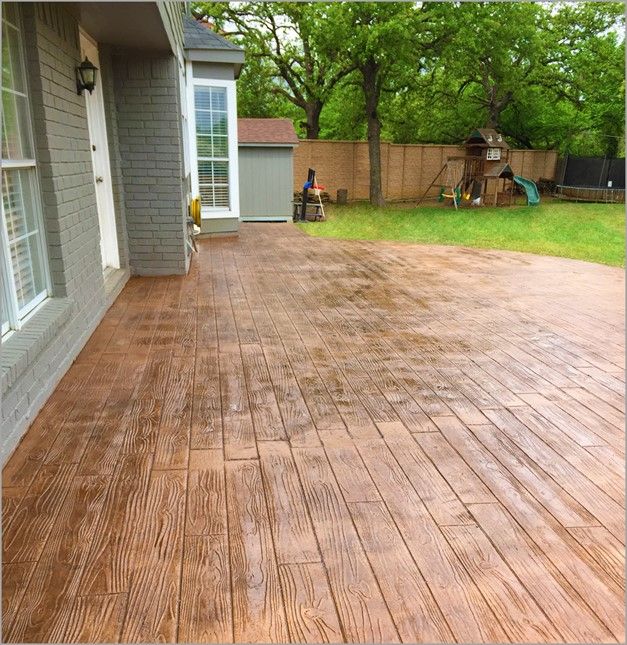 Cost-prohibitive in real wood, a large patio deck in stamped concrete faux wood is budget friendly
Call 888-852-9244 today or go to www.concretecraft.comto find the Concrete Craft location nearest you and request a free in-home or virtual* design consultation. You'll be able to see samples of the wood textures and concrete stain colors to easily decide what is right for you. See our MasterProTMdigital product brochure for even more ways that decorative concrete can enhance your home, inside and out.
*Virtual consultation may not be available at all locations.
Follow us on Instagram and like us on Facebook for rock-solid, concrete design inspiration.