Four Things You May Not Know About Stained Concrete
Stained concrete, along with stamped and hand-cut resurfaced concrete, is enjoying a rise in popularity for both indoor and outdoor surfaces. Homeowners and business owners are discovering the value and beauty of decorative concrete to enhance their homes and businesses by renovating existing concrete instead of the costly alternative of replacing it.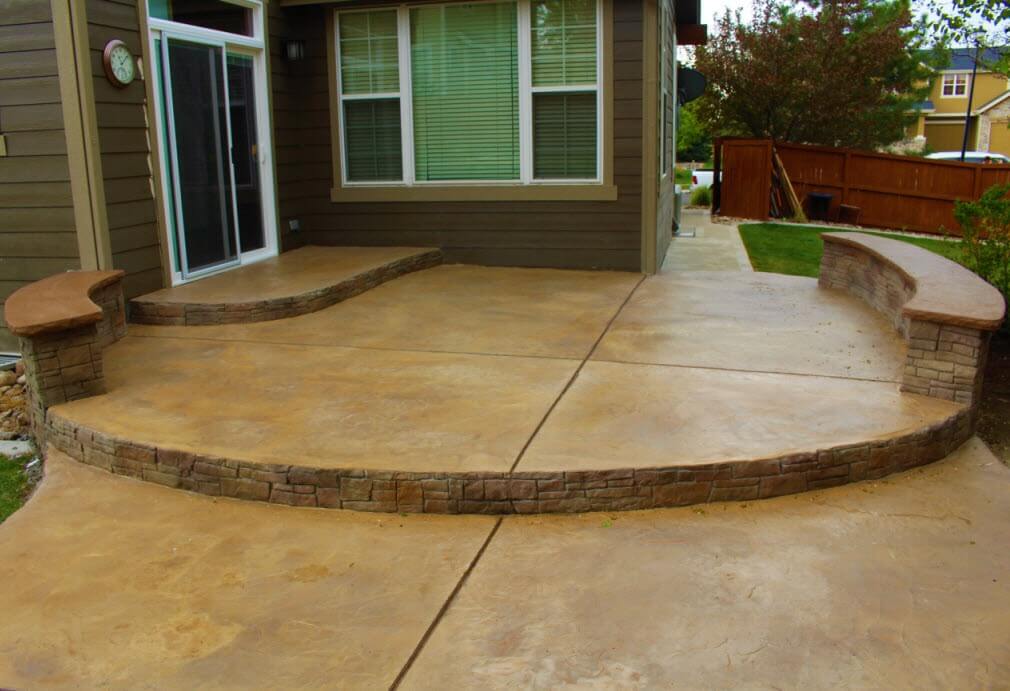 Some people shy away from the term "concrete floors," envisioning the uninspiring, dull gray of concrete, but today's decorative concrete floors are a whole new world! This gorgeous stained concrete patio from Concrete Craft of Northern Denver transformed the backyard with a warm brown stain that makes the existing concrete patio look like new. (The addition of seat walls kicked the design up to extraordinary!)
Concrete Craft® offers four important things you may not know about stained concrete that could change your mind about concrete floors. Today may be the day to revolutionize your indoor and outdoor concrete surfaces.
One: Design versatility
Stained concrete floors are anything but boring! You can choose from a wide range of colors, from black to earth tones, and natural greens and blues to bright colors for any effect you want. Interior kitchen, laundry, and bathroom floors can come alive with vibrant color and shine. Outdoor surfaces like patios, porches, pool decks, walkways, and driveways can coordinate with or contrast to the surrounding landscaped areas, pulling stain colors from rocks, walls, and even your home's colors.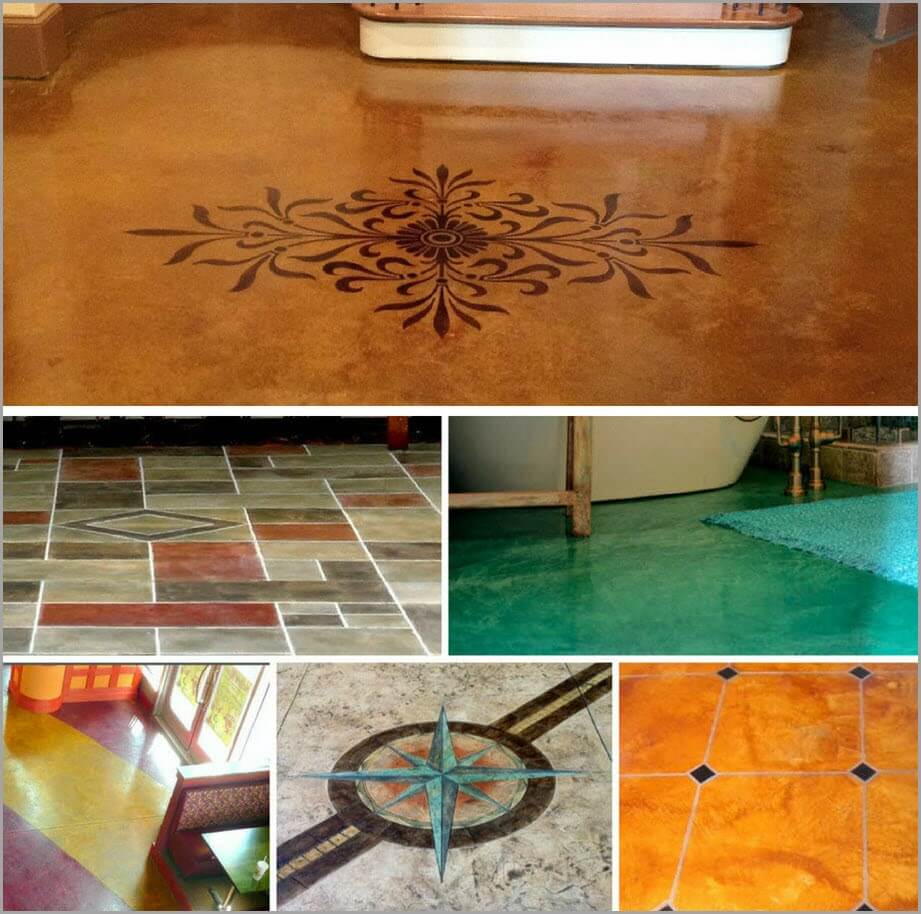 Concrete stain can imitate the appearance and texture of natural stone, tile, and polished marble
Multiple colors, stenciled designs, borders, scored and stamped patterns like hardwood panels can create unique, one-of-a-kind colorful designs
Acid-based stains chemically react with the concrete, creating interesting marbling effects with one or more colors
Water-based acrylic stains provide a more even, consistent color
Concrete stain creates a vibrant, translucent finish that lets the character of the concrete show through
Two: Exceptional durability
Concrete is unarguably the toughest surface you can have. It beats asphalt, gravel, and even pavers, hands-down, for a functional driveway. It's the most-used material by builders for interior floors, patios, pool decks, and walkways. But even so, untreated concrete can become damaged and discolored from extreme weather, spills, and everyday use. Stained concrete from Concrete Craft is one of the quickest ways to restore a distressed concrete surface to a beautiful, durable finish.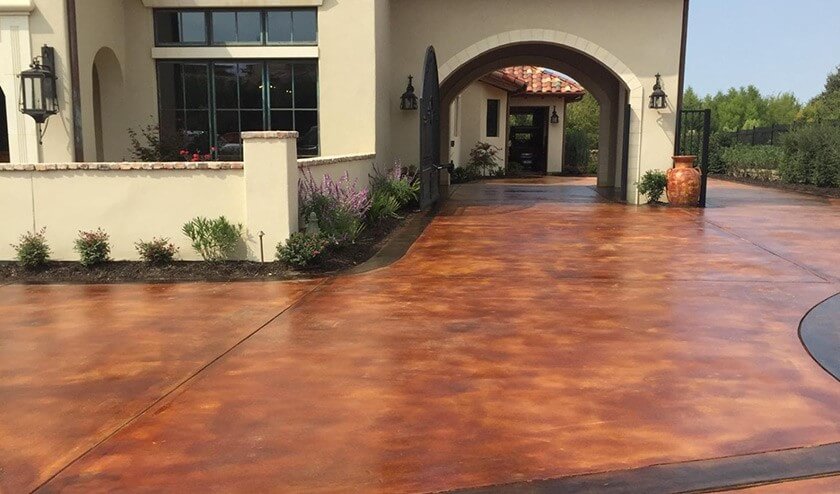 Our stains penetrate the concrete surface and have built-in VU protection for permanent color
Industry-tough sealers create a finish that resists moisture, fading, chipping, stains, or peeling
Stained decorative concrete will provide years of care-free functionality, with no need to replace it every few years like other flooring options that wear out
Our unique rubberized polymer overlay mixes cure to a compression strength of just under 5000 psi, especially great news for driveways, pool decks, and commercial settings
Three: Low-maintenance, easy-care
Beautiful floors are every homeowner's dream. And beautiful floors that are easy to care for are the ultimate for making life more stress-free. For people with allergies or asthma, it's important to keep dust and debris to a minimum within a home, and that can take constant cleaning. Stained concrete floors are the perfect answer to less effort for a cleaner home because the sealed surface resists moisture, dust buildup, mold, and bacteria growth. You save time and have a healthier environment.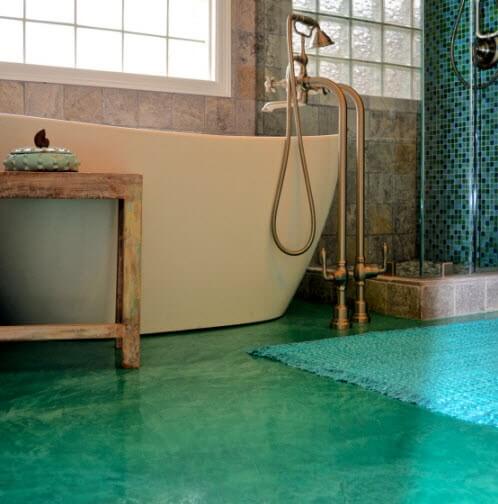 Stained concrete floors stay clean with just a dust mop and an occasional wet mopping with a neutral-pH cleaner
Dust bunnies, cobwebs, and tracked-in dirt don't stick to the floor's surface
Periodic waxing will protect the shine on indoor floors
Outdoor stained concrete surfaces like patios and walkways can be hosed off to keep clean
Reseal every couple of years, if needed, for surfaces that show wear from weather and heavy use
Four: Economical
Stained concrete is one of the most cost-effective ways to transform a floor. The bigger the floor, the more the savings for large areas like kitchen/family rooms, basement/playrooms, pool decks, and circular driveways. Whether inside or out, stained concrete can revive worn concrete with stunning effects of color and style. Achieve the look of high-end stone floors at a fraction of the cost of real.
If your concrete slab is in good condition, the stain can be applied to the existing surface
If the surface is cracked and chipped or damaged after removing old flooring, a micro-topping concrete overlay will create a new surface for staining without having to replace the floor
A stained concrete floor will remain beautiful for decades, probably the last floor you'll have to buy
Concrete Craft stains can be applied over older, faded colored concrete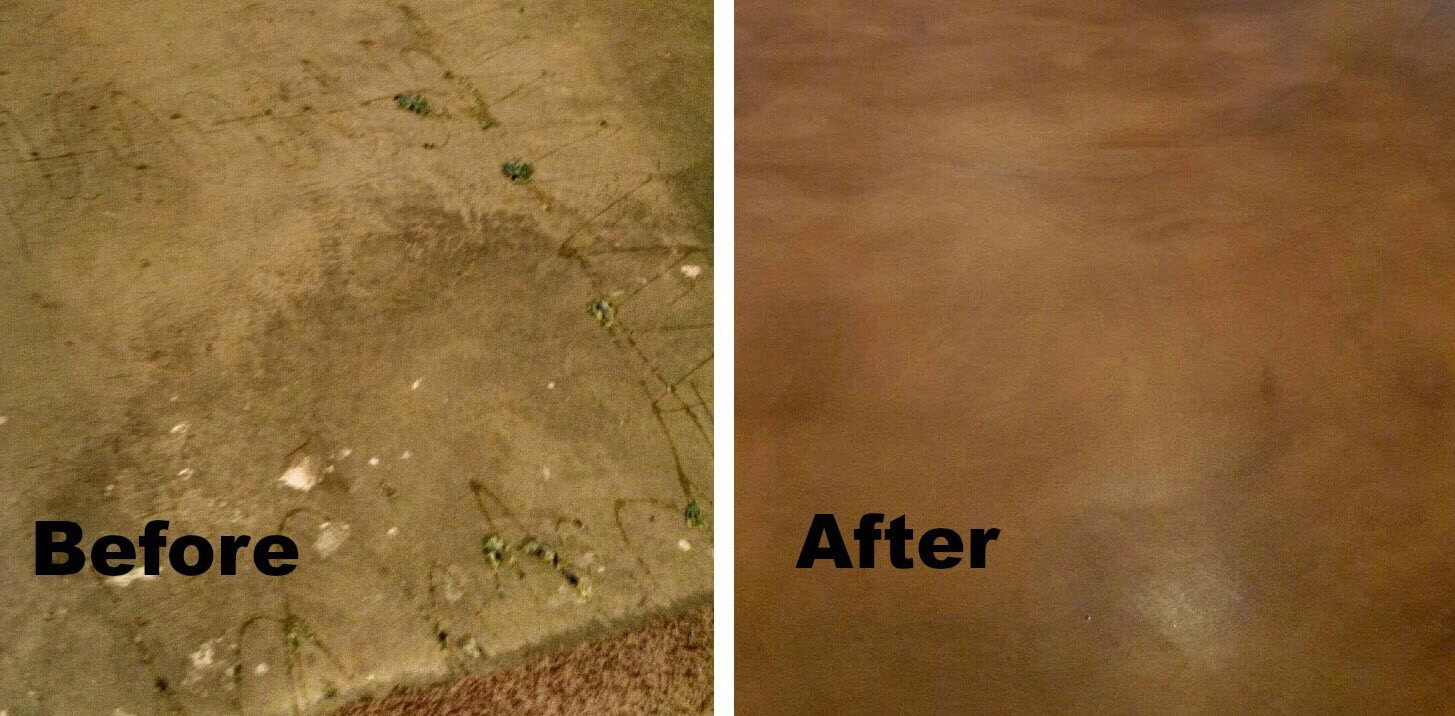 Stained concrete is just one option for decorative concrete floors. Concrete Craft specializes in many styles of decorative concrete, including stained concrete, stamped concrete, resurfaced concrete, and vertical concrete overlays like seat walls, accent walls, fireplace surrounds, and more. Our proprietary processes and exclusive MasterPro® products position Concrete Craft as an unqualified leader in the decorative concrete world, offering unlimited options for homeowners and business owners alike. If it's concrete, we can do it!
Contact us today or go online to www.concretecraft.com to find the Concrete Craft location nearest you and request a FREE design consultation and estimate. We can transform all your concrete surfaces:
Unsurpassed quality, innovative design, easy-care finishes, and incredible cost savings
Quicker installation than other stone, hardwood, or tile flooring options
Our work and materials come with a two-year warranty* to guarantee your satisfaction