Four Things You Need To Know About Vertical Concrete Resurfacing
Has spending more time indoors during the cold weather months caused you to reassess your surroundings? Maybe your home's style is a bit outdated or cabin fever has convinced you that it's time to move. Before you do anything rash, there's an easier way to transform your world, inside and out, by creating three-dimensional surfaces that will change the dynamic of any space. Authentic-looking faux stone and wood vertical concrete overlays from Concrete Craft® can infuse your home with beautiful, welcome change and a more natural ambiance.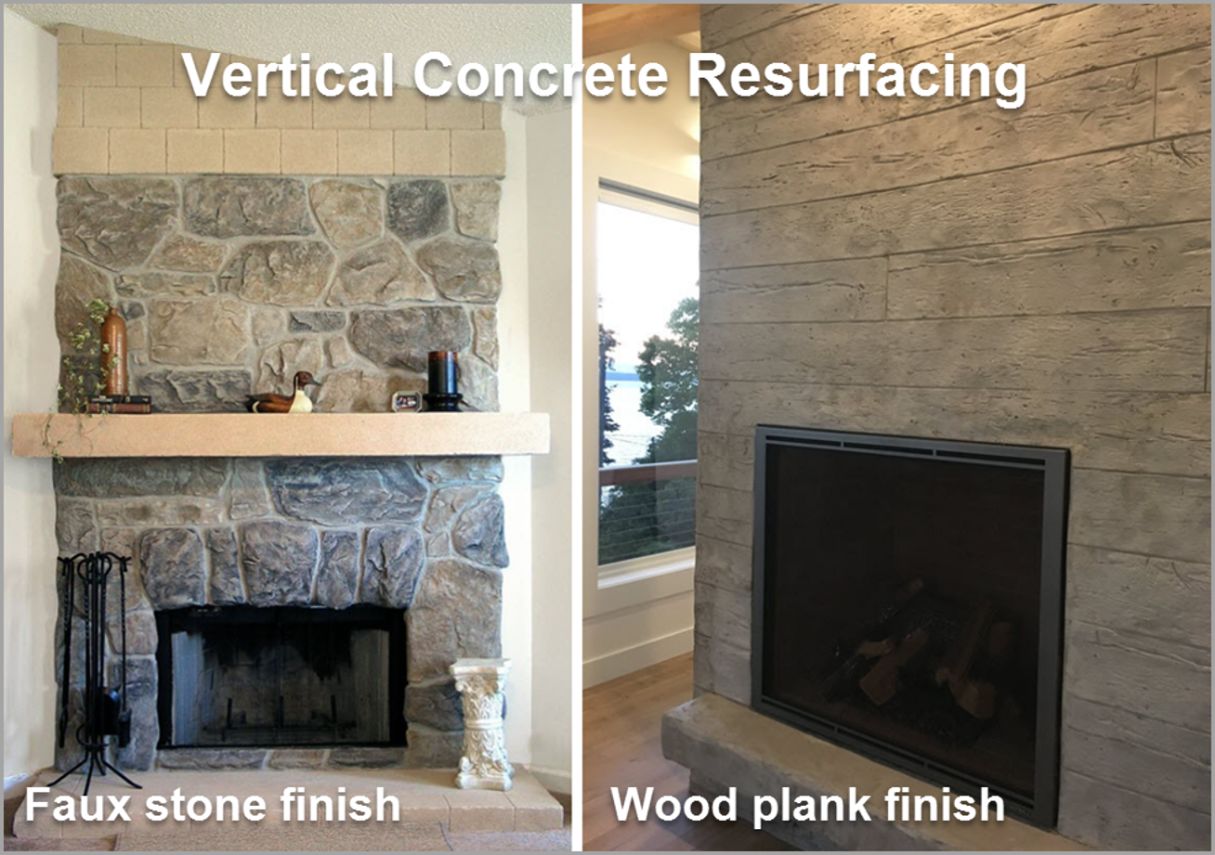 Vertical concrete resurfacing is much more than just attaching an overlay like wood or faux stone veneer for a different look. It's leaps and bounds ahead of wood paneling that is prone to lift, warp, and buckle, or faux stone panels that damage easily from impact and, upon close inspection, don't really look like natural stone. Here are four things you need to know about vertical concrete resurfacing before you move ahead with planning your home's makeover. You may discover that vertical concrete resurfacing is just what you need!
One: Vertical concrete overlays cost far less than natural stone and real wood
A growing trend in home design is "back to nature" by bringing more wood and stone elements into interior design, including accent walls, fireplace surrounds, shower stalls, and kitchen and bath backsplashes. For some, it's an exciting notion until they start shopping around and see the cost and complications of having real wood or stone. Installation costs can exceed the materials' cost, together with presenting a rather hefty bottom line. With vertical concrete faux stone or wood plank overlays, you receive one quote encompassing the total cost from start to finish that generally is about half the cost of other materials, including engineered wood and manufactured stone.
Our vertical concrete overlays can be applied over wood, drywall, plaster, brick, and concrete to cover up imperfections or revive worn-out vertical surfaces.
The lightness of a concrete overlay eliminates the need for additional bracing of the wall, which adds additional cost as can happen due to the weight of real stone or wood plank.
For areas large or small, indoors or out, you can have the high-end look of stone, wood, tile, or brick at a price you'll love.
Created onsite with no waste, you save the cost of having to purchase extra materials to accommodate breakage, cutting errors, or fit issues.
Two: You'll enjoy unlimited design options and authentic-looking results
If you've done any research on stone or wood enhancements for your home, you've probably come up against restrictions for the availability of styles and colors for either stone or wood options, making it hard to find exactly what you're looking for. One place may have the style you like, but not the color. Another may have exactly what you want, but not enough, and special orders take time and additional expense. Or, you may want an entirely unique look with colors not found in nature. With Concrete Craft's custom processes there's never any worry about style, color, or quantity.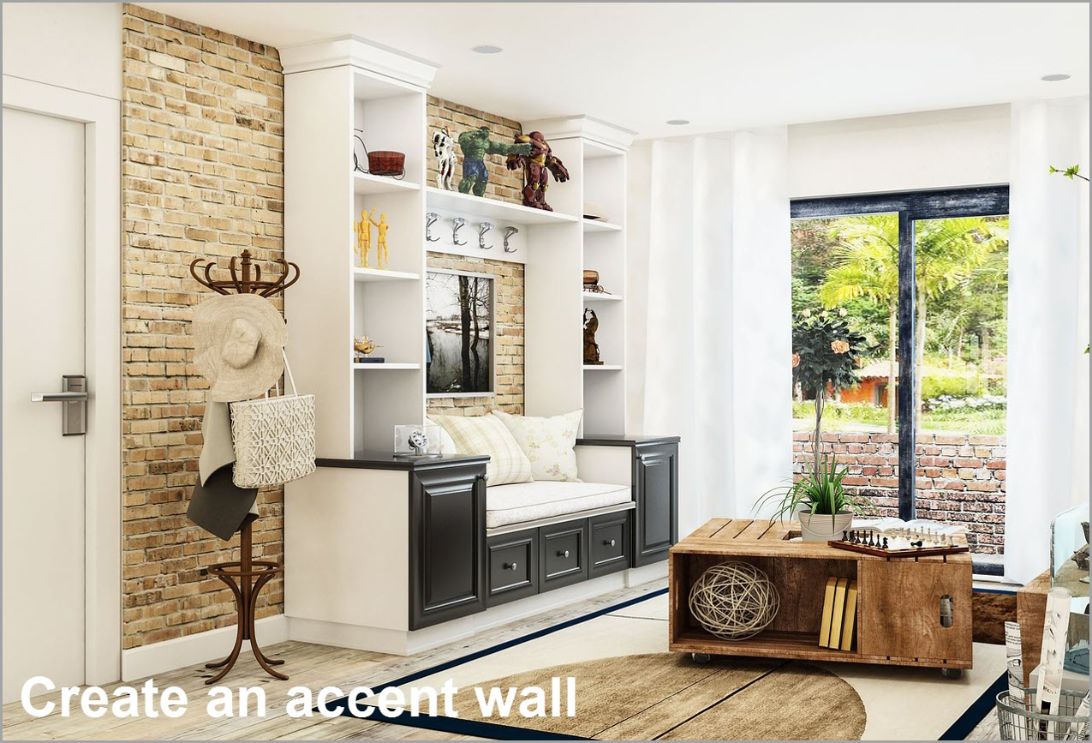 Custom concrete stamps create realistic impressions from molds of real stone and wood plank patterns and designs.
Multiple concrete stain colors create depth and authenticity to mirror natural stone and wood formations or develop your own signature look.
Hand-carved overlays mean that the size and shape of stones and wood plank widths and textures can be adjusted to fit any unique space, shape, or dimension of the wall.
Our proprietary, fiber-enriched coarse sand overlay mix creates a realistic surface, with resultant finishes that look and feel like real stone and wood textures.
Three: Vertical concrete resurfacing is ideal for kitchen and bathroom remodels
Design trends that bring natural stone and wood indoors have to take into consideration the impact that moisture and humidity can have on those two elements. Designers warn against the dangers of installing stone backsplashes in kitchens because the porous nature of stone is susceptible to stains and the constant moisture can weaken the grout. The wood used where dampness occurs can result in mold, discoloration, and warping. With vertical decorative concrete, however, you can safely install faux stone and wood finishes in wet surroundings without a worry.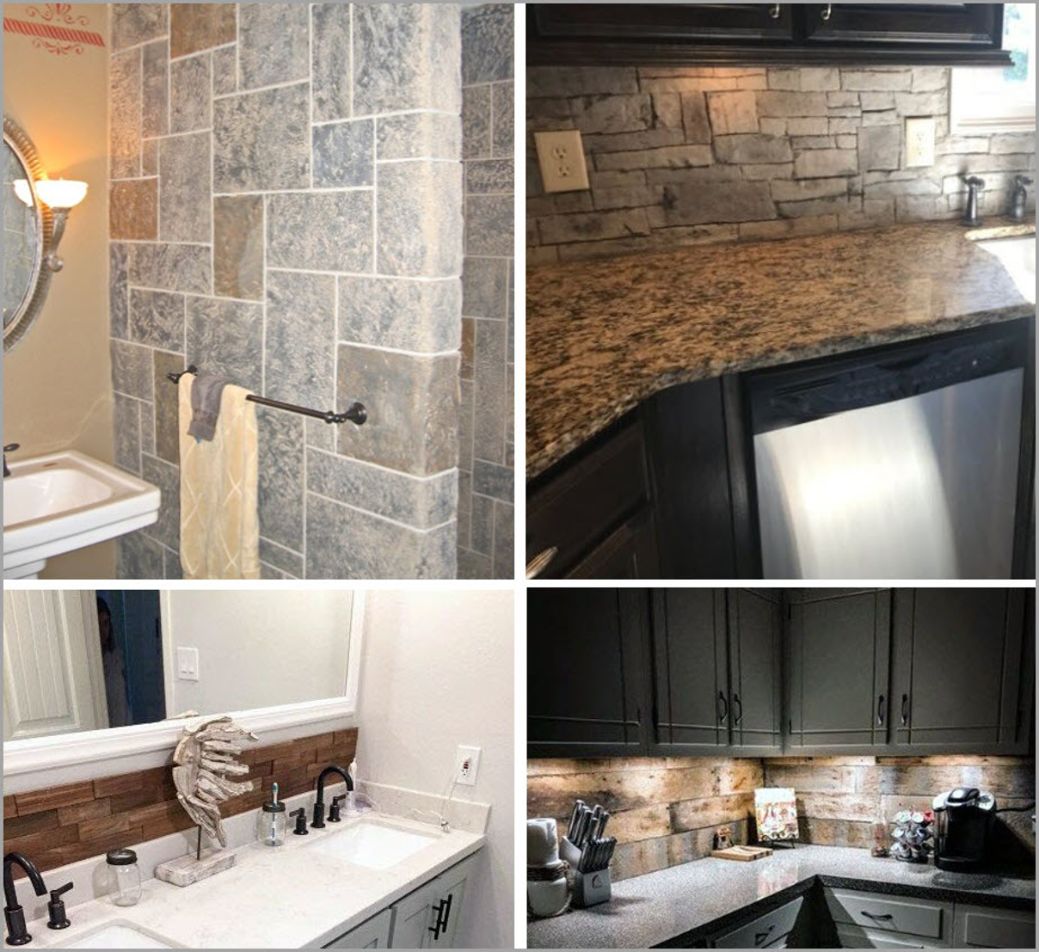 Our high-strength, flexible polymer overlay product gives 100% contact on vertical surfaces, eliminating voids and gaps that can form behind other stone or wood veneer applications.
The durability of the sealed concrete overlay ensures resistance to moisture for any faux stone and wood installations, including shower walls and around sinks.
Vertical concrete resurfacing can also replicate the high-end look of designer tiles like travertine, ceramic, porcelain, and marble.
You'll have years of enjoyment with finishes that look real and stay like new.
Four: You'll love the low maintenance of decorative concrete overlays
And last, but not least – maintenance! Different finishes and textures in home design generally mean a substantial time investment and an array of cleaning products to keep your home in good order. Stone and wood cleaners, touchup sticks for wood nicks, grout scrubbers and whiteners, and stain removers. Vertical concrete overlays resist stains, nicks, scratches, cracks, peeling, and color fading and are sealed for an indestructible finish. Despite the three-dimensional effect due to texture, pattern, and custom staining, it's a continuous, sealed surface that easily wipes clean with a damp cloth; no cracks and crevices to attract dust and dirt.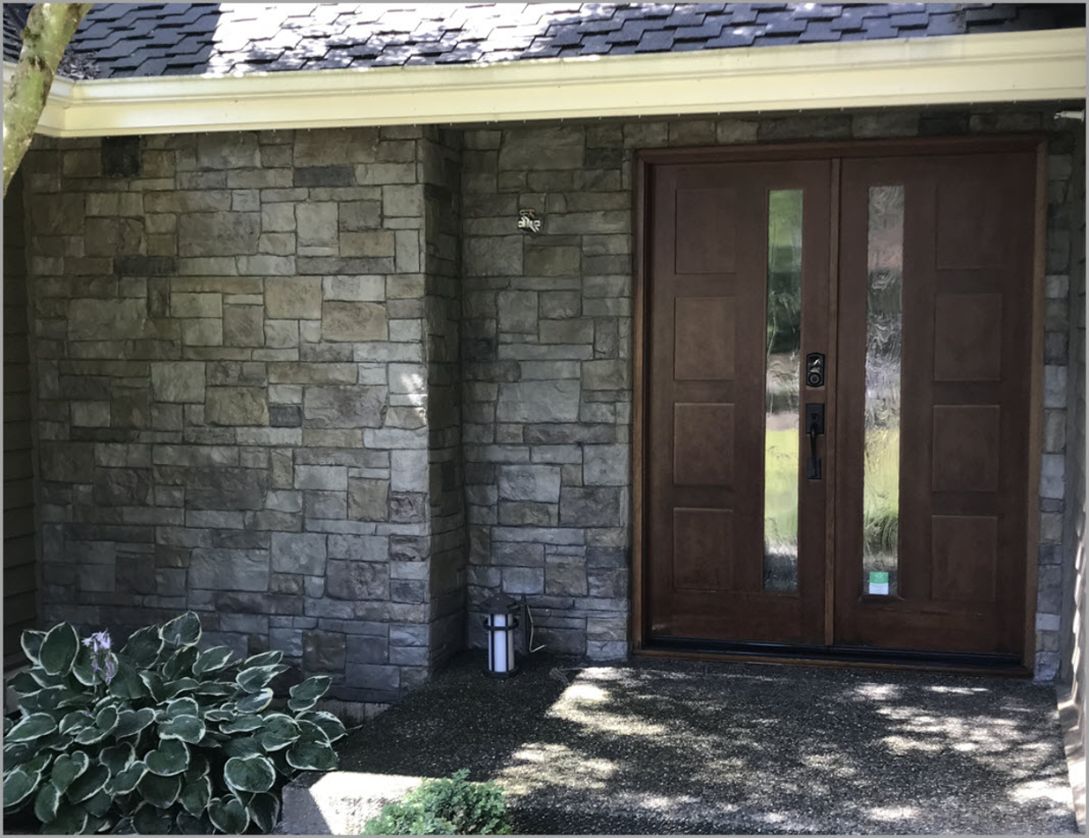 Surfaces stay clean with dusting and occasional washing with a mild, neutral-pH cleaner; even accumulated smoke or soot from fireplaces and candles easily wipes away.
There's never a concern about repairing portions of a wall or backsplash as can happen with real stone, wood, and grouted tile.
Interior walls and exterior surfaces will never have the problem of stones coming loose and grout breaking down.
Vertical concrete overlays are water-resistant and unaffected by freeze-thaw conditions and extreme wet and cold, permitting outdoor use in any climate.
Trust the professionals at Concrete Craft
Concrete Craft can bring the beauty of real stone and wood into your home with vertical concrete resurfacing for a completely new look and feel. Create unique and dramatic spaces with three-dimensional accent walls, spa-worthy shower stalls, updated indoor and outdoor fireplaces, and designer backsplashes from your favorite home design magazines. Contact us today or go online to www.concretecraft.com to find the Concrete Craft location nearest you and request a free, in-home consultation to see how faux stone and wood finishes can wake up your home's style with versatile vertical concrete resurfacing. Check out our MasterProTM Product Catalog to see how we also repair, restore, and renew concrete surfaces including driveways, patios, walkways, pool decks, and interior floors with stained, stamped, and resurfaced decorative concrete.